Are you feeling nauseous while you are pregnant? Do you often crave for something that is tangy in taste? Are you drooling over a piece of tamarind but don't know if it is safe for your baby?
If you answered yes to the above questions, this article is just right for you. Read on to know whether it is safe to consume tamarind during pregnancy for your unborn baby and you.
What Is Tamarind?
Tamarind is a fruit that grows in a pod and its pulp is very sour. The sour taste of tamarind tantalizes your taste buds while you are pregnant.
What Are The Uses Of Eating Tamarind During Pregnancy?
Tamarind has some medicinal properties. It is a cure for nausea that is the most common sign of pregnancy. It also helps treat a common cold and constipation.
[ Read: Is It Safe To Eat Mango During Pregnancy ]
Nutritional Value Of Tamarind
A cup of tamarind pulp contains many essential nutrients that your body requires when you are pregnant. It has 3.36 milligrams of iron. During your pregnancy, you need about 27 milligrams of iron as part of your daily diet. It also contains 2.3 milligrams of niacin. While expecting you need about 18 milligrams of niacin as part of your daily diet. A cup of tamarind pulp also contains 6.1 gram of dietary fiber. You need at least 28 gram of dietary fiber in your daily diet when you are pregnant.
Is It Safe To Eat Tamarind During Pregnancy?
Popularly tamarind is a safe food for you while you are pregnant. To be safe and certain, you still need to check with your doctor first whether you can go ahead and slurp on it during your pregnancy.
Benefits Of Eating Tamarind
Tamarind is a very good source of various minerals and vitamins that are essential for both you and your unborn baby. Here is a list of its benefits:
Tamarind contains a good amount of iron. During your pregnancy, the volume of your blood increases. Iron helps to support the increase in the volume of your blood. According to the American Pregnancy Association, having an adequate amount of iron when you are pregnant will also bring down your chances of having a premature birth. It will also reduce chances of low birth weight in your baby.
[ Read: Green Apples During Pregnancy ]
The niacin content in tamarind helps in the development of the digestive system, skin and nerves in your unborn baby. It also contains vitamins A, C and K in small amounts.
The high amount of dietary fiber found in tamarind helps to prevent constipation, which is a common problem during pregnancy. Having enough dietary fiber in your diet will also prevent you from excessive weight gain during pregnancy. Eating fiber will keep you feeling full and prevent you from munching on unhealthy snacks. A healthy diet is a must-have while expecting.
Tamarind helps prevent the feeling of nausea and morning sickness when you are pregnant. Tamarind contains certain compounds that can help your stomach settle down. It can ease the vomiting sensation that you may have during your pregnancy, especially during the first trimester.
[ Read: Can I eat Amla During Pregnancy ]
Watch Out
Eating tamarind can sometimes lower your blood sugar levels. In case you are diabetic or have a family history of diabetes, you should closely monitor your blood sugar levels regularly (1).
So before you pamper your taste buds with tamarind, do check with your doctor. Slurp on, if she gives you a thumbs-up!
Recommended Articles:
The following two tabs change content below.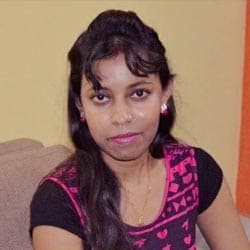 Ria Saha
Ria is a techie-turned-writer and writes articles on health, with special emphasis on nutrition. She did her B.Tech from West Bengal University of Technology and was previously associated with IBM as SAP ABAP technical consultant. She moved into freelance content writing in 2013 and worked for various websites including MomJunction, Brainpulse Technologies, and Emarketz India.