Are you pregnant and the summer heat is making you feel sapped? What can you do about it? Well, beat the heat by having some refreshing Mosambi or sweet lime juice. Why is mosambi juice during pregnancy good for you? Read this post to find out.
What Is Mosambi Or Sweet Lime?
Sweet lime, Mosambi or Citrus limetta, is a spherical greenish-yellow citrus fruit usually found in South Asia, the Indian Subcontinent, South East Asia and Mediterranean countries. Mosambi is part of the lime family, but unlike other cousins, it is sweet, and it does not have the tanginess of limes or other citrus fruits.
The fruit usually grows on trees and has a thick skin with seeds. It is quite similar to the orange in appearance but is yellow in color. It is widely available in supermarkets. When you buy mosambi, be sure to pick ones that are heavy, firm, and not too spongy or ridden with spots. To know how fresh the mosambi is, scratch its skin. There should be a light oily discharge that indicates the fruit is fresh. (1)
[ Read: Grapefruit During Pregnancy ]
How To Make Mosambi Juice ?
If your doctor has advised you to consume mosambi juice, remember to buy farm fresh mosambis and make the juice at home. All that snazzy packing and your laziness might make packaged juice seem like a more lucrative option but try to resist the temptation.
Use the freshness test to pick fresh and ripe mosambi.
You Will Need:
3-4 Mosambis
Two teaspoons of sugar/honey (optional: for extra sweetness)
Pinch of Black Salt
¼ tsp cumin powder
How To:
You can either extract the mosambi juice using a juicing machine or manual citrus juicing machine.
Peel the skin and chop the mosambi into bits.
Add the chopped mosambi bits to the food processor.
Blend well, until the juice is smooth.
Add the sugar or honey to a tall glass. (Optional)
Collect the juice in a tall glass.
Sprinkle the black salt and cumin powder on top.
Enjoy chilled.
To add a variation, you can also garnish it with a couple of mint leaves, or mix more fruits and make a fruit cocktail.
[ Read: Pomelo During Pregnancy ]
Benefits Of Mosambi Juice During Pregnancy
There are several mosambi juice benefits in pregnancy, which are important for you at this delicate time of pregnancy. Some of them include:
Helps increase your fluid intake by consumption and helping flush toxins from your body.
Helps allay constipation and lowers acidity.
Provides you with a healthy dose of Vitamin C, folate, and other essential minerals.
Helps you maintain healthy blood cholesterol levels.
Provides you with a good level of potassium, which helps prevent urinary disorders.
Soothes your nervous system and helps you beat stress.
Helps cool your body when you suffer from overheating in the summers.
Helps provide your developing baby with essential vitamins and minerals.
Improves your skin and hair health.
[ Read: Is Sugarcane Juice Safe During Pregnancy ]
Drinking Mosambi Juice The Right Way
In this special time, you need to be extra careful about most things. Follow these practices to ensure that you stay safe while having mosambi juice in pregnancy.
Use fresh mosambi juice; it is healthier, more hygienic and contains lesser preservatives.
Refrain from adding ice if you tend to catch a cold easily.
If you dilute the juice, make sure you add boiled and cooled water or freshly filtered water.
Do not add black salt or cumin power if it does not suit your taste or digestive system.
Have freshly squeezed mosambi juice. The stale juice left in the fridge can lead to stomach problems.
Do you like it sweet, do you like it sour, do you mix it up with another fruit? Tell us how you prefer to have your sweet lime juice in pregnancy. Our readers would love to hear your views.

Recommended Articles:
The following two tabs change content below.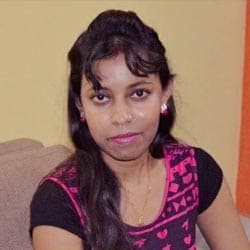 Ria Saha
Ria is a techie-turned-writer and writes articles on health, with special emphasis on nutrition. She did her B.Tech from West Bengal University of Technology and was previously associated with IBM as SAP ABAP technical consultant. She moved into freelance content writing in 2013 and worked for various websites including MomJunction, Brainpulse Technologies, and Emarketz India.