Do you love blueberries? Are you keen to add your favorite fruit to your pregnancy diet but are not sure if it is safe for your baby? Well, if you can relate to the above situations reading this post is a must!
Blueberries offer a bunch of health benefits for pregnant women! Do you know they can help you keep a tab on your weight gain? Blueberries can also make your baby's bones strong! Want to know more about the goodness of eating blueberries during pregnancy? Read on!
What Are Blueberries?
The indigo-colored berries are the fruit of a flowering plant that grows in North America.
Blueberries are relatives of cranberries and bilberries i.e. all the three berries belong to the same family. (1)
Are Blueberries Good For Health?
Blueberries are a must-have as they are a rich source of Vitamin K, Vitamin C, manganese, dietary fiber, and copper. (2)
Are Blueberries Good For Pregnancy?
Blueberry is a super food that you must have during pregnancy for the following reasons:
1. Keeps Weight-Gain In Check:
Pregnant women dread excessive weight gain during pregnancy. But as blueberries are low in fat content thus you can munch on them without worrying about gaining those extra pounds.
2. Strengthens The Immune System:
Are you pregnant and dread illnesses and infections? Fret not! During pregnancy, your immunity is at an all-time low. In addition, you want to avoid popping pills while expecting. The delicious blueberries are rich in Vitamin C and can help boost your immune system. The essential nutrient also aids the absorption of iron in your body.
3. Reduces Stress:
Are you suffering from the 'pregnancy brain'? Do not worry. Blueberries are a storehouse of antioxidants. Regular consumption of the fruit can help protect your nerves from oxidative stress and improve the cognitive function of your brain!
4. Alleviates Constipation:
The toilet ordeal every day adds to your pregnancy blues! Blueberries offer a natural and delicious cure for constipation. The fruit is a rich source of dietary fiber and can help regulate your bowel movement.
5. Boosts Heart Health:
Blueberries are a wonderful source of antioxidants and help to protect you from developing cardiovascular complications. Eating blueberries while pregnant keeps the threat of pre-eclampsia at bay!
Do Blueberries Offer Any Health Benefits For The Baby?
Blueberries can work wonders for the growth and development of the little one in your womb in the following ways:
1. Bone Development:
The blueberries contain polyphenols a compound that aids the development of the bones in the fetus.
2. Prevents premature delivery:
Premature delivery has become a common problem these days. So in order to avoid this situation, go for this amazing fruit and bring a healthy baby into this world!
3. Prevent Low birth weight baby:
Pregnant ladies who consume blueberries reduce the risk of low birth weight of their newborns.
Things To Remember
Blueberries have innumerable health benefits, but one has to be careful while selecting the fruit. That means while you are going for blueberry shopping do ensure that you pick organic ones since they are pesticides free.
Also, please consult your doctor before adding blueberries to your pregnancy diet.
Remember that consuming anything in moderation does not spell danger. 
[ Read: Ways To Prevent Preterm Labour ]
Blueberries Recipe For Pregnant Women
Here is a yummy treat to pamper your taste buds during pregnancy in a healthy way:
Blueberry Salad:
You Will Need:
½ a cup of Strawberries (Chopped)
½ a cup of Blueberries (Chopped)
1 Banana (Sliced)
2 Tbsp Lemon juice
3 Tbsp Sugar
How To:
In a bowl mix strawberries and blueberries together.
Add some sugar and lemon juice into the bowl and toss the berries again. Now put the bowl in a refrigerator for about 30 minutes.
Add banana slices before serving.
Now you know you can binge on blueberries as a healthy snack! Why wait? Go ahead and grab a bowl!
Did you consume blueberries during pregnancy? How did it benefit you and your baby? Please share your experience and advice with us here.
Recommended Articles:
The following two tabs change content below.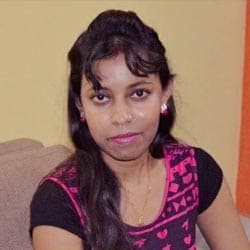 Ria Saha
Ria is a techie-turned-writer and writes articles on health, with special emphasis on nutrition. She did her B.Tech from West Bengal University of Technology and was previously associated with IBM as SAP ABAP technical consultant. She moved into freelance content writing in 2013 and worked for various websites including MomJunction, Brainpulse Technologies, and Emarketz India.