A freshly made salad is the right thing to have when you are hungry. It satisfies your food cravings and keeps you full while not adding those unnecessary calories. Caesar salad is one such thing you don't want to miss even when you are pregnant.
However, while having a salad during pregnancy, there could be a chance of ingesting unhealthy bacteria sitting on raw ingredients such as eggs. So, is it safe to eat Caesar salad during pregnancy? How can you make sure it is safe to eat? MomJunction tells you about it in this post.
What Is A Caesar Salad?
Caesar salad is a famous Mexican delicacy known for its distinctive flavor. It is said to be named after restaurateur Caesar Cardini.
This tasty salad contains Romaine lettuce and croutons dressed in olive oil, lemon juice, egg, garlic, anchovies, Worcestershire sauce, Parmesan cheese, Dijon mustard, and black pepper.
Is Caesar Salad Safe To Eat During Pregnancy?
It is not safe to eat homemade Caesar salad containing raw eggs. Raw eggs can contain Salmonella bacteria, which could lead to an infection and make you sick (1).
However, commercially available Caesar dressings are safe as they contain cooked or pasteurized eggs that are safe for pregnant women. Before you order the salad in a restaurant, confirm that they are using thoroughly cooked eggs.
If you want to make Caesar salad at home while avoiding the risk of any bacterial infections, then try some modified recipes.
Eggless Caesar Salad Recipes For Pregnant Women
Since the original recipe contains raw egg, you may modify Caesar salad to avoid raw egg.
1. Easy Caesar salad
You will need:
Caesar dressing
½ cup eggless mayonnaise
2 cloves garlic, grated
1tbsp fresh lemon juice
2tbsp olive oil
½ cup parmesan cheese, shredded
Salt and ground black pepper (for taste)
Salad
3 hearts of Romaine lettuce, torn
½ cup parmesan cheese, shredded
A few ready-to-eat croutons
Little ground black pepper
How to:
Whisk together all the dressing ingredients except olive oil.
Then add olive oil slowly until you have the desired consistency.
Season with salt and pepper.
Toss the lettuce in a big bowl, and add the dressing.
Sprinkle some parmesan cheese and freshly ground black pepper.
Top it with croutons and mix well.
Preparation time: 10min
Servings: 4
[ Read: Is It Safe To Eat Mayonnaise When Pregnant ]
2. Caesar salad with tofu croutons
You will need:
Caesar dressing
1tsp Dijon mustard
2tbsp lemon juice
1tsp water
3 cloves garlic, finely chopped
1/8tsp each of salt and ground black pepper
¼ cup soybean cooking oil
Salad
5 hearts of Romaine lettuce, torn
2 cups pear or cherry tomatoes, halved
¼ cup ripe olives, pitted and halved
¼ cup parmesan cheese, shredded
Tofu croutons
8oz extra-firm tofu (fresh bean curd)
1tbsp soybean cooking oil
How to:
For tofu croutons, heat one tablespoon of oil in a large skillet and add tofu that is cut into half-inch cubes. Stir continuously until they turn golden and drain them over a paper towel.
For dressing, mix all the ingredients and blend them smooth. Set aside.
Take a large bowl, mix Romaine, tomatoes, olives, and croutons. Toss it with dressing and top it with parmesan cheese.
Preparation time: 35min
Servings: 10
3. Kale Caesar salad
You will need:
Caesar dressing
1 ½tsp Dijon mustard
2tbsp lemon juice
2 cloves garlic, finely chopped
4 anchovies, finely chopped
¼ cup extra-virgin olive oil
¼tsp ground black pepper
¼tsp salt
Salad
1 bunch of dino kale, thinly sliced
2tbsp parmesan cheese, grated
How to:
Whisk together all the ingredients except the oil, for dressing. Once mixed, slowly add oil and mix it thoroughly.
In a large bowl, add kale and toss in the dressing. Top it with grated parmesan cheese and serve.
Preparation time: 10min
Servings: 6
[ Read: Jalapenos During Pregnancy ]
4. Grilled chicken Caesar salad
You will need:
Chicken marinade
1lb skinless chicken breasts
1tbsp olive oil
1tbsp lemon juice
1 clove garlic, minced
2tbsp Dijon mustard
¾tsp kosher salt
1tbsp fresh rosemary, minced
Ground black pepper (for taste)
Caesar dressing
1tbsp lemon juice
½ cup plain non-fat Greek yogurt
2tsp red wine vinegar
2tsp olive oil
2tsp Dijon mustard
2tsp Worcestershire sauce
1tsp anchovy paste
¼ cup Parmesan cheese
¼tsp granulated garlic
Kosher salt and ground black pepper (for taste)
Salad
2 hearts of Romaine lettuce, halved
4 slices whole wheat bread
2tbsp parmesan cheese, grated
Kosher salt and ground black pepper
How to
Season the chicken with salt and pepper, and keep in the refrigerator for some time. For chicken marinade, combine all the ingredients in a small bowl and pour this marinade over the chicken. Mix it thoroughly and refrigerate again for about half an hour.
For dressing, put all the ingredients in a bowl and whisk them. Refrigerate until ready to serve.
Now pre-heat the grill to medium-high heat and apply oil to the grill.
Keep the marinated chicken on the grill and cook. Flip over and cook thoroughly.
Drizzle some olive oil on the Romaine lettuce and bread slices, and season with salt and black pepper. Grill them for one minute and cut the bread into bite-sized cubes.
Place the grilled lettuce on a serving platter, followed by grilled chicken, bread cubes, Caesar dressing, parmesan cheese, salt, and black pepper.
Preparation time: 30min
Servings: 4
Classic Caesar salad recipe contains undercooked or non-pasteurized eggs that carry the risk of salmonella bacteria. Salmonella poisoning is unlikely to harm your baby but could affect your health (2). It causes severe diarrhea, vomiting, dehydration, fever, and abdominal cramping.
These symptoms can increase the likeliness of preterm labor or miscarriage. Therefore, it is good to go for eggless varieties like the ones mentioned above.
How To Avoid Salmonella Infections While Having Caesar Salad?
Here are some safe practices you should follow to protect yourself from bacterial infections:
When ordering a Caesar salad from the restaurant, order an eggless variety.
Avoid other raw egg-based ingredients such as mayonnaise.
Wash the vegetables before using them in the salad. Also, make sure the chicken or meat is thoroughly cooked.
Wash your hands before handling food.
Cook eggs or meat at high temperatures to kill the bacteria.
[ Read: Bocconcini Cheese During Pregnancy ]
Adhering to these simple measures can reduce your likeliness of food infections. Do not have a raw egg in the salad. If you are reluctant to buy your salad from a shop, use our recipes, and eat the fresh salad without fear.
What is your favorite Caesar salad recipe? Let us know in the comments section below.
References:
MomJunction's articles are written after analyzing the research works of expert authors and institutions. Our references consist of resources established by authorities in their respective fields. You can learn more about the authenticity of the information we present in our
editorial policy
.
Recommended Articles:
The following two tabs change content below.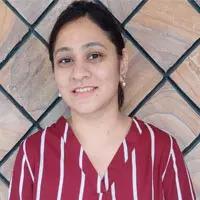 Swati Patwal
Swati Patwal is a clinical nutritionist and toddler mom with over eight years of experience in diverse fields of nutrition. She started her career as a CSR project coordinator for a healthy eating and active lifestyle project catering to school children. Then she worked as a nutrition faculty and clinical nutrition coach in different organizations. Her interest in scientific writing...
more