Are you wondering if consuming ham during pregnancy is safe?
The food that you eat plays a huge role in defining your overall health and well-being. During pregnancy, it doesn't just impact your health, but your baby's health too. This is why it is important to stick to consuming healthy foods in this period.
Certain foods that you usually eat may not necessarily be fit to be consumed during pregnancy. Does ham too make it to the list of foods to be avoided during pregnancy? Let's find out.
Risks Of Meat Consumption During Pregnancy
Meat is a good source of protein, and is an important part of the diet too. However, consumption of undercooked meats including clams, raw oysters, sushi, unpasteurized eggs and even raw cookie or cake dough could pose several health risks. This is because these undercooked foods tend to contain large amounts of bacteria, parasites and viruses, which may raise your risk of being affected by several health conditions, and possibly even affect you adversely during pregnancy.
Other foods like hot dogs and luncheon meats also tend to contain bacteria known as Listeria monocytogenes, which causes a condition known as listeriosis. Listeriosis, if allowed to progress, may also lead to stillbirth, miscarriage and other serious health problems. (1)
While the risk of being affected by this infection is relatively low, it is still a concerning factor. In addition, it is important to note that your body is relatively vulnerable during pregnancy, which is why, it is best to stick to the consumption of foods that have little or no risk of any health concern associated with their consumption.
Is it Safe to Eat Ham While Pregnant?
According to the NHS, pregnant women can consume cold cured meats like salami and Parma ham safely during pregnancy with a very low risk of being affected by food poisoning or infections. However, it is important to note that while these infections may be mild for your body, they may turn out to be serious for your baby. In fact, having listeriosis during pregnancy could increase your chances of transferring the infection to your baby, which could also lead to premature delivery or neonatal death. (2)
Basically, consuming ham during pregnancy could be risky.
[ Read: Listeriosis During Pregnancy ]
Eating Ham During Pregnancy – The Healthy Way
While it is best to avoid consuming ham and other undercooked meats during pregnancy, there are certain ways to reduce your risk of being affected by the harmful effects associated with its consumption.
The best way to eat safe during pregnancy is to wash everything that you eat thoroughly, including fruits and vegetables.
Make sure all your meats are completely cooked before you consume them- raw foods, particularly meats, are more likely to transmit live bacteria and viruses.
Re-heat all foods until they are steaming hot before you consume them- using a thermometer to check the temperature of the foods is a good idea.
Ideally, raw ham should be cooked at 160F and precooked ham must be cooked at 140F for it to be healthy and safe for consumption among pregnant women. (3)
While eating out at restaurants, avoid choosing foods that contain deli meats since they do not re-heat their deli meat.
Ask for hard cheese options as opposed to soft cheese.
Avoid choosing refrigerated meat spreads and smoked seafood that is refrigerated. Make sure you heat everything well before consumption, preferably until it is steaming hot.
Choose home cooked ham as opposed to store-bought versions. Make sure you cook it thoroughly before consuming it.
Hope this article will answer your questions about consuming eat ham when pregnant? Do let us know your views in the comments box below.
Recommended Articles:
The following two tabs change content below.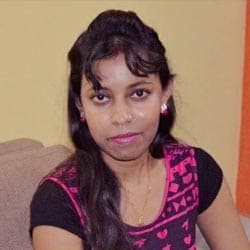 Ria Saha
Ria is a techie-turned-writer and writes articles on health, with special emphasis on nutrition. She did her B.Tech from West Bengal University of Technology and was previously associated with IBM as SAP ABAP technical consultant. She moved into freelance content writing in 2013 and worked for various websites including MomJunction, Brainpulse Technologies, and Emarketz India.