Don't you just love eating watermelons? Are you wondering, is it safe to eat watermelon during pregnancy? Are you worried that eating a juicy watermelon may harm your baby inside? If this sounds like you, read our post. Here we look at how watermelons affect you during pregnancy.
Health Benefits Of Eating Watermelon During Pregnancy
Most doctors will tell you it is good to have watermelons while you are pregnant, as it is full of nutrients. Here are some amazing health benefits of watermelon during pregnancy:
1. Relieves Heart Burn:
Pregnant women commonly suffer from digestive issues like heartburn and acidity.  Watermelon eases these problems by soothing the food pipe and stomach. It will provide instant relief from heartburn.
[ Read: Home Remedies to Treat Heartburn During Pregnancy ]
2. Reduces Swelling:
Light swelling on the hands and feet or edema is common during pregnancy. The high water content present in watermelon reduces the blockages in veins and muscles, thus treating edema.
3. Alleviates Morning Sickness:
Drinking a glass of fresh watermelon juice early in the morning is a superb idea during pregnancy. Watermelon provides a soothing and refreshing experience all through the day. The energizing and nutritional properties of watermelon also help alleviate morning sickness.
4. Treats Dehydration:
Dehydration leads to premature contractions and causes premature birth. Pregnant women should drink lots of water to prevent dehydration. Watermelon contains about 90% water and eating it is a great way to avoid dehydration.
[ Read: Benefits of Coconut Water During Pregnancy ]
5. Relieves Muscle Cramps:
A pregnant woman's body goes through many changes. The increasing weight and fluctuating hormones can lead to pain in the muscles and bones. Including watermelon in any form helps the body to cope with and ease the muscle cramps.
6. Prevents Pigmentation:
Pigmentation is a common skin problem during pregnancy. It takes away the joy of pregnancy. Watermelon plays a key role in preventing the condition. Watermelon promotes easy digestion and keeps bowel movements smooth. This in turn affects the texture of the skin. It glows and appears beautiful.
7. Diuretic And Detoxifying Effects:
Watermelon has diuretic properties. It helps flush out harmful toxins from the body. It stimulates kidney function, purifies the liver and reduces uric acid levels in the blood.
8. Boosts Energy Levels:
Watermelon contains a rich amount of minerals like potassium and magnesium, vitamins like A, B1 and B6. These nutrients are the natural energy boosters thus offering great energy for the body. They are also useful for the development of your baby's eyesight, immune, and nervous systems.
9. Prevents Preeclampsia:
Watermelon contains high lycopene levels that help reduce the risks of preeclampsia during pregnancy. It is a condition that can lead to serious effects for both you and your baby. Eating plenty of the fruit in any form lessens the chance of having a baby with intrauterine growth retardation.
Are There Any Side Effects Of Eating Watermelon In Pregnancy?
Along with the above health benefits, watermelon also causes some side effects if taken in excess quantities. Anything more than subtle amounts is not good during pregnancy. They are as follows:
1. Gestational Diabetes:
Excess consumption of watermelon increases the blood glucose levels, thus causing gestational diabetes.
2. Over-Cleansing:
Watermelon keeps all the internal organs in a healthy condition by flushing toxins from the body. In this process, it may also flush out also some of the essential nutrients if taken in excess.
3. Gastric issues:
Avoid eating a watermelon that is kept in the open for a long time as it can lead to nausea, vomiting, and gastrointestinal issues. Always choose to have fresh cut fruit or juice.
As with any food you eat when you are pregnant, it is important to check with your doctor first. If your doctor says, it is safe for you to have watermelon when you are pregnant, go ahead and try these delicious watermelon recipes.
[ Read: Muskmelon During Pregnancy ]
Easy Recipes That Include Watermelon
Here are some refreshing and easy recipes that all include watermelon:
1. Three Melon Smoothie:
You Will Need:
2 cups seedless and cubed watermelon
1 cup cubed honeydew watermelon
1 cup cubed cantaloupe melon
½ cup lemon juice or lemon soda
How To:
Place all the ingredients in the blender.
Blend it to a smooth consistency.
2. Avocado Watermelon And Spinach Salad:
You Will Need:
2 large peeled, pitted and diced avocados
4 cups fresh spinach leaves
1 cup balsamic vinegar salad dressing – check with your doctor first else ask for a pregnancy safe alternative
How To:
Mix all the fruits and spinach leaves in a bowl and toss together.
Add the dressing just before serving the salad.
[ Read: Nutritious Fruits To Eat During Pregnancy ]
3. Watermelon And Tomato Salsa:
You Will Need:
1 ½ cups chopped red onions
1 chopped and seeded tomato
1 seeded and chopped jalapeno pepper
Salt and freshly ground pepper as per taste
How To:
Mix the red onion, watermelon, cantaloupe, jalapeno pepper, tomato, cilantro and lime juice in a big bowl.
Add the salt and pepper.
Store in the fridge for at least four hours to let it cool before eating.
4. Spicy Watermelon:
You Will Need:
¼th tsp salt or as per taste
2 cups cubed and seeded watermelon
How To:
Mix the cumin, chili powder, coriander, cayenne pepper and salt in a bowl.
Put the watermelon in the serving bowls. Sprinkle with the spicy mix. Squeeze the lime juice just before eating. You can first chill it in the refrigerator if you wish to.
[ Read: Eating Jackfruit During Pregnancy ]
5. Watermelon Sherbet:
You Will Need:
4 cups diced and seedless watermelon
Some unflavored gelatin – check with your doctor if you can use it during pregnancy
1 cup chilled heavy cream
How To:
Mix the watermelon, sugar, salt and lemon juice in a big bowl. Stir them together to coat the watermelons properly. Use plastic wrap to cover the bowl and place it in the fridge for about 30 minutes.
Once the time is up, take it out of the fridge and blend in a blender. Make sure you make a smooth paste out of it. Now pour it back into the bowl.
Put the cold water in a saucepan. Add the gelatin to the cold water and let it stand aside for about a minute. Now place the saucepan over low heat and cook it for about two minutes. Keep stirring it. Now add the gelatin mix to the watermelon mixture that you earlier blended. Add the heavy cream and beat it all together to get a smooth consistency. Make sure the mix is fluffy.
Put the mix in an ice cream maker and freeze it for as long as required as per the instructions on the gelatin. You can also check to see when it reaches a soft to serve consistency. Once the consistency is perfect, take it out and place the ice cream into a lidded plastic container and let it set in the freezer overnight.
6. Watermelon And Strawberry Lemonade:
You Will Need:
8 cups of cubed and seeded watermelon
1 cup halved and fresh strawberries
½ cup of fresh lemon juice
How To:
Mix all the ingredients together and blend them in a food processor until smooth.
Let the mix chill in the fridge before consuming. 
[ Read: Benefits Of Kiwi Fruits During Pregnancy ]
7. Cucumber And Watermelon Salad:
You Will Need:
6 cups of cubed and seeded watermelon
4 cups of cubed cucumbers
1 tsp salt or as per taste
½ cup balsamic vinegar – make sure you check with your doctor whether you can have it while you are pregnant
How To:
In a large bowl, place the watermelon and the cucumber cubes.
Now add the salt and the sugar. Drizzle the balsamic vinegar lightly and toss the mix so that everything is properly coated.
Let it sit in the fridge for about 15 minutes to let it chill properly. Take it out once the time is up and toss it once more before serving.
Tips For Including Watermelon:
You can easily make delicious watermelon sorbet by blending watermelon pieces, ice and keeping in the freezer for some time.
It can be combined with savory foods for a great taste. For example, top up watermelon pieces with cheddar cheese for a perfect appetizer.
You can also consume the white rind as it is used as a vegetable in some places. It can be pickled or stir-fried.
Like everything you eat when you are pregnant, make sure you have your doctor's approval first before making any of these dishes. Tell us which one was your favorite, or tell us your watermelon recipe here. Do tell us if you know any other benefits of watermelon in pregnancy with fellow moms here.
Recommended Articles:
The following two tabs change content below.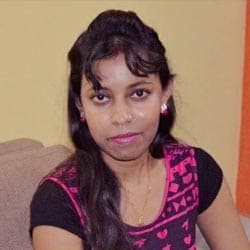 Ria Saha
Ria is a techie-turned-writer and writes articles on health, with special emphasis on nutrition. She did her B.Tech from West Bengal University of Technology and was previously associated with IBM as SAP ABAP technical consultant. She moved into freelance content writing in 2013 and worked for various websites including MomJunction, Brainpulse Technologies, and Emarketz India.