Many women crave for some dill or dill pickle during pregnancy. However, the safety of eating this pickle remains unknown, and even though it has many health benefits, you may not be convinced. So, if you simply want to learn more about the safety of eating dill during pregnancy, read our post here.
What Is Dill?
Dill is a perennial herb belonging to the family of Apiaceae. You usually use the herb for your culinary and medicinal requirements. Dill possesses tangy, appetizing taste and flavor and flavonoids, amino acids, minerals, and chemical compounds popular as Monoterpenes that are beneficial for your health (1).
Is It Safe To Use Dill During Pregnancy?
Yes, you can use dill during pregnancy only for your culinary purposes in small quantities. You can have a dash of dill pickle during pregnancy. However, avoid using concentrated dill oil during pregnancy as it may prove harmful to your health or fetus. Also, avoid using an excess of dill in pregnancy as it can promote menstruation and put your pregnancy at risk. Dill seeds and leaves offer you several medicinal effects, however, avoid therapeutic doses while expecting (2).
8 Health Benefits Of Eating Dill During Pregnancy
Using dill for culinary purposes during pregnancy can help you have many health benefits. Benefits include:
1. Protects From Bacterial Infection:
The use of dill while pregnant safeguards you from harmful bacterial infection. The anti-bacterial effects of the herb prevent the growth and expansion of bacteria and related ailments resulting due to it (3).
2. Prevents Free-Radical Activity:
Dill possesses powerful antioxidant properties that help safeguard your body from the harmful effects of free-radicals. The herb neutralizes free radicals, thus prevents oxidative stress during pregnancy (4).
[ Read: Pesto During Pregnancy ]
3. Promotes Bone Health:
Dill is rich in calcium, which is a vital mineral that safeguards you from the loss of bone mineral density. The herb safeguards you from the risk of osteoporosis during pregnancy, and ensures appropriate bone growth and development in the fetus, reparation of injured bones, and promotes your bone health.
4. Regulates Cholesterol:
The use of dill in your culinary activities during pregnancy aids in regulating your blood cholesterol levels and blood glucose levels to a great extent (5).
5. Treats Anemia:
Dill leaves are a rich source of mineral iron. So, adding the leaves of the herb to your regular diet aids in boosting your iron levels and hemoglobin count substantially. Thus, dill helps treat anemia and its symptoms, such as fatigue, effectively during pregnancy.
6. Detoxify Your Body:
Dill possesses good amounts of mineral magnesium that aids in detoxifying your body safely during pregnancy. The mineral is also beneficial for your bones. The powerful antioxidant properties of the herb help you have healthy, glowing skin while expecting (6).
[ Read: Celery During Pregnancy ]
7. Cures Dysentery:
Dysentery results due to fungal infections. Adding dill to your diet helps treat the health troubles resulting due to dysentery during pregnancy. The herb acts as a disinfectant and inhibits the fungal infections effectively (7).
8. Aids Fetal Growth:
Dill is also a good source of mineral zinc. Zinc is a vital nutrient that aids rapid cell growth and promotes fetal growth and development. Consuming dill during pregnancy prevents the risk of zinc deficiency and aids appropriate growth and development of your unborn baby (8).
Side Effects Of Dill During Pregnancy
Even though there are numerous health benefits of eating dill during pregnancy, an excess of the use of this herb can prove harmful. Common side effects of eating dill during pregnancy are:
Stimulate menstruation as dill acts as an emmenagogue
So, ensure you avoid excess consumption of the herb during pregnancy to avoid its side effects.
Did you eat dill while during pregnancy? How did you benefit from it? Tell us. Share your experience about consumption of dill and pregnancy here. Leave a comment below.
Recommended Articles:
The following two tabs change content below.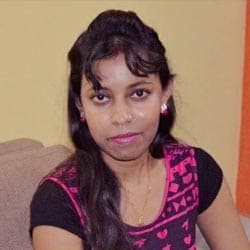 Ria Saha
Ria is a techie-turned-writer and writes articles on health, with special emphasis on nutrition. She did her B.Tech from West Bengal University of Technology and was previously associated with IBM as SAP ABAP technical consultant. She moved into freelance content writing in 2013 and worked for various websites including MomJunction, Brainpulse Technologies, and Emarketz India.