Children tend to get bored easily. Activity books that have games, quizzes, and puzzles are a good alternative to smartphone games and TV time to keep kids busy. These books can engage the child for hours and also help them develop problem-solving skills. Read this MomJunction post for a list of the best kids' activity books that you can buy online. 
11 Best Kids' Activity Books
Why does a magnet stick to iron? What makes a thing fall when dropped? If your child is intrigued to find out answers to such questions, then this activity book on science experiments might come in handy. It contains more than 100 simple science experiments for children between ages five and ten. It also contains easy-to-follow instructions and colorful photos for kids. It comes in Kindle, paperback, and spiral-bound editions.
This book comes in a sticker activity format and contains mazes, spellings, and pattern games, drawing activities, etc. It is equine-themed and features many interesting facts about cute ponies and regal horses. With 1000 horse stickers, this book offers interesting and fun activities and games for children. This book is recommended for children from ages four to eight.
There are many wonders in the human body, and this activity book could be one of the best ways to teach about it to your children. It contains mazes, coloring pages, connect-the-dots, and crossword puzzles, and a few real-life experiments that are suitable for children from ages four to eight. With many facts and colorful drawings, this book offers in-depth knowledge about human anatomy and makes learning about it fun and exciting.
Your little one would love doing some interesting activities with Ryder, Chase, Skype, and other popular characters from the TV show The Paw Patrol. It contains interesting games such as finding the hidden objects, along with activities such as matching, counting, and comparing, that can improve your child's math skills and vocabulary skills with exercises like rhyming words and connecting the picture to its words to improve their language. The activity book is ideal for kids between the ages of four and eight years, and contains 24 pages packed with fun.
This book might make an ideal traveling companion for your kids during long drives and vacations. It contains 100 different activities that cover tracing, coloring, solving mazes, matching, and counting. It also has numerous coloring pages to entertain your child. This activity book is said to be suitable for kindergarten and preschool children and comes in a paperback edition with 110 pages.
This activity book could be one of the best gifts you could give a Spider-man fan. It contains eight busy scenes where Spider-Man is busting the villains, and your child has to look and find all the hidden objects within each scene. Such activities might boost concentration and encourage them to explore more. This book also contains other activities, such as connecting the words with the pictures, comparing, matching, and counting that could help your child to develop their vocabulary and math skills.
A treat for all the unicorn-lovers, this book contains over 40 activities such as word search, decorate the cupcake, spot the difference, mazes, etc. all of which are unicorn-themed. It is recommended for children aged four to eight. It also contains activities like searching for words that could help increase their vocabulary skills. This book comes in a premium matte cover design and also contains printed high-quality interior papers.
With over 365 activities, including tracing, coloring, puzzles, mazes, connecting-the-dots, etc., this coloring book could be a lot of fun. It also contains crossword puzzles that might help to improve your child's vocabulary. The number of activities makes it an excellent companion during vacations so that your children can have hours of uninterrupted fun. This book is recommended for children from four to eight years of age.
For children who love plants, bugs, and nature, this activity book has plenty to offer. It has unique activities such as crafting bird feeders out of fruit, pressing flowers, creating sundials, etc. Indulging in such tasks could help your children develop essential skills such as tracking, exploring, and discovering. Children might also learn scientific concepts around these activities.
If your child likes to learn about space, then this book by Activity Lab is just what you need to give them. It contains full-page coloring pictures of rockets, meteors, the Sun, the Moon, planets, and more. Along with these, it also has other activities such as puzzles, mazes, word search, copy the picture, find differences, etc. The book contains single side printed pages with high-resolution designs. This could also make a perfect gift for your child, who has a keen interest in space and astronomy.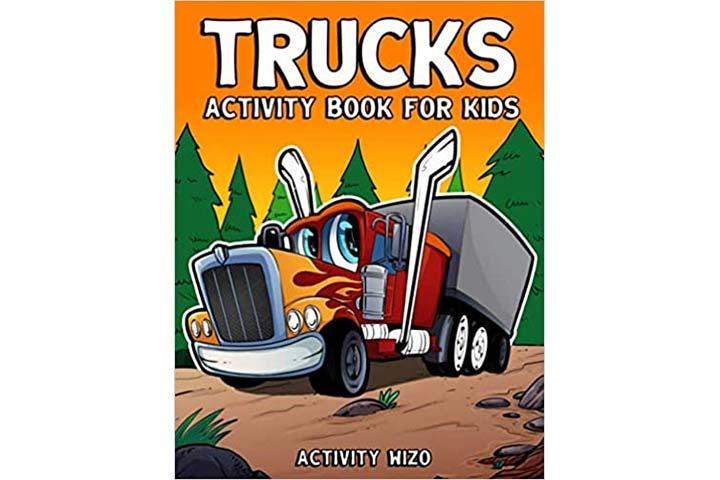 This activity book includes coloring, dot-to-dot puzzles, and mazes all within a truck theme. Recommended for children aged four to eight years, this book contains simple yet interesting activities to keep your children engaged. The book has a cute truck theme, which makes it appealing, and features 75 pages with single-side prints. This could also make a good gift for a child to help them keep away from smartphones.
How To Choose The Right Activity Book For Kids? 
The purpose of an activity book is to engage children and make learning fun for them. So, it is important to choose the right activity book so that they do not lose interest.
Here are a few aspects that might help you choose the best activity book for your child.
Age: The complexity of the activities depends on the age of the children. So, choose one that is suitable for your child's age. Usually, these activity books are designed for children from the ages three and above.
Interest of the child: What gets your child's attention? Is it nature, space, or unicorns? Pick an activity book that has something that they are interested in. This would make it easy for you to get your children to use the book. 
Entertainment factors: The book should also contain elements that are fun and provide entertainment for your kids. If a book is all study and no fun, children might lose interest in it. 
Type of activities: Check out the various types of activities that are given within the book and determine if your child would enjoy doing them.
An activity book is a good way to divert your child's attention from smartphones. These books have many benefits and also are said to be useful for the development of kids in many ways. An activity book could also be used to create some quality parent-children time. So, pick the best activity book and encourage them to spend their time better.
Recommended Articles: