There are many different types of kisses, including happy, sorrowful, friendly, protecting, naughty, and passionate kisses. Similarly, if someone you like gives you a kiss on the forehead, it could symbolize many things, leaving you unsure of how to react or respond. Though we typically understand why someone kisses us or what they mean when they do, we are occasionally left wondering if the forehead kiss was a sign of protectiveness or a lack of interest in physical proximity. A persistent over-thinker may spend hours or even days trying to figure out what this kiss means. If you're wondering about the same thing, stop overthinking and read this post as we explain some of the meanings of a forehead kiss.
What A Kiss On The Forehead Could Possibly Mean
Every kiss has a certain feeling attached to it. What does a kiss on the forehead mean? Here are some of the possible feelings attached to a forehead kiss.
They show affection to you: If you have started seeing someone and they plant a kiss on your forehead at the end of a date, it could mean that they like you but are probably too nervous about kissing you on your cheek or lips. So, they kiss your forehead instead. A kiss on the forehead could also mean that they don't feel chemistry with you and are just trying to conclude a date in a friendly way.
They think about you: If your partner kisses you on your forehead the moment you meet, it could mean that your partner was thinking about you. Your partner might have been fondly remembering you or worried about you and probably even waiting to see you.
They care for you: Your partner may pull you in for a hug and plant a kiss on your forehead when you are upset or if you share some bad news. In another scenario, your partner may kiss you on your forehead after being in bed together. In both scenarios, it means your partner cares for you.
They respect you: Your partner may not express it aloud, but a forehead kiss could mean that the partner respects you. They may kiss you on your forehead when you share the good news of your promotion or when you sign a new contract. It is a message to convey that they feel proud of you and your achievements.
They feel committed to you: When your partner kisses you on the forehead in front of others, it shows your partner is serious about the relationship. They are conveying the message that they share a deeper connection with you, are deeply involved, and considering a long-term relationship with you.
They appreciate your company: A forehead kiss indicates that your partner is happy with you and an expression of how much they appreciate you. A kiss on the forehead is the easiest way to let you know that they have deep feelings for you and that they would never want to lose you.
They want to make you feel special: They may kiss their friends and family on the cheek all the time but kissing the forehead is rare. This is because it is reserved for you. For instance, you two are watching a movie, and suddenly you get a kiss on your forehead. It means they have strong feelings for you and want you to know that you are special to them.
They do it because you like it: If you like receiving forehead kisses and they know it, they will do it more often. It is to see that prized smile on your face. It is to let you know how much they wish to see you happy.
There is a lack of attraction: While a forehead kiss signifies something positive, it may also convey something unpleasant. If you seek a kiss on the lips and your partner gives a forehead kiss, it may mean your partner is not attracted to you and may have lost interest.
This is no reason to panic or think it's your fault. Your partner's lack of interest in intimacy could be due to stress or some other problem bothering them.
There is tension in the relationship: If you had argued with your partner and if your partner continues to kiss you on your forehead, it may mean that the fight is not resolved. Although things may appear normal on the exterior, your partner may still be resenting you and avoiding intimacy.
Frequently Asked Questions
1. Does a forehead kiss mean love?
A forehead kiss does not just mean love. It could be affection, friendship, caring, protection, and more. However, for some, it could indicate platonic love, while for others, it can be an act of intimacy and romance. Remember that if your partner chooses to kiss you on your forehead, it shows that they are comfortable with you.
2. How do you initiate a forehead kiss?
Kissing on the forehead can be a small gesture but deeply meaningful. You can begin with eye contact as it allows some mutual acknowledgment. Stare into your partner's eyes to get as close as possible. Depending on your comfort level, you may hold their shoulders, hands, or head and can also convey a message. Give a simple light kiss instead of putting all your weight on their forehead. It can be as simple as not expecting a response in return.
What a kiss on the forehead means depends on the place, timing, and mood. You should understand the situation before trying to read too much into it and jumping to conclusions, which could be bad for the relationship. We hope this post helps you understand the meaning of a forehead kiss a little better than before.
Key Pointers
A kiss can have so many different meanings.
A kiss on the forehead usually means that they care about you and are affectionate towards you.
Sometimes, just a kiss on the forehead might also mean that they are not attracted to you.
The following two tabs change content below.

Ratika has experience writing in various fields including finance, education, lifestyle, and entertainment. After her masters degree in Commerce, she acquired a PG Diploma in Communication and Journalism from Mumbai University. She is inquisitive about human relationships and likes to study people and how they manage their relationships, during her freetime. At MomJunction, Ratika writes insightful and informative articles on...
more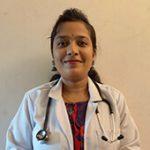 Dr. Sadhvi Mythili
(MBBS, Psychiatrist)
With a passion for reading and understanding about the human mind and how it functions, Dr Sadhvi Mythili took up Psychiatry after completing her graduation in Medicine from Kakatiya Medical College, Telangana. She pursued post graduation from the prestigious Asha Hospital. With over five years of experience in Psychiatry (adult and child), Dr. Mythili is currently working with Apollo Clinic...
more