Kitty parties have always been in vogue. We bring you a list of interesting kitty party themes that add color to your party. The vibrant decors, extravagant food, fancy dress codes, and the wide range of fun and exciting party games make it nothing less than a carnival. But such a grand event also needs meticulous planning. You need to use your imagination and creativity to organize, conceptualize and host such parties. So, we bring you some fun and fascinating theme ideas to help you and your girls have a gala time and indulge themselves in an array of food and fun.
30 Unique Kitty Party Theme Ideas
1. One Thousand And One Nights
Inspired by Arabian Nights, the theme, with its erotic appeal and rich oriental touch, can have a spellbinding effect on your ladies' gang. Use any ancient fonts to write the invitation in a scroll made of handmade paper, put up tents made of textured fabric, and set up a lively seating arrangement on the floor with colorful cushions, shisha throw pillows, and shisha pipes.
The queens and courtesans can wear harem pants, golden jewelry, and anklets, while those representing the BadshahiXMeaning "king" in Arabic or Persian. and his aides can don sequinned robes and headgear. Treat your tastebuds with authentic hummus, falafel, kabsaiXAn traditional Arabic mixed rice dish (with meat) popular in Arabian countries. , and manakeeshiXA flatbread (with toppings resembling pizza), a typical breakfast meal, popular in the Middle East. , and spend the afternoon playing treasure hunt and having storytelling contests.
2. Cabaret
Cabaret is all about decadent fun and captivating performances. An image of a burlesqueiXAn act or writing that features humorous and exaggerated parodies on serious subjects, designed for entertainment purposes. showgirl would be apt for the invitation. Red and gold ball lights, candles, black nets, and jazz music — preferably Marlin Maye and Ann Hampton — will set the mood.
Let the bold and beautiful ladies dazzle the party with their boas, feather strips, and shimmery hats and heels. Include exotic entrees and mocktails on the menu, and arrange a karaoke contest to keep everyone involved.
3. Bell Bottoms, Baggies, And Bandanas
The ensemble will be in sync with the infamous hippie style. Homemade tie-dye bandanas are perfect for the invitation. The dress code is obvious and can be clubbed with some bold jewelry and unconventional makeup.
Use whimsical lights for a psychedelic effectiXA phenomenon where certain lights, bright colors, or patterns can cause hallucinating effects on the brain. , and put up colorful stringed beads and crepe streamers. Whole grains, stews, undressed salads, nuts, and some strong beverages will get everyone in the party spirit, while spray painting and a jewelry-making contest will keep your guests entertained.
4. Kindergarten
Write the invitation in an art paper using kids' handwriting fonts, roll it up in colored cellophane, and give the edges the look of a chocolate wrapper. Put up nursery rhymes in a graphic form on the walls and use balloons, streamers, confetti, fairy lights, soft toys, and dolls for this childhood-themed kitty party.
Ladies in frocks, dungarees, tunics, and ponytails licking popsicles, drooling over cookies and muffins and taking part in paper boat making contest and three-legged race may trigger fun memories.
5. Memento
Recreate the past for your mates and go down the memory lane with this unique theme. For the invitation, make a collage with pics of kitty parties hosted earlier and fix it up on a handcrafted photo frame. Download old photos of each member from their social media accounts, put up collages on the walls, or string the photos together using party clips with lights. Play some old songs to bring back memories.
Leave it to the discretion of the members to dress up as they did as a child, adolescent, or youth. Try integrating some favorites on the menu to make your guests feel special. Play 'guess me right' using childhood photos.
6. Cinema Hall
Use a handmade clapstick or a film roll to write the invitation. Set up a ticket counter, and put up posters of some blockbusters and legendary actors. The chairs should be arranged in rows with numbers, as mentioned in each ticket.
You can make a video of fun moments from previous kitty party recordings and play it using a projector and a screen to share a laugh. Any casual wear works for the theme. Flavored popcorn, chips, nachos, and cold drinks are must-haves for the snack bar. Play dumb charades and bingo for fun.
7. Wonder Women
Let characters from comics come alive with this themed party. Download customizable theme-based templates from the Internet, and create a cityscape with hanging Wonder Woman cut-outs.
Let each person decide which role to play and cater to their energy levels by serving some high-protein stuff and playing "trace the bomb" or '"destroy the double agent" to keep the fun quotient high.
8. All We Wanted To Be
When the going gets tough, the tough get going. This is so true for most women whose roles as a daughter, wife, or mother often cost them long-cherished dreams. So, let's give them the scope to present themselves as who they always wanted to become.
The invitation message has to have a sensitive tone. Integrate the concept of dreams and aspirations in the decor. Inspire every member to give an extempore speech on a topic of their choice. Celebrate sorority with pizzas, cocktails, and ice creams, and play the telephone game or truth or dare to lighten the mood.
9. Fit And Fabulous
Get into your fitness gears, wear a smart band, and be ready to sweat it out! Be the instructor and call upon fitness enthusiasts to join you for an intense workout session using gym flyers. Some gym instruments, including weights, pilates, and skipping ropes, posters of yoga, special quotes on wellness, and some upbeat music will create the perfect ambiance.
The ladies may wear body-hugging fitness attires and flaunt their curves. Freshly cut fruits, juice, salads, protein bars, sprouts, and nuts are healthy options. Throw down a push-up challenge or encourage them to take part in a planker pillar race or ring chase for the fun quotient.
10. Mythology
Let the myths come true! Write the invitation message on a scroll using the ancient font. Wooden and stone sculptures, sequin drapes, floor lamps, hanging lanterns, and antique pots and chalices can go well with the venue decor.
The ladies can choose mythological characters and dress up accordingly. Include meat and wine on the menu. And a game of dice or arm wrestling can add to the fun.
11. Stereo Stripes
Stripes are classic and never go out of fashion. A striped dress defines a woman's figure like no other and adds class, making it a woman's favorite. So, it definitely deserves to feature in our list of unique and creative kitty party themes.
Use a black and white striped background for the invitation. Use streamers, ribbons, or threads to create the striped effect. An all-stripes dress code would be boring, so a striped top or bottom works well for this theme. Sandwiches, cakes, and hotdogs would be perfect for the menu. Engage the guests with a game of tambola.
12. By Virtue Of The Virtual
Have a party but maintain social distancing! Such a bummer, isn't it? Well, there is a catch. Going out in the current scenario isn't conducive.
So, send cordial invitations for an online party on WhatsApp or zoom. Hashtags and emojis as a dress code will be a delight. Transfer a token amount to each member through UPI for snacks and munchies. Play a game of poker or ludo online or go for FarmVille. Stay home. Have fun!
Quick tip
Bollywood is another fun theme to host a kitty party. Create a carnival atmosphere by displaying movie posters and Bollywood cutouts all over the venue.
Kitty Party Themes For Summers
As the mercury soars, and the scorching sun warns us of ugly sunburns, nothing is more blissful than partying at home and sipping on some exotic cocktails and mocktails. Check out some enchanting summer themes for your next kitty party.
13. Scream Ice Cream
Craving for ice cream transcends the boundary of age, and nothing on earth beats the heat as good as ice cream does.
Use ice cream templates for the invitation. Give your venue a look and feel of an ice cream parlor by putting up multi-colored fabric ice cream cones and posters of mouth-watering flavors. Colorful summer frocks and shorts can be your dress code, and the "blindfold guess the taste game" can be fun for the grown-ups!
14. Schooldays
As a student, summer heralds the start of a new session. So, allow the ladies to drown in nostalgia by dressing up as schoolgirls in skirts and tunics with pigtails and ponies for the school-themed kitty party.
A template of a school bus is perfect for the invitation, and a classroom setup is ideal for the decor. Serve them brownies, cookies, noodles, and pancakes in tiffin boxes and play hopscotch or a lock and key game for fun.
15. Margaritas By The Pool
What is better than a splash bash in the summer?! Chill in the pool with your girl gang in hot swimsuits. Pool party accessories such as black sunglasses, sarongs, and sunbathing chairs can feature in the invitation.
Set up replenishment bars by the pool to save the hassle of getting out for a drink. A mix of desserts and refreshing drinks inside floats filled with ice isn't a bad idea. Float variants such as balloons, ducks, and fresh flowers in metal hoops will work just fine. Make the party a fun-filled affair with a pool race or a ball game.
16. Fruitilicious
Mangoes, litchis, watermelons, and pineapples define summer for most of us. Now that brings us to our next theme. You may use colorful cards for the invitation. The ladies can match the color of their dress to their favorite fruit and wear some handmade fruit-shaped jewelry.
Grab anything fruity for the decoration — fruit string lights, real-fruit centerpieces, and  posters of fruit juices and milkshakes — to enhance the look and feel of the party. Lemon on a spoon race and peel-the-pineapple-blindfolded game can cheer up the crowd.
17. All Pastels
Use a pastel crayon font for the invitation. Soft, subtle, and neutral colored venue decor goes well with the theme. The ladies may dress up in a mix of baby pink, sky blue, or aqua green with bare minimum makeup on.
You may include light crackers, baked delights, and ice cream for snacks. Games like Chinese whisper or dumb charades will add to the fun of a breezy pastel themed party.
18. Pajama Party
Sultry summer afternoons can drain us of our spirit and energy. Let the ladies laze out a bit in their lightweight, loose pajamas. It is just fine to send an invitation through email or WhatsApp.
Set up a bar to quench and cool, and serve some light snacks. Play charades for fun, and as dusk sets in, put up some fairy lights and play some soulful music.
Kitty Party Themes For The Rainy Season
Monsoon presents nature at its best. The beauty of dark clouds, peeking sun, rainbows, and greenery takes our breath away, setting the perfect mood for some fun and frolic.
So, it is time for some monsoon-themed kitty parties!
19. VIBGYOR
Use rainbow fonts to write the invitation. Rainbow wreaths, colorful balloons, streamers, confetti, and floating clouds can brighten up the venue for this rainbow-themed kitty party.
Let the ladies feel free to dazzle in a mix of colors of their choice. Add some rainbow cupcakes and jellos to the menu, and hold  a colored pasta necklace or bracelet-weaving competition.
20. The Umbrella Story
We are each other's confidante, holding an umbrella over one another during the rainy days. So, let's celebrate this togetherness with this colorful umbrella-themed kitty party.
Put up miniature dye-cut umbrellas with meaningful quotations dedicated to your girl gang on the wall. An arrangement of inverted umbrellas suspended from the ceiling adds to the appeal.
Though umbrella prints on the dress are optional, one needs to carry an umbrella as a prop. Serve drinks with little colorful cocktail umbrellas, and keep aside a soft toy for playing musical umbrella.
21. Festive Frenzy
During monsoons, festive spirit and fun galore. Convey the message of sorority by integrating the key elements of as many festivals as possible in the invitation and venue decoration.
The ladies may feel free to put on their cultural attire. Traditional delicacies and lip-smacking golgappas, samosas, and pakoras do justice to the monsoon platter. 
22. Friendship Day
The first Sunday of August is celebrated as Friendship Day, making it the perfect kitty party theme for the rainy season. Choose red, pink, and white as the primary colors for the decor.
Ditch the dress code and let the guest feel comfortable. Junk delights such a pizza, pasta, noodles, burgers, ice cream, and cocktails are good food choices. The "How well do you know your partner?" game will be fun to play and watch!
Kitty Party Theme For Winters
Winters are all about getting cozy, snuggling inside the blanket, and sipping piping hot coffee.
For some, it is more of bonfires, camping, backpacking trips, and travel. So, your kitty party theme has to be captivating to garner plenty of attention.
23. Halloween
As winter creeps in, it's time for Halloween! The occasion is all about collecting candies, carving pumpkins, and scaring people away in vampire-, witch-, or ghost-attires.
Design spooky invitations and make the venue appear dark. Play some scary music in the background to add to the ambiance. Use unappetizing names for the food you serve, such as bleeding lever, severed fingers, and brain balls. You could try any of the Halloween games and activities mentioned in this link.
24. Masquerade
Mysterious masks are central to the invitation. With women decked and disguised in fantastic gowns and masks for the masquerade ball, the show will be no less than a head-turner.
Dim lights, jazz music, masks on walls and as centerpieces, feathers, and shimmery ribbons create the perfect aura. Colorful cocktails and mocktails, kebabs, and dumplings can be served. "Mask tambola" and "keep the feather in the air" games will be interesting to play.
25. Angels and Snowmen
With Christmas around the corner, what could be a better theme? Try writing the invitation on the snowman's hat or the star on the angel's wand.  Predominantly white decor with a few artsy Christmas trees, a Santa Claus, fairies, and a snowman is apt for keeping the festive mood alive.
As the theme suggests, your guests don't have much choice but to dress like an angel or snowman. Serve lots of cakes, muffins, and desserts. Building a snowman with cotton balls or gift-wrapping are fun game ideas.
26. Enchanted Forest Camp
Write a poetic invitation on a flyer cut out as a leaf. This is a green theme ideal for a garden setup. Use leafy decor, fresh flowers, foliage, and floor lanterns. Let some crickets chirp in the dark, put up some tents around, and lit up a bonfire for an apt look and feel.
Fairies with wands, princesses in flowing gowns, and witches wearing junk jewelry with loud makeup will be quite a sight. Serve freshly cut winter fruits, set up a barbeque, and use coconut shell cups to serve the drinks. Play hide and seek and tug of war between the good and evil for some insane fun!
Valentine Theme Kitty Party
Your valentine is someone you are expecting to find your soulmate in. Every theme under this category is dedicated to couples. Therefore, each lady may choose to be a man or a lady.
Let's infuse some love in the air!
27. Made For Each Other
Choose heart-shaped cards for the invitation. Red and white go best with the theme, whether it is roses, balloons, ribbons, or satin drapes. Scented candles, an exotic flower arrangement, and soft music will create the perfect ambiance.
Ladies may pair up with each other and dress up as a man or a lady. Serve tiered cakes, sparkling drinks, and cheese balls. The heart and dart game or singing duets can be exciting.
28. Retro Ball
Use a gold glitter pen to write the invitation on black art paper. Besides the dance floor with spotlights, which is a must, do up the decor with chandeliers, baroque images, and string curtains.
Let the ladies choose their partners from the gang. A bow tie for the man and gloves for the lady is a must for a classic feel. Wine and Italian dishes can add glamor to the menu, and roulette and poker are ideal games for this theme.
29. Wedding Bells
This theme is special for couples and needs quite a bit of articulation to give it a proper look and feel. Divide the members into two teams, each representing the bride and groom respectively.
Send the invitation in richly decorated handmade cardboard boxes using gold as the base color. Men in black and women in white will be a classic choice. Fresh flowers and wreaths are central to the venue decor. Add to the opulence with some light jazz or saxophone. Besides a tiered cake, a lavish treat with exotic dessert and drinks is a must. Tug of war between the two teams will add to the party fervor.
30. Prom
This is the first time when most teenage couples are seen expressing their interest in each other publicly. Make it a starry affair by starting off with a sparkling invitation in cursive. The vibrant decor of the party hall with a metallic backdrop, paper lanterns, pom-poms, scented candles, and life size frames will go well with the theme. Rocking dance numbers can boost the party spirit.
Girls in gold sequined dresses and their partners in black tuxedos may look ravishing. Burgers, pizzas, colas, and sodas are the youth's favorites, while games such as Jenga and horse-shoes will trigger fun.
Frequently Asked Questions
1. What are the rules of a kitty party?
The rules of a kitty party can vary, but common ones include regular attendance and contribution to the kitty, each member taking turns hosting the party, and rules regarding food and games. There may also be guidelines for distributing the kitty's funds at the end of the year. The rules will depend on the specific group, but they are typically established to ensure everyone can participate and have fun.
2. How can I welcome new members to the kitty party?
To welcome new members to a kitty party, introduce them to the other members, ensure they feel comfortable and included, and provide them with information about the party's rules and activities. Consider assigning a mentor or buddy to help the new member acclimate and feel welcome. You can also make an effort to include them in discussions and games to help them become an active part of the group.
Kitty parties are the perfect escape from the daily grind most ladies undergo. Hence, they should be nothing short of a grand celebration. Choosing the right kitty party themes adds to the fun and frolic. For example, you may select a retro cabaret, bell-bottoms, or baggies theme or revisit your childhood with a kindergarten or schooldays-themed party. The party may also reflect the season, such as the umbrella story theme in the rainy season or Halloween, masquerade, and the angels and snowmen theme in winter. Make your day special and create memorable experiences with your girl gang with these exciting themes.
Infographic: Kitty Party Ideas For Summer Season
Themed kitty parties are a trend these days, and having an exciting theme could add loads of fun to the party. Scroll through this infographic for some creative theme ideas for a kitty party to have a fabulous time with your lady gang this summer.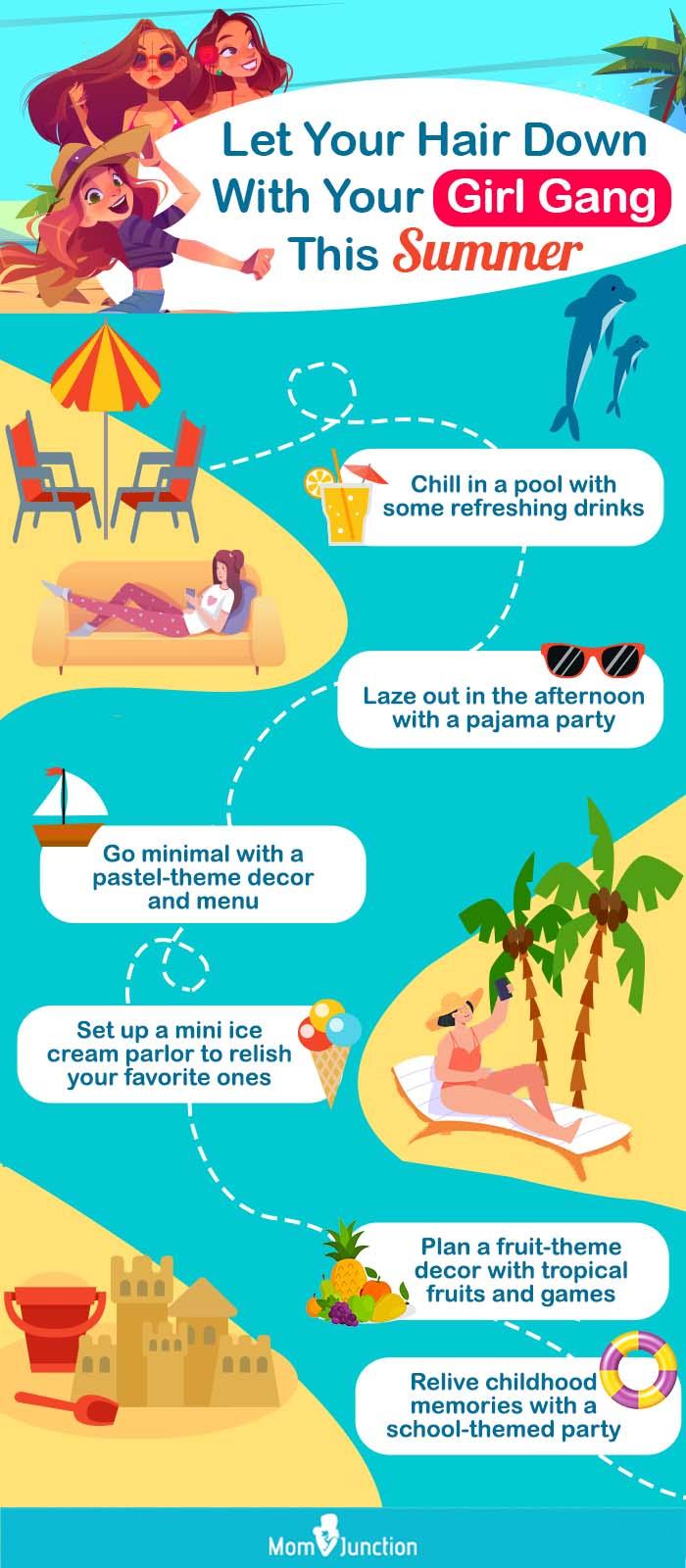 Key Pointers
Women organizing kitty parties may always look for unique and creative party ideas
Plan the theme, decor, and food so that your event goes smoothly and offers fun.
Choose the theme of the event based on the season or festivals around the same time.
The following two tabs change content below.