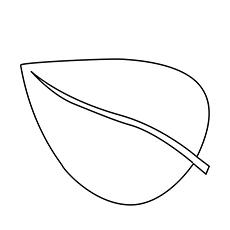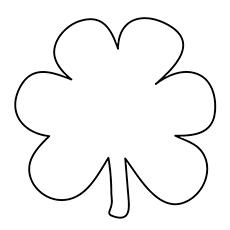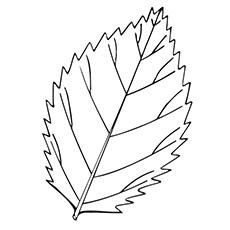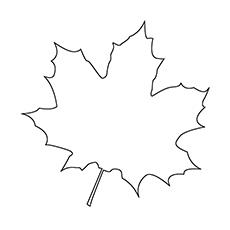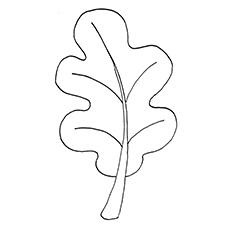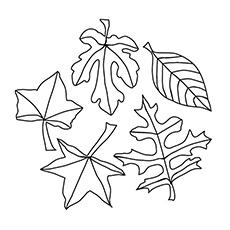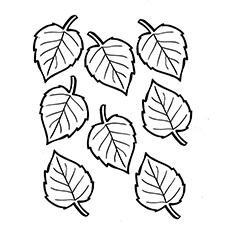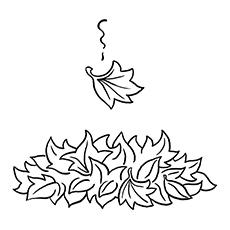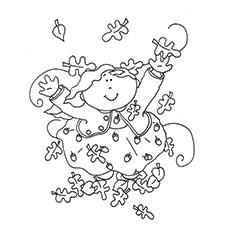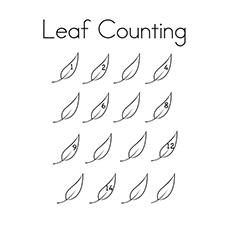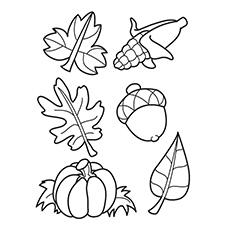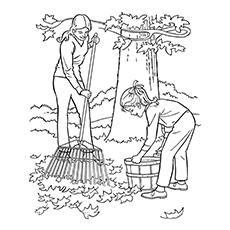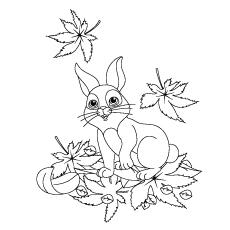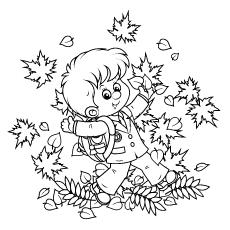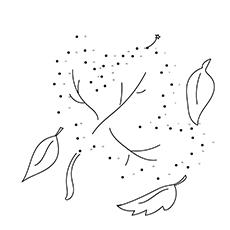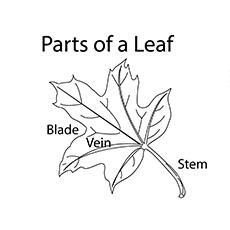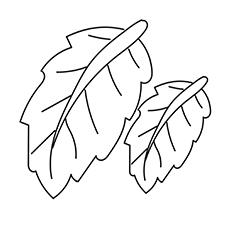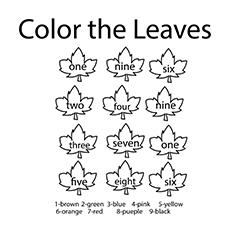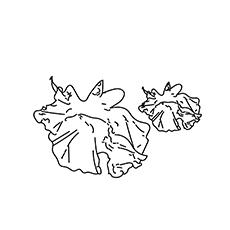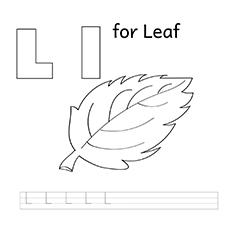 Recommended Articles:
Leaf coloring sheets are both interesting as well as educative. It allows your children to learn about the different types of leaves and their characteristic features.
A leaf is an extension of stems. It varies widely in shapes and sizes. Leaves play a vital function in process like transpiration, respiration and guttation in a plant. A leaf is not just a part of a plant. It is vital to both humans and animals. Animals cannot make food. So they depend on plants and leaves for their daily supply of food. Even people eat leaves such as cabbage, lettuce and spinach.
In the article below, we discuss 20 leaf coloring pages for preschoolers. These leaf coloring sheets also gives your child an opportunity to celebrate the changing seasons.
1. Fall Leaf:

Fall is all about leaves strewn everywhere. This coloring sheet features a pile of maple leaves. Tell your child to use brown, red and yellow for coloring this sheet.
Did you know why leaves fall during autumn and winter? It is because during these seasons, the earth receives less sunlight and air becomes cold. The fluid cannot flow in and out. This leads to the change of color and fall off.
The falling of the leaves not only marks the end of the season, but also helps the tree survive the cold and dry air of winter.
[ Read: Beautiful Spring Flowers Coloring Pages ]
2. Maple:

This maple leaf coloring page should definitely make our Canadian readers happy. The drawing features a maple leaf, which is also the symbol of the Canadian flag.
It is a wide leaf with deep indentions. The maple leaf has three main veins that radiate from the base of the leaf. The leaves are around 2 to 5 inches in size.
Tell your child to color this leaf in orange, red or brown; the color that it takes during the autumn season.
3. Raking Leaves:

This coloring sheet shows a girl and her mother raking leaves in the lawn. The fine details in this coloring sheet should let your child practice his fine motor skills. This coloring sheet also teaches children about the different aspects of farm life.
Children love raking leaves in the autumn, so that they can jump into the pile.
Ask your child what does he like doing in the autumn season – is it jumping in the pile of leaves or taking trips to the farms.
4. Sycamore:

This coloring sheet features a sycamore leaf. This leaf is shaped like a hand with extended lobes, which look like fingers of a hand.
American sycamore is a deciduous tree that loses its leaves every fall. The leaves first turn brown and then fall off.
This tree is usually found in forests, lakes, ponds and the edge of streams. They are also planted in yards as shade trees.
[ Read: Shapes Coloring Pages ]
5. Kid Jumping In Leaves:

Get your child ready for the fall with this fun coloring sheet. It features a kid jumping in the leaves while the mother looks on.
Jumping into a pile of leaves is a favorite activity of kids during the autumn.
This coloring sheet helps to develop your child's hand-eye coordination and motor skills while he adds colors to this fun scene.
6. Birch:

Here is a coloring sheet of a birch leaf. It is an elliptical shaped, toothed leaf.
The leaves drape the branch ending of the tree, giving it a weeping form.
The most common variety of birch leaves includes yellow birch, gray birch, paper birch and European white birch.
7. White Oak:

White oak is a beautiful long leaf with five to nine fingers like projections. The tree is usually grown in forests, ponds, streams and lake edges.
It is a bright green colored leaf with white undersides. The leaf turns red or brown during the fall season.
Animals use the wild oak leaves for building nest.
8. Lettuce Leaf:

Here is a simple coloring sheet of a lettuce leaf for your little one. Lactuca sativa is an annual plant belonging to the Asteraceae family.
The leaves vary widely in size and shape. They are mostly white to light green in color. The leaves can be smooth or curly.
Lettuce leaves are mainly consumed as a green salad. It is also used for preparing sandwiches, wraps and soups.
9. Elm:

Elm leaf is one of the most beautiful leaves you can lay your eyes on.
Elms are deciduous trees native to North America. The tree first appeared in the Miocene period around 40 million years ago.
An oval shaped leaf tapers towards a point. It has a ragged, saw toothed edge. The size of the leaf depends entirely on the species, but most of the leaves are 10 to 15 cm in length.
[ Read: Four Leaf Clover Coloring Pages ]
10. Poplar:

Poplar leaf has dark green color with pale green undersides. It has a wax coating on the underside of the leaf. The leaf of the poplar tree is thick and is egg shaped.
Poplar tree has a pleasant balsam scent, which gives it the name balsam poplar tree.
The leaves grow alternately on the tree's branches with long stems attached. Some leaves have toothed margins while some have serrations along the edges.
11. Clover:

This coloring sheet features a four-leaf clover to color for the St Patrick's Day.
A four-leaf clover, also known as a shamrock, is an uncommon variation of clover leaves. It is believed to bring good luck to the finders, if found accidentally. Each of the four leaves in the clover has a meaning assigned to it. It stands for faith, love, luck and hope.
Some clovers also have more than four leaves. The leaves are found on a single clover stem.
12. Color By Number:

Give your second grader a fun filled coloring sheet this weekend.
This coloring sheet features a set of leaves that your child has to color according to the colors assigned.
Encourage your child for their unique piece of art.
13. Leaf Counting:

Here is a simple activity sheet for your preschooler.
Tell your child to count the leaves in the coloring sheet. Then tell him to color each leaf in different shades.
You can frame and hang this coloring sheet in your child's room.
14. Parts Of A Leaf:

This is one of the interesting leaf colouring pages, that is perfect for teaching your school goer about the different parts of a leaf.
Most of the leaves have two main parts – blade and petiole. Some leaves also have a third part called the stipules.
This coloring sheet is ideal for kids aged 10 or above. It helps to develop their interest in biology and botany.
[ Read: Grapes Coloring Page ]
15. Autumn Leaves:

Have your child paint a set of fall leaves with this coloring sheet.
Your child is sure to have a fun time coloring each leaf in different colors like red, green, orange and brown.
Take some time out to talk to him about the changing colors of fall. Leaves contain three pigments- chlorophyll, anthocyanin and carotene. These pigments capture the sun's energy to make food.
16. Leaves And Acorns:

When the leaves change the colors and there is a chill in the air, you know that fall has arrived.
This coloring sheet features leaves, corns, pumpkin and acorns, the traditional symbols of the fall season.
Your child can use markers, paints and even glitters to color these leaves. This will create an autumn masterpiece.
17. Dot to Dot:

Dot to dot coloring sheets are always a fun activity for the kids. It helps to develop their number recognition skills.
Tell your child to connect the dots according to the number order.
After your child is done connecting the dots, he can color the leaves any way he likes.
18. Banana Leaf:

Here is a simple coloring sheet of a banana leaf.
You would be surprised to know that banana leaf contains a wide range of polyphenols, including ECGC.
Banana leaves have a wide range of application. They are used for serving, cooking and wrapping food.
[ Read: Letter L Coloring Pages ]
19. L For Leaf:

Here is an L for Leaf coloring sheet for your little one. The drawing has a simple image of a leaf with upper and lowercase L. Your child also gets to trace the letters with this coloring sheet.
This coloring sheet lays the foundation of strong handwriting skills.
When he is finished tracing the letters, tell him to color the sheet in any color he likes.
You can also decorate the coloring sheet with sequence, ribbons, glitters and other decorative items.
20. Anthurium:

This is one of the beautiful leaf pictures to color featuring an anthurium leaf. Anthurium is an attractive and long-lasting flower that appears as a leaf.
The plant has lobed, green leaves of varying sizes. It has a prominent midrib and well-defined margin.
The arrangement of the leaf can be either clockwise or anticlockwise.
These free printable leaf coloring pages online are ideal for spending some quality time with your children on a beautiful fall evening. Teachers too can use these free leaf coloring pages to print for a fun filled classroom activity. As the students color these sheets, tell them to describe their favorite leaf. You can also create your own leaf coloring book.
Parents and teachers, if you know of a coloring sheet that children love to color, do let us in the comment box below. We would like to tell others in the forum too.
DISCLAIMER: All images found here are believed to be in the "public domain". We do not intend to infringe any legitimate intellectual right, artistic rights or copyright. All of the images displayed are of unknown origin. If you are the rightful owner of any of the pictures/wallpapers posted here, and you do not want it to be displayed or if you require a suitable credit, then please contact us and we will immediately do whatever is needed either for the image to be removed or provide credit where it is due. All the content of this site are free of charge and therefore we do not gain any financial benefit from the display or downloads of any images/wallpaper.
The following two tabs change content below.