When you realize that your little one is four-months-old, it is obvious that they show eagerness to learn and explore the world. Activities for a 4-month-old baby can help foster rapid development as they transition from newborn to infant. This is the time when you engage and play with your child for as long as possible. If you are wondering how you can begin to engage with them, read our post. We give you a list of interesting learning activities you can do with your little one.
Developments At Four Months
The fourth month is an interesting milestone. It heralds many new developments for the baby.
Cognitive development: Your little munchkin can distinguish shades of orange and red. Bright colors seem to captivate her, and she looks at objects in awe. Her brain development is faster than before.
It depends on her discoveries, interests, experiences, and perspectives of the world. If you think it is just too much for a baby, let's tell you that your baby is big enough to learn new things. She can study faces, expressions, and eyes. She can recognize you and familiar caregivers (1).
Physical development: Babies begin to roll around this time. They pay attention to the touch, texture, and shape of the things they hold, and love to have some tummy time (2).
Social development: Babies may begin to chuckle and show excitement and delight. They may begin to squeal and show their excitement. They may begin to say "ma-ma" or "da-da" but may not be able to associate the words with you yet (3).
In a nutshell, your little darling is now ready for fun learning activities. Here are a few exciting learning activities for a four-month-old baby. Try them to enhance his sensory skills as well as milestone development.
Developmental Activities For 4-Month-Old Babies
1. Reading for fun
If you think your baby is too young for you to read her stories, you are wrong. It is never too early to start reading as it is a great opportunity for bonding. Also, do not worry if you think he or she is being restless, they can hear you.
Skills developed: Cognitive skills
You will need: Simple picture books
How to:
Begin with board books that are sturdy and short.
Allow her to touch the book.
She will love touching these books and may taste them too!
You may find her interests fleeting. Never mind, an interest for a few seconds is enough to create an everlasting impression.
Make gestures while reading, point to characters or images. Be expressive.
2. Talk to your baby
Your baby looks forward to communicating with you. Then why not encourage her in these early attempts at communication? Respond to your baby's coos to develop her cognitive skills.
Skills developed: cognitive skills, motor skills
You will need: Just you and your baby.
How to:
Putting a four-month-old on her tummy for short intervals, cumulating up to an hour over the course of the day, would help in the strengthening of her back and neck muscles.
You can place the baby on her tummy on a blanket and move it gradually around the room. Speak out the names of the items you see as you move.
If your baby giggles, laughs, and smiles, encourage her by making funny faces.
Make animal noises, whistles and see if your baby loves these.
Tickling can be a part of your game anytime. Run your fingers up your darling's belly!
3. Exploring
Toys or objects that help the baby learn about various senses are both magical and educational. Give them to your baby to explore.
Skills developed: senses, cause, and effect
You will need: some toys or objects
How to:
Make your baby touch fabric with various textures, such as velvet and wool.
Give her age-appropriate toys, which she can put in her mouth. But toys should not pose a choking hazard and be safe to put in the mouth.
Your baby will enjoy the toys that make crinkly sounds or rattle whenever she touches them. Also, they help the little one know about the concept of cause and effect.
Introduce varying sounds by comparing a rattle to a bell or drum.
Pass a toy back and forth.
An activity gym or play mat is also a good choice.

Quick tip
Organize playdates for your baby along with other babies. It can also help you make friends with new moms and get valuable parenting tips.
4. Hanging mirrors at their level
Your baby is learning the tricks of the trade. She smiles at you; she turns at a familiar voice or cries if you are not around. She cannot identify herself in the mirror but enjoys seeing the reflection.
Skills developed: social skills
You will need: toys with mirrors.
How to:
Attach an unbreakable mirror next to the changing table or her crib.
Hang or place some toys in such a way that your baby can see their reflections in the mirror.
Your little one enjoys those visuals in the mirror.
5. Gentle workout
She makes the first gentle movements. Your baby keeps moving her hands and legs, almost continuously, when she is awake. Probably she is telling you that she is ready for some simple workouts!
Skills developed: cognitive skills, motor skills
You will need: you and your baby
How to:
Lift your baby gently and put her down. Make her play in different positions for her to balance while trying to move.
Encourage her to practice rolling from her back to tummy.
By placing toys around, you can encourage pivoting.
Developmental Games For 4-Month-Old Babies
6. Playing With Bubbles
Bubbles are amazing and it's one of the fun games to play with a four-month-old. When a grown-up cannot resist playing with them, how would a baby control herself? Your child will not only have fun but also learn through them.
Skills developed: Hand-eye coordination, cognitive skills
You will need:
A tube that you can use to blow bubbles
Soapy water
How to:
Place your baby in a chair.
Dip the tube in soapy water. Blow out some bubbles in the baby's direction. But be careful you don't blow them into their eyes or mouth.
Blow them near the baby so that they can touch them.
As you keep blowing, your baby will realize what she needs to do. She touches and tries to burst those funny bubbles.
Gradually, start blowing the bubbles in such a way that they land on the baby's hands, tummy, legs, etc. For instance, blow some bubbles on her legs and say the name of the body part out loud. It will help her identify the parts.
7. The rock and row game
Your baby may gradually become bored with being constantly carried in a baby carrier (babywearing) or lying on their back for extended periods throughout the day. Help them sit, and see how they love to see the world from a different angle. The rock and row game will help your baby get used to sitting and strengthen those delicate back muscles.
Skills developed: gross motor skills
You will need:
Now, you must learn some rhymes to engage and entertain your baby. Get the lyrics of the nursery rhyme 'Row Row Row Your Boat'. We help you in your endeavor:
"Row row row your boat, gently down the stream. Merrily, merrily, merrily, merrily, life is just a dream."
How to:
Sit down on the floor and fold your legs in front of, as if you are about to start a stretching exercise.
Get your baby to sit facing towards you. Keep a cushion or pillow behind your baby's back so that she can maintain balance.
Now hold your baby's hands firmly yet gently and lean backward slowly. Do it in such a way that your baby comes towards you without losing balance.
Then come forward slowly, so that your baby moves backward towards the pillow, and you lean in towards your baby.
Keep singing the song as you do so and help your baby learn to balance and get steady in a sitting position.
8. Singing game
You are your baby's favorite singer. They not only love to hear your voice but also pick up words from what you say. The more often she hears those words, the better she can remember them. So just sing for her, no matter what the others at home feel.
Skills developed: baby's hearing, cognitive, verbal skills
You will need: Just you and your baby.
How to:
Be seated in a comfortable position and make your little one comfortable.
Sing her favorite lullaby.
Create a simple song to include the names of all the dear ones of the baby like mommy, daddy, granny, and so on.
Maintain dynamics and bring in some facial expressions while singing. Your expressions will lock your baby.
Play with rhymes of the music. Sing nursery rhymes like "Hey Diddle Diddle", "Baa, Baa Black Sheep".
9. Playing with balls
Ball games are fascinating and are a great fun activity for four-month-old babies. They wonder how anything can simply roll like that!
Skills developed: sensory skills, cause, and effect, motor skills
You will need: Colorful balls
How to:
Take balls of different textures and colors.
Show how to roll the ball. Drop the ball and bounce it.
Your little one would love to explore the object.
Lay the baby on her tummy and allow her to push or grab the ball.
10. Playdate
Your baby is socializing. She may even get bored seeing just a few familiar faces always. Why not bring in some excitement by arranging a playdate?
Skills developed: social skills, communication
You will need: A good place with some interesting toys.
How to:
Invite some of your friends with their babies.
Put them on the floor with some toys. You would be amused to see your darling hanging out with her new friends.
You can even play peek-a-boo.
Each baby has her pace. Do not force her to do something just because that activity is mentioned in her growth chart. It doesn't matter if your child rolls in the fourth or the fifth month, as the dividing lines between the months are quite fuzzy.
Frequently Asked Questions
1. What kinds of toys are best for a 4-month-old baby?
Toys such as soft toys, big books, colorful play mats, soft blocks, bath toys, rattling socks, and musical toys would be enjoyable for a 4-month-old infant.
2. How much playtime should I be giving my 4-month-old baby?
There is no set time for the baby to play. You can choose a time when you can play with the baby and give them your undivided attention. You'll learn to read your baby's cues as you know them and can tell when they want to interact and play and when they'd prefer to rest.
3. What safety precautions should I take when engaging in activities with my 4-month-old baby?
When playing with your baby, ensure the environment is childproof, the toys are age-appropriate, and they don't pose a choking hazard. You should avoid playing on raised surfaces like sofas or beds to prevent falls.
Activities for a 4-month-old baby stimulate their cognitive, physical, sensory exploration, and social development. Talking to your baby, reading for fun, showing them the mirrors, giving time to explore, singing, bubble play, and working out with them are interesting activities to enhance the development of a 4-month-old baby. Also, it is crucial to shower babies with love, cuddles, and kisses, as they need plenty of affection and attention in their early stages of life. In addition, planning a playdate with their peers can be exciting and help the baby avoid the boredom of seeing the same faces. Introduce activities depending on the developmental achievements and never force a baby to do something they are not interested in.
Infographic: Developments At Four Months
As a parent, it's normal to be curious about your baby's movements and behavior as they grow and if they are developing as per their age. So this infographic lists the important milestones a baby at four months old should typically cross that signify healthy growth. Check out!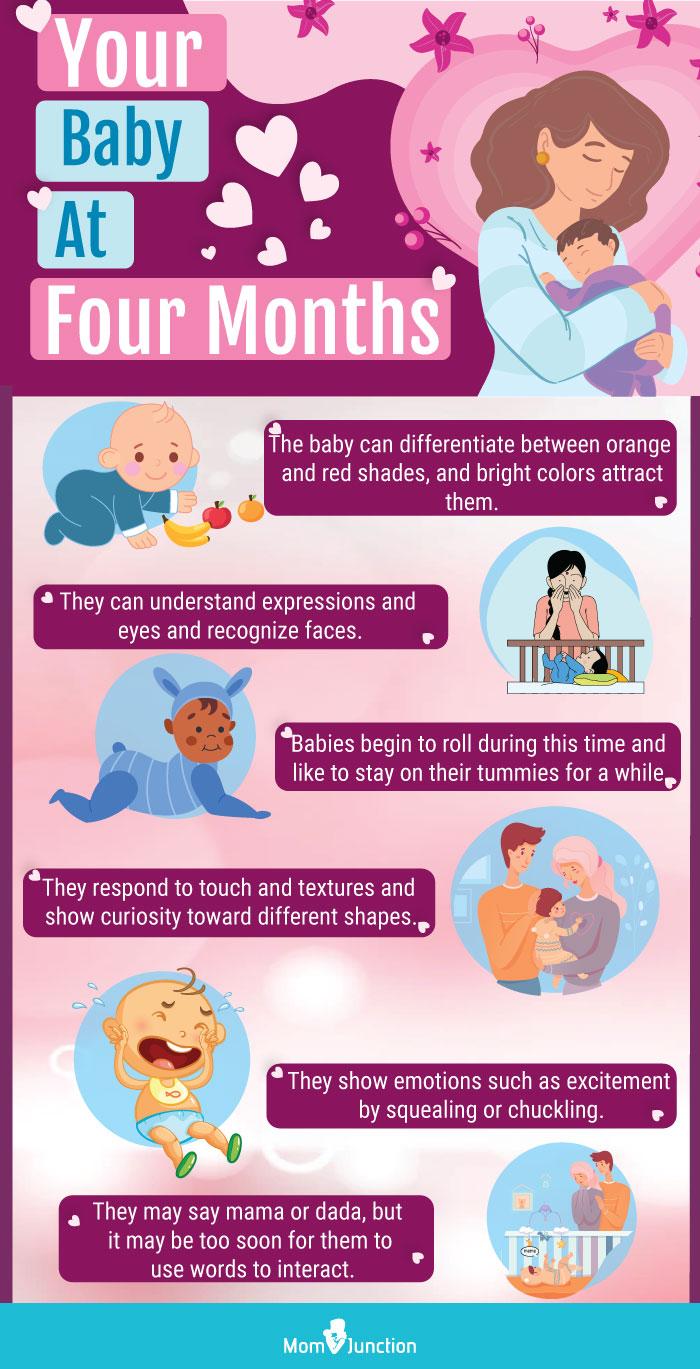 Key Takeaways
To aid your four-months-old's development, engage them in enjoyable activities.
A four-month-old baby exhibits characteristics specific to physical, cognitive, and social development.
Try talking to your baby, giving them gentle workouts, and letting them look at themselves in the mirror.
Arrange a playdate to help your baby develop their social skills.
References:
MomJunction's articles are written after analyzing the research works of expert authors and institutions. Our references consist of resources established by authorities in their respective fields. You can learn more about the authenticity of the information we present in our
editorial policy
.