Lexapro is the brand name for the generic drug Escitalopram. It belongs to the category of selective serotonin reuptake inhibitor (SSRI) antidepressant drugs. It is used for treating major depressive disorder (MDD) and generalized anxiety disorder (GAD) (1). Many women, especially those who have the drug already, may wonder about its safety during pregnancy.
This post answers whether you can take Lexapro while pregnant, its safe use, risks, and side effects.
Can You Take Lexapro When Pregnant?
The US Food and Drug Administration (FDA) had listed Escitalopram under pregnancy category C. This means that fetal toxicity was shown in animal reproduction studies, while there are no adequate and well-controlled studies in pregnant women. Therefore, Escitalopram might be prescribed during pregnancy only when its benefits outweigh the fetal and maternal risks (1).
How Does Lexapro Work?
Lexapro or Escitalopram acts by increasing the activity of serotonin, a naturally available chemical in the body. Serotonin modulates several human behavioral processes and responses such as mood, perception, memory, anger, aggression, fear, stress, addiction, and sexual interests.  Lexapro produces antidepressant activity by working on some parts of the central nervous system. The drug may also affect other body systems, leading to concerns about its use during pregnancy (2).
What Are The Potential Risks Of Taking Lexapro During Pregnancy?
The limited research on Escitalopram use during pregnancy suggests that the drug may not increase the risk of congenital malformations but may slightly increase the risk of low birth weight (3). Other scientific studies suggest certain risks with taking antidepressants, including SSRIs such as Lexapro, during pregnancy.
In 2016, researchers found an increased risk of miscarriage with antidepressants use in the first trimester of pregnancy (4).
A review published in 2019 stated that exposure to antidepressants, such as SSRIs, in the third trimester of pregnancy may be associated with seizures in newborns (5).
An increased risk of congenital septal heart defects may be associated with SSRI exposure in early pregnancy. Newborns whose mothers took these medications late in the third trimester were found to develop some complications. Conditions indicated serotonin toxicity symptoms or drug discontinuation symptoms such as seizures, respiratory distress, temperature fluctuations, vomiting, hypoglycemia, tremor, irritability, and constant crying (6).
Some studies indicate a higher rate of persistent pulmonary hypertension of the newborn (PPHN) whose mothers took SSRI medication after 20 weeks of pregnancy (7). PPHN occurs when a baby's lungs cannot breathe outside the uterus.
Experts have found that the increase in the risk of miscarriages was similar in women who were exposed to SSRIs during early pregnancy and those who discontinued SSRIs before pregnancy (8). Nevertheless, more rigorous human studies are required to confirm all findings (9).
What Are The Side Effects Of Lexapro?
Lexapro or Escitalopram may cause the following side effects (10).
Diarrhea
Constipation
Altered sex drive
Drowsiness
Heartburn
Increased sweating
Flu-like symptoms, runny nose, or sneezing
Some serious adverse effects that may require immediate medical attention are:
Hyper excitement
Hallucination (seeing or hearing things that do not exist)
Allergic reactions such as hives, rash, itching, or swelling of face, throat, tongue, lips, or eyes
Joint pain
Symptoms of serotonin syndrome such as fever, sweating, confusion, irregular heartbeat, muscle stiffness or twitching, agitation, hallucinations, loss of coordination, nausea, vomiting, or diarrhea
Problem concentrating or with memory
Seizures
Discontinuing Lexapro suddenly may precipitate withdrawal symptoms such as:
Irritability
Agitation
Tingling in hands and feet
Anxiety
Dizziness
Confusion
Headache
Sleep problems
What Should You Remember When Using Lexapro?
Pregnancy may change the way some medications act inside your body. However, you must not stop Lexapro administration abruptly on conception or detection of pregnancy. It may lead to withdrawal symptoms and exacerbation of depression. Untreated depression during pregnancy may have complications, such as an increased risk of developing suicidal tendencies and postpartum depression (11). Therefore, discuss the use of Lexapro extensively with your doctor, understand its side effects, and use it only as prescribed.
Frequently Asked Questions
1. Can Lexapro affect pregnancy test results?
An isolated case study reports amenorrhea (absence of menstruation) and a false-positive urine pregnancy test in a woman on Escitalopram. However, there are no such reports from large human studies (12).
2. Can Lexapro during pregnancy cause autism?
Recent studies have demonstrated no causal association between prenatal exposure to SSRIs and autism spectrum disorder (ASD). Some clinical studies have shown an association between the use of SSRIs in pregnant women and ASD in the offspring. However, a limitation of these studies was that they could not distinguish between the effects of drug exposure and the consequences of the underlying maternal psychiatric illness (parental psychiatric disorder in itself is associated with an increased risk of ASD in the baby) (13).
The American Congress of Obstetricians and Gynecologists (ACOG) states that 14 to 23 percent of pregnant women may experience symptoms of depression (14). It is important to seek help from support groups, private psychotherapists, or psychiatrists. Your physician may prescribe Lexapro or Escitalopram after closely examining its risks and benefits. Feel free to discuss what is best for you and your child with your prenatal care provider and mental health provider.
References:
MomJunction's articles are written after analyzing the research works of expert authors and institutions. Our references consist of resources established by authorities in their respective fields. You can learn more about the authenticity of the information we present in our
editorial policy
.
The following two tabs change content below.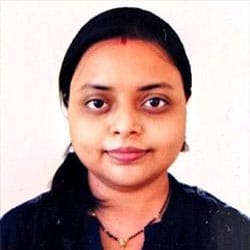 Dr. Joyani Das
Dr. Joyani Das is a PhD in Pharmacology with over two years of experience in academics. Previously, she worked as an associate professor, faculty of Pharmacology. With her research background in preclinical studies and a zeal for scientific writing, she joined MomJunction as a health writer. Her research work was published in international journals and publications, such as Elsevier, Current...
more