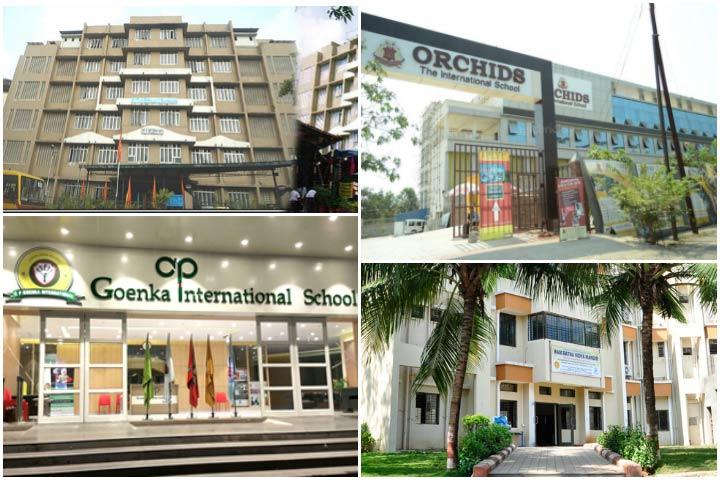 Schooling is the most crucial part of education, and parents put in quite a bit of thought, and time while deciding on the right school for their child. Infrastructure, curriculum, location, fees, and teaching standards, are few things that parents consider.
With the change in the standard of living in Thane, parents have several options available to them. So, before you zero in on the perfect school for your little one, browse our list of top 10 schools in Thane.
1. Smt. Sulochanadevi Singhania School:
Smt. Sulochanadevi Singhania School was founded in 1968 by the renowned figure Gopalakrishna Singhania in the memory of this wife, Sulochnadevi, hence the name. The board of governor of the school is headed by none other than Dr. Vijaypat Singhania, Chairman of Raymond Industries. The philosophy of the school is broadening the vision of the children and incorporating the skill sets in everyday life.
Curriculum:
The curriculum framework of Smt. Sulochanadevi Singhania is developed on the foundation of flexibility, autonomy, and trust. The school adopts innovative methods of teaching, keeping with the trend of the society.
The curriculum includes subjects like History, Science, Geography, Languages and Mathematics. The optional subjects include electives like NCC and Air Wing and
Scouts and Guides. Besides academics, the school also teaches life skills.
It routinely undertakes regular student-teacher exchange programs and organizes field trips.
Facilities:
Located centrally in Thane, Smt. Sulochanadevi Singhania School has a sprawling campus of 12.8 acres.
The school has six science labs, seven computer labs, one math lab, one carpentry lab and 1 Home Science Lab. There's also an open theater with a capacity to accommodate 2200 children.
For sports, the school provides facilities like a basketball court, cricket ground, billiards table, skating rink, badminton court, lawn tennis court and much more.
[ Read: Top Schools In Mumbai ]
Address:
Pokharan Road No.1, J K Gram,
Thane (West)
Phone: (+91) 022- 4036 84 10 / 11
E-mail: info@singhaniaschool.org
Website: http://www.singhaniaschool.org/
2. A. K. Joshi English Medium School:
Belonging to Vidya Prasarak Mandal group of schools, A.K. Joshi English Medium School is a renowned educational institute aimed at providing excellent academics and co-curricular facilities for children.
Curriculum:
A K. Joshi English Medium School is accredited by Maharashtra State Board of Secondary and Higher Secondary Education.
The school has three sections- Pre Primary, which includes Kr. K.G. and Sr. K.G., Primary, from class 1 to 5 and Secondary from 5 to 10.
Facilities:
A K. Joshi English Medium School has well-equipped math, computer and science laboratories.
The school provides facilities for sports like cricket, football, badminton, tennis and many more.
The library of the school contains all types of magazines, books, encyclopedia and newspaper for reference work.
Address:
Mahatma Phule Road,
Off Gokhale Road, Naupada,
Thane (West)
Phone: 022 – 25421447
E-mail: akjsecondary@rediffmail.com
Website: http://www.vpmthane.org/akjoshi/index.htm
3. Orchids International School:
Orchids International School is a chain of international schools in Thane, founded with the aim of setting a benchmark for holistic education in India. The school tries to make learning fun through various interactive activities and sessions.
Curriculum:
Until standard five, Orchids International School follows an amalgamation of CBSE, ICSE and IGSCE board. For sixth and seventh standard, the school exposes the children to the best practices of both national and international curricula. Post that; the school follows the CBSE curriculum.
Apart from the theoretical knowledge provided through books and projects, the teaching method also lays emphasis on critical analyzes, creative thinking, and collaborative learning. This teaching process, aided with activities will help your child acquire knowledge in an innovative way.
Facilities:
The Orchids International School is empowered technologically, right from the teaching standards to follow up. The theoretical method is blended with visuals from Britannica, NatGeo, and Encarta.
The computer laboratory is equipped with ample of computers, with high-speed internet access.
There's an indoor swimming pool for your child to learn and enjoy this sport.
The school also provides transport facilities in some areas.
Address:
Cosmos Arcade, Azad Nagar,
Opposite Brahmand Phase 4,
Beside TMC Water Tank,
Thane (West), 400607.
Phone: 022 – 60603888/65003888/60017100/+91 92433 91433
E-mail: info.thane@orchids.edu.in
Website: http://www.orchidsinternationalschool.com/mumbai-branches/thane
4. Ram Ratna Vidya Mandir:
Ram Ratna Vidya Mandir is a certified CBSE board school in Thane. It's a co-education day and boarding school, blending ancient Gurukul values with modern teaching methodology. It aspires to develop socially conscious citizens of tomorrow who can provide leadership in all walks of life.
Curriculum:
The school follows syllabus prescribed by the CBSE board and it follows the National syllabus developed by NCERT. The medium of instruction is English.
The school tied-up by Nrityajali Institute of Performing Arts, Education, Management Services and Personality Education, which arranges workshops for teachers and students throughout the year.
Apart from academics, the school also encourages children to take part in extracurricular activities like volleyball, basketball, handball, swimming, tennis and Kabaddi.
Facilities:
Ram Ratna Vidya Mandir has air-conditioned and properly ventilated classrooms, equipped with smart board.
The Annapurna Mess Hall serves pure Jain and vegetarian meals to children.
There are a well-equipped computer, science, language, and remedial laboratories.
There's also an in-house medical facility. In fact, the school has also tied up with the external medical institution.
The school provides daily transport facilities for day scholar's pick and drop and drop and pick up on Monday morning for boarding students.
[ Read: Best CBSE Schools In Pune ]
Address:
Keshav Srushti, Gorai Road,
Uttan Bhayander (W), Thane
Phone: +91-22-28450707, 28450718
E-mail: principal@ramratnavidyamandir.org;
pro@ramratnavidyamandir.org;
admin.rrvm@ramratnavidyamandir.org
Website: http://ramratnavidyamandir.org/
5. D.A.V. Public School:
D.A.V. Public School was established in the year 1995 with the motto of imparting quality education and helping pupils develop holistically.
Curriculum:
Dayanand Anglo Vedic Public School offers classes from Nursery to 10th standard. It follows the curriculum laid down by CBSE board. Along with the six main subjects, (English, Second Language, Social Science, Math and Science), the school also offers Computer, Art Education, General Knowledge and Dharma Shiksha as subjects.
The students are also required to enroll in any one of the ten clubs, which includes environment, robotics, and language club.
Facilities:
D.A.V. Public School has introduced Smart Boards in each classroom to make teaching and learning process more effective.
It has a rich library, with books on a variety of subjects. There are audio and video cassettes too for the help of students.
The well-equipped science laboratories will inculcate the spirit of innovation, research, discovery, and experimentation in the minds of pupils.
Address:
Plot No 157,
Tulsi Dham Co-Operative Housing Society,
Thane West, Off Ghodbunder Road
Phone: + (91)-22-25890954, 25890966
Website: http://davschoolthane.com/
6. Podar International School:
Educating over 100000 students through its 85 schools across the nation, Podar Education Network has established itself as a leader in the education sector. Established in 2007, Podar International School strives to create modern citizens who can make global changes.
Curriculum:
Podar International School follows the CBSE curriculum. It enhances lesson plans with audio-visual components, embedded ICT, and group discussions.
The school employs international trainers to train its teachers.
Facilities:
The building of the school has a stylish and contemporary look. All the classrooms of Podar International Schools have projectors, smart boards, computer, and the internet.
The computer lab is designed primarily to educate the pupils with the latest technology so that they can get comfortable with technology from a young age.
Podar International School has a state-of-art playground where children can practice and play sports of their choice. There's also a physical trainer to train kids in games and sports.
It also has a bus service with a trained driver to take the kids to and from the school.
Address: Hamilton Building, Hiranandani Estate, Thane – 400607.
Phone: 022-25861728
E-mail: admissions@podar.org
admin.thane@podar.org
Website: http://podareducation.org/school/thane
7. C.P. Goenka International School:
C.P. Goenka International School is one of the most sought after schools in Thane. The vision of the school is to nurture the learner in such a way that they find a niche in the society by identifying their inner talent.
Curriculum:
C.P. Goenka International School International School follows the Curriculum prescribed by the University of Cambridge International Examination, UK.
The curriculum is designed to ensure to all-round development of the learner. It utilizes a childlike approach that promotes the practical application of knowledge and structured player.
The school offers co-curricular activities designed to activate the student's mind and widen their horizon. They have even tied up with imSport, a professional sports organization renowned for developing progressive sporting service and facilities.
Facilities:
C.P. Goenka International School International School gives a state-of-art infrastructure that facilitates a hands-on teaching method.
All the classrooms of C.P. Goenka are air-conditioned and fitted with interactive audiovisual equipment.
It has a large playground with coaching for football, cricket, martial arts, and cricket.
It also offers a pick and drop bus service.
Address:
Kapurbawdi Junction,
Off Ghodbunder Road,
Next to Lake City Mall,
Thane (West)
Phone: 022 – 65754444 / 65725555 / 41535508
E-mail: goenkainternationalschool@gmail.com
Website: www.goenkainternational.in
[ Read: Best Schools In Navi Mumbai ]
8. Hiranandani Foundation School:
Established in 1999, Hiranandani Foundation School has slowly, but surely progressed into one of the finest co-educational schools in Thane. The school lays impetus on honing every aspect of the student's personality, be it academics, communication or sports.
Curriculum:
Hiranandani Foundation School offers classes from nursery to 12th standard. It follows the ICSE and ISC course in class 10 and 12 respectively.
The curriculum of the school is designed to bring about the overall development of the pupils to make them brilliant citizens of the nation.
Apart from the six main subjects, art, craft, music, dance, physical education, yoga, and socially useful productive work also form a part of the curriculum.
Facilities:
The infrastructure of the Hiranandani Foundation School is sprinkled with all sorts of digitized teaching standards. The classrooms have digital set up like projectors, computers, and smart boards.
The campus has language, science, computer laboratories, along with a library abundant with books.
Hiranandani Foundation School also has a playground, auditorium, basketball court, squash court and a swimming pool.
Address:
Wood Street,
Hiranandani Estate,
Patlipada,
Off Ghodbunder Road, Thane
Phone: 02225763002
E-mail: hfsinternationaladmissions@gmail.com
Website: http://www.hiranandanischools.edu.in/thane/index.php
9. St. Johns Baptist High School and Junior College:
Located in the Thane town of Thane district, St. Johns Baptist High School and Junior College is a Christian institution established by the English Teaching High School. It started as a primary school in 1905 and was recognized by the Education Department as English Teaching High School in the year 1938.
Curriculum:
St. Johns Baptist High School and Junior College is affiliated to Mumbai Division Board of Secondary and Higher Education.
The curriculum of the school is a mix of academics, co-curricular and extra-curricular activities, required for the all-round development of the pupil.
The teachers of St. Johns Baptist High School and Junior College are very understanding and motivate the students to explore their full potential and become responsible global citizens.
Facilities:
The school offers facilities like open auditorium, library, basketball and volleyball courts, audio-visual rooms and science and computer laboratories. The Library of
St. Johns Baptist High School and Junior College is considered one of the finest libraries in Thane.
The pavilion or the mini-hall is used to conduct activities, exhibitions, seminars, practices and other functions. It also doubles to house indoor sports like chess and table tennis.
The fully air-conditioned and well-equipped audio-visual room is used to impart practical training to the teachers and students with the help of the LCD projector.
Address:
Jambli Naka,
Veer Savarkar Road,
Thane (West), Opposite Talaopali
Phone: 022-25341146
E-mail: info@sjbhs.org
Website: http://www.sjbhs.org/school/school.htm
[ Read: Best Schools In Nagpur ]
10. N. L. Dalmia High School:
N. L. Dalmia High School is an English medium, co-education school founded in 1991 by the Niranjanlal Dalmia Educational Society. The objective of the school is to impart high-quality education to children with adequate educational aids.
Curriculum:
N. L. Dalmia High School is affiliated to the ISCE board. The curriculum inculcates moral and ethical values to mold the children into responsible torchbearers of the future.
The school doesn't just provide good theoretical knowledge, but also encourages the students to indulge in extra-curricular activities like sports, dance and music.
Facilities:
N.L. Dalmia School is a technologically savvy school, with over 161 laptops and computers to facilitate the teaching-learning process.
The seminar hall of the school has a seating capacity of 300 students. It is equipped with a state-of-art acoustic system to help kids showcase their talent.
The multimedia library of N.L. Dalmia has over 12,300 resource books and 450 educational CDs.
Address:
Srishti Sector-1,
Mira Road (East), Thane
Phone: 0242990000
E-mail: info.school@nldalmia.co.in
Website: http://nldalmia.co.in/
We hope our list will help you narrow down the search and find the best schools in Thane for your child. But before enrolling, visit the campus personally to know more about the school.
Recommended Articles:
The following two tabs change content below.