Through emails, text messages, phone calls, social media activities, and instant chat via video chats, people in long-distance relationships may feel close and connected. But, nothing beats the old charm of writing a long-distance love letter for her with emotions coming from the depth of your heart.
Love letters for your sweetheart cannot be replaced by digital communication. Text messages and emails may never be as valuable as handwritten letters. So show your partner how much you care and fill her heart with the warmth of your true love.
Long-Distance Romantic Love Letters For Her
1. Missing wifey from a distant land
Sweetheart,
You are the most precious, loveliest, and most important person in my life. This physical distance has become more troublesome than I thought. No matter where I go, I can catch a glimpse of you. They make me want to be close to you again.
I love you for life. I cherish every second we spend together, and when we are apart, I ache to be inside your heart. I can feel you close to me even though you're far away. At about this evening, when I wrote this letter, it was like you were by my side. I feel your hands on my shoulders, your fingers on my hair, and the delicate breath of your kisses on my cheeks. Honey, I miss you. I love you so much that it is difficult for me to spend these days without you.
Your hubby,
(Your name)
2. Expressing how important she is to you
Hi Baby,
Thinking about you keeps me sane. You showed me how to deal with life effectively. You showed me how to deal with my problems and face life without fear. You taught me what true love is. I love you so much, dear. I need you to know how cheerful I am and how important you are in my life. I thank God for this relationship. I can never fully thank you for the love and joy you bring to me.
Your love for me is who I am, and that is the most important thing. When you expressly state your love for me, I long for you and want to fly into your arms.
Just yours,
(Your Name)
3. Letter to a special girl
Hi Cutie,
Though I cannot see you right now, I can picture your smile and the big dimple on your left cheek. I want to be on your side right now. Sometimes, tears of passion overflow before my eyes because I think about you day and night; I can't stop reminiscing about the good times we shared. I hope I can be where you are now and tell you how important you are to me; you have changed my life. Since the day I met you, my heart has been filled with love, passion, and peace. Indeed, my love for you will continue to grow until the end of time. I love you, my love.
Love,
(Your name)
Point to consider
The attraction and romance may be organic, but partners should invest effort and time in nurturing long-distance relationships. Writing a love letter can be an effective way to do so.
4. Love letter to a long-distance girlfriend
My Sweetheart,
We have been apart for a while, and I cannot describe how much I miss you day and night. When I was lying on the bed, I almost felt you hugging me from behind, playing with my fingers. I just can't wait to hug and kiss your face. I cannot describe this further. I love you so much. I have been longing for your love and care.
The realization that we will meet each other soon helps me face life with full of optimism and confidence. Always remember, your love is the dawn of my day. I will always cherish the kind of love you show to me. It's great to imagine an angel in the sky like you! I love you so much. I miss you all day long (24×7). I will accompany you throughout your life. Please take care of yourself.
I Love you.
(Your name)
5. Expressing love at first sight
Darling,
You are the cutest person I have ever met in my life. I still remember your look when we met for the first time. Your eyes sparkled like stars when you looked at me. There was something magical and mesmerizing about you that made you stand out at that party. I was charmed and fascinated by you. I was on cloud nine but anxious and nervous when you asked me to dance with you.
I swear my heart skipped its beat. From that night on, I realized that we were destined to be together. I love you far more than you can imagine. I need you to remain mine forever. I love you so much.
(Your nickname)
6. Something special for someone special
Dear Love,
My favorite time of the day is when I am with you.
My favorite part of the day is when I am by your side.
I love you because:
You make me smile.
You are my world.
Every time I look your way, my heart misses a beat.
Without you, I remain lost in this world.
You are me, and I am you.
I am ready to walk miles to keep our love flame burning.
We may be apart, but my heart beats for you. When I am far from you, I miss your touch; I miss the warmth of your skin and the comfort of your arms. Without you, I feel sad and miserable. You are the missing link in my heart. The more time I spend with you, the more I feel that I am in love with you. I can hardly tell you how much I love you.
I love you, sugar,
(Your name)
7. Letter to get her love back
Dear (Name),
It is hard for me to tell you about how I feel. How do I show how sorry I am? I was selfish. I ignored you and took you for granted. But when the realization dawned upon me, it was too late as you had decided to move out. I beseech you to give me one more chance, and I assure you, this time, I'll make sure nothing goes wrong.
Darling, what's my life without you? I request you to think about all the good times we had and forgive me for my mistake. Come back to me, baby. I promise the next phase of our life will be the happiest ever.
I love you forever.
(Name)
8. Celebrating a special day with your long-distance wife
Dear (Name),
Today is a special day. This was the same day I first saw you, and I have been in your hangover since. I think we should celebrate many memorable occasions to make our love grow. I still remember how you made me crazy with your looks in college. I may be far from you because I need to take care of the family and kids. Without you, living in this city feels like hell.
I want to celebrate our love. I love you so much that I can't find the right words to express my love. You are the most extraordinary woman I have ever met. I love you, my angel. My dream is to live with you in a wooden house on the hillside.
Baby, very soon I will be back to you. We will try our best to make our dreams come true. Meanwhile, please feel my hugs in your sweet dreams.
Much love to the kids and thousands of kisses to you.
(Your name)
9. Love letter with simplicity and romance
My Lovey-Dovey,
I have rewritten these thoughts over and over again, but not once have they been good enough. So, this time, I have decided to go for simplicity. I love you! I love you more than anything. I am sending you a beautiful necklace, along with this letter. I know it will make you look more beautiful.
My grandmother proposed the idea of sending you a necklace with the letter because my grandfather did the same to win her heart. I hope you like my gift and understand my deep feelings of love for you.
It took me a long time to write to you because I wanted to think of a better way to express my thoughts. When I am not talking to you, I miss you very much. You are the love of my life, and you are indeed my beautiful angel on earth. I love you to the moon and back!
(Your name)
Quick tip
Use the opportunity of being in a long-distance romance to improve your communication skills by learning the art of exchanging emotions through letters.
10. Love letter to thank your long-distance girlfriend
Dear (Name),
I have always thought love is a lament, but something about you makes me want to fall in love with you, dear. With your love and support, I began to change from a cold person to a good person full of love. God's timing is clear. He sent you into my life like an angel. Without you, my life would be a mess. But thanks to the mighty Lord who helped us meet.
When you entered my life, I understood the true meaning of love. With your charm, all my troubles are gone. While writing this letter, I was filled with tears. But, these tears are of joy. They express the deep feeling of love that you kindled in me. Thanks for choosing me as your life partner.
I miss you, honey.
(Your name)
11. Love letter to wife – when you miss her while on a long tour
To my Heartbeat,
I love the way you say "nouu" and "ouu." And when you say"hmm," it sounds so cute and innocent. I just thought about it and tried imitating you, but it made me blush.
Babe, I know you are the one for me, and I am the one for you. I believe if a girl can make you smile, then it's clear that she's your soulmate. For me, you are special, and I have kept so many cute nicknames for you — honey-bunny, cutie-pie, choco-tart, smiley, and sugar. I love you so much that I feel out of words while thinking of writing a letter to you. I just wanted to tell you that I have been thinking about you during my Euro trip. I wish you were here with me. I will be back in your arms soon.
I love you.
(Your name)
12. Letter to express your hidden love to wife
My adorable wife,
I hope you enjoy reading this letter; I have put a lot of thought into this. I want you to know how much I love you. I know that we fight and don't agree on everything, but I think about you day and night; you mean the world to me.
Each moment spent with you is my favorite moment. You strive to make me happy in big and small ways, even when I can't see the feeling of love in your heart. I thank you for the happiness you have brought into my life.
Remember, you will always be my moon, my sun, and my stars.
Love you eternally.
(Your nickname)
13. Short and cute love letter to fiancee
Dear (Name),
I found this pug card and thought of you. I always think of you and me together. You mean the world to me. Before meeting you, I never felt real happiness, and I can never thank you enough for making me feel this way. I will always be by your side, and I will always love you from the bottom of my heart. I had the most enjoyable time with you on New Year's Eve in Paris. I can't wait to experience what God has planned for both of us. I think it will be incredible.
Thank you for choosing me as your life partner.
I love you forever and always.
Yours,
(Your name)
14. Long-distance relationship love letter
Dear (Name),
I need to express how much you mean to me. I wish I could do it while holding you in my arms and staring into your eyes. Since we are physically separated by miles of emptiness, this expression must appear in the form of letters like this.
Life seems to be full of tests, testing our inner strength, and more importantly, our dedication and love for each other.
I am convinced that the longer I am away from you, the greater is my yearning to be with you. I cherish every moment and the memories of togetherness. I live for the day when our physical separation ends and foresee life together in the near future.
Until that moment arrives, I send you my tender love, a warm embrace, and most passionate kisses.
I miss you.
(Your name)
15. Romantic love letter to adorable girlfriend
Dear (Name),
You always ask me why I love you, so here is the answer:
I love you because you are smart, hardworking, and determined. I love you because you always make me smile. You motivate me and push me to do better for myself. I love you because you let me keep my head in your lap and cry for literally no reason. You have shown me that it is not worth worrying. You always take care of me and make my happiness a priority even when I don't deserve it. You are so funny, you call me out when I'm grumpy, and you always scratch my head. You cook delicious meals for me. But most of all – I love you just the way you are. You always try to be the best you can be for me, and you are so good at it.
I love you so much!
(Your name)
Be watchful
Distance in a relationship can create unwanted misunderstandings. Staying in constant touch and sending heartfelt letters may help you avoid bitter instances.
16. Proposal letter for her
Hi Gorgeous,
With loads of love in my heart, I pick my golden pen from the basket of love to write you this letter. I hope this letter meets you in good health.
We have known each other for a while now, and I just want to tell you that my heart leaps up with joy whenever I see you. Everything about you makes me feel good, and I cannot picture myself being with anyone else than you.
You know very well that I am not an outgoing person and someone who would walk up to you to propose to you in a room full of people. So, I thought I would write you this letter to let you know my feelings for you.
I am lost for words. So, let me be frank and ask you this: Will you marry me? I promise to keep you and your loved ones happy every single day of our lives.
Please ponder over it, and take your sweet time to respond. I hope and pray it's a "yes."
(Your name)
17. Letter to express how much you love her
Dear (Name),
Baby, I just wanted to tell you that you are just awesome. I am so happy that we will soon be together. I can't wait to hug you. You always know how to make me smile.
I want all of your love. I want the pointless bickerings, the long walks, the late-night phone calls, and the good morning texts. I want to click cute pictures with you, hold your hand, make food for you, and call you my baby. I can't wait to hear your sweet jokes and kind words and cuddle with you. I want us to be one of those inseparable couples.
Love,
(Your name)
18. Romantic letter to request her for marriage
Dear (Name),
All I can do is think about you. I thought my life was complete, happy, and full before I knew you. But you came into my life and changed it completely. I honestly don't know how I could live my life without you. I never knew what real happiness, but you showed me the true meaning of life. I can't wait for our future together. Yes, I am looking forward to doing all the things that happy couples do. I want to cuddle and watch movies with you, hold your hand and go on long walks, take you out for dinner whenever you wish, and cook yummy meals for you.
Baby time might seem harsh, but stick tight with me. We will overcome the physical distance between us and soon be together. I want to tell you that I am very serious about our relationship and wish to marry you soon.
Love,
(Your name)
19. Letter promising her of your never-ending love
Dear (Name),
I am glad you are in my life. You are everything to me, and I am lucky I met the love of my life. One day, when I see you sleeping next to me, I will give you a kiss, and when I wake up, I will bring you breakfast in bed. Wait, my queen, that lucky day will come soon. And when that day arrives, I will never let you go.
In the days to come, we will be together. I promise that when we are together, everything will change. Those lonely nights will no longer be sad. I am full of happiness and love and waiting for the day you will be in my arms. Your hazel eyes will once again take my heart forever.
I miss you badly!
(Your name)
20. Letter to plan a beautiful future with her
Dear (Name),
Saying I love you doesn't seem enough. How can these three little words encompass so many feelings? I am writing this letter with great courage so that you will understand my love for you. It doesn't matter how many times I need to express myself, but these feelings are true, dear. You are my life, and one day I will make you my wife. I love you more than these words can express.
You have been there for me since day one, and I can't thank you enough for showering your love on me. My feelings for you are genuine, and they will remain the same till my last breath. I don't know what the future holds for both of us, but I have dreamt of our eternal love blooming somewhere in the shades of romance.
Your true love,
(Your name)
21. Creative Valentine's letter for wife
Dear (Name),
Valentine's Day is around the corner, and my plan this Valentine's day is to make you fall in love with me again. After we got married, we became so busy that we hardly had time to express love for each other. Therefore, I have decided to write you a creative love letter. I am also sending your favorite chocolates. I hope you enjoy reading this letter while the taste of chocolate with your cute lips.
M = My phone vibrates, and I receive a sweet message from you (Miss You).
Y = You call me almost every day.
V = Valentine's Day comes because I can get cheesy and romantic, as much I want to become.
A = Always on my mind. I think about you by listening to your favorite love songs on repeat.
L = Leave a voice message when I can't take your call.
E = Eat your dinner watching our favorite shows.
N = Narrate to me your highlights of the day.
T = Think about me every time you pray (even if you don't have to).
I = I make you smile (I hope I am doing it now).
N = Note our anniversary on your calendar.
E = Express your feelings for me.
22. I miss you love letter for wife
Dear (Name),
I missed you this weekend.
I am so thankful for the moments we have shared, but I guess I am selfish when it comes to you. I want to laugh with you and talk to you every single minute. I want to kiss you, hug you, and hold you tightly in my arms. I want to sit on the sofa and watch TV with you before going to bed.
There's not a single moment when I do not think about you. I miss you.
I love you, baby.
Your soulmate
23. Beautiful love letter for a beautiful wife
Dear (Name),
This beautiful adventure we call love is inevitable to the ones who give. And you, my darling, give me so much more — more smiles, more happy moments, more hope, more dreams, and more feelings inside me that I don't know what to do with them all. I will love you with all that I am for as long as I am on this beautiful planet. I know these are just words on a screen, sweetheart, but one day, you will see, hear, touch, smell, and taste my love for you. One day, you will wake up with no doubts in my arms and snuggle back into my chest and listen to a heart that beats for you and only you.
Once we are together, we will never be separated. I would do absolutely anything right now to be able to snuggle up next to you, bury my head in your chest, and interlock my fingers with yours. I would want to look up at you and smile whenever I want to.
Love,
(Name)
24. Love letter to impress your girlfriend
Dear (Name),
You mean the world to me, I love you beyond belief, and you make me happy every day. I am the luckiest person, knowing I have you. I can't believe we have come so far. When I am not with you, I miss you every second, and I thank you for everything you have done for me.
You are the sweetest, most supportive, most caring, and the cutest person I have ever known. All the memories we have shared so far have been so fun, and there are many more to come. You make me laugh non-stop, and I can always trust you. I would do anything just to be close to you.
Love you loads.
(Your name)
25. Caring love letter for wife
Babe,
I spend all day just thinking about us and how happy you make me feel. I don't know what I would do without you; I love you so much. I hope you are happy. If there is anything that I could do to make you happy, let me know. I will try to be the best husband and take care of you. I will do everything I can to ensure your safety and keep you happy. Remember, I am just a call away. I love you, and I never want to forget this feeling.
See you soon,
Your beloved husband
Frequently Asked Questions
1. How can I make her feel special in a long-distance relationship?
Send her text messages, order gifts such as care packages, watch a movie or TV series on a video call, send handmade cards, photo collages, or craft pieces, or dedicate a song for her to her favorite radio station. Besides these, have long and sweet conversations with her so that she feels wanted.
2. How do I convince her for a long-distance relationship?
Start with assuring her that you love her. You may explain the future you want to have and how you plan to manage as a long-distance couple. Discuss the pros and cons with her and tell her you will support her come what may. Make sure you address your partner's concerns and give her enough time to decide.
3. How can I be romantic to my long-distance girlfriend?
Technology often comes in handy in long-distance relationships. Make sure you exchange photos often to feel the connection. Have video calls where you can cuddle up to each other (virtually) or plan a romantic candlelight dinner being on a call. Have romantic talks over the phone, and you can even surprise her with a visit once in a while if your schedule permits.
Writing love letters for your sweetheart is an intimate method of expressing your feelings. It's been proven to keep the spark alive in relationships, especially long-distance relationships. If you live far away from your girlfriend or wife, the distance can be unbearable at times. However, writing a long-distance love letter for her to express how much you love and miss her can be a romantic and intimate way to strengthen your relationship. So draw inspiration from the letters given above and write a love letter to your long-distance lover. Rest assured that this simple gesture will put a smile on her face.
Infographic: Why Write Love Letters In A World Of Digitization?
She is just a send button away. This is what you may think before writing the letter. But text messages cannot convey the true emotions and effort you put in while writing your feelings. So this infographic will help you understand why handwritten love letters are a perfect expression of love in long-distance relationships.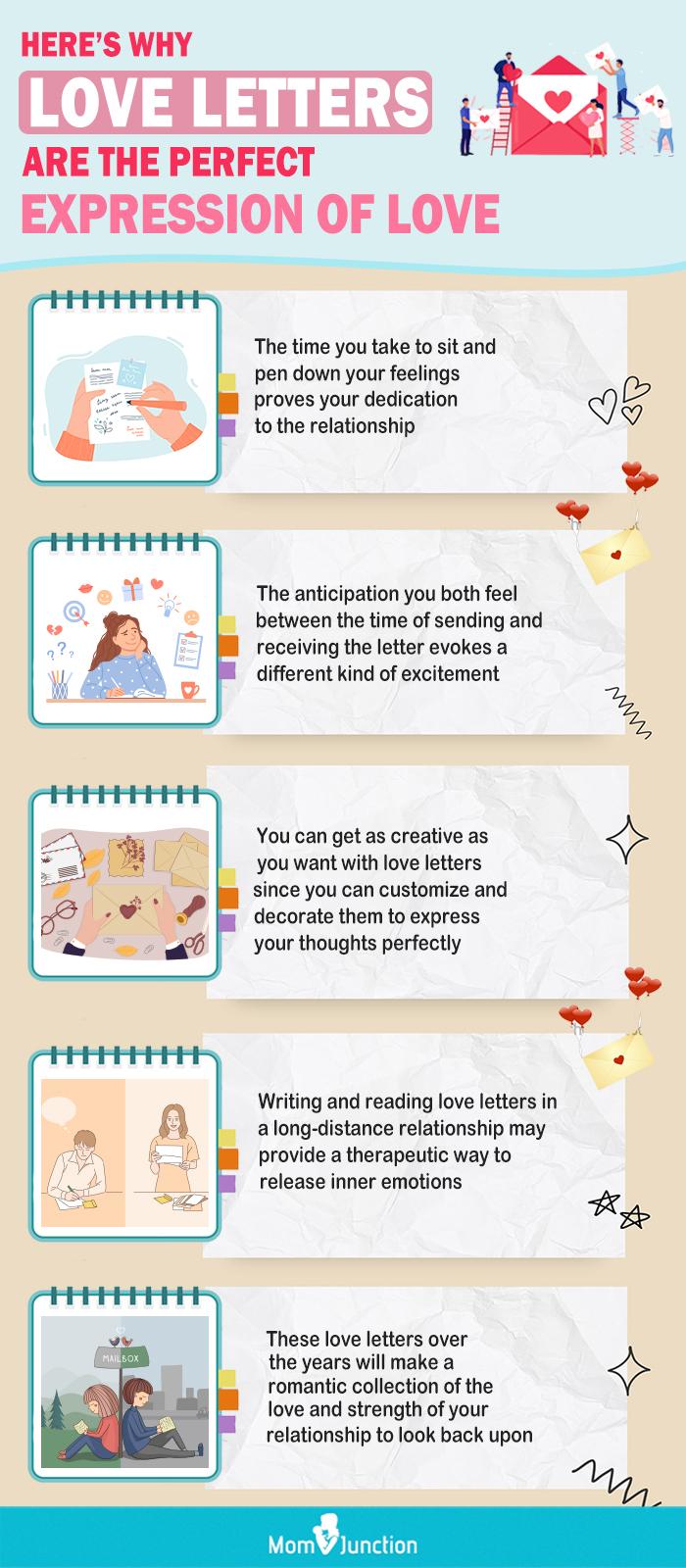 The following two tabs change content below.