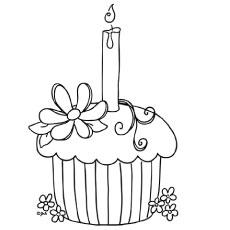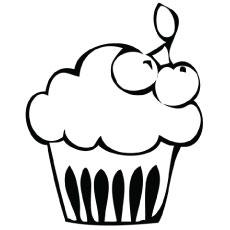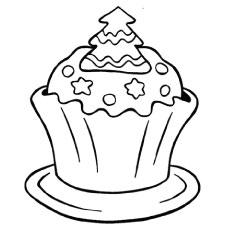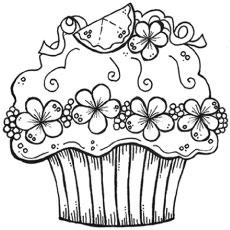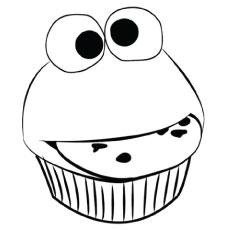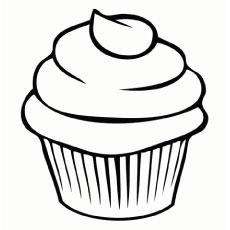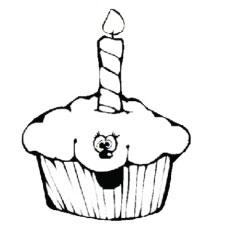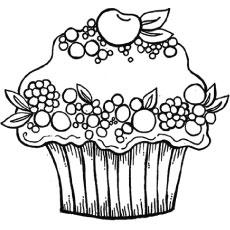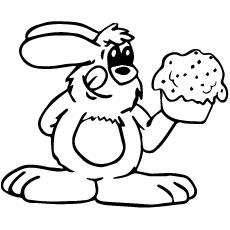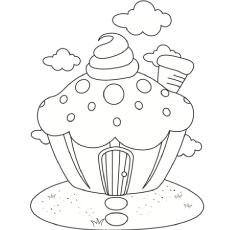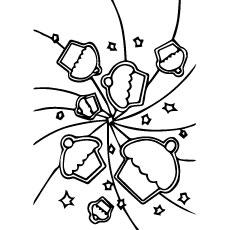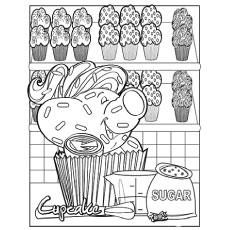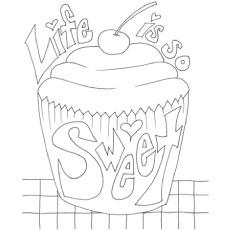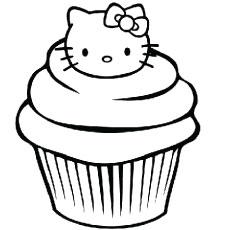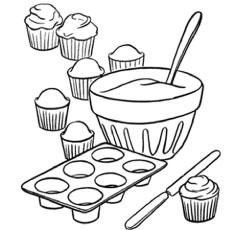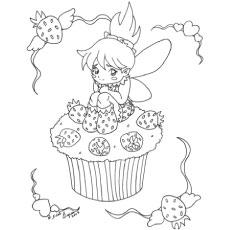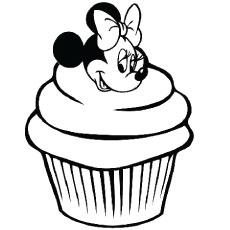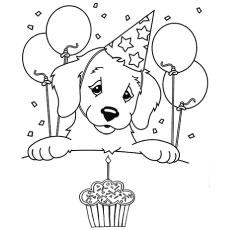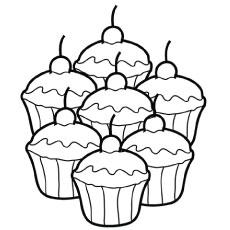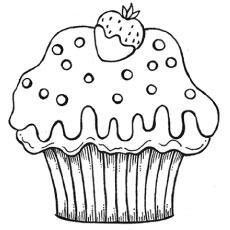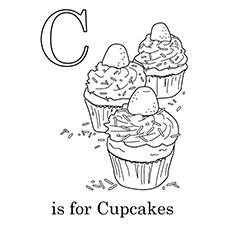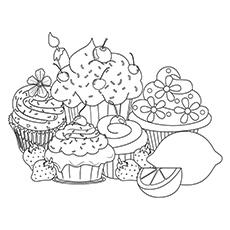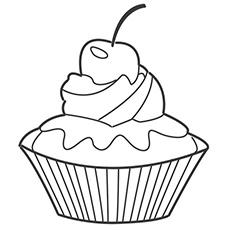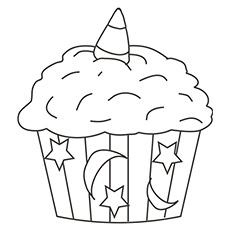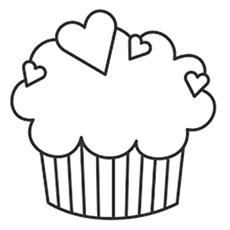 Recommended Articles:
Your child is now learning and discovering newer things every day. Isn't it a great joy to see your young one getting more and more inquisitive about the world around him or her?
So, how can you make this experience a little more informative, keeping it engaging for your child?
Introduce your child to coloring. It is a fun activity and a great way for your child to express his or her creativity. What's more, you can also teach your child to recognize the various colors.
Coloring gives your child the liberty to experiment and find things on his or her own. Just give your child a set of coloring pages and watch your toddler go at it like a man with a mission!
Top 20 Cupcake Coloring Pages For Kids
A child has a very short attention span. After all, your toddler is learning things and his inquisitive brain does not allow him to dwell on one particular thing for long, unless the activity is interesting enough for him.
Now, children are known to enjoy eating cupcakes. Their colorful decorations and various flavors intrigue them and tickle their taste buds. How would you like it if you could involve your child's love for cupcakes in a fun coloring activity? It would be absolutely great right?
Teach your child the perfect colors and about complementary colors through these cupcake coloring exercises. These pages are a fun way to indulge the artist in your child and hone their coloring skills at the same time!
Here are some interesting coloring pages of cupcakes for your little one:
1. The Simple Cupcake With Swirling Icing On Top:
This simple cupcake coloring page depicts a cupcake with a swirled icing on top. It is a great page to start with. Get your child to start by coloring the cupcake in the likeness of a real one. You can prompt him or her to color the icing part in the shade of the icing that he or she prefers on cupcakes! It is a fun exercise that will teach him to recognize basic colors.
2. The Smiley Cupcake:
This second coloring page is sure to have your child giggling! This page features a cupcake with a smiling face. Help your child to learn how to color within target areas with this funny cupcake coloring page.
[ Read: Happy Birthday Coloring Pages ]
3. The Cherry Cupcake:
This is one cupcake coloring page that you can get your child to color during Christmas season. The little bough of cherries on top of the cupcake will help you to narrate festive stories and keep your child occupied.
[ Read: Fairy Coloring Pages ]
4. The Christmas Cupcake:
This is another festive time cupcake for your toddler to color. Regale your child with your childhood stories about Christmas while your little bundle of joy creates his own memories coloring this design!
[ Read: Dora Coloring Pages ]
5. The Birthday Cupcake:
This decorative birthday cupcake with a candle and flowers gives your child the scope to use different colors and make combinations that are compatible.
6. Way Too Many Cupcakes:
This coloring page with a bunch of cupcakes can double up as a math exercise where you can teach your child to count the number of cupcakes before coloring them. Once the task is done, give your kid a cupcake treat!
[ Read: Alphabet Coloring Pages ]
7. Yummy Strawberry Cupcake:
A yummy looking strawberry topped cupcake for your child to color to his heart's content. Help your child recognize the berry correctly before he colors it up.
[ Read: Mickey Mouse Coloring Pages ]
8. The Decorative Cupcake:
This is a detailed cupcake that has a lot of elements to color. Use this for your child to color once he or she has started using colors with ease!
9. The Funny Cupcake:
This funny looking cupcake with the cookie is a fun coloring page, perfect for your little Picasso!
[ Read: Tom And Jerry Coloring Pages ]
10. It's My Birthday:
This puppy with a birthday hat and a cupcake is a great way to channelize your child's love for animals and cupcakes in an interesting manner.
11. Berry Cupcake:
Who doesn't love berries? Both children and adults love berries in desserts, it makes the frosting look so colorful. You must be using berries to decorate the cake, and your child comes and eats all the cherries on the top. If you notice kids eating a dessert, the first thing they go for is the cherry. The bright red color of the cherry catches children attention immediately.
They will give a naughty grin as they look at this cupcake, since it will remind him of his latest mischief. He will also enjoy coloring this cupcake and make it look even more colorful. Guide him so that he colors the berries correctly.
12. Cupcake Whirlpool:
There are so many cupcakes in this picture; they are rotating in a whirlpool. Along with, cupcakes there are tiny stars too. This is an example of doodle art, maybe the artist was thinking of cupcakes while sketching.
So what is Doodle art? A Doodle is an unfocussed or unconscious drawing made while a person's attention is otherwise occupied. Though Doodles are made up of abstract shapes it can carry a concrete meaning. You will find children doodling in their school notebooks since their mind are somewhere else. It can be cartoon characters or caricatures of their teachers.
Your child must be curious to know how a whirlpool looks like, stir a spoon in a glass of water, and then remove the spoon and your child can see the water swirling in the glass. That's how a whirlpool looks like. A whirlpool is a swirling body of water produced by the meeting of opposite currents.
Powerful whirlpools are known as maelstroms and are found in ocean, seas and some rivers. Whirlpools are caused by tides and some powerful whirlpools are found near waterfalls like Niagara Falls. Powerful whirlpools suck down any object that comes in its path. Many shipwrecks happen due to a whirlpool.
In this picture we see stars and cupcakes rotating in the whirlpool. Notice, the different colors your child uses to make the stars look bright. Encourage him to use glitter colors and multicolored stones to make this page attractive.
13. Minnie Mouse Cupcake:
Minnie Mouse is every little girl's favorite cartoon character, after Mickey Mouse. Your child must be watching the adventures of Mickey and Minnie Mouse; they are lovers and best friends. Your child who loves making new friends will enjoy sharing this cupcake with his or her best friend.
Since, your child is addicted to Mickey Mouse cartoons and films will need little guidance to color this cupcake. By now, your little one knows how Minnie Mouse looks like. You can pin it up as a poster for your child's Disney themed room. Also appreciate your child for his work this will make him happy. He might reciprocate back with a kiss as sweet as a cupcake!
14. Little Fairy Cupcake:
This is a cute fairy cupcake. We see this tiny fairy lost in thoughts, maybe in her world. She wears strawberries as boots. The cupcake is also decorated with strawberries.
Children love strawberry flavored desserts and the bright color fruit catches their attention instantly. The fairy and strawberry make this cupcake look cute and appealing to children, who will enjoy coloring it.
15. Cupcake with a Message:
This rich and creamy cupcake with a cherry on the top carries a message, 'life is so sweet.' Indeed it is, with so many yummy cupcakes to eat.
Children love candies, cakes and ice-creams and this makes their life so sweet. Well adults are not far behind either, especially those with a sweet tooth, for them life is so sweet always!
16. Cupcake with a Difference:
Isn't this a funny looking cupcake? This piglet cupcake is actually laughing aloud. Your child can't stop smiling at this cupcake. The piglet cupcake is decorated with rich frosting and vermicelli.
Beside this cupcake we see a bag of sugar, a hand blender and a measuring cup. You need all these to make a cupcake and the frosting. In this picture, we also see many other cupcakes lined up for sale. This is a picture of a bakery, where cupcakes are being prepared. Your child will love coloring all the minute details in the picture. Notice, the shades he uses to color each frosting. It shows his favorite flavors that he would like to taste.
17. Hello Kitty Cupcake:
Hello Kitty also known as Kitty White is already popular amongst children. Her cute face and her red bow is found on all merchandise, like pencil boxes and water bottles. Children who watch Hello Kitty cartoons will definitely enjoy coloring this cupcake.
While decorating a real cupcake you can always use a fondant hello kitty or marzipan Hello Kitty to surprise your child. Other than coloring this page, you can also ask your little one to decorate a cupcake. This will help to nurture his creative mind and it will get him hooked to all kinds of artwork.
18. Cupcake House:
This is such a cute cupcake house with a tiny door and smoke billowing from the little chimney. Though it is not possible to make such a cupcake in reality, it is a more fictional cupcake. It will surely remind you of Big Ears Toadstool house or the popular Smurf house.
Your child will have great fun using his imagination to color this cupcake house. His creative touch will make the house look even quainter.
19. Bunny with a Cupcake:
Here, we see little bunny licking his lips at the very sight of a cupcake. Your kid will instantly connect with this picture, since his reactions at seeing a cupcake is almost the same. Since bunnies are associated with Easter celebrations, this picture will make your child more about the Easter festival.
So have fun coloring the cute Bunny and make the cupcake look even more delicious!
20. How to Make Cupcakes:
This picture shows the ingredients needed to make a cupcake at home. There is a bowl full of cupcake batter, cupcake baking tray, a spreading knife for the icing and few cupcakes that are ready. While coloring this page your little one will learn what the things that make cupcakes so delicious are.
You can try making cupcakes with your little one at home; she will learn the art of baking under your guidance. You can start with the basic cupcake recipe.
The ingredients that you need for making a cupcake is three-fourth cake flour that is not self-rising, quarter cups unbleached all-purpose flour, two cups sugar, one tablespoon baking powder, three-fourth teaspoon salt, four sticks of unsalted butter, four large eggs, one and a half cup whole milk, two teaspoons of pure vanilla and six cups confectioner's sugar.
The method is very simple. Just preheat your oven to 325°Fahrenheit (162°C). Line the cupcake pan with paper liners and set it aside. Now combine the flour which is not self-rising, all-purpose flour, sugar and baking powder in a bowl. Blend it until they are thoroughly combined for about three minutes. Add four sticks of unsalted butter and cover it well with flour. Then add four large eggs one at a time. Before adding each egg, make sure that it is well incorporated in the mixture.
Then add the whole milk and vanilla and blend it until the ingredients are completely mixed. Now fill the baking cup with two third full of batter. This will give the cupcakes enough room to expand. Make the frosting while the cupcakes are in the oven. Blend softened butter, with confectioner's sugar, milk and vanilla to make a thick paste. Cool the cupcakes so that they don't melt the frosting. Once the cupcakes have cooled down, add the frosting and decorate it. Now it is time to enjoy the cupcake!
Once your child has learnt to make the cupcake, he will enjoy coloring it even more!
Cupcakes are so yummy that it can be enjoyed anytime. Without dessert feasts remain incomplete, so cupcakes can make a great dessert option. Make a cupcake in front of your child to show how it is made. It is really simple. Whether, you have a son or daughter they will enjoy coloring these cupcake coloring pages. Also these cupcake coloring sheets are a good opportunity to teach your child different colors. So have a great time coloring!
Your kids will definitely enjoy filling colors in these free printable cupcake coloring pages. Paint them in vibrant colors and share your experience with us. You can always create your very own cupcake coloring book. Share your ideas with us!
Your kids will definitely enjoy filling colors in these free printable cupcake coloring pages. Paint them in vibrant colors and share your experience with us. You can always create your very own cupcake coloring book. Share your ideas with us!
DISCLAIMER: All images found here are believed to be in the "public domain". We do not intend to infringe any legitimate intellectual right, artistic rights or copyright. All of the images displayed are of unknown origin. If you are the rightful owner of any of the pictures/wallpapers posted here, and you do not want it to be displayed or if you require a suitable credit, then please contact us and we will immediately do whatever is needed either for the image to be removed or provide credit where it is due. All the content of this site are free of charge and therefore we do not gain any financial benefit from the display or downloads of any images/wallpaper.
The following two tabs change content below.