As soon as you learn about your pregnancy, you begin to plan your diet as per your increased appetite and nutritional requirements. Including protein-rich foods during pregnancy is a must. You must have at least 75 to 100gm of protein daily to aid in the healthy development of your baby. Moreover, protein is a vital dietary need for pregnant women to develop uterine and breast tissues. Also, lack of sufficient protein during pregnancy may negatively impact fetal growth and cognitive development. Therefore, you must have a minimum of 60gm protein every day to ensure a healthy pregnancy journey. Keep reading to learn about the signs of protein deficiency while pregnant, protein-rich foods and supplements to take during pregnancy.
Protein Rich Foods During Pregnancy
Let's take a look at foods rich in protein that you can take during pregnancy.
Nuts and seeds too are good sources of protein. You can try Brazil nuts, pistachios, coconuts, hazelnuts and almonds to get your daily dose of protein. Seeds like sunflower, sesame and pumpkin are also healthy options.
Chickpeas, split peas, lentils, soy products, kidney and mung beans are some other options that you can try.
Oats are considered a good source of protein. You can also try cookies, muffins, and pancakes made of oats.
A protein rich diet will keep your blood sugar level in check and offer the much required energy. Protein is known to be the building "block of life". Since you are building another life, you need to make sure you are taking adequate care for her.

Quick tip
A peanut butter sandwich made from natural peanut butter and a plate of hummus with freshly cut veggie sticks are some protein-rich snack options during pregnancy
(6)
.
Protein Supplements During Pregnancy
Apart from trying the natural sources of protein, you can also look for the supplements that are available in the form of liquid. Here is how you can benefit from them:
You will get the much needed nutrients that you highly need during pregnancy.
It is a good way to overcome morning sickness and other digestive problems.
However, make sure you are taking the supplements after consulting with your doctor. This way you will know about the right amounts you need.
Protein In Your Last Trimester
You must get your full quota of protein in your last trimester. Take a look below:
This is the phase when the brain of your baby is developing fast.
You must be careful about your intake of omega 3 fatty acids, DHA to reduce the chances of post-partum depression.
Fish, poultry and lean meat are some of the best protein rich foods during pregnancy that you can try now.
You need to be careful about your fish intake in pregnancy, as some of them are not safe for consumption. Fishes like tilefish, king mackerel, swordfish and shark are high in mercury levels and can affect brain development of your fetus. Make sure you are avoiding them. According to the recommendations of FDA you must consume 1 ounce of fish at this stage, but this has to be after consultation with your doctor.
If in doubt, you can consult a nutritionist to prepare a pregnancy diet chart for you.
Signs Of Protein Deficiency
There are some signs associated with low protein during pregnancy. You must be aware of them and take a second look at your diet if you experience them.
Here are some of the signs:
Frequent infections
Severe fluid retention
Muscle fatigue

Quick fact
Hair loss may also occur due to protein deficiency in pregnant women
(7)
.
Remember:
Talk to your doctor if you experience any of these symptoms in any phase of your pregnancy.
Do keep in mind the growing requirements of your baby and incorporate protein judiciously in your daily diet.
If you are a vegetarian incorporate soy products, beans, nuts, lentils and dairy products to meet your daily requirements.
Eating protein-rich foods during pregnancy is vital to maintaining your and your baby's health. Meat, poultry, fish, dairy, legumes, lentils, nuts, and seeds are various protein-dense foods that can help you meet your daily protein needs during pregnancy. However, consult a certified nutritionist if you feel that your protein intake is insufficient or notice signs of protein deficiency. They can help you plan a well-balanced diet to meet your increased nutritional requirements. Besides, they can suggest a protein supplement based on your overall health and dietary preferences. Paying prompt attention to your nutritional needs is pivotal to having a smooth pregnancy.
Infographic: Protein Deficiency Symptoms And Protein-Rich Foods
Macronutrients such as protein are essential at all times, but they become even more so during pregnancy. This is because it supports the health of both the mother and the baby. Check out this infographic in which we discuss several protein deficiency indicators and suggest foods that are high in protein.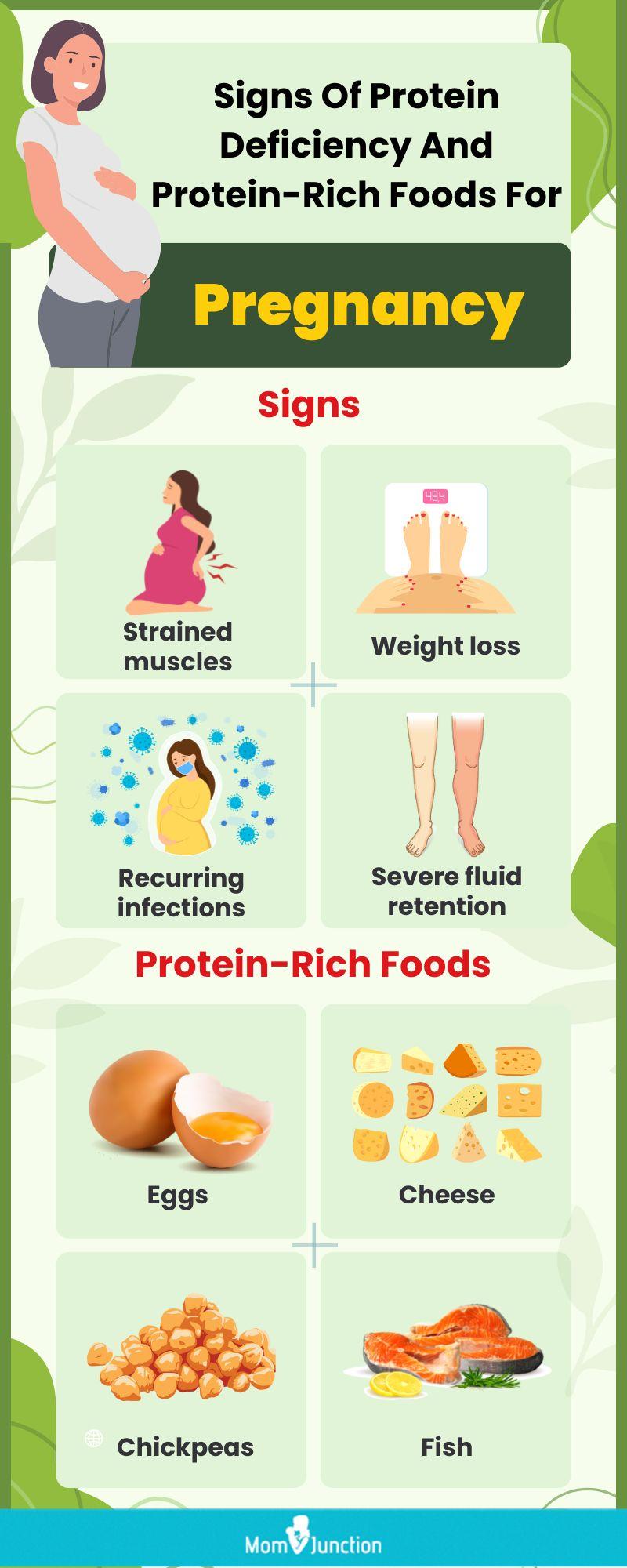 Key Takeaways
Protein is essential for pregnant women for optimal fetal development and growth of uterine and breast tissues.
Pregnant women require 75 to 100g (with a minimum of 60g) of protein per day.
Good sources of protein for pregnant women include dairy products, nuts and seeds, legumes, and oats.
Adequate protein intake is particularly vital during the last trimester of pregnancy.
Signs of protein deficiency in pregnant women may include weight loss, recurrent infections, fluid retention, tired muscles, and hair loss.
It's recommended that pregnant women speak with a nutritionist to maintain a balanced diet and get advice on protein supplement requirements during pregnancy.
Frequently Asked Questions
1. What kind of protein powders are safe while pregnant?
Balanced protein energy supplements and powders containing up to 20% energy as protein appear safe in pregnancy. Avoid protein supplements containing more than 20% energy as protein during pregnancy since it may lead to premature births and low birth weight in babies (1). Further, specially formulated high-protein supplements are usually not recommended during pregnancy (2).
2. Is it safe to drink protein shakes during pregnancy?
Most people do not require protein shakes, powders, or supplements since they get enough protein through their diet. However, you may drink protein shakes during pregnancy if your healthcare provider recommends filling the protein intake gap. Alternatively, you may add a variety of protein-rich foods to your pregnancy diet (3).
3. How much protein is essential for pregnant women?
A minimum of 60 grams of protein per day is recommended for pregnant women. It may account for 20 to 25 percent of your daily calorie intake (4).
4. Can protein intake increase fetal weight?
Fetal growth and development can improve if the mother's protein intake is within the recommended limits. Thus, an increase in weight may be noticed when the protein intake is normal. However, a lack of proteins and taking more than needed can affect the optimal growth of the fetus (1).
5. How does protein deficiency affect pregnancy?
Protein deficiency or low maternal protein intake can increase the risk for intrauterine growth restriction, embryonic loss, and reduced postnatal growth due to deficiency of the required amino acids for cell function (5).
6. Does overeating protein cause preeclampsia?
Increased protein levels in urine might indicate preeclampsia. However, it does not mean that overeating protein can cause the condition (6).
7. Can I drink whey protein while pregnant?
Due to the lack of reliable data explaining its safety, experts recommend avoiding whey protein during pregnancy to prevent any potential side effects (7).
References:
MomJunction's articles are written after analyzing the research works of expert authors and institutions. Our references consist of resources established by authorities in their respective fields. You can learn more about the authenticity of the information we present in our
editorial policy
.