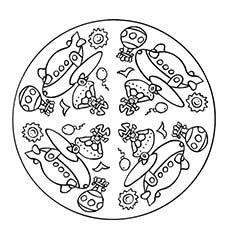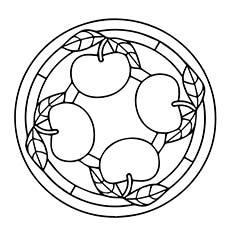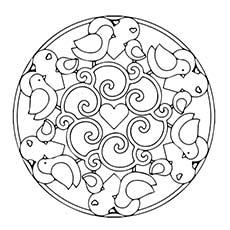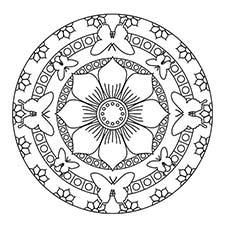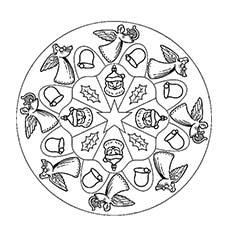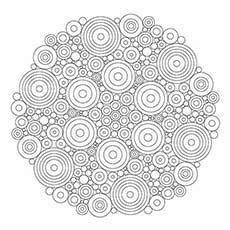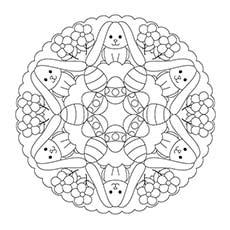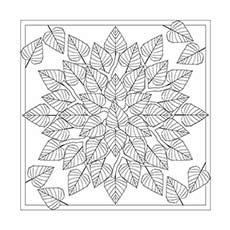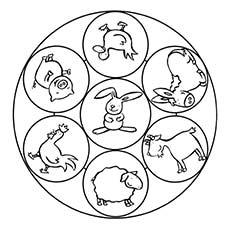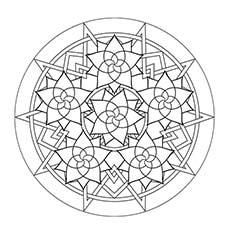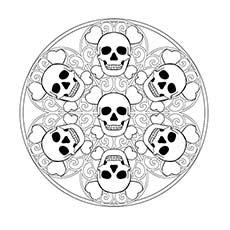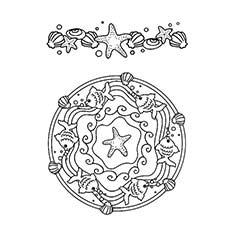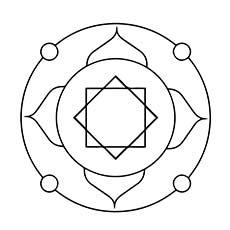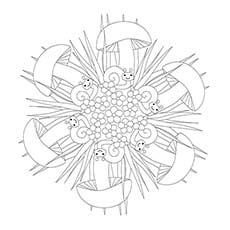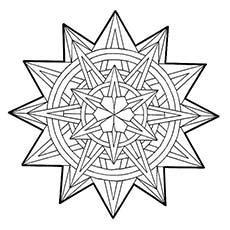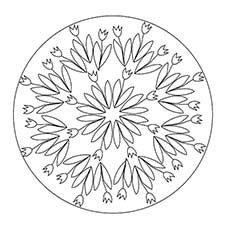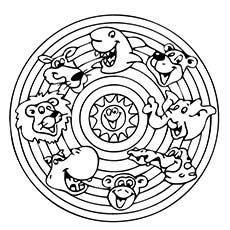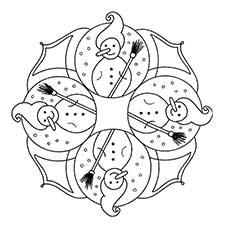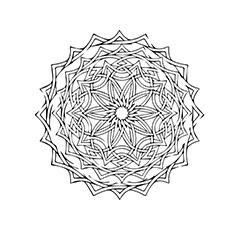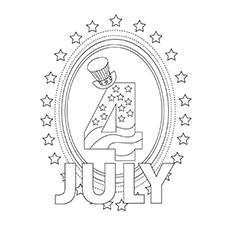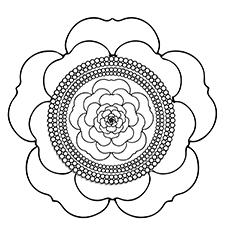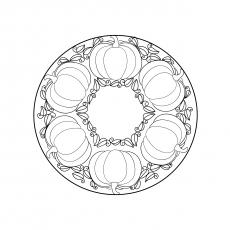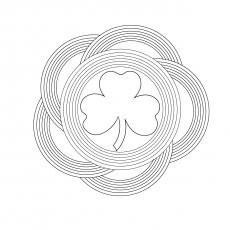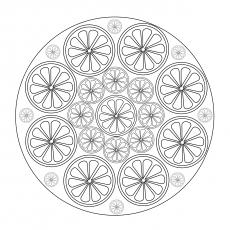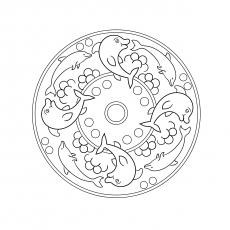 You must have heard about mandala that is used for meditation, but have you heard of mandala-themed coloring sheet? If no, then this article will surely be a delight for you.
The Mandala is a spiritual symbol of Buddhism and Hinduism. It is a Sanskrit word that means a circle or spirit and commonly used as a spiritual guidance tool to aid meditation and trance induction. It opens up our spirit and facilitates connection to higher understanding and purpose.
Top 25 Mandala Coloring Pages:

Mandala coloring worksheets are a popular subject for coloring sheets. We have compiled a set of 25 simple and complex mandala themed coloring sheets. You can get the free from here.  These variety of images will make it easy for the kids to find the perfect mandala coloring picture for themselves.
1. Star Mandala:
This mandala coloring sheet features a beautiful star design. It only needs some color to sparkle at its best. Can your child do the needful? This coloring sheet will expand your child's imagination skills as he chooses the right colors for this mandala.
Did you know that some stars smaller than the earth while some are 1000 times bigger than the sun? Share some more fascinating facts about stars as your child colors this sheet.
[ Read: Stars Coloring Pages ]
2. Butterfly Mandala:
Is your child fascinated by nature? Then give her this mandala coloring pic featuring a stunning butterfly mandala, full of realistic illustrations.
Tell your child to color the butterflies in different colors. She can also make unique patterns in each butterfly's wing. It will give a beautiful look to the coloring page. This coloring sheet is also perfect for supplementing to the life science classes.
3. Bird :
This cute mandala is made of little birds that your child may see in the backyard. Tell your child to give this bird a cute name.
Birds are one of the most beautiful animals in the world. Children love these, soft, tiny and furry animals. Most of the children keep birds as their pet. They are also fascinated by their sounds and funny antics. Birds come in a wide range of colors, including metallic hues. Your child's creativity will take a flight as he fills color in this bird mandala.
4. Airplane And Parachute Mandala:
Here is a fun coloring sheet that will let your child color a mandala of toy airplane and parachute.
Airplane and parachutes are popular subjects of coloring images among children. Here we have combined both airplane and parachute for your child to enjoy. The popularity of parachutes and airplanes has grown leaps and bounds after featuring in several animated films.
5. Christmas Mandala:
Christmas is one of the most popular festivals of the world. Here is a coloring page to get your child into the Christmas spirit.
This mandala coloring sheet features all the essentials of Christmas- the jingle bells, mistletoe, Angel Gabriel and kid's favorite- Santa Clause. Advise your child to use different colors for the angel, Santa, mistletoe and jingle bells.
6. Flower Mandala:
Is your child a fan of nature? Then he will love this mandala coloring sheet featuring exotic flowers. Instruct your child to color this mandala in bright colors to enhance its beauty.
As your child colors the sheet, ask him about his favorite flowers. This coloring sheet can also be used for creating greeting cards. Take your child to a flower show to acquaint him with different types of flowers.
7. Autumn Pumpkin:
With autumn comes the fresh harvest of fruits and vegetables. This mandala celebrates the produce of this season- the pumpkins.
Most of the fruits and vegetables are available all year round, but they taste best when they are in season. This printable coloring sheet is a great way to introduce your child to seasonal harvest, farms and, of course, pumpkins.
8. Fall Leaves:
Nothing feels better than diving into a pile of leaves during autumn. This coloring sheet shows birch leaves forming a beautiful mandala.
Your budding botanist will love filling colors in this leaf mandala. Tell your child to use different shades of green for coloring the leaves. You can also ask your child to make other signs of autumn like a cornucopia, apples, and a scarecrow.
9. Shamrock And Rainbow:
This mandala is perfect to keep your child busy while you prepare the dinner for St. Patrick's Day. It features two of the most popular symbols of St Patrick's Day- Shamrock and rainbow.
Shamrock refers to the sprigs of clover. It used as a metaphor for the Christian Trinity according to the Irish legend. This three-leaved plant is also used for its medicinal properties. Tell your child to use green for the shamrocks and multicolor for the rainbow. You can also talk about the folklore of Ireland while your child colors the sheet.
10. Rose Mandala:
Rose has inspired great art for centuries, including this beautiful mandala. This coloring sheet is for kids who are fascinated by flowers and ponder plants.
Rose is a perennial flower belonging to the Rosaceae family. It comes in a wide range of colors like pink, orange, white, yellow, red and even black, each color carrying a meaning. Which color of rose does your child like the most? Fact-Did you know that the name rose is derived from the French word "Rosa?
[ Read: Flower Coloring Pages ]
11. Halloween Mandala:
Skull and hearts housed in a mandala. Which holiday do you think is featured on this coloring sheet? Ask your child this question to see if he comes up with the correct guess or not.
Halloween originated in Ireland hundreds of years ago. This holiday is not just limited to the United States, but is celebrated in several countries across the world. Halloween is one of the favorite holidays of kids. They love getting dressed in creepy Halloween costumes. Ask your child to draw other Halloween staples on the side of the sheet.
12. Easter Mandala:
It may not feel like, but spring is just around the corner. Spring brings with it Easter, one of the most loved Holidays. This cute as button coloring sheet Easter mandala features spring flowers, Easter bunnies, and Easter eggs.
Have your child color this mandala in anticipation of Easter. Make sure you educate your child about Easter while he colors the sheet. Easter is one of the most important festivals for Christians. It celebrates the resurrection of the Jesus after the crucifixion. Easter is a symbol of victory over death.
13. Simple Mandala:
This simple and swirly mandala is a great way to teach your child about mandala and its association with Hinduism and Buddhism. Your child will get creative as he decides how he wants the mandala to look.
Your child will get an exposure to patterns and colors as he put colors on this sheet. When she is done coloring the sheet, she can use this image as a unique decoration for his room.
14. Apple Mandala:
This mandala features apple, a favorite fruit of both kids and adults. Apple is available all time of the year, but it is best eaten during the time when it grows in abundance.
Apple mandala coloring sheet is a great way to teach your child about the nutritional value of this fruit. It will encourage healthy eating habits in your children. Challenge him by using shadings for each apple to emphasize the texture of this fruit.
15. Spring Mandala:
This coloring sheet features the staple of the spring- mushroom, snails, and small flowers.
Spring is the most beautiful season of all the seasons. This colorful season with marked by flowers and blossoming trees. Teach your child about the different seasons as he colors the sheet.
16. 4th Of July Mandala:
Gear up your children for the 4thof July celebration with mandala coloring sheet. Hat, firecrackers, sparkles and the American flag, all are captured in this fourth of July mandala-coloring sheet. This coloring page will keep your child happily entertained as he waits for the 4th of July celebrations.
The 4th of July is a federal holiday in the United States. It commemorates the Independence Day of the UNnited States. The Independence day is associated with picnics, fairs, carnivals, parades, family reunions and fireworks.
17. Tulip Mandala:
Tell your child to color in the tulips in this mandala coloring page. This lovely mandala will make a great present for Mother's Day and Teacher's Day.
Tulips are perennial, bulbous plant belonging to the Liliaceae family. They are fondly called the "lipsticks of the garden" because they provide a finishing touch to the landscape. This cup shaped flower comes in a wide variety of colors like red, maroon, pink, orange, violet, purple, so your child can use any color he likes for this coloring sheet.
18. Circle Mandala:
How many circles do you think it took to create this picture?
Tell your child to count the big circles in this mandala. Your child can get creative by using an array of colors or few colors that are of the same hues.
[ Read: Circle Coloring Pages ]
19. Dolphin Mandala:
Tell your child to color in the playful dolphins in this mandala.
Dolphins are playful marine creatures, loved by kids for their gregarious nature. They are best known for their joy and grace. Dolphins are mostly found in oceans and seas. They are also displayed in amusement parks and zoos Kids can practice using blacks, blues and grays for the picture. They can also make a background to go with this picture.
[ Read: Dolphin Coloring Pages ]
20. Farm Animals Mandala:
It looks like all these farm animals share a single barn. What types of farm animals can your child spot in this mandala? Ask him to write the names of all the animals he sees in this coloring sheet. It will also give your child handwriting practice.
Kids find farm animals very attractive and appealing, primarily because of their appearance in children's books and cartoons. Teach your child about these animals and what purpose they serve on the farm.
21. Wild Animals Mandala:
Does your child have an immense love for the animal kingdom? Then preserve his interest by giving him this wild animal's mandala coloring sheet.
This wild animal mandala will take your child's imagination on an African safari. After he has finished coloring these cheerful wild animals, put this mandala on display so that everyone can appreciate his art. Take your child for a trip to the zoo after coloring this sheet. This way, he can get up, close and personal with wild animals.
22. Citrus Mandala:
Encourage your child's inner Picasso by adding color to this citrus fruit slices.
Teach your child about different types of citrus fruits and the nutrition they provide with this coloring sheet. Children can use green, yellow, red and orange to create a bright work of art.
23. Ocean Mandala:
Let your child's imagination run wild with this ocean-themed mandala-coloring sheet. It features fishes, starfishes, and seashells.
Ocean or marine animals are objects of interest to kids of all ages. Kids are intrigued by their unusual behavioral patterns and interesting appearance. The bright bodies of ocean animals will allow your child to experiment with various shades of colors.
24. Celtic Knots Mandala:
Here is an intricately knotted Celtic designed Mandala to help your child practice his fine motor skills.
Celtic knots are the graphical representation used extensively in Celtic style of Insular art. These knots are continuous with no loose end. Celtic knots represent ropes or thread tied in a knot.
25. Winter Mandala:
Help your child learn about the changing of the weather with this winter-themed mandala.
Winter and snowman, go hand in hand. Kids spend most of their winter vacation outdoors, making snowmen. Your child will surely have a fun time coloring this sheet.
These mandalas coloring pages will help relax and calm your child's mind. Some parts of the mandalas are small and may require to be colored with coloring pencils and fine-tipped marker.
Download all the coloring sheets to create a mandala coloring book for your child.
Recommended Articles: 
DISCLAIMER: All images found here are believed to be in the "public domain". We do not intend to infringe any legitimate intellectual right, artistic rights or copyright. All of the images displayed are of unknown origin. If you are the rightful owner of any of the pictures/wallpapers posted here, and you do not want it to be displayed or if you require a suitable credit, then please contact us and we will immediately do whatever is needed either for the image to be removed or provide credit where it is due. All the content of this site are free of charge and therefore we do not gain any financial benefit from the display or downloads of any images/wallpaper.
The following two tabs change content below.