Midwife Vs. Obstetrician – while thinking about your health care provider during pregnancy, right from the time you realize that you're pregnant until delivery, you may always stumble on, "who is the best of the two?" In earlier days, midwives and other local women with extensive delivery expertise used to be the sole care provider for pregnant women. However, nowadays, obstetricians (OB) or gynecologists are chosen over midwives to provide care during pregnancy and childbirth. Both an OB and a midwife are pregnancy experts in their own right, but their approaches to pregnancy and delivery differ. Read this post to learn about the differences between the two care providers.
Difference Between An OB And A Midwife?
A midwife is a healthcare professional who focuses on sexual and reproductive care of women along with pregnancy, childbirth, and postpartum care. Some of them go through a three-year training program (in the US) after a nursing degree. Some of them just go through a few weeks of training with another community midwife (called Lay midwives or unlicensed midwives).
OBs and licensed midwives are both trained professionals who assist pregnant women. But the difference lies in their level of education, method of training and approach towards dealing with the pregnancy until delivery.
The differences are further explained here (1).
| Obstetricians | Midwives |
| --- | --- |
| They have scientific, evidence-based approach towards obstetric care | Licensed midwives have a similar approach but unlicensed midwives have a holistic and faith-based approach. |
| Trained in performing surgical procedures like C-section or any other mode of delivery or gynecologic procedures | Cannot perform surgical procedures |
| Perform circumcisions in certain geographic areas | Cannot perform circumcisions |
| Capable of handling pregnancy complications during delivery | Can handle only low-risk pregnancies |
| Attend deliveries only at childbirth centers or hospitals and not at home | Can carry out delivery at the hospital or home |
The approach towards obstetric care varies from doctors to midwives. Read here to know about the different models of care.
What Are The Different Models Of Obstetric Care?
There are two general models of obstetric care (2):
1. The midwifery model of care:
Midwifery considers pregnancy and birth to be a natural or biological process that should be supported with emotional and holistic measures. The approach focuses on non-medical obstetric care to reduce the likelihood of C-section and other medical interventions unless there is a complication that needs medical care.
The length of appointment with midwives is generally longer as they also attend to the social, spiritual, and emotional aspects of pregnancy.
2. Obstetrical management:
An obstetrician focuses on diagnosing, treating and preventing the complications during pregnancy. This approach also emphasizes on using medical interventions during labor. In general licensed midwives work alongside Ob/Gyn practitioners to take care of low risk visits and low-risk pregnancies.
But how do you know which one is ideal for your situation? Next, we answer a few questions that will help you determine whether you should choose a midwife, obstetrician or seek the help of both the professionals.
List Of Questions To Help You Choose Between An OB And A Midwife
Here are a few questions you can ask to figure out which medical professional is best for you.
1. How do you want to deliver your baby?
If you want to deliver your baby through the natural birthing process, then make sure that your care provider is supportive of that.
2. Do you need a caregiver with you during delivery?
Midwives spend a lot of time with the patient during labor as they are usually not overloaded with patients by design of the system. However, obstetricians may not be able to dedicate personal time to you, as they have other high risk patients to attend to.
3. How do you want to manage labor pain?
Obstetricians handle deliveries only in hospitals, where they can administer epidural for pain management. However, midwives encourage medication-free and natural methods to manage the labor pain.
4. What can you expect from the caretaker during labor?
The OB-GYNs may put you on IV and recommend continuous fetal monitoring especially with high risk pregnancies. However, with a low risk pregnancy a midwife might let you move around freely or stay in a comfortable position and perform periodic checks to monitor the progress.
5. What if you have a high-risk pregnancy?
In case of a high-risk labor, a midwife needs to take the help of an obstetrician to deliver the baby. If the need for a C-section arises, only an obstetrician, who is trained for it, can handle the case efficiently. In some institutions, midwives can assist obstetricians with cesarean delivery also. If the patient has serious medical conditions, then an obstetrician and a midwife together can handle the case during pregnancy and delivery.
6. Where would you like to deliver?
If you are in favor of home birth and have no pregnancy complications, then appointing an unlicensed midwife could be a choice for you. Most people consider this as a risky idea as any low risk pregnancy can become high risk at any time due to many labor risks (eg: umbilical cord related issues, postpartum bleeding risks)
If you need an epidural and want to be in a hospital under the supervision of a doctor, then an OB or licensed midwife is the best choice for you. Note that obstetricians will only attend to childbirth cases at specific delivery centers.
7. Are you comfortable with the practitioner you are seeing?
If you have a good rapport with your practitioner and if you can reach out to her or him any time you have a concern, then go with that practitioner.
Frequently Asked Questions
1. Are midwives better than Ob/gyn?
Both midwives and gynecologists can help you during your childbirth. On one hand, midwives offer a holistic approach and can assist in only natural births. On the other hand, gynecologists take a more medical approach and can handle high-risk pregnancies (3).
2. How many babies do I have to deliver to qualify as a midwife?
To qualify as a midwife, one must deliver at least 40 babies (4). In addition to this, there should be an experience of assisting hundreds of women in delivery.
3. Can a midwife become an obstetrician?
Yes, a midwife can become an obstetrician by undergoing specific training that will qualify them to handle high-risk pregnancies. They have to take a medical course and proper medical training as well (3).
When pregnant, deciding whether to opt for a midwife vs. an obstetrician for prenatal care can be complicated. OBs and midwives are both professionals who help pregnant women. However, OBs are medical doctors who have completed a three-year residency after their MBBS, and midwives may or may not be licensed. So, when deciding, keep in mind how you want your delivery to go and your health requirements, including whether it's an uncomplicated pregnancy or a high-risk pregnancy. If you're still unsure, talk to other mothers who have used the services of either expert.
References:
MomJunction's articles are written after analyzing the research works of expert authors and institutions. Our references consist of resources established by authorities in their respective fields. You can learn more about the authenticity of the information we present in our
editorial policy
.
The following two tabs change content below.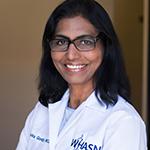 Dr. Anita Gondy
(MD, FACOG)
Dr. Anita Gondy is an Ob/Gyn at The Ob-Gyn Center in Las Vegas. In practice since 1998, Dr. Gondy began her medical training at Rangaraya Medical College in Kakinada, India and completed studies at the University of Nevada School of Medicine, where she also did an obstetrics and gynecology residency. She is also a Fellow member of The American College...
more

Shreeja holds a postgraduate degree in Chemistry and diploma in Drug Regulatory Affairs. Before joining MomJunction, she worked as a research analyst with a leading multinational pharmaceutical company. Her interest in the field of medical research has developed her passion for writing research-based articles. As a writer, she aims at providing informative articles on health and pharma, especially related to...
more