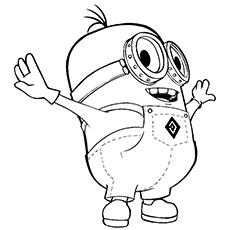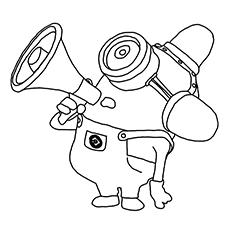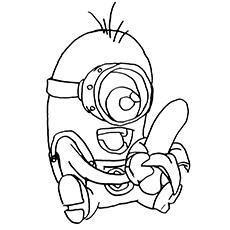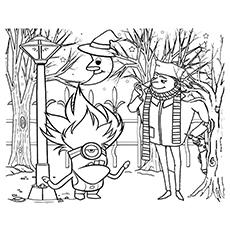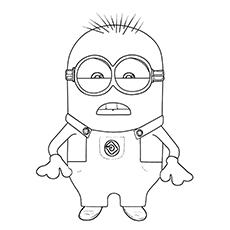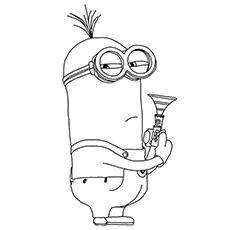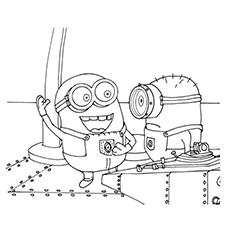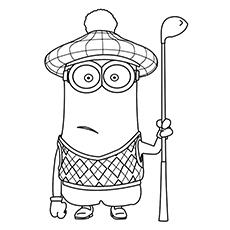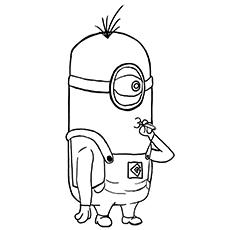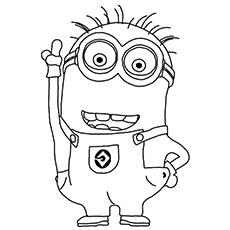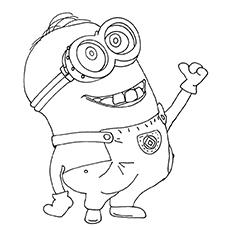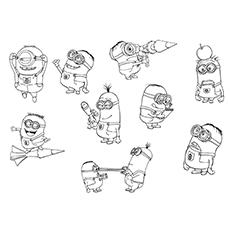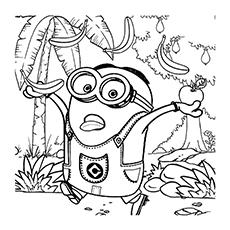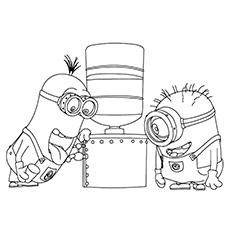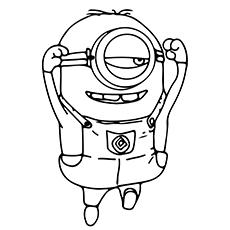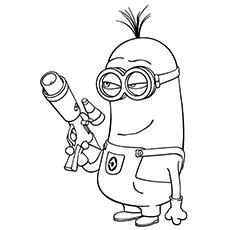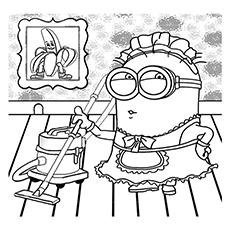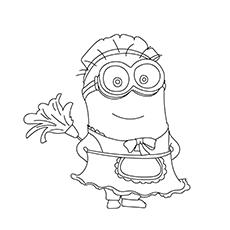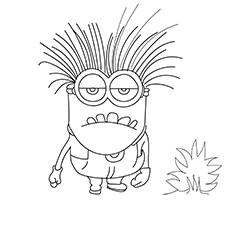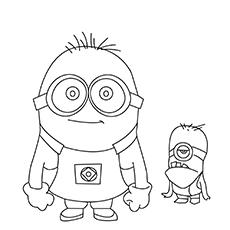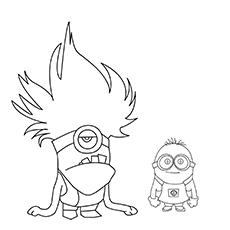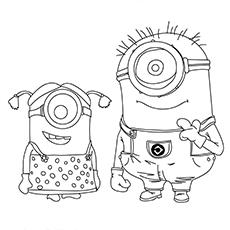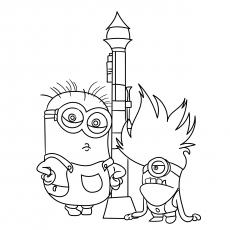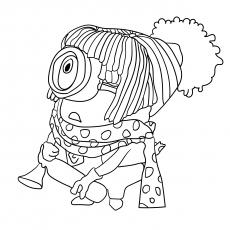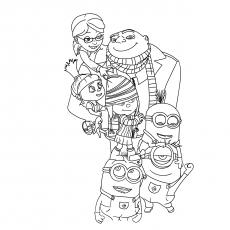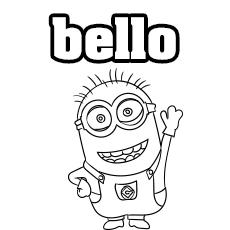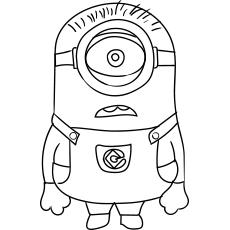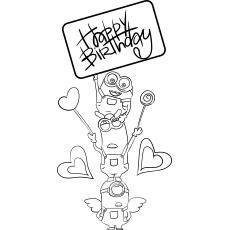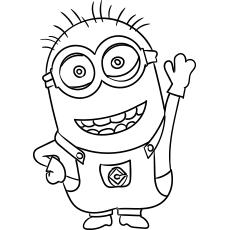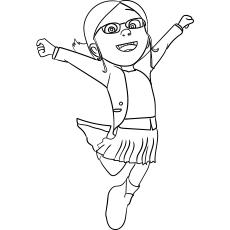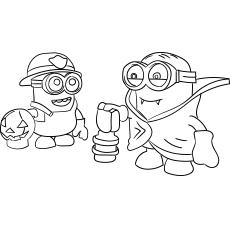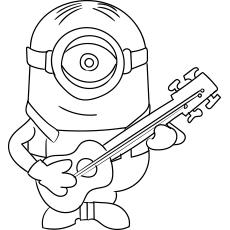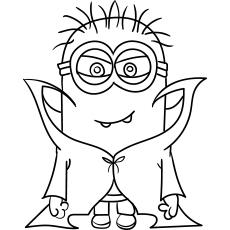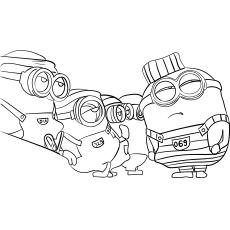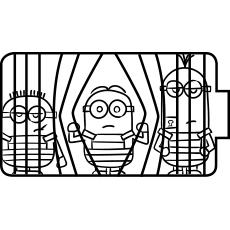 Recommended Articles:
Is "Minions" one of your kid's favorite movies? Does he insist on a Happy Meal, just so that he can have a brand new minion toy? Are you looking for some Minion coloring pages to further his interest? Well, if you nodded along, and you want your minion-crazy munchkin to have a ball while coloring minions- themed sheets, read our post here!
Who doesn't love those cute little creatures from the film "Despicable Me" and "Despicable Me 2"? Minions are yellow colored, cylindrical creatures with one or two eyes. They are impulsive little things, and have little or no self-control. There are hundreds of different minions, each having characteristics different from other.
The popularity of minions has far outgrown the reach of the super dad cum villain Gru and his three cute kids. "Minions" a prequel to the "Despicable Me" franchise and the movie was released just a few months ago. It became a sensation overnight. If your child loves minions, then he will surely love our small collection for minions coloring pages too!
The Cute Little Minion Coloring Pages
1. Minions Group
Meet the loyal servants of Gru, the minions. Minions are gibberish speaking servants of Gru. Minions love causing mayhem and mischief as much as they love Bananas. They are curious, unpredictable and subversively sweet. For Gru, these creatures are much more than just henchmen. He seems to like them genuinely and appreciates their hard work and support. He even knows each of them by their name. Minions are quite competitive with one another. Their competitive spirit often leads to sudden fights. But when someone from the outside tries to harm them or Gru's family, they turn fiercely protective. Tell your little one to recognize the minions from this coloring page.
2. Bob
Bob, also known as King Bob, is one of the main minion characters and the deuteragonist in the film "Minions". Bob is a bald and short minion with multi-colored eyes. His one eye is green while the other is brown. Bob always carries a teddy bear that he calls Tim. He is more immature and childish than most minions. The other minions fondly refer to him as "Little Brother" as he finds love in anything and everything. In fact, he also loves the rat that he finds in the sewer. He also enjoys listening to bedtime stories. In the film "Minions", Bob goes on an adventure with Kevin to find a new boss.
3. Stuart
Stuart is one of the main minions from the "Despicable Me" series. He is a short, one-eyed minion with combed hair. Stuart is a playful, funny, friendly and intelligent minion. You can also say he is one of the most sincere and innocent of all the minions. But he seems to have a rebellious attitude too. Stuart is always hungry. He once also tried to eat Kevin and Bob, thinking they are bananas. He also attempted to eat a yellow fire hydrant, thinking it as a banana as well. In "Despicable Me", Gru appoints Stuart to watch over Agnes, Margo, and Edith. And he does a pretty good job at it. Stuart also has a crush on Lucy Wilde. Your little one will love adding colors to this minion coloring page.
4. Kevin
Kevin holds the Guinness World Record for being the smallest minion. He is just 6 centimeters tall and has a slim body. Kevin was once a tall, two-eyed minion with sprout cut hair. Do you know how he became so tiny? In a presentation to Mr. Perkins of the Bank of Evil, Gru demonstrated the Shrink Ray on the nearest minion, which happened to be Kevin. Kevin always appears wearing his favorite golf apparel, as he loves playing golf. He can play the sport all the time if permitted. Kevin likes to make fun of other minions. He often teases Jerry and calls him a coward. But Kevin cares a lot about the health of the minion tribe.
5. Despicable Me
Here is a beautiful minion coloring sheet of the characters from "Despicable Me" film. The diagram features, Gru, his three adopted daughters- Margo, Agnes and Edith and his beloved minions. Gru is a supervillain who delights in all the wicked things. This time, after hearing that his rival plans to steal the pyramid of Giza, he decides to steal the moon. And he does manage to steal it, only to return the moon back to where it belonged. Coupled with his cute army of little minions and an arsenal of war machines and weapons, Gru is ready to vanquish all those who stand in his way. But the greatest challenge for him is his three adorable adopted daughters- Agnes, Margo, and Edith. At the end of the film, the love of his darling daughters changes Gru for better.
[ Read: 'Despicable Me 2' Coloring Pages ]
6. Dave
Dave is the most hardworking of all minions. He is an intelligent minion who is hilarious, kind and caring. Dave is also skillful at playing video games, as seen in the scene where Stuart and Dave are playing video games. Dave totally loves missiles and rockets. He gets very excited while firing his Rocket Launcher, his signature weapon. Just like a soldier, Dave can use different kinds of arms. And he is totally crazy about ice cream. Gru also throws an ice cream party for him. Dave is even skilled at making cupcakes of other foods. He has flat, side-parted hair and a slim body.
7. Carl
Carl is a tiny, one-eyed minion with buzz-cut hair. He likes wearing flashlights on his head and has a bullhorn that squeaks "Bee-do". Carl is a fun loving minion. He enjoys spending time and playing with his fellow minions. Carl makes his appearance in "Despicable Me 2". When Gru in a fit of rage sets his telephone on fire, Carl goes into Gru's office with two other minions to try to extinguish the fire. Due to Carl's annoyance, Gru takes his megaphone away. But he continues to act as a fire siren. It irritates Stuart, and he sprays the fire extinguisher on him. Carl also makes an appearance in the Smartphone game Minion Rush.
8. Donny
Donny is one of the most amusing minions in the series. He is an adorable, one-eyed minion who loves singing. He is a bit clumsy, as seen in the film when he falls and gets his head stuck in the jar. Donny appears in Despicable Me 2. He is fond of fruits, especially bananas. In the movie, he carries fruits on his head and sings "Chiquita Banana". Donny also turns into an evil minion in the film. Dr. Nefario kidnaps him from the minion beach. Even as an evil minion, he has his head stuck in the jar.
[ Read: Cute Wall-E Coloring Pages ]
9. Steve
Steve has significant roles in both "Despicable Me, and Despicable Me 2". He is a small, one eye minion who combs his hair neatly. Steve is a fun loving minion but gets mad when anyone hits him. In the film when Dave fires a Rocket Launcher, it hits a group of minions, including Steve, which makes them fly high in the air. Annoyed by it, Steve walks to Dave and punches him on the shoulder for an instant payback. Steve was also one of the evil minions. He was the last minion that Eduardo kidnaped. He gets afraid seeing the minions being kidnaped from the ice cream van. But Eduardo gives him a Popsicle that he licks happily. The formula sticks to his tongue, and he turns into an evil minion. Steve is also the last one to wake up on the beach.
10. Minions Love Banana
The minions coloring page shows Dave running with a banana in one hand and apple in another. Minions totally love bananas. The mere sight of bananas can lead to a complete chaos. Another favorite food of the minions is apples. The coloring page shows an apple tree and a banana tree in the background. It clearly suggests that Dave has stolen these fruits from the trees and is running fast, so that nobody catches him.
11. Tim
Tim is a slim and tall minion who loves playing the boss. You will always see him dressed as a dad. He has a tiny clump of hair on his head. Gru had asked Tim, Phil and Mark to get a unicorn toy for Agnes as she had seen in the carnival. Tim appears to be the leader of the trio. He also disguises as the father while shopping in the mall. In "Despicable Me 2", Tim appears in an entirely different avatar. He wears a beard and a tie and in one scene, Tim also dresses up as a police officer in Y.M.C.A.
12. Phil
Don't let the appearance deceive you! Phil is not a female minion by any chance. Phil is a male minion who dresses up like a maidservant. Phil only appears in "Despicable Me 2". He was happily vacuuming the foyer when the doorbell rang. He goes to answer the doorbell and sees Dr. Nefario, Gru's old henchman. But little does he realize that he was there to kidnap him and the other minions. Phil is a cleanliness freak. He freaks out even if he sees a speck of dirt on the floor. This habit of Phil makes him unpopular with the other minions.
[ Read: Digimon Coloring Pages ]
13. Mark
Mark is a cute, two-eyed minion who wears a flat, center-parted hair. Mark was one of the three minions whom Gru asked to buy his daughter Agnes a unicorn toy. He disguises as the mother while shopping for the unicorn toy for Agnes. So the minions fondly call him as Mom Minion. Mark was also the first one to sing Copacabana, as he was the one who discovered the karaoke. In "Despicable Me 2", he was one of the first minions whom Eduardo captured at the ice cream truck. Mark got back to his real self when Agnes sprayed with the jelly.
14. Mike
Mike is one of the sweetest minions. He has two eyes and a neatly combed hair. Mike is kind and friendly to people. He is a sincere and hardworking minion, just like Dave. Mike appears in Despicable Me 2. He was busy working with Ken in the mailroom when a splash of serum causes him to turn into an evil minion. As an evil minion, Mike eats all the packages. He was about to eat a box of kitten too, but Ken saves them in time. He does get back in his earlier form but is not entirely normal. Mike shows great interest in kittens.
[ Read: The Wizard Of Oz Coloring Pages ]
15. Jerry
Jerry has short, spiky hair and a slim body. He is a cheerful minion who loves playing and hanging out with his best friend, Stuart. Almost every minion likes spending time with Jerry. Jerry accompanies Stuart to look after Gru's children while their master was busy with his master plan. Gru catches him playing with the toilet paper with the children. Edith blames Jerry that it was his idea to play with the toilet paper. It baffles Jerry, and he exclaims "WHAAAAAAAAAT?
16. Tom
Tom is a minion who dresses up as a house cleaner, just like Phil. Tom is the first minion who Dr. Nefario turns into an evil minion. Tom, along with Stuart was cleaning up the mess from Agnes' birthday party when he sees Lucy kidnapping Guru and runs after them. Tom manages to get in the car and helps Stuart get in the car too. Lucy gets hold of both of them and spooks them by a mutated rabbit. They anyhow manage to escape. One day, while cleaning the house, someone rings the bell. Tom opens the door, and it was Dr. Nefario. Tom kidnaps him and brings to El Macho's Lair to turn him into an evil minion.
[ Read: Toy Story Coloring Pages ]
17. Paul
Here is another minion coloring sheets of Paul, a tall, two-eyed minion appearing in both Despicable Me and Despicable Me 2. He is a mean and selfish minion and has no sense of humor at all. Due to his hostile behavior, he does not get along well with any of the minions. In "Despicable Me, he was one of the minions holding the weapons when Gru explains the plan. Paul is also adept at using computers. We see him using the computers when Gru is messaging Ms. Hattie to get the girls. In "Despicable Me 2", Paul was one of the evil minions in El Macho's Lair. He, along with the other evil minions returned to their usual form with the help of the antidote in the Jelly Guns.
18. Ken
Meet Ken, a two-eyed minion who sports close-cropped hair. He appears in the short film "Panic in the Mailroom". In the short film, Ken and Mike were busy working the mailroom when a box of PX-41 sample explodes. Later, Mike sneezes out the mutagen, but the mutagen lands on the kitten and the excess turns Mike into an evil minion. Ken has a slack attitude. He spends or rather wastes most of his time playing video games in the work hours. But Ken loves animals. He has a soft spot as seen in the scene where he prevents Mike from eating the kittens.
19. Norbert
Here is a minions coloring sheet of Norbert, one of the minions appearing in the film "Minions". Norbert is a silly and childish Minion. All the minions leave Norbert behind because they think that he is an idiot. He is always the last one to run, as seen when Scarlet Overkill shoots fire at the minions. Even at the climax of the film, when with other minions chases Gru for bananas, Norbert is the last one to run. Norbert is also a slacker among the other minions. He prefers to chill out and play the ukulele than follow the rules.
[ Read: Shrek Coloring Pages ]
20. Jorge
Jorge is a fat, two-eyed minion who likes dressing up as a firefighter. Jorge appears in the scene when Gru starts a fire in his office. He, along with two other minions tries to stop the fire. This coloring page shows Jorge with his best friend, Jerry. They are attempting to meddle with Gru's photocopy machine. Jorge has a strange obsession. He loves taking photocopies of his bottom. But it is his playful attitude and innocence that makes him so attractive and lovable with the kids.
21. John
John is a small, two-eyed minion with short hair. In Despicable Me 2, John acts like a boss of the working minions to make the jelly. He inspects how well the minions make the jam. Jerry asks Donny and another minion to carry the fruits for the jelly. In anger, he breaks a glass of jelly because it tastes terrible. It makes the other minions scream at him. A few scenes later, El Macho kidnaps John and turns him into an evil minion. The antidote mixed jelly cures all the minions except John. Then Steve helps John to get back to normal by throwing the remaining jelly at him. He immediately turns back to normal.
22. Stuart As The Evil Minion
This minion coloring page features Stuart in the form of an evil minion. Evil minion is a state of extreme mutation caused by PX-41 serum entering the blood vessels. Stuart, as an evil minion is indestructible. He is immune to weapons like axes, guns, flamethrowers and undercover police cars. He can also withstand the explosion from swallowing a bomb. Evil Stuart can destroy anything that comes in his way, including the weapons mentioned here. And he can also repair himself. Stuart looks very different from his regular form as an evil minion. He has purple skin, purple frizzy hair, long and hairy arms and sharp and crooked teeth.
[ Read: Sonic The Hedgehog Coloring Pages ]
23. Dave As Evil Minion
Dave, when mutated by the Px-41, transforms into a wild, aggressive, bloodthirsty and destructive monster. He can eat anything that comes in his path. El Macho had planned to send Dave and other evil minions to other cities like Tokyo, Paris, New York and Moscow. El Macho also intended to keep them as slaves after they have eaten all the people in those countries. Just like Stuart, Dave also has purple skin, sharp and big teeth and frizzy hair that spreads out like a mane. Dave rarely speaks as a minion. He only roars growls, screams and snarls most of the time.
24. Lance
Meet Lance, a tall, one-eyed minion with buzz-cut hair. He made his first appearance in "Despicable Me 2". He is the henchman of Gru's house. In the film, when Gru asks about Kevin's whereabouts, Lance just shrugs and walks away without knowing that the professor has kidnaped him. Lance is one of the few minions whom Dr. Nefario did not kidnap. In fact, Lance was also present when Dr. Nefario was kidnapping Phil. But Lance does not realize as he was too busy vacuuming the house. Lance enjoys singing and dancing. He pursues his hobbies while cleaning Gru's house. Lance also bonds well with Gru's daughters.
25. Halloween
Gru and his little minion army are all set to attend the Halloween party. Even the moon has dressed up as a witch to attend the Halloween party. Gru and his henchman will surely rock the party. Do you want to teach your child about the significance of Halloween while he colors? Then here you go! Halloween is a pagan ritual dating back to some pre-Christian festival among the Celtic Druids who had just escaped the Church suppression. The Celtic priest and tribes celebrated Halloween to mark the change from life to death. Halloween falls on 31 October, the eve of the Christian feast of the All Hollow's Day. In the Christian community, Halloween remembers the dead, including the martyrs, saints, and all the departed souls.
So this was our collection of Minion printable coloring pages. You can make the coloring session fun and interactive by narrating the stories or unique characteristics of these minions to your child. And please let us know how your child performed with our Minions coloring sheets in the comment section below. Which coloring page did he like the most? Until then, happy coloring!
DISCLAIMER: All images found here are believed to be in the "public domain". We do not intend to infringe any legitimate intellectual right, artistic rights or copyright. All of the images displayed are of unknown origin. If you are the rightful owner of any of the pictures/wallpapers posted here, and you do not want it to be displayed or if you require a suitable credit, then please contact us and we will immediately do whatever is needed either for the image to be removed or provide credit where it is due. All the content of this site are free of charge and therefore we do not gain any financial benefit from the display or downloads of any images/wallpaper.
The following two tabs change content below.