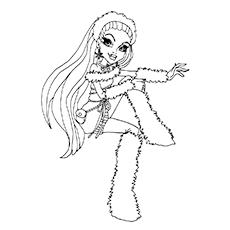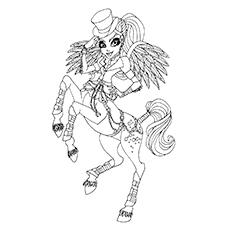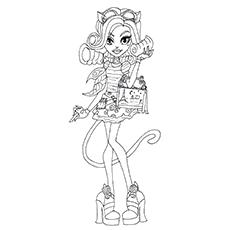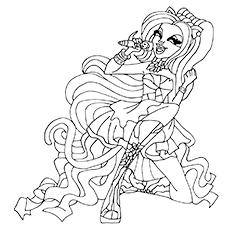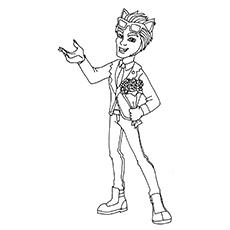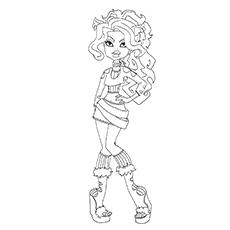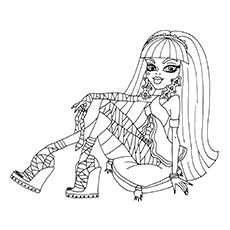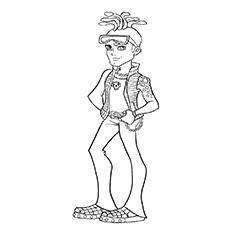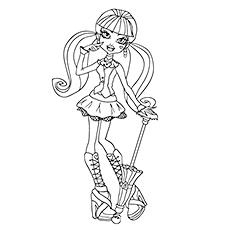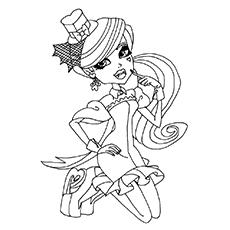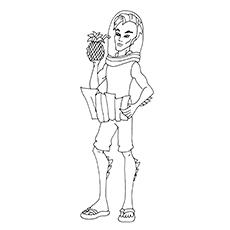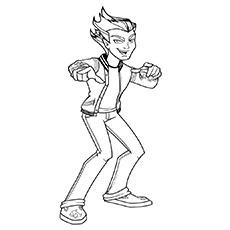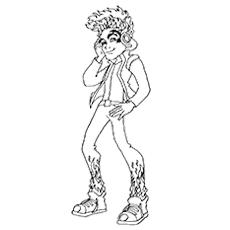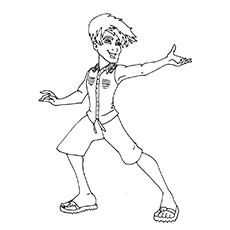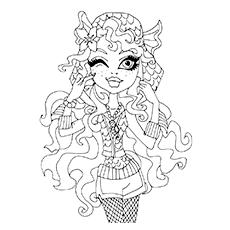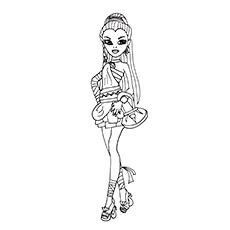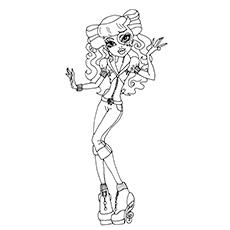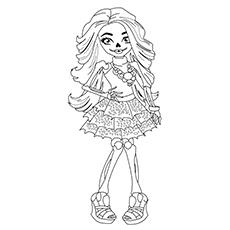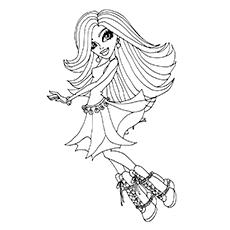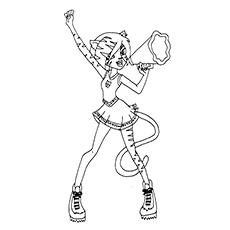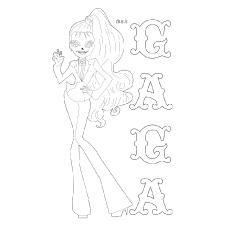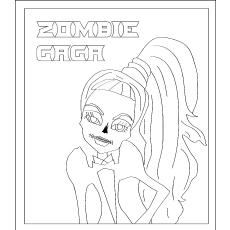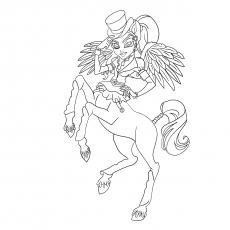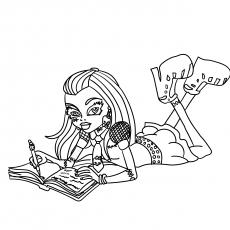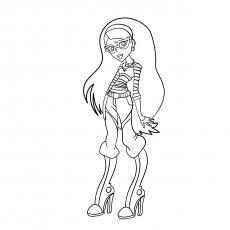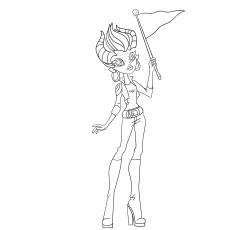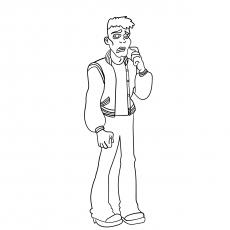 Recommended Articles:
Do you want to introduce your child to the friendly version of monsters? Do you want to introduce him to coloring? Well, if you do, consider getting him some Monster High coloring pages. What are Monster High? Read this post and find out here.
Monster High is an American doll franchise of the renowned company Mattel. The franchise depicts the characters as being the offspring of famous monsters like Dracula, the Phantom of Opera, Zombies, Frankenstein and many more. The unique appearance of the dolls set them apart from other fashion dolls in the market. Here, we list 25 most popular Monster High coloring sheets.
Top 25 Monster High Coloring Pages for Kids
1. Frankie Stein
Frankie is the daughter of the monster Frankenstein's. She is a clumsy, kind and polite girl who is great fun. Frankie is the most naïve girl at school, so she tries her best to learn all that she can from ghouls teen magazines. Despite being just a few days old, Frankie has a body of a full-grown teenage girl.
2. Abbey Bominable
This is one of the best monster high coloring pages to print. Abbey Bominable is the daughter of Yeti, a legendary cryptic who is supposed to be an inhabitant of the Himalayan Mountain range. Abbey is the toughest ghoul of Monster High. She is headstrong, confident and has an icy personality. She looks quite sturdy, but can be friendly and easy going once anyone opens up with her. She has light blue skin and white hair with blue and pink highlights and two tusks protruding from her mouth.
[ Read: Barbie Coloring Pages ]
3. Clawdeen Wolf
Clawdeen Wolf is a female werewolf of Monster High. She is Clawd Wolf's sister. Clawdeen is an inspiring fashion designer who wants to carve a niche with her impressive work. She is a fierce and energetic girl but goes a bit freaky during the full moon. She is very loyal, protective of her friends and family. When she is not working, she is either spending time with her family and friends.
Clawdeen is a caramel-colored wolf with golden eyes and auburn curls that reach her hips. She has white fangs, sharp claws and pointy wolf ears, just like her wolf friends.
4. Cleo De Nile
Cleo de Nile is a 5,842-year-old mummy of Monster High. She is also the Queen of the student body. She keeps a poisonous snake as her pet.
Cleo is a self-centered and arrogant, but you can't blame her much for this behavior because her parents raised her to be like this. Deep down inside, Cleo is a very kind ghoul who cares a lot about her friends.
Cleo has tan skin, blue eyes, and long black hair that she enhances with golden highlights. Cleo can get as creative as she wants with her look, but there is one thing that she can never change. She always has to have one piece of burial wrapping on her, or else she will disappear into dust.
5. Draculaura
Draculaura is the adopted daughter of Count Dracula. She keeps a bat named Count Fabulous as her pet. Even though Draculaura is a vampire, she does not drink blood. In fact, she faints when she hears the word 'blood'.
Dracula is a sweet, energetic and friendly ghoul who is very easy to get along.
Draculaura has a pale pink skin and a pink heart shaped birthmark on her face. Her fangs protrude from her mouth, even when she is not talking.
6. Lagoona Blue
Lagoona Blue is the 15-year oil daughter of a sea nymph and a sea monster, belonging to the Great Barrier Reef. She keeps Neptuna, a piranha as her pet. She is a lovable and sporty ghoul who has many friends in Monster High.
Lagoona is a blue fish with pale blue scales all over her body. Her skin dries out quickly due to staying underwater for long hours. So she has to use a lot of moisturizers to keep it moisturized.
7. Ghoulia Yelps
Ghoulia Yelps is the daughter of the Zombies. Ghoulia can speak only her 'Zombie' language, which consists only of groans and moans. Despite this limitation, she displays good dexterity for a zombie.
Ghoulia is the most intelligent and sophisticated of all the students of Monster High. Ghoulia has a very studios appearance, just like her personality. She has light blue hair, pale gray skin and blue hair. She wears nerdy glasses over her cat eyes.
[ Read: Beautiful Cinderella Coloring Pages ]
8. Avea Trotter
This is one of the interesting monster high colouring pages. Avea Trotter is another student of Monster High. She is the daughter of Centaur and Harpy.
Avea is a purple color monster with pale purple skin and feathery wings. Her main outfit resembles an equestrian's uniform, with ruffles on the bottom and corner. Avea is a stubborn and headstrong girl who can be unusually blunt with people around her.
9. Bonita Femur
The Fashionista of Monster High, Bonita loves to shop vintage collections at the flea markets. And when she gets nervous, she chews her clothes.
The central feature of Bonita's appearance is her large, black and pink wings with see through yellow. Her arms and torso are like a human while legs are like moth's legs.
10. Catrine DeMew
Catrine is the werecat and a student of Monster High.
Catrine is an accomplished painter. She spends most of her time as a street artist. She was born and brought up in Scaris, France, which instilled in her the love for art.
Catrine is a bright blue werecat. She has shoulder length purple hair with pink streaks and white fur. She has purple, cat-like nose and bright blue cat-like eyes.
11. Catty Noir
Catty Noir is another werecat of this spooky school. She is a renowned pop star and a teen idol, who has many fans at school. Catty loves to sing and entertain people around her. Ever since she was a young girl, she put all her effort into making a name for herself.
Catty is a black werecat with pink eyes and long, pink hair. You will always find her in glitzy and bright outfits.
12. Deuce Gorgon
Deuce is the 16-year-old son of Medusa, the famous Gorgon. Deuce is the captain of the casketball team of his school. He is also very fond of skateboarding. He also has an intense passion for cooking, but he keeps it a secret from all his friends.
Deuce is a friendly and outgoing monster with many friends. He is considered the most reliable and relaxed person at school.
Deuce is a tall and handsome monster with green eyes.
[ Read: Moshi Monsters Coloring Pages ]
13. Clawd Wolf
Clawd Wolf is a werewolf of Monster High. Clawd is extremely devoted to sports. He is the captain of the football team at school. Clawd aspires to get into sports medicine and does his best to get the best grades despite his busy schedule.
Clawd is a friendly and outgoing kind of a monster. He is a tall and physically fit werewolf with a piercing on his left ear.
14. Holt Hyde
Holt Hyde is the famous DJ of Monster High. His classmates always ask him to take care of the music during the party. The fire element in Holt makes him a hotheaded boy, but he does have a quieter side to himself. Holt enjoys spending time alone at a secluded spot near the Epic Falls.
Holt is a blue-skinned ghoul with a black tattoo on his face. His hair is made entirely of flames, and he has a yang tattoo between his shoulders. He also has an eyebrow piercing on his left eyebrow.
15. Jackson Jekyll
Jackson Jekyll is the human alter of Holt Hyde. Jackson is a human who grew up with the monsters. He is a shy and cautious boy who prefers sticking to the rules. But that does not mean that anyone can intimidate him.
In addition to being careful and kind, Jackson is also a very smart boy. He is an aspiring scientist and one of the brightest students of Monster High.
Jackson has black hair with blue eyes and blonde hair. Many other students try to pick his geeky sense of style. Just like his brother, he has a yin-yang symbol on his shoulders.
16. Nefera De Nile
Nefera is an alum of Monster High. She is the oldest daughter of Ramses de Nile. Being the eldest daughter, she was destined to inherit the De Nile Throne. It takes a toll on her, making her hostile to everyone.
Nefera has blue hair with thick black and gold highlights. She was born with a scar on her left arm, which she keeps covered with bandages.
17. Operetta
Operetta is the daughter of the Phantom of Opera. She is famous for being both a diva and a rebel.
She avoids her classmates to hang out in the catacombs, where she has her recording room and theater. Operetta is skilled with both mouth organ and guitar.
Although Operetta was frigid at first, she warmed up after some time, showing other ghouls that even she could be a great friend.
18. Spectra Vondergeist
Spectra Vondergeist is the daughter of a ghost couple. She is a journalist who sensationalizes the news even before knowing the facts.
Spectra has an active personality and makes quick judgments. Just like most of the ghosts, she can walk through walls and can practice several other ghost antics.
She has a pale skin, violet colored hair, and violet irises with dark-blue pupils and medium-blue sclera.
[ Read: Cute Monsters Inc. Coloring Pages ]
19. Toralei Stripe
Toralei Stripe is another werecat of this series. She, along with her two friends is the troublemaker at school. Toralei is a mean girl who loves bringing misery to others. Most of her acts are forms of revenge.
She has orange fur with dark orange spots around her eyes. She sports an emo-styled hairstyle, with bangs being longer than the hair.
20. Gillington "Gil" Webber
Gillington "Gil" Webber is a river monster. He is the son of a freshwater monster. He is also Lagoona's boyfriend. Gill is a coward. One has to coax him to participate in dangerous activities. He also gets frightened easily. Whenever he feels scared, he lowers his head into his tank.
Gil is a light blue monster with scales and fins protruding from his neck, legs, and forearms. The big fin on top of his head is just like a Mohawk.
21. Heath Burns
Heath Burns is a young fire elemental of Monster High. He is the cousin of Jackson Jekyll and Holt Hyde. He is still learning to control his powers. His immaturity and absent-mindedness often lead to mishaps.
Heath Burns is the most flirtatious boy of Monster High. He is a childish guy whose behavior varies depending on who he meets.
He is loud-mouthed, over confident and a vainglorious braggart, which often puts him out of favor with girls.
22. Gild Goldstag
Gilda is the treasurer of the Monster High. She is the daughter of Golden Hind from the Greek mythology. Gilda wants to serve the environment, mostly because of her deer heritage.
Though Gilda is an excellent runner, she prefers to sit down and read a book peacefully. She does not like loud noises.
Gilda has a pale gold skin, blue eyes, and brown horns. She has no eyebrows, just a few coral dots in the place.
23. Gigi Grant
Gigi Grant is a genie of this exciting school. Like a genie, she spent most of her life tucked in a lantern. She was set free to experience the world outside the genie sphere when Whisp, her sister took over her duties. Her wish-granting power has slightly diminished because of this, but she is still thrilled about the opportunity.
Gigi is a pink genie with freckles across the nose. She styles her hot pink and golden hair like a scorpion's tale. Her legs and arms have scorpion-like patterns on them.
24. Sloman "Slo Mo" Mortavitch
Sloman, the zombie, is the student disembodied president. Just like most of the zombies, he merely stands and stares blankly into the sky. Sloman is a decent fellow with a reserved sense of humor.
He may be slow, but he is an excellent team leader and also one of the smartest students at Monster High.
[ Read: Hulk Coloring Pages ]
25. Skelita Calaveras
Skelita Calaveras is a skeleton raised in Hexico. Despite having a warm and supportive family, Skelita decided to take a risk and leave the house. Skelita is a family oriented girl and takes inspiration from her heritage whenever required.
She is a gentle, insecure and a soft-spoken ghoul, which often puts her at a disadvantage. Her body consists primarily of bones though she has black hair with red streaks.
These free printable monster high coloring pages online will help your kid to express his creative side. Encourage him to try new color combinations. It will make the images more magical. Tell us which one of these monster high coloring sheets to print was your kid's favorite? Leave a comment below.
DISCLAIMER: All images found here are believed to be in the "public domain". We do not intend to infringe any legitimate intellectual right, artistic rights or copyright. All of the images displayed are of unknown origin. If you are the rightful owner of any of the pictures/wallpapers posted here, and you do not want it to be displayed or if you require a suitable credit, then please contact us and we will immediately do whatever is needed either for the image to be removed or provide credit where it is due. All the content of this site are free of charge and therefore we do not gain any financial benefit from the display or downloads of any images/wallpaper.
The following two tabs change content below.