Experts believe the mother-daughter bond to be the strongest of other parent-child relationships (1). You can further strengthen this bond of unconditional love by enjoying mother-daughter date ideas. Such one-on-one time can help you make the best-cherished memories. Most mother-daughter duos share their lives and are often patient listeners to each other. Hence, going on a date together can add more quality to the time spent and is a lot more fun. Keep reading as we have compiled different date ideas that you may try at home or outside. These will invariably make every moment special and create everlasting memories.
101 Mother–Daughter Date Ideas
Mother–Daughter Date Ideas – At Home
Riffle through your photo albums and scrapbooks. Open those old boxes and glance through the growing-up photos and scrapbooks. Tell each other stories of all the crazy stuff that you did during your high school or college days.
Play riddles or tell each other jokes. What could be better than spending time laughing? You could try these easy-and-funny riddles, hilarious knock-knock jokes, and funny jokes.
Spend time journaling. Take turns to pen your thoughts, feelings, and dreams for each other in a journal. It will surely bring a smile to your faces.
Jazz up your rooms. Spend time coloring your rooms in your favorite colors, adorn the walls and ceilings with your favorite prints, or bring in new linen and vintage lamps.
Try a new recipe. Watch a few cooking shows on YouTube or TV and try a new recipe together.
Cook a meal together. Cook each other's favorite meals or experiment with different ingredients. You could also try your secret family recipes.
Have a fancy candlelight dinner. Light some scented candles, bring out your best tableware, pour yourselves a glass of homemade wine, and enjoy a lavish dinner.
Read together. Read some amazing books together. You could take turns reading to each other or set a timer to complete reading a certain number of pages.
Have tea in the garden or balcony. Dress like royalty and spend time in the garden or balcony drinking tea and discussing everything but serious stuff.
Stargaze. Get your reclining chairs or blankets and spend time on the lawn stargazing. You could play your favorite songs and have a quiet and relaxing time or tell stories.
Binge-watch your favorite shows. Pop some popcorns, cuddle on the sofa, and binge-watch your favorite shows on TV or Netflix.
Practice yoga. Do some simple yoga poses and help destress after a busy day at school or work. These daily sessions can also be a good bonding time for both of you.
Learn a new skill. Learn a new skill together. It could be juggling, crafting, or something as simple as folding clothes neatly.
Take selfies together. Take turns to take a lot of selfies together. Make goofy faces and laugh your heart out. You can even bring your pets into the picture.
Tend a garden. Go outdoors and engage in gardening activities. If you don't have an outdoor garden, then try to create an indoor garden with some indoor plants in flower pots. Tend to it every day and spend some special mother–daughter time.
Create a collage. Collect all the cool pictures of you together and create a collage. You could also create other creative collage art using different DIY items and hang them on your walls.
Create nail art. Get nail polishes of different colors, glitters, rhinestones, base coats, adhesive, brushes, etc. and create artistic nail designs for each other.
Make a playlist for each other. Download a music streaming app and create a playlist for each other. You could also create different playlists for different occasions or times of the day.
Play an interesting board game. From chess to carrom, and War of the Ring to Pandemic, the options are endless. You could learn social skills while having fun through these board games.
Build Legos. These versatile blocks are not only meant for kids, but adults too. So, go ahead and create different designs that appeal to both of you. If you are lost for ideas, then have a look at this.
Do some coloring. This could be both fun and educational. Here are several free coloring pages that you could download.
Dance like crazy. Play each other's favorite playlist and dance your heart out. You could try out different outfits and try different types of dances. You could also teach each other some cool steps or learn how to moonwalk.
Enjoy a lavish brunch. Wake up late on the weekend and have a sumptuous brunch. Include pancakes with a generous topping of maple syrup, honey, fruit, chocolate, peanut butter, or cheese.
Do some creative writing activities. Bring out each other's creative side by doing some creative writing activities. You could start the session by listing the funny character traits of other family members.
Solve puzzles. This is one of the most educational and engaging activities that you could do together. Try to find crossword puzzles that will help you learn about various topics
Try face painting. Paint each other's faces. There are no rules here! Come up with any crazy idea and paint whatever you want.
Try out different costumes. Rummage each other's wardrobes and mix and match different outfits. You could also dress each other up as per your liking or based on a theme.
Meditate. Spend a few minutes meditating with each other every evening. You could try some of these simple meditation techniques.
Massage each other. Take turns and give each other gentle massages. Also, ensure you tickle each other from time to time to keep the fun going and relieve stress.
Build a blanket fort. Build a blanket fort on your lawn or inside the house and have story-telling sessions.
Do some science experiments. If one of you is a science nerd, then make sure you indulge in some simple science experiments.
Do some recycling activities. Do your part in saving the environment. Some of these recycling games and activities can keep you two engaged for hours.
Have a sleepover. Spend a night together in one of the rooms and do girly stuff.
Build something out of wood. Who said building stuff is just for boys?
Mother–Daughter Date Ideas – Free or Inexpensive Outings
Go birding. Grab your binoculars and camera and go birding. Make a note of the different types of birds you see. You don't need to know their scientific names, just come up with different funny names.
Volunteer together. You could volunteer at a nursing home, an animal shelter, a shelter home, or do community service and feel socially connected.
Take a class together. It could be dancing, pottery, photography, karate, Zumba, salsa, ballerina, or cooking class. Make sure it is something you both enjoy.
Visit a thrift store or flea market. Save some money, and more importantly, help save the environment. You could even learn some haggling tips from each other. And guess what! You could even chance upon an unusual item.
Attend a cultural event. Attend a cultural event happening in your city. It could be a literary event, comic con, food event, craft show, or cultural festival, anything that interests you both.
Visit a museum. Have fun learning through engaging activities and exhibits, and learn about the importance of being open to different ideas and perspectives.
Visit the farmer's market. Grab different types of vegetables and fruits. You could also prepare a delicious meal together once you return.
Visit a library or bookstore. Enroll at a library and immerse yourselves in the world of books. You could also go to a popular bookstore or a second-hand book store and pick all the books you fancy.
Go for a hike. Carry your water bottles, pack your lunch, and go hiking. Spending time in nature can help improve your health and wellbeing (2). You can also use the time to open up to each other.
Go for a picnic. Pack your picnic basket with your favorite food items; grab a guitar, a large blanket, napkins, and sunscreen, and go on a picnic by the river or to a local park.
Go for a drive to the countryside. Wear your western outfit, turn up the radio, and go for a ride to the countryside. Make sure you explore the farms and stop by at a restaurant to taste the local delicacies.
Go cycling. Wear your helmets, carry your sunglasses, water bottles, sunscreen, and snacks, and go cycling. Plan the route and explore parks and localities that interest you.
Go to the beach. Take a day off from work or school and go hang out on the beach together. Create sandcastles, swim, or lie under a beach umbrella and idle the afternoon away. You could also collect seashells and bring home some sand (scroll to no. 72 on this list to learn what to do with them).
Go fishing. Grab your fishing equipment and go have a nice time angling because fishing isn't just for the menfolk.
Spend time barbecuing. Fix a barbeque stand in your backyard, get your reclining chairs, and pour yourselves a glass of wine or temperance cocktail.
Take part in a marathon. Take part in a 5k marathon or 1-mile fun run organized by different organizations in your city.
Go bowling or play pool. Don't mind if you both are not good at playing these games. Just have a blast and laugh at each other performing miserably.
Pick fruits and veggies. Based on the season, go pick fresh fruit, berries, and veggies. You could also make jams and pickles with them.
Play with water. Visit a water park or go swimming at the local pool. If that's not an option, take out your water guns and have fun, or play some of these water games.
Donate to charity. You could identify certain organizations that help the needy and donate to make an impact on someone's life.
Learn a new language together. Find an online teacher or download an app, and learn a new language together. This could come in handy during social settings, especially when you want to tell each other secrets.
Play in the snow. If you live in a place that experiences frequent snowfall, then go out and create a huge snowman, have friendly snowball fights, or ski down the slopes.
Visit your workplace or school. Take each other on a tour of your workplace or school and introduce each other to your colleagues or friends.
Give away things. Clean your wardrobes, collect all the old clothes that you no longer use, and give them away. You could also give away your old books.
Play scavenger hunt. You could play both indoors or outdoors, but make sure both of you are safe. You could put some of these cool scavenger hunt ideas to use.
Visit grandma. Give grandma a surprise by visiting her without informing her in advance. Spend a girls' night at her place, and enjoy the delicacies she doles out.
Try a drive-in cinema. Go to a drive-in theatre and enjoy a movie. Stock your backseat with lots of yummy snacks and drinks.
Create an obstacle course. Head to the courtyard and challenge each other to complete the course and set personal records.
Mother–Daughter Date Ideas – Simple Crafts
Create different shapes using buttons. Put your old and colorful buttons to good use by gluing them to cardboard. You could create different shapes, write something using them, or try these button crafts.
Flower crown. All you need is some colorful artificial flowers, a florist's wire, tape, ribbon, and scissors. Put the crown on your head and pretend-play a marriage ceremony.
Friendship bracelets: Get some pretty pony beads, a string, and a pair of scissors. Thread the string through the beads and create a lovely bracelet with multiple layers.
Enamel spoons. Get a couple of spoons from the kitchen, bring out your old nail enamel paints and paintbrushes, and spend time creating different designs on the spoon.
Woolen heart. Cut a small piece of cardboard into a heart shape, and wrap the cardboard with red yarn. You could also attach a chain to it and wear it as a necklace.
Key wind chime. Find an old twig and hang keys from it. Color the twig, the strings, and the keys in different colors.
Jute strings and glass bottles. Get a few wine bottles and tie jute strings all around them. Paint the strings in different colors of your choice.
Colorful pebbles. Go to the river and collect some pebbles. Paint different emojis or pretty insects on them. You could scatter them in your flower pots or mini garden.
Birdhouse. You could use your old milk and juice boxes and glue them to create a comfy house for the birds in your neighborhood.
Beach-themed monogram. Glue seashells and sand to paper and create a cute beach-themed monogram.
TP-roll binoculars. Paint or cover your toilet paper rolls with color papers, glue a ribbon to them, and add decorative pieces such as glitters and tiny cut-outs of animals and flowers.
Finger-painting. Get some acrylic or non-toxic paints and use your fingers to create awesome paintings.
Pot painting. Use colorful paints to create beautiful designs and patterns on plates, vases, glasses, and pots.
Paper plate fish. Get a paper plate, googly eyes, and acrylic paints, and spend time creating a cute fish with colorful scales.
Paper pizza. Take a brown paper bag and cut out a triangle. Create toppings by painting and cutting out different-colored papers in the shape of onion and tomato rings, chopped mushrooms, etc.
Make a scrapbook. Spend time together making a cute scrapbook. You could use lovely pictures, cuttings, stickers, drawings, leaves, etc.
Paint a canvas. It's not difficult, trust us! You could go through these simple canvas painting ideas.
Mother–Daughter Date Ideas – Under $100
Go to the cinema. Book the best seat in a theatre and watch a movie. Make sure you have enough popcorn, easy pretzel hot dogs, and puff pastry cheese straws, and do not worry about the calories for a day.
Explore the city. Try to visit as many iconic venues as possible in a day. Take all types of public transport to visit these places. Also, give a few dollars to every street performer you meet.
Visit a pet store. If you both are into pets, then visit a pet store and choose one. Count the number of times each of you says "aww" at the store and on your way back home.
Visit a botanical garden. Go for a stroll and take delight in the bees, butterflies, flowers, and landscape. You could also take part in events and learn more about plants.
Attend a sporting event. Buy tickets to a sporting event, enjoy the stadium food, click lots of cool selfies, and get a team T-shirt, scarf, or hat. Also, try to get an autograph from your favorite players.
Go shopping. Go out and shop for clothes, toys, makeup, etc. Set a budget and choose whatever you want within that budget.
Visit the zoo. Have a great bonding time while strolling about in the zoo. Learn more about endangered animals and take part in special events.
Try out new cuisine. Food is an important part of the culture. Go to a restaurant and try out new cuisine. It could be Greek, Thai, African, or vegetarian cuisine.
Go to a concert. Is one of your favorite boy bands or artists playing in your city? Do not miss the opportunity to go to the concert. You'll remember the experience for your entire life.
Explore the street food in your city. Take a bike ride and explore the street food scene in your city. Taste everything that catches your fancy.
Get a makeover. Book an appointment at your nearest beauty parlor and try a new look. Get a new haircut, try a new shade of lipstick, or get a manicure and pedicure.
Visit an adventure park. Step out of your comfort zone and do something daring at an adventure park. Help each other out as you show your adventurous side.
Visit an old place from your childhood. It could be one of your old neighbourhoods, schools, or colleges. Tell each other your own stories of those places.
Go camping. Buy or rent a tent and go to a camping site or just create a camping site in your backyard. Pretend you are girl scouts and do fun activities together.
Visit a new city. Pretend you are tourists and explore all the cool and iconic places in another city. Explore the food and do things that you can't in your city. For instance, take a boat ride.
Play a sport. Join the nearest sports center and play a sport that you are both interested in. Make this a weekly or monthly affair.
Visit a gaming area. Go to a play zone at a mall and play as many games as possible.
Drive go-karts. Tap into your adventurous side and race each other in go-karts.
Indulge in ice cream. Visit two to three ice cream joints and try different flavors. You could also write reviews online.
Play a few rounds of mini-golf. Add some fun element to the game by putting the ball through your legs while facing backward. You could also create a mini-golf course in your backyard.
Indulge in a weird spa treatment. It could be a fish pedicure, dead sea mud treatment, cryotherapy, snail facial, nightingale facial, beer bath, or rakta mokshana (google it).
Enjoy a karaoke night. Hire a karaoke machine and sing at the top of your lungs, like no one is seeing you. You could even visit public places that host karaoke nights.
Try any of the ideas from this list that will interest both of you and make your bond stronger. Also, choose an idea that would fit your budget. Some of these ideas could be put to use on an everyday basis as well. So, make sure you have lots of fun every single day.
Key Pointers
Playing riddles, decorating your room, or trying a new recipe are some interesting ways for a mother and daughter to bond.
Taking a class together, visiting a library, or hiking are enjoyable outing ideas.
Crafting, shopping, camping, and many more fun activities for mother-daughter as you read on.
References:
MomJunction's articles are written after analyzing the research works of expert authors and institutions. Our references consist of resources established by authorities in their respective fields. You can learn more about the authenticity of the information we present in our
editorial policy
.
The following two tabs change content below.

Shikha is a writer-turned-associate editor at MomJunction. Having done a certification in Relationship Coaching, her core interest lies in writing articles that guide couples through their courtship to marriage and parenthood. She also specializes in baby names. Being a postgraduate in Human Resources from Jawaharlal Nehru Technological University, she likes understanding people and their relationships. This reflects in her relationship...
more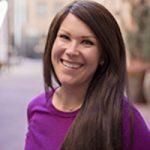 Ashley Baldwin
(Licensed Professional Counselor)
Ashley Baldwin is a Licensed Professional Counselor (LPC) who specializes in Perinatal Health. After her Master's in Counseling, she did certifications in Perinatal Mental Health and is a Certified Addictions Counselor (CACII), with more than 13 years of counseling experience. She has been private practice since 2018.    Ashley has a passion for helping women during all of the seasons...
more