You do not need a special occasion to enjoy mother-daughter songs, do you? Mothers are their daughters' best friends and guardian angels. Their relationship is pure and selfless. They love spending time together and creating memories by indulging in cooking, talking, traveling, or shopping. Although there are several ways to appreciate this beautiful relationship, songs capture its essence in the best possible way. This post has some of the most delightful songs from every music genre, ranging from Rock to Country, that celebrates the bond between mothers and daughters. So, listen to them together or share them with each other and celebrate your beautiful bond.
55 Best Mother-Daughter Songs
Here's our pick of the best mother and daughter songs.
1. 26 (Cents Sign)
A soulful country song with lyrics speaking about mother-daughter love can be a perfect song to share with your mother. She will love the song and recall the moments spent with her mother.
Artist: The Wilkinsons
2. My Darling
Dedicate this song to your daughter and make her day.
Artist: Wilco
3. Promise
Dedicate this song to your daughter and tell her you will always be there for her.
Artist: Tori Amos
4. Wild Flowers
Grooving music and amazing lyrics make Wild Flowers a great song to enjoy along with your mother. Listen to the track in the morning and feel refreshed.
Artist: Tom Petty
5. Every Mother's Dream
Tell your daughter she's the best gift of God. Every mother wishes her child to succeed and live a happy life, and this song captures a mother's dreams beautifully.
Artist: Teresa James
6. My Girl
Share this song with your daughter on a wintry evening and warm her soul.
Artist: Temptation
7. The Best Day
A mother and a daughter do crazy things together. Send this song to your mother after a mother-daughter date.
Artist: Taylor Swift
8. Letting Go
Share this song with your daughter, who will be away from you to pursue her studies.
Artist: Suzy Boggu
9. Mother
Your mother played an important role in bringing you up. She raised you to become an independent woman to rule the world. Say thanks to your lovely mom for all her sacrifices with this track.
Artist: Sugarland
10. You Are The Sunshine Of My Life
The Sun shines bright and fills your day with joy, and so does the smile of your daughter. Tell your daughter that she's the apple of your eye with this track.
Artist: Stevie Wonder
11. I Believe In You
Tell your darling that she can achieve anything she sets her heart to with this song.
Artist: Steven Curtis Chapman
12. Mama
A mother is a daughter's best friend. Spice Girls, the famous girl band, dedicates this song to all the mothers in this world.
Artist: Spice Girls
13. Shiny
Do you feel mesmerized by memories of your mother? Listen to this great song by Sara Bareilles and think about your lovely mother.
Artist: Sara Bareilles
14. By Your Side
Tell your little girl you'll always be by her side when she's low and cold.
Artist: Sade
15. I'll Be
Share this song with your little angel and tell her you'll be her rock and shelter.
Artist: Reba McEntire
16. My Wish
Send your best wishes to your daughter, make her feel strong in tough times, and show her the way towards prosperity and peace. It is a sweet song with meaningful lyrics.
Artist: Rascal Flatts
17. You're My Best Friend
Listen to this awesome track by Queens and feel blessed for having a dear mother or daughter in your life.
Artist: Queen
18. Mama's Hand
Mother always takes care of her children and makes sacrifices for the family. To pay respect to all hard-working mothers, here's a special song.
Artist: Queen Naija
19. Without You
It is a cute song for your adorable daughter. Share this song with her, and make her feel special. Let your sweetie know about your true feelings as a parent.
Artist: Chris Brown
20. Slow Down
Remember the days when your sweetheart was a little girl and did all she could to make you laugh? She's grown up now, and it's time to cherish old memories with her.
Artist: Nichole Nordeman
21. I Am Blessed To Call You Mother
Tell your mother words are inadequate to express how blessed you are to have a mother like her. There's no one in this world who can take her place.
Artist: Molly Pasuti
22. Mom
Let your mom know how much you care for her. The song expresses a daughter's love for her mother.
Artist: Meghan Trainor
23. Teenage Daughters
"She rolls her eye's when I'm funny / But she's sweet when she wants money and her freedom." Share this peppy song with your teenage daughter and bring a smile to her face.
Artist: Martina McBride
24. I Got You
Dedicate this song to your daughter and make her realize that she's not alone in this world. Her mom is always with her to support and fight back the world.
Artist: Ciara
25. In My Daughter's Eyes
A daughter's eyes speak everything that only a mom can read. Play this song and tell the world what your daughter means to you.
Artist: Martina McBride
26. Like My Mother Does
As a daughter, you know why your mother is so special. There's no match for her cooking, dressing, and artistic style. Tell your mother how proud you feel and share this song with her today.
Artist: Lauren Alaina
27.Twenty Years From Now
It is a perfect song from a mother to her daughter. It describes how a mom wishes to be around her daughter in the future.
Artist: Kylie Rae Harris
28. Mother's Love
Mother's love is eternal and pure. Listen all about mother's love and care with this beautifully composed song.
Artist: Kem
29. I've Loved You Since Forever
Listen to this song and experience a poetic testament to the sweet relationship between mother and daughter. It has gained immense popularity after it received New York Times Best Seller Award.
Artist: Kelly Clarkso
30. Mama He's Crazy
A daughter tells her mother she has found someone crazy – someone crazy over her. Share this song with your mama if you have found a man who is crazy over you.
Artist: The Judds
31. You Raise Me Up
It is a great song to thank your mother for all her hard work and sacrifices and for raising you as a strong woman.
Artist: Josh Groban
32. Right By You
Let your little girl know that you will always be right beside her when she needs you—"even when it all becomes too much."
Artist: John Legend
33. Mother Like You
"A mother like you is the greatest of all. You took the best care of me, made all my dreams come true, and always treated me right." The song echoes these feelings.
Artist: JJ Heller
34. You Don't Have To Let Go
"I can live, as you lived for me / I can love, 'cause you loved me." Jessica says she doens't need any more strength because with her mum's support, she is strong enough to face the world.
Artist: Jessica Simpson
35. My Song
Missing a mother is a harsh feeling. All memories of her flash in your mind. At such harsh times, play this song and think about your mother in peace.
Artist: H. E. R.
36. Thank You Mom
Dear mom, you have done so much for me. I am what I am today because of you. I miss you mother, and I love you more. Express these feelings to your mom by sharing this song.
Artist: Good Charlotte
37.Mom
It is a piece of soulful music to dedicate to your mother, who protects you like a guardian angel.
Artist: Garth Brooks
38.You Can't Lose Me
It is one of the best songs for a mother and daughter to groove to. Sing the song aloud, and hopefully, it will be a time well spent.
Artist: Faith Hill
39. Little Girl
You are my sweet little girl, and you inspire me to be the greatest version of myself every day—share these feelings with this lovely song.
Artist: Christina Grimmie
40. Oh Mother
Express the deep feelings of the heart to your mother by sharing this song and make her smile.
Artist: Christina Aguilera
41. Goodbye's
By the time a daughter becomes a mother and understands what motherhood feels, she may lose her mommy. It's sad, but it's the reality of life. And thus, the song for Goodbye!
Artist: Celine Dion
42. Mama's Song
If you have found the man of your life, let your mum know it through this song.
Artist: Carrie Underwood
43. A Mother's Prayer
A mother always wishes the best for her family. Celine Dion sings a beautiful song dedicating it to every mother.
Artist: Celine Di
44.Lady
Say thanks to the woman who raised a beautiful daughter. The song is a tribute to all the great mothers out there.
Artist: Brett Young
45.A Song For Mama
Tell your mama she's the queen of your heart with this song.
Artist: Boyz II Men
46. Blue
Beyoncé shares a beautiful pop track dedicated to motherhood. It is a perfect song to cherish the pride of being a mother.
Artist: Beyoncé
47. My Mother's Eyes
What do your mother's eyes speak to you? Listen to this song to know what Bette Midler has to say about looking at things from her mother's eyes.
Artist: Bette Midler
48. Mother Like Mine
A mother like mine is the sweetest! Make your mother feel happy, play this song for her and remind her that you always care about her.
Artist: The Band Perry
49. Mother
Ashanti sings this song to thank her mother and tell her she's the greatest. It is a perfect song to play for a mother while driving!
Artist: Ashanti
50. Her
A song for her, a toast for her, and a feast for her. Celebrate your mother every day. Pay respect to your superwoman by dedicating this song to her.
Artist: Annie-Marie
51. Sweetest Devotion
It is a song with a great concept, and the queen of melody justifies the feelings of motherhood with her soothing vocals.
Artist: Adele
52. Wind Beneath My Wings
Tell your mother she's your hero by dedicating this song to her.
Artist: Bette Midler
53. Dear Daughter
It is a song to dedicate a special message to the daughter. Listen to it now, and you will love to share it with your daughter.
Artist: Halestrom
54. In My Life
Let your mother or daughter know that she's your numero uno by dedicating this song to her.
Artist: The Beatles
55. Dear Luv
"Red roses do grow in concrete." Check out this amazing rap song dedicated by a daughter to her strong mother.
Artist: Honey Cocaine
Music is a medicine that heals you. It works like magic and lets you connect with the person you think about. When you find a beautiful and relatable song that reminds you of your mother or daughter, share it with her and let her know you are thinking about her.
The following two tabs change content below.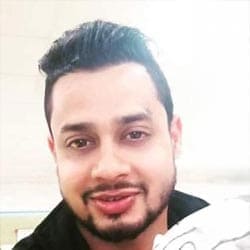 Shivank Joshi
Shivank is an experienced professional with a passion for writing, editing, and research. With a bachelor's degree in Mass Communication, he previously worked as a production editor. Shivank transitioned into a writer/editor, contributing to various publications as a freelancer. He writes literature, including quotes, poems and wishes, for MomJunction. He has a special interest in music and relationships. During his...
more