Are Mouth Ulcers Common In Pregnancy?
Canker sores or mouth ulcers in pregnancy are common. You may have a single sore at one time or a three to four together. These are usually small water-filled lesions on the mouth's soft tissue, such as the tongue, inside the lips, and inner cheeks.
Mouth ulcers may cause pain and discomfort, but they are harmless during pregnancy. They are usually temporary and go away in one or two weeks. Sometimes, mouth ulcers may occur recurrently but do not affect the baby in any way.
Learn about the causes of mouth ulcers in pregnancy, their symptoms, and treatment methods.
Why Do You Get Mouth Ulcers When Pregnant?
The exact causes of mouth ulcers in pregnancy are not known. However, there are different theories (1) (2) (3).
Hormonal changes: Fluctuation of hormones during pregnancy could be one of the reasons for canker sores on your lips, inside the cheeks, or on your tongue.
Stress or trauma: Physical trauma (toothbrush, tongue bite, etc.) or stress could also cause mouth ulcers. Although there is no specific evidence to prove this theory in the case of pregnant women, they are the common reasons for mouth ulcers.
Food sensitivity: Food allergies (especially with acidic or spicy foods) might be responsible for canker sores in the mouth.
Hematinic deficiency: Deficiency of folate, iron, and vitamin B12 could also be responsible for developing mouth ulcers. However, taking proper and relevant medications or supplements can help in reducing canker stones. This is a common etiology.

Others: Stress, weak immunity, tobacco, or broken teeth or dentures could be some other reasons for getting mouth ulcers.
Understanding the symptoms and signs will help you figure out what kind of mouth ulcers you have so that you can treat them accordingly.
Symptoms Of Mouth Ulcers In Pregnancy
Listed here are a few kinds of mouth ulcers with different treatment options.
You might get red, pink, white, or gray mouth ulcers on your tongue, inside your cheeks, or your lips.
It becomes difficult to eat and talk when you get mouth ulcers.
Canker sores during pregnancy can be irritable. Nevertheless, you may try some home remedies and other treatments to reduce them.
How To Treat Mouth Ulcers In Pregnancy?
If the mouth ulcers are benign, you can try out some home remedies. But when they are frequent or spreading, you should go to a doctor for diagnosis and treatment.
Here are a few home remedies that might help in easing the pain and redness of mouth ulcers.
Home remedies
Try to avoid spicy and acidic foods when you have a mouth ulcer.
Stop the use of tobacco. It is not only unhealthy for pregnancy but also worsens your mouth ulcers (4).
You may rinse with salt water or apply hydrogen peroxide and water mixture (1:1) on the sores. Apply ice cubes on the sores to relieve pain.
Use hexadine mouthwash twice or thrice a day for rinsing your mouth and killing bacteria.
Cantaloupe, celery, and carrot juice are known to be helpful. But ask your healthcare provider before you consume these (2).
Drink a lot of water but do not have acidic or fizzy drinks.
Medications
In case your mouth ulcers do not disappear after two weeks, or they are causing discomfort, then consult a doctor.
Your doctor might prescribe different toothpaste or even a gel to apply on the mouth ulcers.
Based on your health, the doctor might suggest certain nutrient-rich foods or supplements.
The doctor might prescribe medications that would help treat your mouth ulcers.
How Long Does It Take For Mouth Ulcers To Heal?
It takes one to three weeks for benign mouth ulcers to heal. And it might take longer, say two to four weeks, for multiple or frequent occurrences of mouth ulcers to go away (5). When you are pregnant, you might want to wait for a couple of weeks for canker sores to disappear. If that doesn't happen, you can go to the doctor.
Mouth ulcers in pregnancy may be uncomfortable, but they are unlikely to cause complications. They may occur due to hormonal changes, stress, or food sensitivities. You may notice red, pink, or white ulcers on your tongue or cheeks. These ulcers make eating and talking difficult because of the burning sensation and pain. However, they go away in one to three weeks. Still, you need to eat nutrient-rich foods, rinse your mouth with saltwater, and avoid spicy foods for quick recovery. If the mouth ulcers take time to heal, you may contact a doctor for medications.
References:
MomJunction's articles are written after analyzing the research works of expert authors and institutions. Our references consist of resources established by authorities in their respective fields. You can learn more about the authenticity of the information we present in our
editorial policy
.
The following two tabs change content below.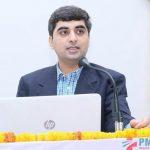 Dr. Shashwat Jani is a consultant obstetrician & gynecologist in Smt. N.H.L. Municipal Medical College, Ahmedabad. His field of interests are High Risk Pregnancy, Infertility and Endoscopy. He has written 12 chapters in reference books of Ob/Gyn and published 18 articles in Index journals. Dr. Jani has been invited as faculty in more than 200 national and international conferences. He...
more

Rebecca is a pregnancy writer and editor with a passion for delivering research-based and engaging content in areas of fertility, pregnancy, birth, and post-pregnancy. She has been into health and wellness writing since 2010. She received her graduate degree in Biotechnology and Genetics from Loyola Academy, Osmania University and obtained a certification in 'Nutrition and Lifestyle in Pregnancy' from Ludwig...
more