Pregnancy can lead to many food cravings and uncontrollable hunger pangs. While you may enjoy mustard with your breakfast, or include mustard seeds in your diet, pregnancy is a time when you need to be careful about what you eat and what you avoid. So, if you are debating whether to include mustard in your pregnancy diet or craving for some mustard during pregnancy, read our post below. Here, we look at the safety of eating mustard while expecting.
What Is Mustard?
Mustard is popular as a cruciferous vegetable belonging to Brassica family and native to the temperate regions of Europe. The seeds and leaves of mustard are an integral part of several different Indian cuisines. However, in Europe and other parts of the West, mustard refers to the sauce extracted from mustard seeds. Black mustard is the most aromatic and delicious mustard seed. Also, mustard leaves contain lots of nutrients, phytonutrients, and flavonoids that help you enjoy a healthy pregnancy (1).
Is It Safe To Eat Mustard During Pregnancy?
Yes, it is safe to eat mustard while expecting. You can enjoy eating several delicacies with mustard sauce, leaves, or mustard seeds during pregnancy. However, ensure you regulate and limit how much mustard you consume. An excess of mustard craving during pregnancy can lead to miscarriage. Consult your doctor if you wish to eat mustard seeds often during pregnancy (2).
[ Read: Sesame Seeds During Pregnancy ]
Health Benefits Of Eating Mustard During Pregnancy:
Mustard not only makes your food tastier but also offers you many health benefits. Here are some brilliant benefits of eating mustard while expecting.
1. Prevents Cancer:
Mustard is full of phytonutrients, so it helps in preventing the development of gastrointestinal cancer effectively. Seeds of mustard inhibit the growth of cancer cells and prevent the development of other cancers during pregnancy (3).
2. Regulates Asthma:
High magnesium and selenium content in mustard provide you anti-inflammatory benefits. So, consumption of mustard helps you prevent or regulate chest congestion, cold and asthma while expecting (4).
3. Weight Management:
Mustard is rich in thiamine, folates, riboflavin, and other vitamins that promote you body metabolism during pregnancy and help you regulate your weight effectively (5).
[ Read: Sunflower Seeds During Pregnancy ]
4. Boosts Immunity:
Mustard is rich in minerals, such as iron, manganese, and copper. The mineral content in mustard helps in boosting your body's immunity to prevent hazardous infections and ailments. Also, the sulfur content in the seeds provides you antibacterial and antifungal benefits to help combat skin infections while expecting (6).
5. Treats Constipation:
Mustard comprises a unique substance popular as mucilage, a thick slimy matter, which relieves constipation. Also, the fiber content in the seeds alleviates the trouble resulting due to constipation substantially (7).
6. Reduces Cholesterol:
High amounts of vitamin B3 and niacin in mustard help regulate the cholesterol levels in your body and safeguard you from atherosclerosis effectively. Also, adding mustard to your food helps regulate your blood flow and blood pressure effectively (8).
7. Mitigates Muscle Pain And Arthritis:
The magnesium and selenium content in mustard provides your anti-inflammatory and heat producing benefits that alleviate the muscle pain and symptoms of arthritis during pregnancy (9).
[ Read: Flax Seeds During Pregnancy ]
Side Effects Of Eating Mustard During Pregnancy:
While adding mustard sauce, seeds or leaves to your regular foods, you need to ensure you don't add an excess of mustard as it can affect your health and pregnancy adversely. Here are some common side effects of eating an excess of mustard greens during pregnancy.
Heart-related health problems
Throat irritation
Fatigue
Difficulty in breathing
Chronic diarrhea
Miscarriage
Skin swelling, blisters, or damage
Coma and death in extreme cases (10)
Did you garnish your food with mustard, its seeds or mustard leaves during pregnancy? How did you benefit from it? Tell us about it here. Leave a comment below.
Recommended Articles:
The following two tabs change content below.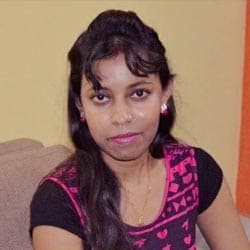 Ria Saha
Ria is a techie-turned-writer and writes articles on health, with special emphasis on nutrition. She did her B.Tech from West Bengal University of Technology and was previously associated with IBM as SAP ABAP technical consultant. She moved into freelance content writing in 2013 and worked for various websites including MomJunction, Brainpulse Technologies, and Emarketz India.