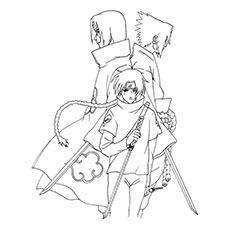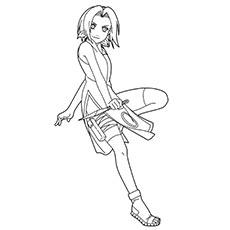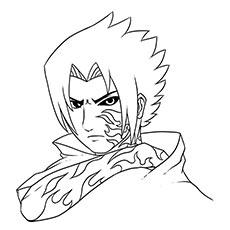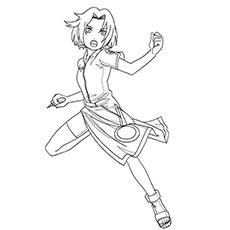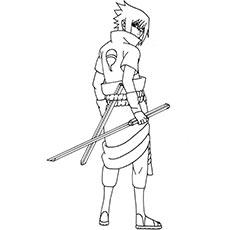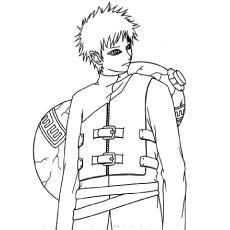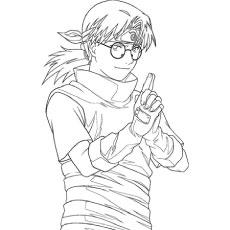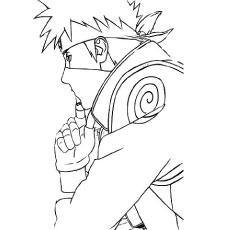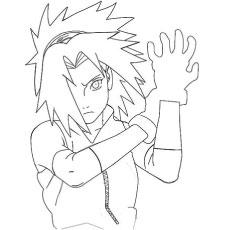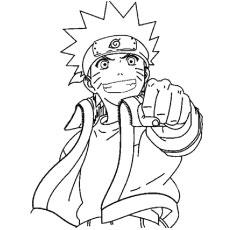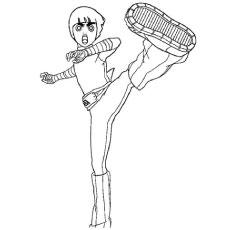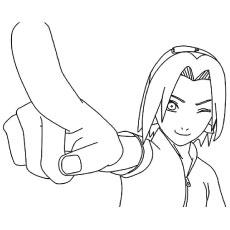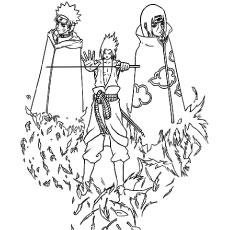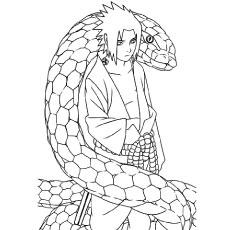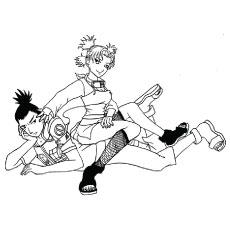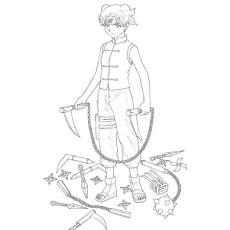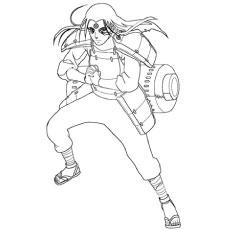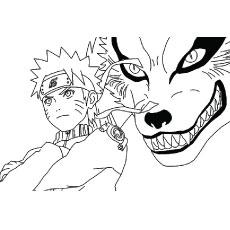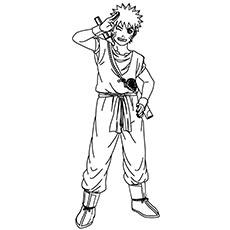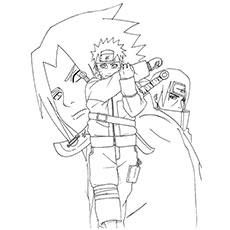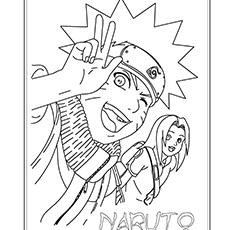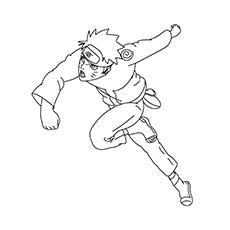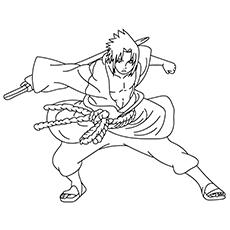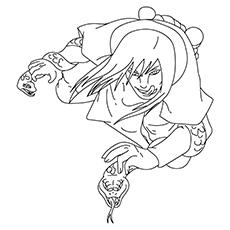 Recommended Articles:
Naruto is a very popular anime and manga series that revolves around ninjas who have superhuman abilities. This premise makes it exciting and popular among kids.
Top 15Â Naruto Coloring Pages
If your child is fond of the ninjas of Konohagakure, you can give them the following free Naruto coloring pages to print and color with crayons and pencils.
1. Naruto Uzumaki:
Naruto is the protagonist of the series.
He is a ninja in training and has ambitions of becoming Hokage, the leader of Konohagakure.
He is assigned to Team 7 to which the protagonist and his friends belong. Here, in this picture, Naruto is seen grinning wide, the same crazy, energetic eyes and his fist raised.
This character is quite colorful, literally, with blond hair and bright orange jacket. So this picture would be fun to fill in.
[ Read: Pokemon Coloring Pages ]
2. Sasuke Uchiha:
Sasuke is the 'cool genius' of the group and Naruto's rival.
Sasuke's cold and withdrawn nature is visible in this outline picture of him standing, with a look of detachment and almost boredom in his eyes.
He is able to summon a giant snake to help him fight, which is also pictured behind him.
3. Sakura Haruno:
Sakura is the only girl in Team 7 and has the affections of Naruto.
However, she is infatuated with Sasuke.
This picture shows Sasuke pointing at the viewer and winking, clad in her usual jacket.
[ Read: Toy Story Coloring Pages ]
4. Kakashi Hatake:
Kakashi is the quiet and mysterious leader of Team 7.
He always wears a mask on his face.
Kakashi was trained by Naruto's father and got his Sharingan eye from an Uchiha. Thus, he is connected to both Naruto and Sasuke.
In this picture, Kakashi is seen deep in thoughts, his face in his hands. His iconic mask, his jacket and hobo gloves are all in place.
[ Read: Transformers Coloring Pages ]
5. Naruto And The Nine-Tailed Fox Kurama:
Naruto is host to the nine-tailed fox called Kurama.
The fox attacked the village of Konoha, so he is banished by other villages.
Naruto's loud, cheerful nature is essential to compensate the fox.
In this picture, Naruto and Kurama are seen shouting in violent excitement, fangs and talons exposed.
6. Naruto As Hokage:
As a young ninja, it was Naruto's dream to become the Hokage, the leader of the village of Konohagakure.
In this picture, Naruto is seen in the Hokage avatar.
He has his sword in one hand while the other has is tightly fisted.
His white dress is held together by thick cords of rope.
There is a look of steely determination in his eyes as he prepares to fight.
[ Read: Superman Coloring Pages ]
7. Orochimaru:
Orochimaru was actually the Third Hokage, but he turned and became a criminal over time.
He wants to attain immortality and finding new host bodies have become one of the driving forces of his villainous life.
This is portrayed in the picture showing him crawling, tongue darting out, like a snake.
[ Read: Ben 10 Coloring Pages ]
8. Gaara:
Gaara is the youngest brother of the Sand Siblings.
He and his siblings were initially Naruto's rivals when they participated in Chunin exams.
But after learning that their father was killed by Orochimaru, they became Naruto's allies.
Gaara is also a Jinchuriki and can host a one-tail fox.
9. Sasuke, Itachi And Naruto:
This picture shows Sasuke, Itachi and Naruto.
Itachi is Sasuke's brother who killed all of the Uchiha family.
So Sasuke's life's mission is to kill his brother and avenge his dead family.
[ Read: Spiderman Coloring Pages ]
10. Shikamaru and Temari:
Temari is one of the Sand Siblings and she is often seen walking with Shikamaru Nara.
The two seem to be dating, though both deny this.
In this picture, Temari is seen sitting on Shikamaru.
11. Rock Lee:
Rock Lee is a member of Team Guy and the favorite student of team leader Might Guy. In the Ninja Academy, Rock Lee was unable to use ninjutsu or genjutsu techniques, but his persistence impressed the team leader. Might Guy spend his time to fulfill Rock Lee's dream of becoming a respected ninja, by teaching him the art of taijutsu. Guy also taught him some powerful and forbidden techniques. Rock Lee respects his master and he has learnt how to persevere to succeed from him. Rock Lee also imitates his master's style of dressing.
In this picture, we see Rock Lee practicing the fighting moves taught by his master. We see determination in his eyes and the desire to be good at the art of taijutsu. Children are like Rock Lee; they are greatly influenced by their parents and teachers, and often imitate them. Your little one will instantly connect with Rock Lee and will enjoy coloring this picture.
12. Naruto turns Violent:
Naruto Uzumaki, the main character of the series, is the host to Kurama, which is the nine tailed fox that attacked Konoha. He is ostracized by the villagers, he compensates for this with his boisterous and cheerful personality. He also manages to establish friendship with many foreign and Konoha ninja.
In this picture we see Naruto transforming into the dangerous Kurama, just notice his hand with the claws, his teeth and eyes. They look fierce. Since, your child loves watching Naturo; he has seen this scene in the animation series several times. He will need little guidance while coloring this picture.
13. Kabuto Yakushi:
KabutoYakushi is a spy working for Orochimaru, but he acts on his own whims. He was found on the battlefield by a nun who raised him, and then he was recruited by the Foundation as a spy for the village to infiltrate numerous countries and organizations.
He was highly proficient with medical techniques and genetic manipulation, Kabuto devises means to heal wounds by reactivating dead cells to grow new ones and can form a scalpel with Chakra to deal surgical strikes to opponents. In the sequel, Kabuto integrates some of Orochimaru's remains into his body and becomes powerful enough not to serve anyone again.
14. Hashirama Senju:
Hashirama Senju is the first Hokage and the co-founder of the first Ninja village, Konohagakure. He is the former leader of the Senju Clan. He is a respected 'ninja' of his era and is also known as 'God of Shinobi.'
Hashirama is the only naturally born user of Wood Style Techniques; he is also the incarnation of Asura Otsutsuki. He has experienced war and bloodshed; still he is a cheerful person and has a desire to end conflicts. He loves peace and stability.
15. Tenten with Her Weapons:
Tenten is the only female member of Team Guy, and she wants to prove that female ninjas are equally skilled like male ninjas. Tenten specializes in weaponry, ranging from projectiles to close combat weapons and even explosives. During a fight, she uses the hundreds of weapons stored in scrolls; she carries with her to bombard opponents with pinpoint accuracy.
In this picture we see her with all her weapons that she uses in a fight. Young girls who love martial arts can associate with this picture and Tenten will be their role model.
These are just few fun Naruto coloring sheets for your inquisitive child, who may have gotten bored with just watching cartoons or dabbing colors on same old coloring sheets. With a lot of detail to work upon, these free printable Naruto coloring pages are sure to keep their attention for hours at a go, while you can wrap up your important chores. Happy coloring!
Don't forget to share your beautiful coloring moments with your darling with us in the comment box below.
DISCLAIMER: All images found here are believed to be in the "public domain". We do not intend to infringe any legitimate intellectual right, artistic rights or copyright. All of the images displayed are of unknown origin. If you are the rightful owner of any of the pictures/wallpapers posted here, and you do not want it to be displayed or if you require a suitable credit, then please contact us and we will immediately do whatever is needed either for the image to be removed or provide credit where it is due. All the content of this site are free of charge and therefore we do not gain any financial benefit from the display or downloads of any images/wallpaper.
The following two tabs change content below.