Parents commonly use nasal sprays for kids to help them when they are congested and experience a blocked nose. Nasal sprays are available as over-the-counter (OTC) drugs at pharmacies. Although nasal sprays are available OTC, it is important to know which ones are safe based on the child's age and general health. Read on to know the types of nasal sprays for children, ways to administer, side effects, and more.
What Is Nasal Congestion?
Nasal congestion is a condition characterized by difficulty in breathing due to the blocked nasal passages. It is also called nasal obstruction. Nasal congestion can occur due to various reasons. Rhinorrhea (runny nose) is one of the common causes (1).
Any inflammation in the nasal lining can also cause nasal congestion. Inflammation leads to swelling of the blood vessels in the nasal lining, thus reducing the space within the nasal airway and making it difficult to breathe (1).
The following are common causes of nasal obstruction (1) (2):
Viral or bacterial infections
Seasonal allergies like those in the flu season
Common cold and flu
Infections of sinuses and adenoids
Allergic rhinitis
Non-allergic rhinitis
Pollution
Chemical irritants such as perfume or tobacco smoke
Deviated nasal septum
Some medications
Certain medical conditions like nasal polyps, nasal cysts, and tumors
What Is A Nasal Spray?
Nasal sprays are solutions or suspension of medicines used for the local administration of a drug by spraying it into the nostrils.
Depending on the underlying condition, the doctor may prescribe a nasal spray that may contain steroids, antihistamines, mast cell inhibitors, or other compounds.
Are Nasal Sprays Safe For Children?
The American Academy of Pediatrics (AAP) recommends against using OTC cough and cold medicines for children. Instead, it recommends saline nasal drops, among various other safe treatment modalities (3).
Saline nasal drops or saline spray is usually considered to be safe for kids (4). The Calpol saline nasal spray is one such commonly used brand. However, it is good to consult a doctor before using any saline nasal spray.
Oxymetazoline nasal sprays are not recommended for children under the age of six years unless prescribed by the doctor. The spray should also be used as per doctor's prescription (5).
Nasal sprays for kids are usually recommended to be used as a single dose per day.
Types Of Nasal Sprays
The following are the different types of nasal sprays available for congestion (6) (7).
1. Nasal steroid sprays
They are often the first line of therapy for allergies and work by decreasing inflammation of the nasal passages. Most of them are available over-the-counter, but it is recommended to use them only as suggested by the doctor. Do not use them beyond the permitted time.
In the case of nasal allergies of the nose, such as hay fever or long-standing rhinitis, the doctor might prescribe a steroid nasal spray. Local application of steroids in the form of the nasal spray works well by reducing the inflammation in the nose (8).
The following drugs are usually present in the nasal steroid sprays:
Flunisolide
Fluticasone Propionate
Ciclesonide
Budesonide
Beclomethasone Diproprionate (dry nasal spray)
2. Nasal antihistamine sprays
These sprays are usually prescribed for allergies and mostly used for runny nose. They often leave a bitter taste in the mouth after administration.
The following drugs are present in the antihistamine sprays.
3. Anticholinergic nasal sprays
Used for treating runny nose in children with both allergic and non-allergic rhinitis, the medicine reduces nasal discharge but may cause dry mouth and bad taste. Ipratropium Bromide is the commonly used drug in anticholinergic nasal sprays.
4. Mast cell inhibitors
Cromolyn sodium is a mast cell inhibitor and helps in reducing symptoms of nasal congestion, sneezing, and runny nose. Nasal burning and a bad taste in the mouth are the commonly seen side effects.
5. Nasal saline sprays
These are commonly available and are relatively safe for children. However, consult a doctor before buying any OTC saline drops since they may contain added medicines.
Do not use any non-prescription drugs or sprays for your kids. Use a prescribed nasal spray as per doctor's prescription. Extended usage beyond the prescribed duration can cause complications.
How To Administer Nasal Spray To Kids?
Parents can follow these steps while administering nasal spray to children (9).
Shake the bottle well before use.
Get your child in the correct position by making them sit with their head tilted back. Alternatively, the child can lie on the floor and keep their head tilted back. If needed, place a pillow under the child's neck to make it easier for them to tilt their head.
You may wrap younger kids in a blanket or a sheet to keep their hands and feet still. You may also take the help of someone to hold the child in position.
Spray the recommended quantity of nose spray by aiming the nozzle towards the outer wall of the nostril. Clean any excess medicine outside the nose with a tissue.
Let the child remain in the same position for a few minutes.
Tightly cap the bottle of the spray and keep it safely away from the child's reach.
If your child's doctor recommends an alternative method of administration, follow their instructions.
Read all instructions on the spray and the ones given by the doctor before administering the spray. Be gentle while inserting the nozzle into the nose to prevent any injuries. Talk the child through the process to make them more comfortable and compliant.
Side Effects Of Nasal Spray For Children
The following are the possible side effects of nasal sprays in kids (10).
Medication dripping down the throat and causing throat irritation
Bad taste
Dry nose
Headache
Burning sensation
Bitter taste and medicine dripping down the throat can be managed by keeping the child in the correct posture when administering the nasal spray.
Nasal sprays usually do not have any side effects. However, if the child develops allergic symptoms such as rash, itching, breathlessness, swelling, severe dizziness, or nosebleeds, or any other unusual symptoms, then discontinue the use and contact your healthcare provider.
Can Allergic Nasal Sprays Affect A Child's Growth?
A few studies have been done to check the effects of nasal decongestant sprays on skeletal growth and adrenal activity. One randomized control study done on a group of children using mometasone steroid nasal spray for a year showed no adverse effect on their skeletal growth (11).
Another study conducted over a long period concluded that nasal corticosteroid did not affect the growth of kids, who used it over a period of three years (11). However, research on about 90 children of the age group of six to nine years yielded different results. They were treated with a steroid called beclomethasone and showed suppressed growth when compared to children who were not taking the drug (11).
There are mixed results regarding the use of steroid-based nasal sprays for children. Therefore, these medicines should only be used under medical supervision and only for the prescribed period. Your child's pediatrician will weigh the risks versus the benefits before prescribing these sprays for any underlying medical conditions.
Pediatricians may prescribe nasal spray for kids to relieve nasal congestion or obstruction. Bacterial or viral infections, allergies, chemicals, and pollution can cause stuffy noses. Nasal sprays are solutions of medications that can be sprayed into nostrils. Saline nasal sprays and saline nasal drops are safe and more effective for children than medicated sprays. You may use medicated sprays only with a prescription since it may cause complications in children. Avoid OTC nasal sprays for kids and always read labels to ensure that the sprays are safe for your child's age.
References:
MomJunction's articles are written after analyzing the research works of expert authors and institutions. Our references consist of resources established by authorities in their respective fields. You can learn more about the authenticity of the information we present in our
editorial policy
.
The following two tabs change content below.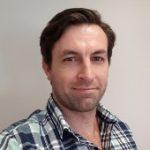 Dr. Wayne Hough
(MBChB, MMed, FC Paeds)

Dr. Wayne Hough is a pediatrician currently based in the Northern Suburbs of Cape Town in South Africa. He got his medical degree from the University of Stellenbosch. He then worked at the Tygerberg Children's Hospital before completing his pediatric training and qualification from the South African College of Medicine. Dr. Hough also holds a MMed degree in pediatrics from...

more

Dr. Ritika Shah
Dr. Ritika Shah is a dental surgeon with more than seven years of clinical experience across various cities in India. During her clinical practice, pediatric dentistry was her particular area of interest, and she constantly thrived to inculcate the latest advancements in the field of dentistry into her practice. She also holds a certificate in lactation counselling from iNational Health...
more