Friendship is a strong bond between like-minded people. We develop friendships with people who come into our lives and share a connection or interest with us. Since childhood, we start collecting friends, and by the time we get older, we have a long list of friends.
We love to keep different nicknames for friends, don't we? You must have a few nicknames yourself. Pick some cute, cool, and funny nicknames from this list and bring a smile to your friends' faces.
Nicknames For Best Friends
Best friends are adorable and always ready to help and support you. Check out these unique nicknames for your best friends.
Smarty
Jolly
Happiness
Angel Face
BFF
Billy
Cupid
Misty
Bubbles
Cheese Bomb
Dumpling
Bambino
Toughy
Queen
Menace
Belle
Shortie
1 Caveman
Poker Face
Gold
Senorita
Gangstah
Eddie Teddy
Mikku
Stinker
Coco
Sunshine
Devil
Buddy
Gummy Bear
Kiddo
Heart
Cupcake
Harley Quinn
Hulk
Princess
King
Twinkle Toes
Dimples
Cute Nicknames For Friends
Find some cute nicknames for your friends based on their personalities and melt their hearts.
Boo-Boo
Stuart
Munchkin
Honey Bee
Darlo
Precious
Pug
Chipmunk
Gaga
Cutie Pie
Cute Alien
Toddler
Toots
Sugar
Lovey
Sunflower
Ice Cream
Lilly
Silk
Chocolaty
Soul Friend
Sweetgum
Bumblebee
Raindrop
Lullaby
Fiesta
Cool And Funny Nicknames For Friends
In every group, there's that one friend who always makes everybody chuckle. For such a crazy friend, find a cool and funny nickname from this list.
Chicken Legs
Panda
Copycat
Troubler
Kiddo
Sumo
Smarty
Trumps
Scout
Mowgli
MJ
Punk
Mickey
Gump
Danger
Giggles
Slow-mo
Squirrel
Teeny
Firecracker
Minion
Nutcracker
Radish
Voodoo
Charmer
Egghead
Lala
Funny Hunny
Crimples
Sweet 'n Sour
Bugs
Bubba
Bruh
Shifu
Hot Sauce
Oompa Loompa
Jackie Chan
Pancake
Mr. Bean
Chuckles
Martian
Muggle
Chun-li
Mothman
   Grandpa/ Grandma
DJ Scratch
Captain Unseen
Hot-stuff
Busta
Nicknames For Guy Friends
If you have guy friends who have your back 24/7, pick an endearing or funny nickname for them from this list.
Batman
Playstation-Pro
Champion
Arnold
Amigo
Soldier
Bawa
Goku
Candyman
Beckham
Scientist
Chief
Buckle
Coach
Junior
Senior
Doc
Dude
Major
Pal
Savior
Johnny Bravo
Bud
Wolverine
Beatle
Star-friend
Macho
Heartbeat
Superman
Rambo
Sprinkles
Pikachu
Phantom
Tequila
Whizz
Sherlock
Agent XO
Rock
Pepsi
Nachos
Pim-Pom
Goldie
Captain
Casanova
Pirate
Explorer
Wanderer
Nicknames For Girl Best Friends
They are just awesome! They know everything about you, look after you, and help you whenever required. Choose a sweet nickname for your girl best friends and let them know you adore them.
Bestie
Barbie
Rihanna
Queen
Miss World
Girly
Glamorous
Gal
 Miss Congeniality
Butterscotch
Soul Sister
Wonder Woman
Chica
Juliet
Missy
Rider
Miss Independent
Adele
Rose
Shelter
Studious
Charming
Cinderella
Snow White
Adorable
Weird Nicknames For Friends
Some friends can be weird. They love teasing you and playing pranks. Take friendly revenge and give them weird nicknames.
Bacteria
Pumpkin
Pencil
Virus
Moo
Birdy
Nerdy
Atom Bomb
Weirdo
Brain Eater
Insecto
Shango
Dummy
Rottens
Noob
Peanut
Cold Brew
Scorpion
Earthworm
Pixie Stick
Fiddler
Contact Names For Friends
Choose a suitable short name to save the contacts of your buddies on your phone.
Cookie
Zombi
Giggles
Bingo
Villain
Cobra
Boss
Spaceman
Stingy
Love Pie
Tourist
Rosebud
Cyclone
Heaven
Falcon
Noodles
Mr/Mrs Ewe
Spicy
Babes
Marshmallow
Tiger
Stinky Pinky
Fox
Gandalf
Wizard
Granite
Magician
Hawkeye
Hercules
Iron Man
Hippie
Funnyman
 Yuck
Trippy
Gumby
Hangover
Diva
Hero
Nibbles
Candy-Crush
High Heels
Cheetah
Ranger
Cowboy
The time spent with good friends is always special and filled with joy and laughter. Besties always remain by your side and have your back. Give a nickname to each of your fabulous friends and enjoy each other's friendship.
The following two tabs change content below.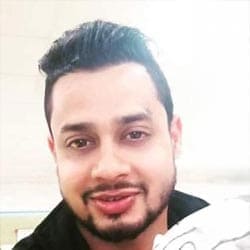 Shivank Joshi
Shivank is an experienced professional with a passion for writing, editing, and research. With a bachelor's degree in Mass Communication, he previously worked as a production editor. Shivank transitioned into a writer/editor, contributing to various publications as a freelancer. He writes literature, including quotes, poems and wishes, for MomJunction. He has a special interest in music and relationships. During his...
more