It is increasingly common to work during your pregnancy. While you may be experiencing physical and mental changes and pregnancy-related symptoms, working night shifts during pregnancy may exacerbate your condition. Because relaxation and sufficient sleep are important when pregnant, working night shifts might put your pregnancy at risk.
Read on to learn more about how night shifts may influence your pregnancy, some problems faced in night shifts during pregnancy, some professions that affect your health during pregnancy, and some tips that may help you manage working through your night shift.
Pregnancy And Night Shift Work

Can you work a night shift when pregnant? Working the night shift while pregnant is a problem that is commonly faced in today's work scenario. According to the CDC, working at night can disrupt the body's circadian rhythm, which may regulate hormones in pregnancy (1). Also, sickness during pregnancy also adds to the inconvenience. In the worst case, you can only catch up on your sleep during weekends.
The Sleep Foundation suggests that sleep deprivation in pregnancy could negatively impact your immunity and health (2). Therefore, if you are compelled to work night shifts during pregnancy, you have to take very good care of your health.
Problems Faced In Night Shifts During Pregnancy

Though you take extra care of yourself during night shifts, you cannot escape from the problems below:
Lack of co-workers to help you during emergencies.
Lack of sound sleep that is essential during pregnancy.
More work, especially at night, will lead to stress.
Loud noise of people or machines at night is disturbing.
As per reports from the Johns Hopkins Medicine, inadequate sleep could put you at risk of pregnancy-related complications such as preeclampsia, gestational diabetes, prolonged labor, and increased risk of a cesarean section (3).
Certain Professions That Affect Your Health During Pregnancy:

Certain professions may demand you stay alert through the night shifts:
If you are a doctor on night duty, you have to be alert physically and mentally throughout the night.
If you are working in an international call center, you have to attend calls for the entire night.
Software engineers working in front of computers, for a long stretch at night, may suffer mental stress, a high risk of preterm delivery or fetal loss.
Flight attendants are at a high risk of pregnancy termination if they have to attend night flights regularly.
12 Essential Tips For Working In Night Shifts During Pregnancy
Sometimes you cannot avoid night shifts during pregnancy, but you can be cautious by following the below points:
Inform your superiors about your pregnancy so that they may give you some facilities in case of any emergency.
Do not wear tight clothing.
Try to sleep at least seven hours in a day.
Do not work too much to boost your performance.
Be careful in case you work with harmful chemicals.
Talk to your superiors if you are sick and need leave.
Take regular breaks and walk around. It will help in checking swollen feet and prevent backaches.
Consume a lot of fluid during work.
Consume green tea, almonds, raisins, berries, greens and other healthy foods at night.
Do not consume non-vegetarian meals at night as it leads to indigestion.
Carry a night-aid kit containing medicines.
It is better for you to avoid caffeine beverages at night as it can cause acidity and other problems.
Learn about your company's maternity policies. According to experts, you can work up to six months of your pregnancy but it is decided on an individual basis. Consult your doctor for the same.
Tips For A Healthy Pregnancy:

Resting during the day is important for you, as you work in night shifts.
Exposure to sunlight is also very important. So it is advisable for you to go out in fresh air for at least an hour.
Consume lots of milk, cereals and pulses during the day and eat healthy.
Frequently Asked Questions
1. Can I work 12-hour shifts when pregnant?
A study reports that extended working hours during pregnancy were associated with increased risks of high blood pressure pregnancy, vacuum/forceps delivery, and low birth weight (small-for-gestational-age) babies (4).
2. When should I stop working when pregnant?
The exact time to stop working during pregnancy is not defined. It depends on factors such as health condition, work role, comfort, and finances (5). Many women find around 34 to 36 weeks of pregnancy ideal to stop going to work.
More and more women wish to have a successful professional life throughout their pregnancies. However, some jobs may need them to work during the night, which may concern them about its effect on their pregnancy. Working through the night may cause difficulties due to the changing pregnancy symptoms. Nonetheless, if you have to work during the night shift, ensure you eat healthy food, maintain enough hydration, and get adequate rest during the day. You can seek your gynecologist's advice regarding how to take care of your health since they know about your pregnancy health better.
Infographic: Ways To Ensure Better Sleep When Working Night Shifts
Even if you cannot avoid night shifts during pregnancy, you still need to ensure you get enough sleep. Adequate sleep is vital to conserve a healthy circadian rhythm, which is necessary for your and your baby's health. Check out this infographic below for some tips on sound sleep and optimal rest when working night shifts.
References:
MomJunction's articles are written after analyzing the research works of expert authors and institutions. Our references consist of resources established by authorities in their respective fields. You can learn more about the authenticity of the information we present in our
editorial policy
.
The following two tabs change content below.

Sadiya is a writer and editor with a passion for writing about parenthood and children. Her focus areas are health, wellness, and beauty. For MomJunction, she writes on kids' health and nutrition.  Sadiya believes in doing in-depth research and providing accurate information to help parents with concerns on their children's growth and development.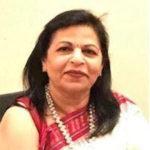 Dr Anita Gupta is currently working in University College of Medical Sciences (Medical School) & Guru Teg Bahadur Hospital, Delhi. She has been practicing as a gynecologist & obstetrician for the past 31 years and as a lactation consultant for 18 years. Dr. Gupta is a fellow of Indian College of Obstetricians and Gynaecologists, and a master trainer and course...
more