The Nintendo DS was the company's first handheld touch screen gaming device. It features some of the best Nintendo DS games for kids, filled with entertainment and educational value. These are divided into age groups and provide the best experience for all video game fans.
With so many Nintendo DS games ruling over the market, we understand if you feel overwhelmed to decide on the right one for your kid. To help you, we have compiled a list of some of the top-rated Nintendo DS games that your child may enjoy playing. Read on to find the right one.
10 Best Nintendo Ds Games For Kids
Mario Kart DS is one of the most popular Nintendo games. The game allows your kid to race with four karts at once. It offers Tour courses from classic Mario Kart games along with brand-new tracks and arenas. Check out this simple video to understand the game and how it works.
What comes to your mind when you hear the word 'home console'? 'Castlevania' would be the most popular answer. Castlevania Dawn of Sorrow is a must include in any DS library because of its stunning graphics and special effects, as well as an incredible musical score. The game offers a dramatic storyline along with a variety of memorable new characters. Here's a video that demonstrates exactly how fun it is to ply the game.
3. Best Augmented Reality: Tetris Axis
Give your kid a break from active DS games with Tetris Axis. It offers 20 Tetris game modes. It also has Augmented Reality Game Modes like AR Marathon and AR Tower Climber. Here's a video to help you understand the game better and make an informed choice.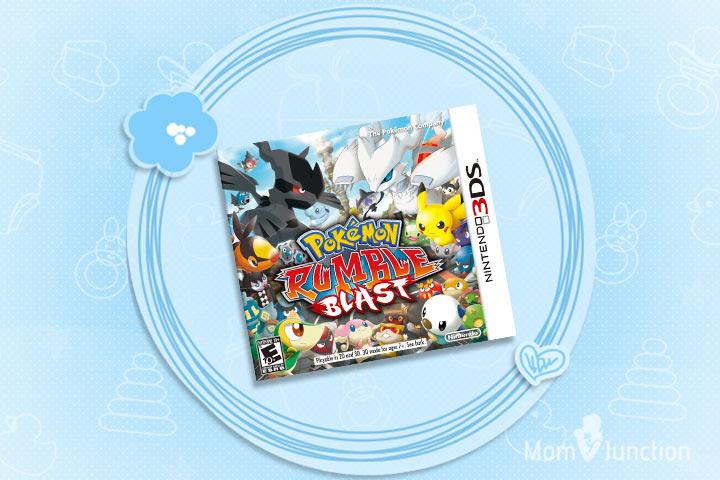 Pokémon Rumble Blast is the first Pokémon game for the 3DS system. Your kid has to battle and kill the Boss Pokémon character. Along the way, he will get plenty of opportunities to collect more than 600 Toy Pokémons and be the champion. The device's built-in wireless connection will allow two gamers to team-up on this adventure together.
Only a few games have the ability to leave a lasting impression on the players, and The World Ends With You is certainly one of them. Its Innovative Stride-Cross Battle System allows players to control two characters simultaneously. The game owes its popularity to the cool Shibuya fashion, incredible soundtrack, memorable characters, and the fantastic modern art visuals.
Mario And Luigi Partners In Time is a sequel to the ever-popular Mario and Luigi: Superstar Saga. Besides the puzzle-ridden environment and time-based battle system, the best feature of the game is its humor.
Animal Crossing is one of the most beloved Nintendo games. Your kid and his three friends can hang out in the same village and interact in real time. He can interact with members of the original cast of Animal Crossing – K.K. Slider, Tom Nook, Blathers, and Mr. Resetti. He can also meet animals of different shapes and personalities.
Super Scribblenauts is a sequel to the original Scribblenauts. It will let your kid write down the nouns to summon the creature it denotes and to modify the adjectives to achieve the goal. Adjectives can change the color, size, elements, and behaviors of the object they describe. Your kid can use multiple adjectives and let his imagination run wild!
Professor Layton and the Unwound Future is the third installment of the Professor Layton game series. The game has the Professor and Luke, his apprentice, traveling through the time. In this game, your kid has to solve 100 puzzles, ranging from word puzzles to the tricky visual mazes. The graphic quality is amazing, and the background score is the icing on the cake.
The game stimulates the nurturing side of your kid's personality. Players have to clean, feed and dress the baby. It also helps your kid improve his hand-eye coordination with 30 new skills.
Why Trust MomJunction?
Priti Bose is an experienced content writer with a special interest in the field of toys and gifts Her research skills help her present the best options in the market to her readers. Here' she has curated a list of the best Nintendo ds games for kids. The list includes high-quality products along with all the relevant information that you need to know before choosing what best suits your preferences.
Your kids are sure to love these Nintendo DS games for kids. Just pick any one of these and watch your kids enjoy their vacations.
Nintendo is a popular gaming brand with a massive fan following worldwide. The best Nintendo DS games can keep your child engaged for hours and improve their hand-eye coordination. If you plan to buy a Nintendo DS game for your child, choose according to your child's age. Also, don't forget to check if your child prefers a particular kind of game or genre. Kids tend to love games with vibrant visuals and simple rules, so you might want to pick accordingly.
Recommended Articles:
The following two tabs change content below.

Priti Bose is a poet, songwriter and blog writer. She did her masters in English, Public Relations and Advertising from Delhi University. Her creative skills and hunger for details make her do in-depth research on the topics she covers. For MomJunction, she writes on product analysis and reviews, especially for kids' products, toys and gifts. Before her association with MomJunction,...
more