When you find out that you are pregnant, one of your first priorities is to check the food you are consuming. Coffee, alcohol, and certain types of cheeses are obviously out, but what about meat?
Pregnancy is a time in your life when nutrition and well-balanced meals are critical, not just for you but also for the baby that is growing inside you. In general, the problem with meat is that the oils used for cooking or preserving the meat can be really harmful to your health, and the high levels of potassium and cholesterol are also of concern.
Perhaps the most important concern with meat, and even poultry is that they can contain bacteria or foster an environment for the growth of certain bacteria such as listeria and salmonella, which can result in food poisoning. Meat is rich in proteins and certain vitamins and minerals such as iron. Nevertheless, how the meat is procured, cooked, stored, and consumed is very important to keep track of when you are pregnant.
While all of the above is true even if you are not pregnant, the hormonal backlash during your pregnancy may make it difficult for you to avoid craving and then consuming some of your favourite meat items. Yet, please do keep this list in mind as a safety checklist!
White Meat
Chicken and turkey are largely healthy sources of nutrition, but as with every other ingredient, you must take care to consume them in moderation. A good idea would be to change the way you consume them. For example, instead of barbequed chicken or chicken tikka, try opting for chicken soup or grilled chicken. However, even for white meat, ensure that you don't consume deli meat or meat that is not cooked properly as these can cause infections such as listeria which can be extremely dangerous during pregnancy (1).
Eggs
The calcium in egg whites is essential during your pregnancy, but do check with your doctor regarding the consumption of egg yolks if you're susceptible to higher cholesterol levels. Ensure that you are buying farm fresh, free-range eggs, if you can afford them, or at least safely procured eggs as per the standards in your area.
Be careful of products sourced from artisanal or homemade kitchens, as these mostly contain raw eggs as an ingredient to increase the quality and value of the product. These include products such as mayonnaise and eggnog, which are mostly made from raw eggs. Ask for products with pasteurised eggs whenever possible to avoid a potential infection from salmonella (2).
Fish
If you are a fan of sushi, we have bad news for you. Fish is the meat product that causes the most concern amongst pregnant women and their doctors. Raw shellfish is a definite no-no when it comes to pregnancy as most of them are undercooked or consumed raw, making them the leading cause of food poisoning during pregnancy (3). Pregnant women are also advised to avoid fish sourced from freshwaters such as lakes, as most lakes these days are heavily polluted. These types of fish include salmon and trout. Smoked fish should also ideally be avoided, although the canned variety may be safe to eat.
Raw And Red Meat
If you are a fan of meat that is cooked rare or pâté that can be spread on little pieces of toast, you will have to postpone such plans for the next year or so. These types of meat products can cause listeria or toxoplasmosis, which by themselves are mostly dangerous only to pregnant women (4).
This list is not meant to alarm you, but rather to offer you some basic guidelines on what is generally considered acceptable and unacceptable among meat products during pregnancy. Do consult your medical team on building your own checklist, and also consider the environment you live in to see what is safe from our list and what else you could include.
Stay safe!
The following two tabs change content below.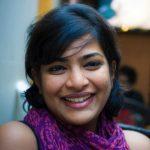 Latest posts by Chandrama Deshmukh (see all)