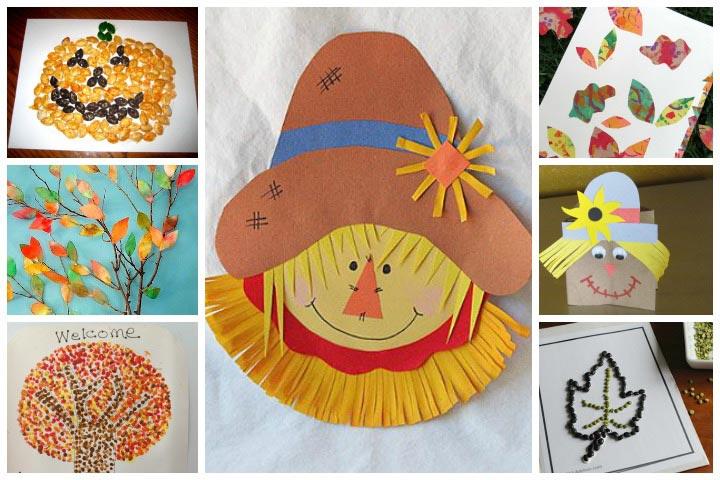 Autumn is a time of bright colors, with leaves changing their colors and plenty of fun things to interest your little ones with. This is also a great time to sit with your kids and get cracking on a few craft projects to have some creative fun!
Top 10 Autumn Crafts For Preschoolers:

Autumn is the perfect time to let your preschoolers have some fun with interesting crafts. This is an age when they are just beginning to learn about the world around them and their imaginations can soar to great heights.
If you are planning to introduce your preschooler to crafts, here are the 10 preschool autumn craft ideas:
1. Scarecrow Made Of Paper Bag:
The first thing that comes to mind when you say autumn is scarecrows. Your preschooler can make his own scarecrow with a little help from you.
You need a brown paper bag, assorted colored paper and glue.
Cut out the colored paper to make the scarecrow's hair, eyes, nose, mouth, hat and maybe even a little bow-tie.
Glue these pieces to all the appropriate places and the paper bag scarecrow is ready.
2. Leaf Collage:
Take your little one out to pick up fallen leaves in different colors.
When you have collected enough, take them inside and get a sheet of construction paper.
Glue on the leaves to create a beautiful collage of autumn-hued leaves!
3. Scarecrow Made Of Paper Plate:
This is a fun way to create a scarecrow!
You need a paper plate, some paint and construction paper in different colors.
Draw the scarecrow's face. Draw the eyes or glue on buttons and make the nose and mouth.
Cut the construction paper to make a hat and use yellow paper to make its hair.
4. Leafy Autumn Wreath:
This is a craft that your preschooler will have loads of fun helping you with.
Collect leaves from your yard or draw and color them with fall-themed colors.
Get a large paper plate and cut out its center.
Now you and your preschooler can start gluing the leaves to the circle
Tape a short length of string, on the back, to hang your new wreath on your door or wall!
You can also attach a red bow, made with ribbon, in front of the wreath.
5. Autumn Tree Made With Tissue Paper:
This will engage your preschooler in a bit of drawing.
Draw a picture of a tree and let your little one color it.
Take tissue papers in colors like yellow, orange, red, green and brown and cut them into small squares.
Let your preschooler add few spots of glue on the branches of the tree.
Crumple up the tissues and stick them to the glued spots on the tree.
Voila! You now have a bright autumn-hued tree that you can hang anywhere at home!
6. Finger Painted Fall Tree:
Your kid will love finger painting!
Take construction paper and draw a picture of a tree.
Get water colors in autumn colors and let the tots use their fingers to paint the leaves.
It is fun and they will definitely be proud of their artwork!
7."The Pumpkin" Made With Pumpkin Seeds:
This is a fun fall craft activity that little preschoolers are bound to love.
Cut out a pumpkin shape from construction paper.
Bring out the pumpkin seeds and let your kids color them with orange paint.
When the paint has dried, they can stick the seeds on the pumpkin template and create a unique pumpkin!
8. Fall Leaf Framed Painting:
This is a great fall craft for kids of all ages.
Let your kid collect leaves and glue them onto construction paper.
Let them paint the leaves in bright autumn colors. You can help them choose the colors.
When the paint has dried, get four Popsicle sticks and stick them to the paper to make a frame.
Your kid can paint the frame as well.
9. Fall Leaves Made With Beans:
This is a cute craft that is wonderful for kids of all ages. For preschoolers, the leaves can be created by simply putting the beans to the glued area.
To make the craft a little easier draw pictures of some leaves and add glue.
Let your darling add beans on the drawn leaves
It is simple, yet it will do wonders in encouraging creativity.
10. Autumn Leaf Scrap Book:
This beautiful season is the best time to go leaf hunting.
Get your little tots outdoors and start collecting different types of leaves that have fallen from trees.
Once you are back home, get a book and let them start gluing the leaves onto the pages.
If your kids have already learned to write, name each leaf for them so that they can identify each one.
This is a wonderful learning tool, not only about the trees, but also about colors and the difference in each leaf.
With these autumn crafts, you and your little preschooler can have loads of fun. Your little one can learn many things about the season and also hone his or her artistic skills.
So start crafting and have a happy autumn!
Share your autumn crafts for preschoolers with us.
Recommended Articles:
Comments are moderated by MomJunction editorial team to remove any personal, abusive, promotional, provocative or irrelevant observations. We may also remove the hyperlinks within comments.
The following two tabs change content below.