Onion is a common vegetable used worldwide in raw, cooked, and fermented forms. While eating this veggie is generally safe, the safety of onion for babies can be determined only by knowing the right age and age-appropriate ways to feed it to them.
Generally, onions come in different varieties and are classified based on skin color (white, yellow, red, or brown), shape (round, globe, or flat), and taste (pungent or sweet) (1). Specific onion varieties are chosen to add aroma, flavor, and texture to food. Besides, onions can provide certain phytochemicals that may impart lasting benefits to overall health.
Read this post to know the right age to feed onions to babies, the possible benefits it can offer, ways to feed it safely, and some interesting onion recipes for your baby.
 When Can Babies Eat Onions?
Babies can eat cooked onions from the age of six months (2). Introduce onions as part of the baby's regular diet consisting of several solids. You can use cooked, mashed, or pureed onions to add flavor to different recipes, such as fruit and vegetable purees, porridges, and soups.
Older babies can consume cooked onion as finger foods, such as cooked onion rings.  Toddlers can consume steamed, baked, grilled, and roasted onions, along with other foods. Avoid serving raw onion to babies since it could be difficult to digest and may expose the little one to germs (3). You may avoid it if your baby has a sensitive digestive system and has bloating. You may introduce raw onions after your baby attains the age of 12 months when their digestion and immunity are better.
Nutritional Value Of Onions
The nutritional value of one raw, small onion (70 g) added to a recipe can provide the following nutrients to the baby (4) (5) (6).
| | | |
| --- | --- | --- |
| Nutrients | Amount | RDA(7-12months) |
| Water | 62.4g | – |
| Energy | 28Kcal | – |
| Fiber, total dietary | 1.19g | – |
| Potassium, K | 102mg | 700mg* |
| Folate | 13.3µg | 80AI |
| Vitamin C, total ascorbic acid | 5.18mg | 35mg |
*AI = Adequate intake – nutrient level assumed to ensure nutritional adequacy
Sources: U.S. Department of Agriculture, World Health Organization, and Oregon State University 
Possible Health Benefits Of Onions For Babies
Onions are considered to have anticancer, antiplatelet, antiasthmatic, and antibiotic effects (7) (8). These possible benefits of onions are mostly attributed to its phytochemicals, such as flavonoids (9). The following are the likely benefits of onions for babies.
Provides micronutrients: One small onion gives you essential nutrients, such as fiber, folate, vitamin C, and potassium. These nutrients could contribute to your baby's daily nutritional needs and contribute to long-term health benefits.
Promotes immunity: Onions are an excellent source of several bioactive and antioxidant compounds that counteract free radical damage. These compounds could also benefit the immune system in the long run (10). They are a good source of vitamin C and can prevent bacterial infections and enhance the immunity.
Enhances heart health: Onions are heart-healthy and can help lower cholesterol in later life.
In the long run, onions may also benefit the overall health of the gastrointestinal tract and bones (13).
How To Select And Store Onions?
Here are some simple tips to follow while selecting and storing onions.
Tips for selecting onions
Choose onions that are firm to touch with a tissue-thin or papery-thin
Avoid onions with bruises, cuts, and blemishes. Also, they should be free of black or gray molds and any visible sprouting.
Discard onions that feel too dry or wet or soft to touch.
Choose sweeter varieties for babies as they have sensitive tongues.
Tips for storing onions
Store whole dry onion bulbs in a cool, dry, dark place with proper ventilation. Keep them away from sunlight and aim to maintain a temperature around 77°F (25°C).
Store onions packed in cardboard boxes or bags at least one foot away from walls to allow air circulation.
Do not store onions in plastic bags or airtight containers as the lack of ventilation will reduce shelf life.
Do not store onions with foods that release moisture, such as potatoes. It will cause the onion to turn wet and spongy.
Avoid storing whole onions in the refrigerator since they may absorb moisture and turn mushy.
You can store peeled and cut onions in an airtight container at a cool place, such as a refrigerator, for up to a week. However, you may avoid this as they lose their nutritional value.
Precautions To Take While Feeding Onion To Babies
Here are some necessary precautions to ensure the safe consumption of onions in babies.
Introduce onion to your baby as cooked onion puree or mash added to different foods, such as soups, stews, cereals, and porridge in small quantities.
You can begin by adding a teaspoon to the food and gradually increasing it to a tablespoon or two based on the recipe's requirement.
Once the baby seems comfortable with the onion's taste and digestibility, gradually include baked, grilled, and roasted onions to different baby food
If the baby has a family history of allergies, especially to foods belonging to the lily family (garlic, leeks, shallots, asparagus, and chives) and certain pollen, then consult a doctor before adding onion to your baby's diet.
Babies with a sensitive digestive system may experience FODMAP intolerance after ingesting onion even in cooked form. Typical symptoms include gas, bloating, and abdominal cramps (15).
Be alert and check the ingredient list of packaged foods, such as soups and curries, that may contain powdered onion.
Wash peeled raw onions thoroughly under water before cooking them or when serving them raw to toddlers. Washing can help remove any germs present on the onion's surface Take care not to wash excessively as it may cause some nutrient loss.
Cut onions in small pieces when serving them as finger food. It helps avoid the risk of choking.
Healthy Onion Recipes For Babies And Toddlers
Below are some onion recipes you can feed to your infant or toddler.
1. Squash, carrot, and onion puree
You will need:
½ cup squash (peeled, chopped, and steamed)
2tbsp carrots (peeled, chopped, and steamed)
1tbsp yellow onion (peeled, chopped, and steamed)
How to:
Blend all the ingredients into a lump-free, smooth paste, using a food processor or blender.
Add water to adjust the consistency. Pour the puree into a feeding bowl and serve.
2. Onion and green pea soup
You will need:
100ml low-sodium vegetable stock
50g red onion (sliced)
30g frozen peas
1tsp dried thyme
2tbsp olive oil
How to:
Heat olive oil in a saucepan on medium heat and saute onions for ten to 15 minutes.
Add thyme, peas, and vegetable stock into the saucepan and cook the mixture for 15 to 20 minutes over low heat. Switch off the heat and set the pan aside.
Blend all the ingredients into a lump-free, smooth-flowing liquid using an immersion blender.
Pour the soup into a soup bowl, add some cream or milk, and serve immediately.
You can add elbow pasta, cooked quinoa, or cooked oats to this recipe for toddlers.
3. Baked onion rings
You will need:
1 white onion (sliced in rings)
1 egg (beaten)
50g whole-wheat flour
50g breadcrumbs
80ml unsalted buttermilk
2tbsp corn flour
How to:
Mix the buttermilk and onion rings in a mixing bowl, cover with cling film, and refrigerate for a minimum of six hours.
After six hours, preheat the oven to 392°F (200°C). Line a baking tray with parchment paper and set aside.
Mix the whole-wheat flour, and corn flour in a large zipper storage bag.
Remove the onion rings from the buttermilk and transfer them into the zipper storage bag. Close the bag and shake until the onion rings are fully coated.
Dip each onion ring in the egg and then coat with the breadcrumbs. Place on the baking tray with some distance between each ring.
Once all the onion rings are placed on the baking tray, sprinkle them with some oil, or butter and bake the onion rings for 15 minutes.
Transfer the baked onion rings to a serving plate and serve immediately with hummus, homemade ketchup, or dip. These rings can be added to other recipes too to enhance their taste.
Frequently Asked Questions
1. Is onion good for teething babies?
Yes. Onions, especially green onions, are good for teething in babies. It can numb the sore gums caused due to teething (16).
2. How do you make onion water for babies?
The preparation of onion water for babies includes boiling the onion in water, cooling it off, rinsing the onion from the water, and adding a teaspoon or two in the baby's bottle.
3. Can I give onion juice to my baby?
Yes, giving a baby onion juice has been used as a home remedy to treat cough (17).
4. What does boiled onion water do to babies?
Although boiled onion water is thought to cure or manage colic in babies, there is no scientific evidence to support this statement.
Onion is a potent ingredient that can increase the palatability and nutritional value of a dish. In addition, onions act as an immunity booster and offer many other health benefits for babies. You can start feeding onions to babies from six months but do so in an age-appropriate manner. For example, begin by adding onion puree or mash to their food. However, consult your pediatrician before adding onions to your baby's diet, especially if they are genetically allergic to foods belonging to the lily family.
Key Pointers
You may introduce onions to babies after six months in cooked or mashed forms along with other food items.
Besides providing vital micronutrients, onions also promote immunity and improve gut and heart health.
Add small quantities of onions in foods and gradually increase the quantity as per your baby's preferences.
Try different recipes with onions such as soups, sandwiches, and purees with various vegetables to feed your infant.
References:
MomJunction's articles are written after analyzing the research works of expert authors and institutions. Our references consist of resources established by authorities in their respective fields. You can learn more about the authenticity of the information we present in our
editorial policy
.
The following two tabs change content below.

Swati Patwal is a clinical nutritionist, a Certified Diabetes Educator (CDE) and a toddler mom with over eight years of experience in diverse fields of nutrition. She started her career as a CSR project coordinator for a healthy eating and active lifestyle project catering to school children. Then she worked as a nutrition faculty and clinical nutrition coach in different...
more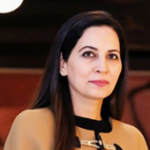 Seeemaa Budhraja
(DDHE & DNHE)
Seeemaa Budhraja is a Delhi-based dietitian and nutritionist. She specializes in weight and lifestyle management. She is a healthy recipe designer, works as a health motivator and wellness coach as well. She has worked as a slimming head with one of the top organizations in India. She excels in therapeutic diets for various lifestyle-related diseases. This renowned nutritionist is a...
more