Come autumn, and pumpkin crafts can be a wonderful decoration for your home. We bring you plenty of pumpkin painting ideas for kids in the post so they can enjoy the season and have fun with their friends.
Ensure to provide your children with the right, including acrylic paints, brushes, tape, craft glue, construction paper, and funky items, such as googly eyes or glitter, to make their crafts artistic. They can then customize them as per their skill set, ideas, and requirements.
All these ideas may not require adult supervision as they are super easy. These crafts can keep your little ones engaged for hours and help boost their creativity, and you get amazing stuff to decorate your home too. And yes, make sure you take pictures of them engrossed in creating crafts and save the memories for posterity.
22 Painting Pumpkin Ideas for Kids
1. Super easy polka-dots
If you're searching for easy pumpkin painting ideas for kids, then look no further. All you'll need are acrylic paints and either Q-tips or paintbrushes for this one. Simply dab a brush or Q-tip in some paint and paint dots all over the pumpkin in a random fashion or in a specific design, if desired.
2. Silly face paints
These goofy grinning pumpkins are sure to put a smile on your face. Using a black permanent marker or paint, outline the eyes, nose, and mouth of the pumpkin's face. The key here is to make their expressions as exaggerated as you can! Paint the features with acrylic paint and add other features such as hair, eyebrows, or ears.
3. DIY mermaid
If you and your kids want an extra challenging pumpkin painting activity (and also love mermaids!), then this one is for you. Get a medium to large-sized pumpkin and paint it a shade of blue. Get seashells from your craft supplies store and paint them using a variety of pastel colors; allow them to dry. Also, find small to medium-sized plastic or rubber fish toys. Cut them into half to make the ends of the mermaid tails. Paint the tails and cover the fins with glue, dusting them off with silver or gold glitter.
In the meantime, cover the bottom half of your pumpkin in craft glue and pour the glitter in the same color as your base. After everything has been dried, arrange the mermaid tails on top of your pumpkin along with the seashells. Take rhinestone jewels in different colors and glue them on the sides of your pumpkin. Allow everything to dry, and voila! You've got a magical mermaid pumpkin!
4. Day of the Dead painted pumpkin face
These decorative skeletal faces with flowers and detailing are derived from the Mexican Day of the Dead tradition. These make for lovely home decor as well. Start by painting a white round "face" on the pumpkin. Use a black permanent marker or black paint to outline the skull's features and paint them in. With colored paints or markers, add designs such as flowers and decorative detailing to the facial features. Top off with a hat, flower crown, or other embellishments if desired.
5. Jack Skellington-inspired painted pumpkin
If the spooky Tim Burton aesthetic is to your child's taste, they'll have a blast with this craft. Paint an entire pumpkin white and add Jack Skellington style features with a black permanent marker or paint.
6. Glittery pumpkin
Don't shy away from glitter because this sparkly tutorial is all about the glitz and glam! This craft idea can be adapted in multiple ways. Start with painting your pumpkin in any color you want. Using craft glue, make shapes such as stripes, polka dots, or any other design. Quickly pour glitter onto the wet glue and shake off excess. Allow the pumpkin to dry. You can also cover the entire section using glue and dust off with glitter if you want a super-sparkly pumpkin.
7. Spider pumpkin
Heard of spider pumpkins that won't bite? You'll need to cut out white paper in round circles for the eyes. Using black acrylic paint, outline the eyes and paint in the pupils. Stick them onto the pumpkin with craft glue. For the smile, you can either paint a black zig-zag shaped mouth or cut it out from black construction paper and glue it onto the pumpkin. Take eight black craft pipe cleaners and bend them into the shape of a spider leg. Attach four on each side of the pumpkin using hot glue.
8. Cute unicorn
If you're looking for something adorable and aesthetically pleasing, try this non-Halloween-themed unicorn pumpkin craft. Paint your pumpkin white (or any other color). Paint the unicorn eyes along with its eyelashes. Use a pinkish color to paint cheeks on either side of the unicorn's face. Use metallic gold or silver paint to turn the pumpkin stem into a horn. Lastly, decorate the horn with real or faux flowers and you're done!
9. Abstract splatter
This painted pumpkins idea for kidsbrings out their inner artist! However, it's a messy craft tutorial, so be sure to cover your surfaces with plenty of newspaper, or better yet, conduct this activity outside in your balcony area or any other outdoor space. Paint the pumpkins in white base color. Add some acrylic paint in a bowl and slightly dilute it with water to give it a runny consistency. Now, mix it thoroughly. Repeat the same process using various colors. Dip a brush into the paint and splatter on the pumpkin.
Repeat with other colors if desired, or continue with just one. You can experiment with your splatter techniques, such as using a swirling motion to let the paint drip down the pumpkin. Or, try out various brush sizes. Another good idea is to let some paint layers dry thoroughly before adding more paint, as they tend to muddle up when wet.
10. Elegant DIY metallic pumpkin
If an ultra-sophisticated look is what you want, then this tutorial is for you! You'll need gold, silver, or copper spray paint. Spray an entire pumpkin using metallic paint and allow it to dry. You can also customize this by painting just the upper or bottom half of the pumpkin with metallic paint, letting the unpainted portion remain as is or painted with another color of your choice. Take it up a notch by add details such as rhinestone gems, lace trims, ribbons to give it a chic look.
11. Spots and stripes
Gather a collection of 5-6 mini pumpkins that can be displayed as a cluster or in a line. Paint these mini pumpkins in shades of your choice. Now paint stripes, polka dots, or swirls on each pumpkin and let them dry.
12. Traditional Halloween Jack O' Lantern
The classic Halloween pumpkin face, commonly known as the Jack O' Lantern, is what is commonly found on pumpkin carvings. Simply paint the face with black (or any other color you want). You can also paint the entire pumpkin using a particular color and then draw the rest of the facial features. Try glow-in-the-dark paint for that extra spooky feel!
13. Autumn leaves
Bring in a touch of nature with this project. Start off by painting your pumpkin white. If desired, write the word "Fall" or "Autumn" in the center with a marker or paint. Then using autumn leaf colors such as deep red, orange-red and yellow, paint in leaves and branches all over the pumpkin.
14. Black, white & silver pumpkins
These painted pumpkins are both elegant and whimsical at the same time. They belong at a Tim Burton-themed party! Paint the pumpkins in stripes, solids, and polka-dot designs. Stack them near your doorway entry or may be on the dinner table.
15. The "Grouchy Teenager" face
Here's a super quick yet amusing pumpkin craft idea. Simply draw or paint a surly expression on your pumpkin and throw on a pair of old headphones. In less than 5 minutes, you'll have a funny pumpkin decoration that is bound to make even the grumpiest person break into a smile.
16. Witchy pumpkin
Witches are as synonymous with Halloween as pumpkins are. For this craft, you'll need a witch's hat big enough to fit your pumpkin. If you don't have a witch hat, make one using black felt or construction paper and add decorative embellishments.
17. Gold painted flower vase
This pumpkin vase can be made in two ways. Paint the pumpkin in an attractive color and then either carve out the pumpkin to create a vase or simply arrange a flower wreath on top of the painted pumpkin.
18. Rainbow pumpkin
Bring some cheerful brightness into your house with this rainbow-themed pumpkin. Paint each section of the pumpkin in order of the rainbow and further embellish if desired.
19. Bohemian-style ​​
Ever heard of Bohemian pumpkins? Try this craft idea to know more! Paint a variety of boho-style designs on your pumpkin like paisleys or Aztec prints, stick-on rhinestone gems, and other decorative details and you'll have your very own bohemian pumpkin design!
20. Googly eyed
Here's another quick, and non-messy pumpkin painting idea for kids to try. Get several googly eyes and glue them all over the pumpkin! Paint the pumpkin in a base color beforehand or leave it plain.
21. Cute little monsters
These little monster pumpkins will make anyone go "aww!". Along with Frankenstein and an adorable ghost, paint a vampire, witch, and mummy to complete the pumpkin monster gang.
22. Bats on pumpkin
Bats make for quintessentially spooky decor; combine them with pumpkins for a Halloween-ready atmosphere. Using black construction paper and stencil, cut out a pair of black bat's wings, then glue them on either side of your pumpkin. That's it!
These pumpkin painting ideas for kids can be so interesting that the entire family can spend time on it on a holiday. It will be a great way to spend time together. So, ready to try out these ideas with your kids? Maybe hold a pumpkin painting contest, just for fun.
The following two tabs change content below.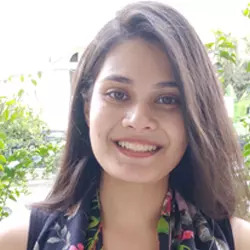 Manjari Srivastava
Manjari Srivastava is a graduate of psychology. She also holds certificates in Basics In Clinical Psychology and Identifying Early Signs Of Psychosis In Adolescents And Young Adults.  Previously, she volunteered with an NGO specializing in positive psychology, where she took up individual counseling sessions for students. She also taught English to underprivileged children and helped them with their studies. At MomJunction,...
more