Paper cutting art and craft ideas are a good choice when it comes to getting kids and preschoolers involved in extra-curricular activities. A paper cut out art can help your child explore his creative side while developing his motor skills. But how to do a simple paper cutting art and crafts easily for beginners? If you want to teach your kids in easy to understand steps, read below.
10 Easy Paper Cutting Art And Craft Ideas For Kids:

Check out these simple yet creative paper cutting art and crafts ideas and watch your kid get busy into hours of creativity- something way better than watching cartoons on TV. You can also help him out with his activity. This is also a cool way to build a good relationship with your kid.
1. Zig Zag Paper Strips:
One of the best and simplest ways to enhance your kid's cutting skills is to get a zig zag or a wave shaped scissors and ask your kid to cut along a straight line. This will create wonderful decorative paper strips that will make your kid go creative with ideas.
2. Cutting Simple Shapes:

The best way to introduce your kid to paper cutting craft ideas is to draw large, simple shapes on different pieces of colorful papers and get him to cut them out along the outline. You can then use these objects to create a scene and ask your kid to decorate it and then stick it on his room's wall.
[ Read: Paper Flower Crafts ]
3. Paper Linked Objects:
Another cool trick to try out and learn paper cutting art for kids.These linked objects are easy to make and will get your kid all buzzing with energy over his creations. Fold a sheet of paper that is horizontally long. Draw a simple object so that your kid doesn't cut it out from the 'folded' edge- this will help create a link between the identical objects.
4. Simple Christmas Tree:

Trace out a simple triangle on a sheet of green card paper for your kid and create sections between every few centimeters. Now ask your kid to cut along these lines and then stick them together leaving some space in between each, on a green stick, and then decorate it! Isn't it a splendid paper cutting crafts?

5. Hand Cut-Outs:

This is a cool trick to try that also helps your child get trained in cutting along curvy edges. Help him trace his hand on a sheet of paper and then cut it out following the outline. These can then serve as bookmarks or other card decorative pieces for future use.See your kid goes bonkers with this easy paper cut out art activity.
6. Popsicle Puppets:

Trace out some cute animals on card papers and ask your kid to cut them out and decorate them by adding details for eyes, nose and other features. Now get your kid to paint a used popsicle stick and paste these animal face on it!
[ Read: Puppet Crafts for Kids ]
7. Cute School Book Labels:

Here's another constructive way to get your kid busy and experiment creative stuff. Using different shapes as templates, help your kid cut out school labels for his new school year books and decorate them. Add his name and do other detailing. Your child will feel proud of his self sufficiency too. It is one of the simple paper cutting patterns.
8. Christmas Masks:

Draw the Santa's beard and cap on a sheet of paper and ask your kid to cut it out along the lines. He can then decorate it and using a cello tape. Secure a thin stick at the back to hold this mask. This can be considered as one of the best cutting and pasting activities for kids.
9. Paper Collage:
A simple paper collage is enough to keep your kid busy. Get him different colored papers and ask him to create a collage using different objects cut from different pieces of papers and then sticking them together on a sheet. It is a simple paper cutting designs your kid can easily do.
10. Photo Frame Cut-Out:

If you're looking for ideas that make your child to create something he could use, there's nothing better than this one. Trace out this outline on a card paper and ask your kid to cut it carefully. Now cut a large sized photo of your kid such that it fits the middle area, and ask your kid to stick it and decorate it.
These are some great ways of enhancing the paper cutting designs for kids step by step. However, if your child is not yet trained to hold the scissors make sure you are around him, helping him and supervising the activity. Till such time he gets comfortable with sharp objects, make sure you are watching while enjoying his creative side unleash!
Have more ideas to share on how to do paper cutting art? Do not forget to share them with other moms here!

Recommended Articles:
The following two tabs change content below.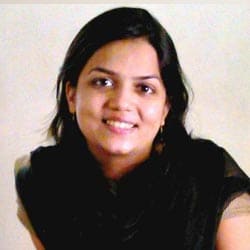 Manjiri Kochrekar
Manjiri is a freelance writer with experience in writing on a wide range of topics, including travel, education, yoga, and children's activities, fun and learning. She is passionate about creative writing and loves to put her thoughts into words. Manjiri excels in breaking down complex information, ideas and aspects of life into simpler elements for an easy read.