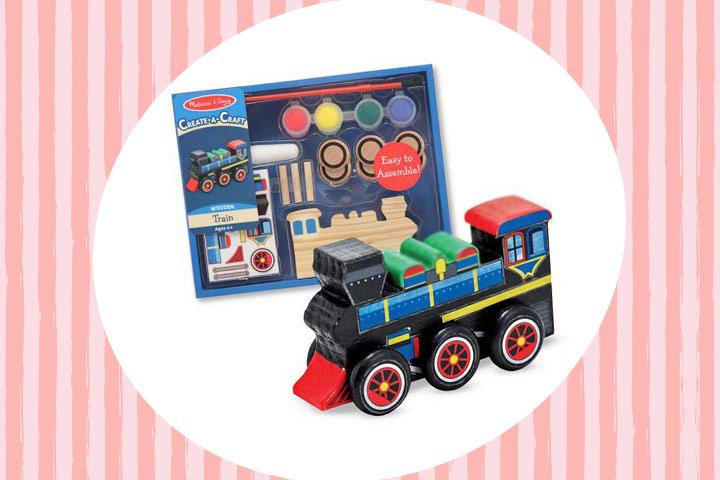 Congratulations! The time has come to celebrate your little one's arrival into the world. The venue is decided, the menu is ready, and the cake is on its way. But, what about selecting party favors?
The guest of honor, as cute as she is, isn't the only one who should receive gifts. You have to show your sincerest thanks to the guests too, which you can, by offering them some party favors. If done right, party favors can become a treasured memory. And here, MomJunction has come up with some unique party favor ideas for kids. Take a look at our picks below.
Birthday Party Favor Ideas For Kids:
1. Frozen Party Box: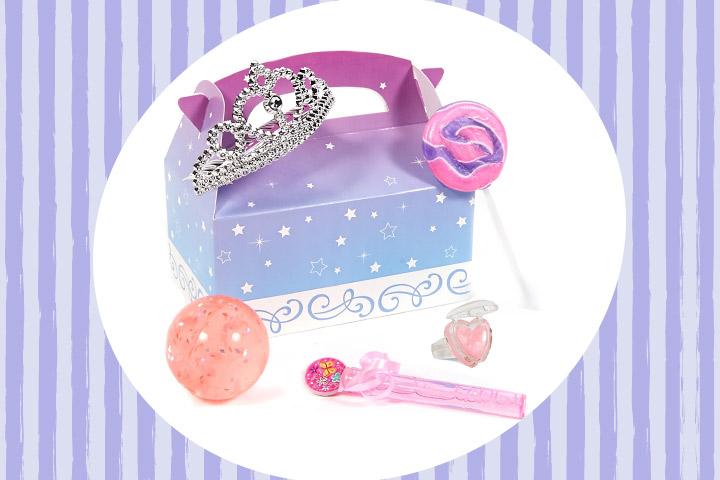 Frozen, as we all know, is one of the most popular themes in the girl's party. So send the little princesses' home with Frozen Party Box, featuring Anna, Elsa all their favorite "Frozen" characters. It couldn't be a better way of saying 'thank you' for coming to your child's birthday party.
The box includes a sparkly princess tiara hair comb, a bubble wand, a pink bouncy ball, heart shaped lip gloss ring and a lollipop. You can even add purple goblets or whirly pops to add an extra zing to the box. The best part of this party box is that it's sturdy and very easy to assemble. Even the price seems right.
Price: $4.99
Available At: Here
[ Read: Gifts For Girls ]
2. Hershey's Personalized Chocolate Bars: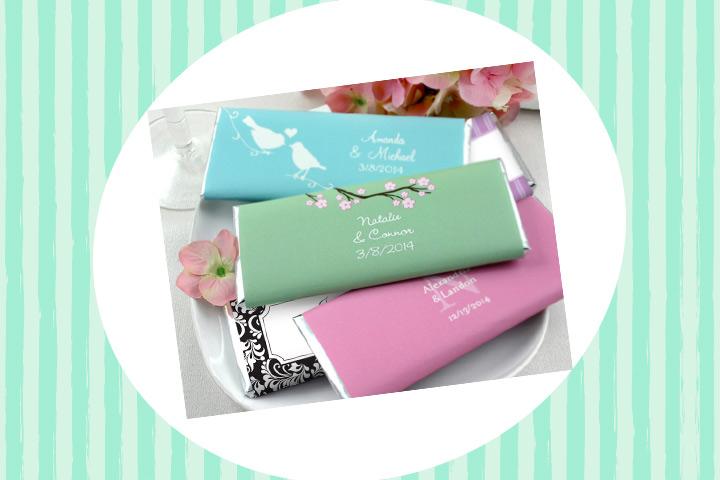 Birthdays are sweet, but candy bars personalized with greetings are even sweeter. These chocolate bars have the option of engraving messages and names on the chocolate wrappers. From Cinderella to farm animals, you get 69 designs to choose from. Just select one according to the theme of the party. We're cent percent sure that your child and his friends will be thrilled to see a candy bar with her name. This is an unique kids party favor ideas for celebration!
Price: $7.50
Available At: Here
3. Personalized Kids Crayon Set: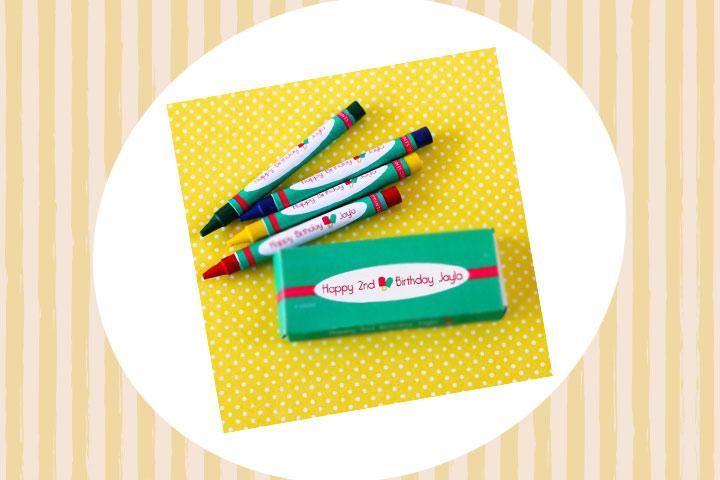 Are you planning to organize a coloring competition in your school or house? Then these personalized crayon sets would come handy. Children will grin with delight seeing a crayon set with their name on it. This crayon set is available in sets of four and colors green, red, blue and yellow. You can either purchase it loose or in boxed sets.
Price: $1.78 – $2.38
Available At: Here
4. Stormtrooper Notepad – Star Wars: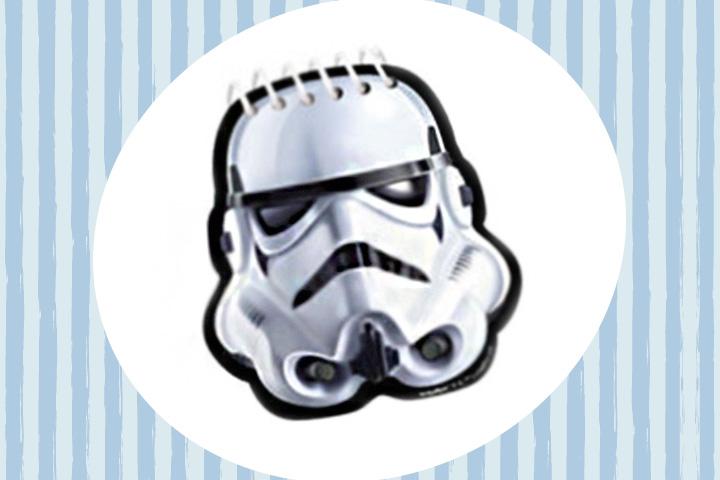 Celebrate your intergalactic boy or girl's birth party with Stormtrooper Notepad – Star Wars. This notebook, shaped like a Stormtrooper's helmet, contains 20 pages for the little ones to write all the Death Star happenings. The notebook is 5 ¼ inches in length and 4 ¾ in width. But the instruction says that the notebook is not recommended for children under three years, probably because of the spiral binding. So avoid purchasing this notebook if you are organizing parties for toddlers or preschoolers.
Price: $1
Available At: Here
5. Origami Fun Kit For Beginners: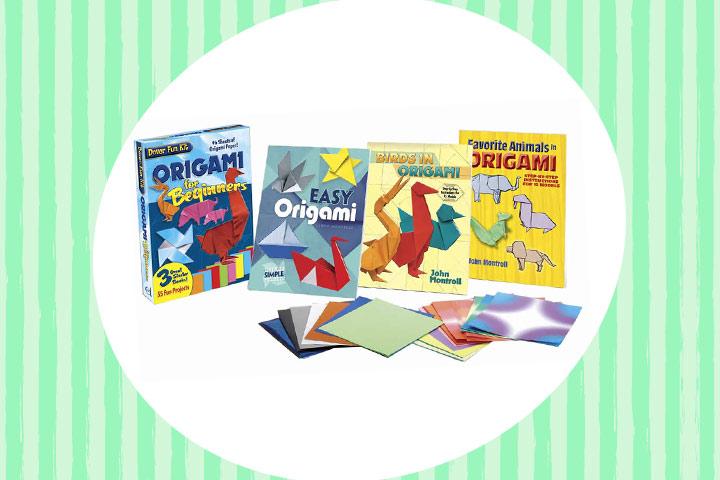 Origami Fun Kit for Beginners includes everything that a beginner needs to master the art of origami. It has three started books, 55 activities and over 1000 easy, to follow instruction and 96 sheets of origami papers in bright and vibrant colors and even metallic colored foils. From flowers to sushi, to airplane and animals, children will experience never-ending fun with this set. Children can even use stickers or googly eyes to make their creations even more fun. Yes, the price is slightly on the higher side, but at least, you can be rest assured that it will be liked by everyone. And it will double as a party activity as well. This is one of the best and unique kids birthday party favor ideas.
Price: $12.36
Available At: Here
[ Read: Gifts For Boys ]
6. Personalized Mini Glass Birthday Candy Jar: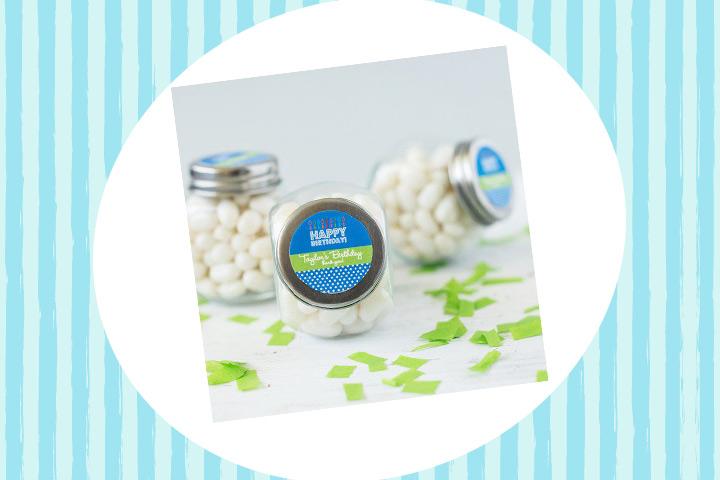 Add a sweet touch to your child's birthday celebration with these adorable mini candy jars. These jars will fit any theme or color scheme. You just need to it with the kids' favorite candies and give them to the party to take home.
The jars are made of durable glass and come with a metal screw-on lid. You get the option for selected from four patterns. Just peel and stick the labels on the lid and let the kids enjoy these jars for the years to come.
You can personalize the jars with several of the lid designs, along with the custom birthday message, name and the event date.
Price: $1.25 to $1.85 each
Available At: Here
7. Mini Piggy Bank: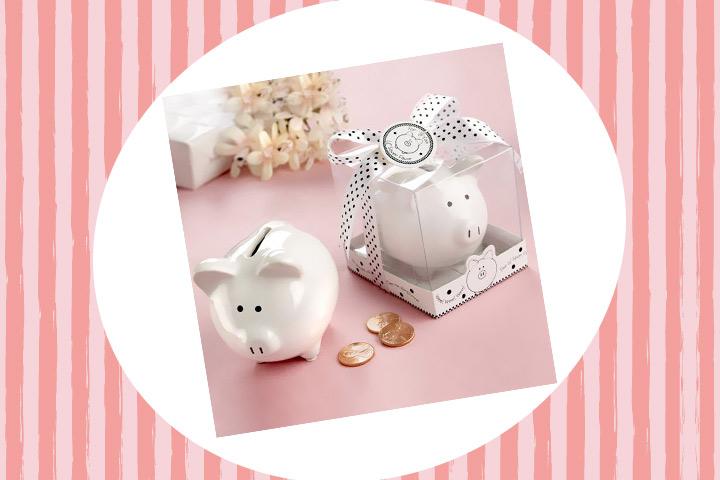 It is never too early to teach money saving to the little ones. So if you want your child and his friends to save their changes, give them this cute piggy bank as party favors.
These cute, white piggy banks have coin slots on the top and the rubber stopper at the bottom. The piggy bank comes packed in a clear gift box, beautified with polka dot ribbon. There's also hand tag included in the package that reads, "For You, Little Saver Favor." You can write the name of the children on these tags.
Price: $2.55
Available At: Here
8. Mini Purse Shaped Manicure Sets: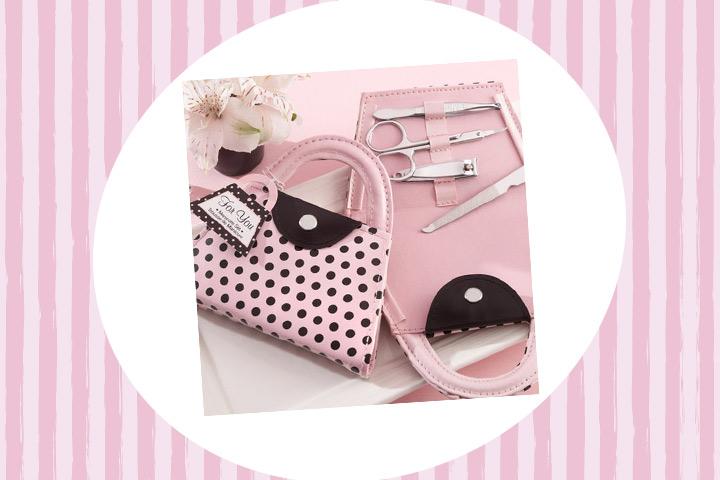 If you are hosting a spa themed party, then send the little guests' home with this adorable mini purse shaped manicure mini kit. The little fashionistas will keep their toes and fingers looking beautiful by using this kit.
The cute little purse set contains tweezers, clippers, nail file and scissors. The set also comes with a matching tag reading, "For You", where you can write the message for the guests. You can even add a mini nail polish bottle for an extra treat.
Price: $3.25
Available At: Here
9. Mini Classic Gumball Machines: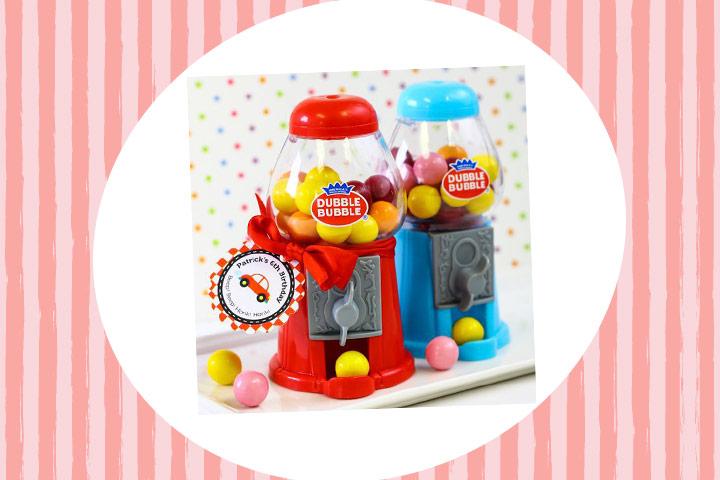 There is nothing like a gumball machine to bring out the child in you. So whether you are holding your child's 6th birthday or the 12th, these mini gumball machines are sure to knock your little guest's socks off!
This gumball machine looks just like the real thing but is slightly smaller. The brightly colored machine comes with pre-filled gumballs, which the kids can dispense with a twist of the knob. You can even personalize these mini machines with gift tags or tie a bow with a personalized ribbon.
And 30 gumballs that it comes with would last your child, at least, five days. Not bad, isn't it?
Price: $2.75
Available At: Here
[ Read: Party Games For Kids ]
10. Customized Coloring Books: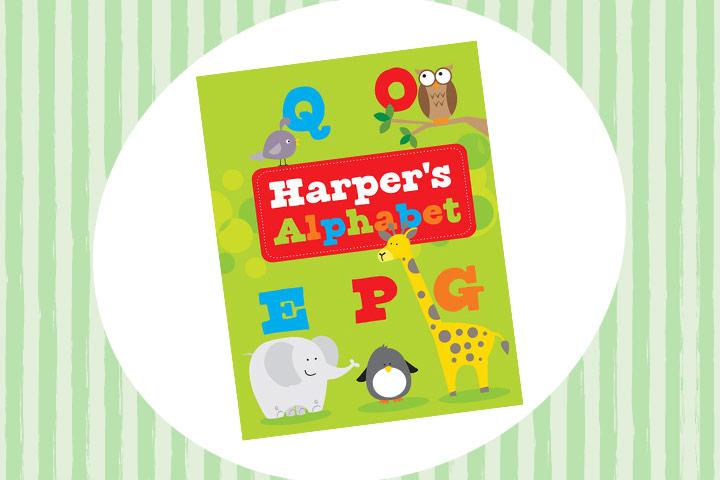 Customized Coloring Books would also make great party favors. Choose a coloring book that goes with the theme of your party. For instance, if you are hosting a monster or a princess themed party, then purchase coloring books that match with the theme. While all the themes are equally great, we'd suggest you purchase Alphabet personalized coloring book. These coloring books will be prepared uniquely with the name of your choice inserted into the book pages. The little guests will be extremely excited seeing a book made just for them. You can even conduct a coloring competition and then give the same coloring book as party favors or memoir.
Price: $6.95
Available At: Here
11. Inflatable Baseballs: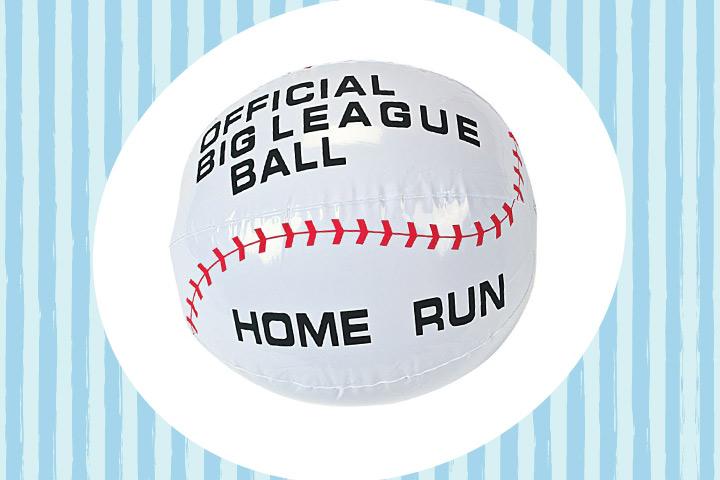 A sports themed party gives tons of opportunity for party favors. So for a baseball themed party, these inflatable baseballs are sure to get the kids bouncing. Use a permanent marker to write messages for the party attendees. You can use these oversize inflatable baseballs for decoration as well.
Price: $10.99 per Dozen
Available At: Here
12. Monster Jam 3D Filled Party Favor Box: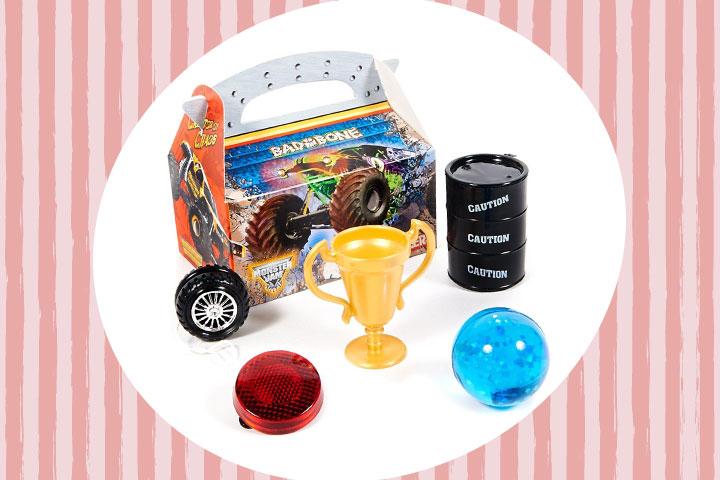 If 'Frozen' is the current most popular theme for the girl's part, 'Monster Jam' rules the boys' party. After all, which boy would not be a fan of crushing cars or roaring engines? So make your child's Monster Truck party a smash by sending your guests with fun favor box. Monster Jam 3D Filled Party Favor Box includes a black barrel filled with slime, a glitter bouncy ball and flashing round light and a wheel yo-yo. The yo-yos are loads of fun to play with. And the barrel slime will give your kid ample sensory practice.
It's quite a sturdy and even the toys included are of good quality. Rather, the toys are highly durable. Even the assembling is not too cumbersome. You can assemble the whole box in less than a minute. The toy trucks are not included in the box. But you can pick them in a less than a dollar from the Dollar Store. This is one of the best and yet cheap party favor ideas for kids that will surely add fun to the party.
Price: $5
Available At: Here
13. Pink Mustache Fun Party Favor Box: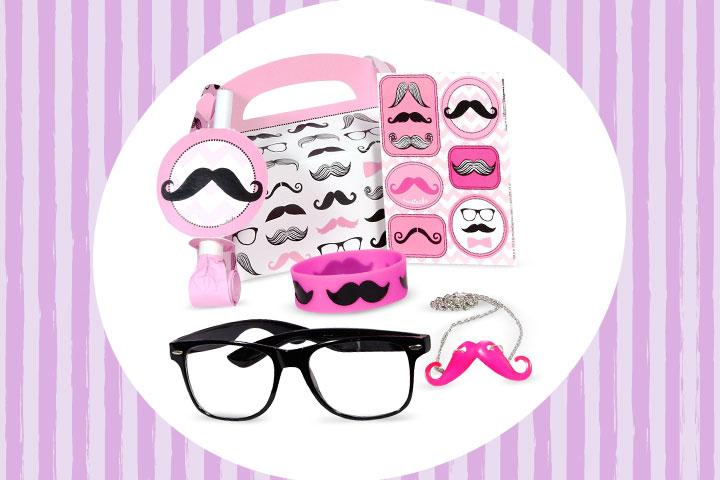 If you are organizing a slumber party for your tween, this party favor box will make a perfect addition. This party favor box focuses on fashionable accessories for girls, with each box including a pink mustache blowout, a pink sticker sheet, a neon mustache necklace and nerdy glasses. If you want, you can add pink fedoras to the box too!
Price: $5
Available At: Here
14. Bubble Guppies Filled Party Favor Box: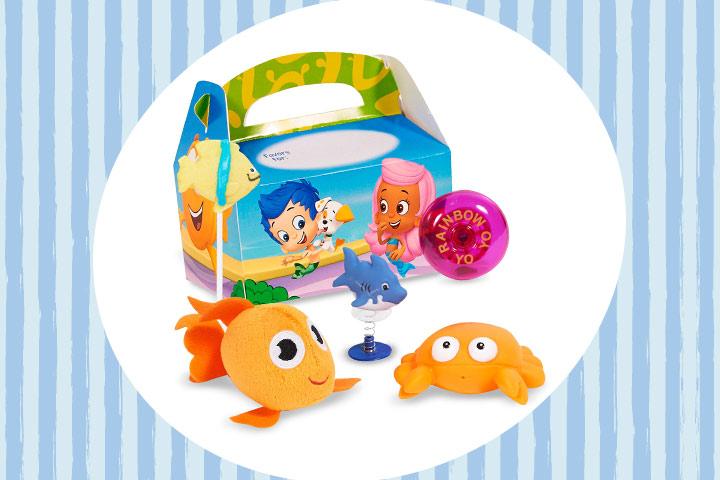 So you are organizing an undersea adventure for your child's party. Send the guests home bubbling with excitement and joy with Bubble Guppies Filled Party Favor Box. The party box includes a sea life pop up, a tropical fish lollipop, a rainbow yo-yo, a crab squirter and a plush goldfish
These party favors not only are fun but can be used to enhance the party decoration as well. The tropical fish lollipops and crab squirt toy will spruce up the snack table. The pop-up toys will make the soda and juice bottles interesting.
Price: $5
Available At: Here
[ Read: Fancy Dress Ideas For Kids ]
15. Personalized Birthday Life Saver Candies: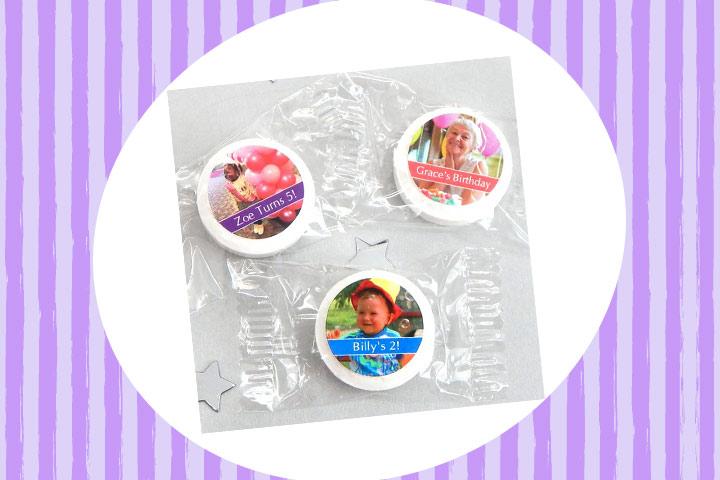 Bring life to your child's party with these personalized birthday lifesaver candies. Each candy comes packed neatly in an individual wrapped, complete with a personalized label with up to 18 characters or 2 lines. You just need to select your favorite design and enter your child's name, event date or the special message and watch them receive these refreshing treats with glee. You can even use these candies as bag fillers or as a part of a candy buffet.
Price: $0.32 – $0.36
Available At: Here
16. Curious George Favor Boxes: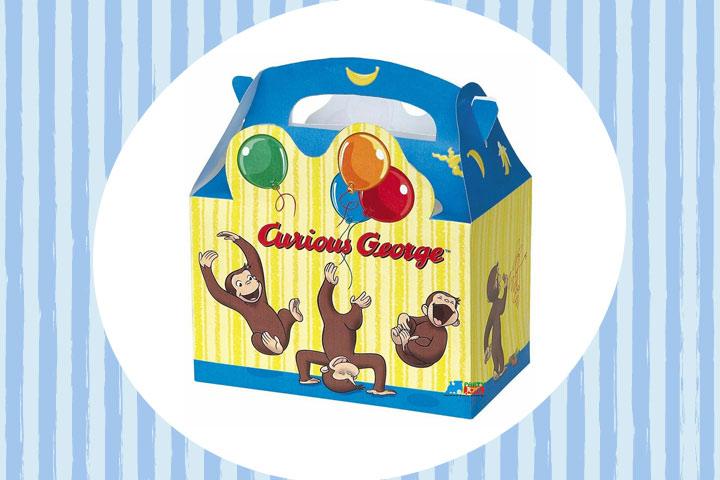 Fill the kids with joy at your child's party with Curious George Favor Boxes. Featuring the designs and exciting accents of Curious George, these colorful favor boxes are sure to stand out from other standard option. The easy to assemble feature means that you can fill these treats in no time and get the party started. And with the built-in handles, children can easily carry these boxes home.
It's totally upon you to decide what you want to fill in these boxes. Curious George plush, Curious George lollipop or candies and balloons would be perfect.
Curious George Favor Boxes are durable too! So kids can use these boxes for storing their treats or knick-knacks too!
Price: $2
Available At: Here
17. Monster High Note Pad Party Favors: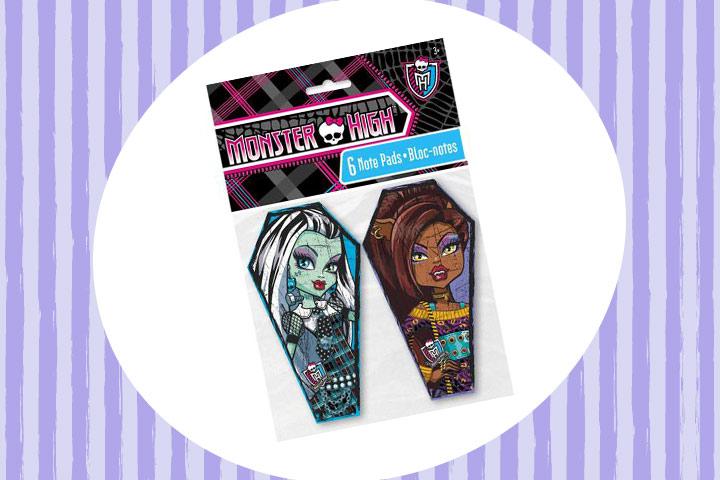 Throw the ultimate Monster High party for your child with these Monster High Note Pad Party Favors. These captivating notepads come in two unique designs, featuring two of the most popular ghoul friends from this popular show. At 4.5*2.5, children can use these notes for taking notes, drawing, taking autographs, reminders, and man more.
A package contains six note pads in the shape of coffins, with each pad featuring a different Monster High character. You can present these combined or single with other Monster High accessories or favors.
Price: $2
Available At: Here
18. Jiffy Seed Start Pots: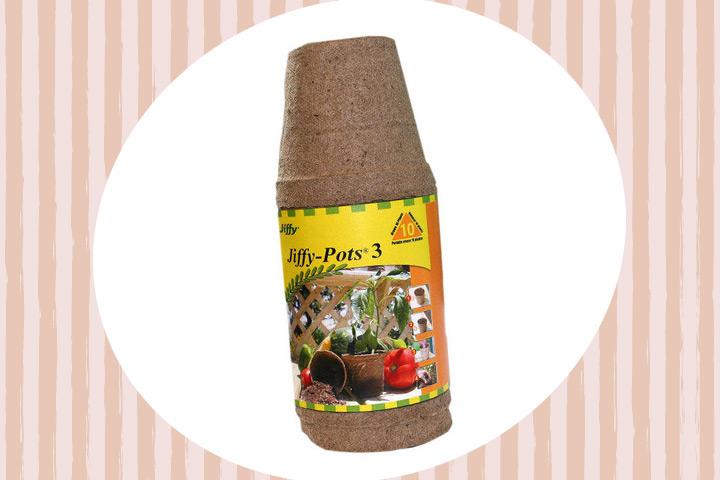 If you want to give something new and useful to the children, grow-your-own flower kit would be helpful. These plant pots are not just educational, but can even increase the child's interest in gardening. They just have to plant the entire thing, including the pot in the ground and check them after a few months. Made of Canadian peat moss, these pots are perfect for seeding and cutting. It even improves root development of the plant.
Price: $4.59
Available At: Here
[ Read: Group Games For Kids ]
19. Personalized Birthday Mini Gable Favor Boxes: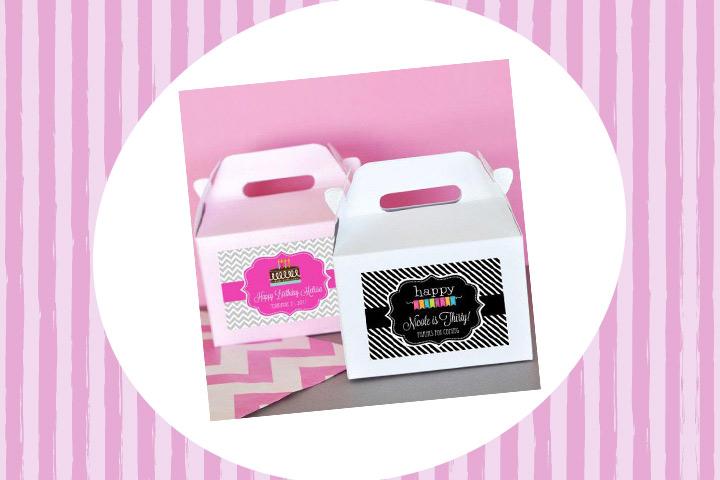 Thank the little guests in your house with personalized mini gable favor boxes. You just need to select your favorite label design, box color and personalize with special messages. You can fill these boxes with cookies, candies, toys or anything you like. These unique favor boxes come with a convenient handle, making it easier for younger children to carry. And they look beautiful!
Price: $12
Available At: Here
20. Decorate Your Own Train Party Favor: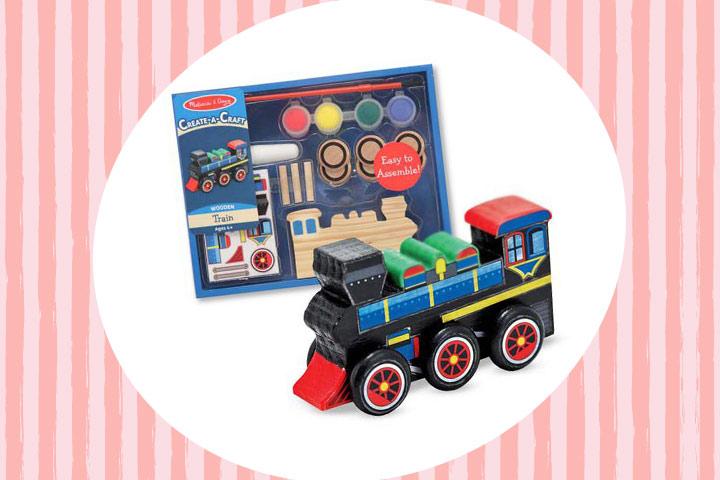 Decorate Your Own Train Party Favor is hands-down the best birthday party favor ever. The kit includes a block of wood shaped like a train's engine, colorful paints, six wheels, paintbrush, glue and decorative stickers. Children can decorate or paint their train any way they like. Isn't that fun?
Price: $2.33
Available At: Here
21.Glitter Slime:
Glitter Slime is an excellent alternative to play dough. It's incredibly easy to make and requires no cooking at all. To prepare the glitter slime, you need glitter glue, water, and borax. Mix 1 teaspoon of borax and 1 cup of water in a bowl and add glitter glue in another bowl. Add one tablespoon of water of the glue and mix well. It will make the glue flexible. Pour the borax mixture into the glue bowl and mix well. You can even ask your tot to help you make glitter slime for his friends.
You can either make one batch of glitter slime or small batches in different colors. Pack the slimes in baby food jars and beautify with stickers or ornaments.
22. Recycled Crayons:
Who does not have a bunch of crayons around the house that has children? But instead of tossing them in the trash, use the bits and pieces of crayons for making party favors for children. Wondering how to do it? We'll tell!
Peel the wrappers from the crayon and break into pieces. Fill the muffin tray with the crayon bits about an inch deep. Bake the crayons for 15 to 20 minutes or until the wax melts. When the crayons melt completely, put them on the wire rack to cool. Once they have cooled, pop out of the pan and wrap.
Apart from the muffin tin, you can even try metal cookie cutters or candy molds for making these party favors.
You can even try mixing colors for fun. Or select the colors that go with your party's theme. Pack the cups in the cellophane paper and tie with a ribbon to create a cute party favor. The little guests will be tickled to receive such a useful and unique gift.
[ Read: Kids Birthday Party Places In India ]
23. CDs:
Are you hosting a musical birthday party? Then CDs will make great party favors for your rocking birthday party. Burn a few CDs in the children's favorite music mix. Print out the labels from the internet and make the sleeves. You can even purchase ready-made CD cases from the market.
CDs work as excellent party favors for kids of all ages, whether you are hosting a musical party or not. You should just try not to pick annoying songs.
24. Gummy Skewers:
If you want to give edible party favors to the children, then gummy skewers would make a different pick. These skewers are fun and easy to make. Just put the gummy candies onto a lollipop stick or a skewer, cover in cellophane and top it with a bow.
Check out the candy stores for different types, shapes, color and flavors of gummy candies. Or select gummies that complement your party's color or theme.
25. Superhero Masks:
Send the little guests home in disguise with these fun superhero masks. Select the printable masks from the internet, print out the template on the cardstock paper and then cut out. Add elastic, a curling ribbon or string to each mask and you are done.
You can make the masks a tad fancier by making the masks out of the fabric or felt. Felt does not fray, so you do not need to sew. Just stick the pieces together using a hot glue gun.
Hand over the gifts to the little guests before they wave goodbye to you. Or you can even ask them to decorate it as a party craft. Either way, these masks will make fun party memories.
26. Personalized Flash Lights:
This idea is especially for slumber or sleepover parties. Purchase flashlights in a variety of colors. You can buy any size flashlights, from smaller, keychain flashlights to the larger ones. Now write the name of the guests on each. You could stick the letter stickers or write the name using a paint pen.
Hand over the flashlights to the children and ask them to add pizzas by decorating it. Provide them with materials like paint, duct tape, stickers or stick-on jewels to decorate the flashlights. After the end of the party, give the kids their flashlights. Do not forget the batteries.
27. High-Flying Balloons:
It is always fun to send children home with their mini balloon bouquet. You can even attach a bottle of bubbles to weigh down the balloon. And a personalized note to thank the guests for coming is a must. Just keep a few balloons on hand to account for those that pop.
28. Playdough Party Favors:
The kiddos in your party are going to love these inexpensive and easy to make party favors. But the best thing is that these playdough are non-toxic, and all natural. You just need to match the color of the play dough with the theme of your party.
To make the playdough, you need to combine the vegetable oil, cream of tartar, vegetable oil and a few drops of food coloring. Cook the mixture in a saucepan over medium flame until warm. The cream of tartar will ensure that the playdough stays up to 6 months in an airtight container.
So the next time you are planning your child's birth, forgo the cheap toys, stationery items and candies and send your little one with these lovely party favors.
What is the best party favor that you or your child have ever received? Tell us about it below.
Recommended Articles:
The following two tabs change content below.