Are you addicted to caffeinated beverages? Do you know that caffeinated beverages can have a negative impact on your growing fetus? Have you considered the option of drinking peppermint tea? If not, consider it, as it has many benefits. But, can you drink peppermint tea while pregnant?
If you can relate to the above situation, you should read our post.
Here, we talk about the essential health benefits of peppermint tea and how it helps to ease your pregnancy blues!
Peppermint Tea During Pregnancy
Most herbal teas are a safe replacement for caffeinated beverages for pregnant mothers. Caffeinated drinks increase the risk of the low birth weight in the newborn baby.
Peppermint is a hybrid, a perfect blend of spearmint and watermint. It also boasts of a high proportion of menthol. Peppermint is a natural coolant and helps to soothe your stomach muscles. Pregnant women typically encounter indigestion or Irritable bowel syndrome. Peppermint tea is quite effective in treating such stomach disorders. Expectant mothers love the strong aromatic flavor of the peppermint tea. (1)
Health Benefits Of Peppermint Tea While Pregnant
Peppermint tea is a refreshing beverage, one that helps boost your health during your pregnancy. Due to its high methanol content, peppermint, helps improve digestion or unwanted stomach irritation. The aromatic flavor of peppermint tea helps the body and mind to relax and remain stress-free.
Some of the effective health benefits of peppermint tea include:
1. Improves Digestive Health:
Peppermint tea or the oil extracted from the peppermint leaves helps treat gastrointestinal disorders effectively. As a pregnant woman, you will suffer from indigestion or bloating. Peppermint tea is herbal, and it helps calm the stomach muscles and relieves symptoms of pain or irritation.
Excess gas in the stomach can lead cause bloating or cramping in the body. But the peppermint tea stimulates bile flow and promotes healthy bowel movement during pregnancy. The soothing effect of peppermint tea on the stomach cells helps relieve any digestion disorders you may face, which include irritable bowel syndrome, constipation or diarrhea.
2. Cures Nausea And Vomiting:
Nausea and vomiting are common discomforts of a pregnant mother. The aromatic peppermint tea acts as an antispasmodic and reduces the tendency of vomiting, nausea or morning sickness during pregnancy. So, next time you throw up during pregnancy, try some peppermint tea.
3. Treats Respiratory Issues:
As peppermint tea serve as an antispasmodic, it helps reduce the respiratory disorders. The soothing effect of the peppermint helps relax your chest and throat muscles. Peppermint tea helps eliminate excessive chest pain and relieves symptoms of cold and flu.
4. Boosts The Immune System:
Peppermint tea has an antibacterial effect on the body. It helps pregnant women stay away from viral infection including cold, cough and influenza fever. Peppermint tea boosts your immune system and helps you fight infections.
[ Read: Safe Herbal Teas During Pregnancy ]
5. Reduces Stress Levels:
With the onset of pregnancy, most women feel anxious or stressed. Peppermint tea is a natural sedative that helps relieve excessive mental stress. The anti-inflammatory and soothing effect of peppermint helps to reduce your body temperature and the blood pressure. The effect also helps relax your muscles and makes you feel tranquil and serene.
Peppermint oil is a favorite among aromatherapists, and it has a variety of uses in aromatherapy.
Side Effects Of Peppermint Tea During Pregnancy
Peppermint tea is a relaxant, a sedative, a veritable stress buster. However, it still has some side effects, which include:
1. Precautions For Pregnant Mothers:
Drinking peppermint tea during the sensitive phase of pregnancy can cause the uterus to relax. It can thereby increase the risk of miscarriage. Though there is no scientific evidence to show a link of peppermint tea with miscarriage. But women with a history of miscarriages should abstain from consuming peppermint tea. Moreover, lactating mothers should also not consume peppermint tea during breastfeeding, as it can have harmful effects on their infants.
2. Adverse Interactions With Other:
Medications:
Sometimes, peppermint tea has a negative impact when it interacts with other medications. During pregnancy, you need to consume prenatal vitamins and other medications, according to your gynecologist. So, before drinking peppermint tea get requisite advice from your health consultant.
3. Induces Allergy:
If you are expecting and you are allergic to methanol, you must avoid peppermint tea. Peppermint tea can lead to allergic reactions and increase their frequency. If you suffer from respiratory disorders like asthma, you should avoid drinking the herbal tea.
[ Read: Benefits Of Raspberry Leaf Tea During Pregnancy ]
4. Consequences Of Over Dosage:
Excess is bad, whether it is food or beverage. Overdosing on peppermint tea will induce a negative impact on the health conditions. Similarly, drinking excess peppermint tea during pregnancy can induce several health discomforts including muscle pain, drowsiness, slow heart rate and sudden tremors. (2)
Is It Safe To Drink Peppermint Tea While Pregnant?
Is it safe to consume peppermint during pregnancy? Well, yes and no. You can consume peppermint tea during pregnancy, but consult your doctor before you do so, as it may not agree with your body. Avoid an overdose of peppermint tea during pregnancy. To prevent overdose, measure the number of leaves before you prepare one cup of peppermint tea.
Ideally, every mug of tea must contain no more than one gram or one tablespoon of peppermint leaves. Use around 150-160 ml of water to boil the tea. You should not consume more than two to three servings of the herbal tea every day.
How To Make Peppermint Tea?
You Will Need:
One tablespoon of dried peppermint leaves
How To:
Boil one cup of water in a saucepan
Add one tablespoon of dried peppermint leaves in the boiling water
Slow the flame, to let the aroma get into the boiling water
Add sugar according to your taste
Peppermint tea can help improve your health conditions. But ensure that you avoid an over dosage of any herbal tea.
Did you consume peppermint tea during your pregnancy? What health benefits did you experience? Tell us about your story below.
The following two tabs change content below.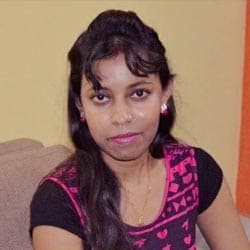 Ria Saha
Ria is a techie-turned-writer and writes articles on health, with special emphasis on nutrition. She did her B.Tech from West Bengal University of Technology and was previously associated with IBM as SAP ABAP technical consultant. She moved into freelance content writing in 2013 and worked for various websites including MomJunction, Brainpulse Technologies, and Emarketz India.