It's the weekend, and the kids are home, and you are at your wit's end on how to keep them busy. But, if your little ones are into making crafts, there is a myriad of activities that you can engage him with. How about pipe cleaner crafts for kids? This is one of the easiest craft items that your kid can use to make different and interesting objects is a pipe cleaner.
A pipe cleaner is one of those craft items that is readily available in almost all stationery as well as arts and crafts stores. It is extremely affordable and doesn't spoil over time, which means that you can easily stock it at home. Pipe cleaners also come in different colors, which makes them, even more, suitable for different craft ideas and projects. So if you would like to help your kids try these beautiful and easy pipe cleaner crafts at home, keep reading.
1. Pipe Cleaner Flowers:
To create the pipe cleaner flowers, all your kid needs to do is find pipe cleaners in the colors that she want the flowers to be in.
She will also have to get a different colored pipe cleaner, either green or brown, to create the stem of the flower. Your kid can also use another color variation to make a small ball in the center of the flowers to make them stand out.
Ask your kid to twist the pipe cleaner that will form the flowers and make petal shapes out of it. Once the petals are ready, your kid has to glue the small round in the center and the stem at the base.
[ Read: Paper Flowers For Kids ]
2. Pipe Cleaner Humans With Love Heart:
Here is a rather cute idea that your kid can try using pipe cleaners and also use it as a greeting card.
Ask your kid to take pipe cleaners in two different shades and twist them into a human form. For the skirt of the female figure, your kid can attach a small foam sheet. Your kid can also choose the pink and blue colors to denote the male and female characters.
Ask your kid to use red pipe cleaners to make the hearts and stick them between the two human figures to represent the feeling of love.
[ Read: Valentines Crafts For Kids ]
3. Pipe Cleaner Heart Balloons:
Let your kid use red pipe cleaners and twist them into the shape of a few hearts.
To give them the appearance of balloons, ask your kid to use another shade of pipe cleaner and attach it at the base as the string of the balloon.
Your kid can also use more pipe cleaners to tie the strings together and form a bunch of balloons.
4. Pipe Cleaner Picture Frame:
Your kids can try and make these very pretty and easy to make picture frames using only red and white pipe cleaners.
All your kid can do is twist the pipe cleaners one over the other in alternate shades and create a square or rectangle shape. Once it is complete, your kid can glue it at one end to hold it in place.
You can help them stick a picture in the middle and gift it to a grandparent.
5. Pipe Cleaner Christmas Tree:
While your kids will love seeing a regular Christmas tree, here is another great version that they can make and send across as a greeting card.
Ask your kid to twist a green pipe cleaner into a triangular shape and add a brown pipe cleaner at its base. For the star, your kid can use a yellow pipe cleaner, twist it and glue it on the top. Your kid can also use pieces of red pipe cleaner to decorate the Christmas tree.
[ Read: Family Craft Ideas For Kids ]
Your kids will love the amount of things they can create by simply twisting around one or more pipe cleaners. Encourage them to come up with more ideas. Moms, have your kids ever tried any craft ideas or activities with pipe cleaners? If yes, do share them here.
Recommended Articles:
The following two tabs change content below.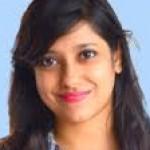 Latest posts by Debolina Raja (see all)