It is a powder that turns into a gooey mixture when mixed with water. You can mold this smooth, malleable mix into any shape you want. And when you leave that molded lump of plaster to dry for a while, it hardens just like that!
What are we talking about?
Plaster of Paris! Also referred to as POP, it is one of the most flexible raw materials you and your kids can use to make beautiful artifacts. MomJunction has compiled a list of easy-to-do plaster of Paris crafts for kids.
Read, learn, and create!
Tips To Mix Plaster Of Paris
POP is a tricky substance. You need to add just the right amount of water to get the right consistency so that it will stay intact when you mold it. Here are a few tips that you should keep in mind when you mix POP.
Plaster of Paris can become hard sooner than you know. So do not mix it with water unless you are going to use it immediately.
The ideal ratio of POP to water is 2:1 or two portions of POP to one portion of water. Always use a measuring cup to mix.Make the POP fine, without lumps, using a spoon or spatula.
Pour a cup of water in a bowl, wide enough to mix the POP. To that, add the powder. Sprinkle the powder into the bowl – do not pour the powder in one place. Keep adding the powder slowly, while tapping the bowl in between to remove any air bubbles.
Spread it as much as possible in the container. When you see that the powder has almost reached the surface, which is around the 2:1 ratio, it is your cue to stop adding the powder.
Now mix the POP slowly to get a smooth consistency. Vigorous mixing will create air bubbles, which you do not want.
For color, you can add poster paint or acrylic and continue to mix, while ensuring that there are no lumps.
Wait for a minute, but no more, before pouring the mix into the molds.
Sounds like a daunting task, right? Well, it won't be once you get the hang of it. But do note that plaster of Paris is an extremely fine powder and can quickly disperse into the air as dust. Make sure that you are around to keep the children safe when they work on these crafts with plaster of paris.
To stay safe, use a dust mask when mixing it.

Ten Simple Plaster of Paris Crafts
The crafts you choose for your children should be encouraging, not overwhelming. Keeping in mind a child's levels of patience, cognitive skills, and hand-eye coordination, we have chosen these crafts.
1. Plaster of Paris beads
You can make POP beads alright, but they are going to be big. Here is a fun way to make them.
You will need:
Molds of different shapes
Plaster of Paris
Water
Drinking straws
Scissors
Petroleum jelly
Poster paint
How to:
Mix the plaster of Paris in a bowl or two, depending on how many colors you want to use.
Spread a sheet of wax paper on a tray.
Grease the insides of the molds with petroleum jelly and place the molds on the wax paper.
Using a spoon or ladle, pour the plaster of Paris mix into the molds.
Let them dry at least for 24 hours before removing the POP shapes from the molds.
Remove the straws from the POP shapes and tie a ribbon through the tiny holes.
Colorful beads are ready.
[ Read: Advent Crafts And Activities For Kids  ]
2. Cupcake candle stand
Need a candle stand? Why not make one then?
You will need:
Plaster of Paris
Water
A candle
Sticking tape
Cupcake wrappers
Cupcake or muffin trays
Petroleum jelly
How to:
Mix the POP with water – mix just as much as you need, for as many candle holders as you want to make.
Place the cupcake wrapper in the muffin tray and fill half of it with the POP mix.
Wrap the bottom part of the candle with tape and place it in the center of the POP, slightly pushing it in.
Holding the candle, pour the remaining POP until the cupcake wrapper is filled to the brim.
Hold the candle for a few minutes or until the POP is hard enough to hold the candle on its own.
Set it aside to dry for at least 20-24 hours.
Deck them with beads or anything else you want. Your candle holders are ready for use.
3. POP leaf
When you want to create an impression, using POP is one of the best options. In this tutorial, we tell you how to make leaves using plaster of Paris.
You will need:
Leaves of your choice – pick leaves that are neither too small or too big
Plaster of Paris
Water
Water or oil paints
Glue
Paintbrushes
Gunny cloth or burlap
How to:
Mix the plaster of Paris and make flat frames as shown in the image.
Press the leaves into the fresh mold of POP (see the image). Let it stay that way for a few hours or bake it under the sun.
Once they have hardened, remove the leaves from the POP.
Before you paint the leaves, apply glue over the area that you wish to color. This prevents the paint from being absorbed by the POP frame.
Once the paint dries, the leaf prints are ready.
[ Read: Leaf Crafts For Kids ]
4. Plaster of Paris ice cubes
Another way to make shapes using plaster of Paris is by using designer ice trays. These trays will allow you to make a larger quantity of POP crafts that can be used as gifts for children or to raise money for charity!
You will need:
Plaster of Paris
Water
Oil paints or acrylic color
Drinking straws
Petroleum jelly
How to:
Mix the POP, and put it in different bowls or cups.
Add the colors you want to the individual cups and mix them well.
Grease the ice trays with petroleum jelly.
Pour the plaster of Paris mix into the trays.
Cut the straws in half and insert one in each section of the tray.
Let it dry overnight or longer if needed.
Once the cubes are completely dry, remove the straws and voila the colorful ice cubes are ready.
[ Read: Snowflake Crafts For Kids ]
5. Sidewalk chalk
Chalk is perhaps the easiest thing you can make using POP. You could add color if you like or just leave it white.
You will need:
Plaster of Paris
Water
Empty toilet roll
Wax paper
Scissors
Acrylic color or oil paint
How to:
Cut a piece of the wax paper and roll it into the toilet paper roll. Seal it at one end and let the other end be the opening.
Mix the plaster of Paris adding whatever colors you want.
Pour the POP mix into the wax paper inside the toilet roll through the opening.
Press the rolls to flatten the bottom and let them dry for at least a day.
Once they are dry, cut off the toilet rolls and the wax paper.
The chalk is ready to be used.
6. POP ghosts
Need some more cavalry to scare your guests at Halloween? Try making these POP ghosts.
You will need:
Plaster of Paris
Water
Cheesecloth
Black markers
Newspaper
How to:
Cut the cheesecloth into small 5×5 inch squares.
Take some waste paper or newspaper and make balls out of it. The size of these paper balls must be as big as you want the little ghosts to be.
Mix the plaster of Paris with water and make the mix slightly loose, like pancake batter.
Dip the cheesecloth in the plaster of Paris mix and take it out.
Drape the POP-dipped cloth over the paper rolls or balls, and straighten the fabric towards the bottom.
Let it sit for at least ten minutes or until the POP hardens.
Use the black marker to draw eyes and mouth of the ghosts.
Let the ghosts dry a little longer and then place them where you want to spook the guests!
[ Read: 3D Art Craft Ideas For Kids ]
7. 'POP'sicles
A popsicle made from plaster of Paris will never melt! So, do you want to know how to make it?
You will need:
Plaster of Paris
Water
Ice cream sticks
Popsicle molds
acrylic or oil colors
Bowls
How to:
Mix the POP with your choice of oil or acrylic colors in different bowls.
Grease the popsicle molds with petroleum jelly.
Pour in the plaster of Paris and put an ice cream stick in the center.
Leave it to dry for 24 hours.
Remove the popsicle mold once it is completely dry and you have the craft ready.
8. Funny Minions
Minions are funny. But these plaster of Paris molds of Minions are more comical!
You will need:
Plaster of Paris
Water
Oil or acrylic paints
Paintbrushes
Clay powder
Googly eyes
How to:
Mix the POP and mold it into the shape of a small cylinder using a toilet paper roll or a PVC tube.
Leave it aside for at least 24 hours to let it dry completely.
Use clay powder, which is more malleable than POP, to make Minions' hair.
Color the Minions yellow and blue, or in any other color. Make sure you leave a spot for the eye.
Make hands using the clay powder and paint them. Once they are dry, attach them to the body.
Add the googly eyes after the paint dries.
Aren't these Minions funnier than the real ones?
[ Read: Rainbow Crafts For Kids ]
9. Cup houses
Cup houses are easy-to-make and look like igloos.
You will need:
Plaster of Paris
Water
Paper cups – small
Watercolors or acrylic paints
How to:
Mix the POP with water.
Grease the inside of the paper cups and pour the POP mix into them.
Leave it to dry for at least 24 hours. As this is a solid form, you want to make sure it has dried completely before taking it out of the cups.
Take the molds from the cups – cut them out if needed.
Place them upside down such that the bottom part is the top or roof of the house.
Paint the POP molds as shown in the image.
A cute, igloo-like house is ready.
[ Read: Egg Carton Crafts For Preschoolers ]
10. Pen stand
Where is that pen when you need it badly? Look in the pen stand!
Wait, you don't have a pen stand? Let's make one then!
You will need:
Plaster of Paris
Water
A big sized balloon
Pens
How to:
Cut the balloon across, leaving three-fourth of it at the bottom, so that it can be used as a base for the mold.
Mix the POP and pour it into the balloon. Let it dry for a few minutes, until it is slightly hardened.
Poke the top of the POP mold with four pens, as seen in the image.
Set it aside to dry for 24 hours.
The four-pen stand is now ready to use!
Interesting, right? Try making plaster of paris projects along with your kids, and they'll agree that it is a lot of fun! Once you get used to working with it, it won't be difficult using POP to make crafts. For all you know, your kid may start working on intricate POP designs in no time.
So, what are your favorite craft ideas using plaster of paris that you enjoy creating with the kids?
Recommended Articles:
The following two tabs change content below.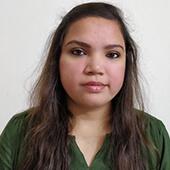 Harshita Makvana
Harshita is a graduate in commerce and holds a PG Diploma in Patent and Copyrights Law from NALSAR University. She has also pursued CA and has more than three years of internship experience in auditing. Her love for travelling has taken her to various parts of the world, and writing the travelogues was what brought out her love for content writing....
more