Words are undoubtedly the most powerful way of communication. Poems can help you express your love and affection for anyone. And if you have a little princess, then reciting poems about daughters can brighten up their day smiles.
Your darling little girl will always be so precious, no matter how old she gets, and a poem is sure to fill her heart with the warmth of your love. So keep reading as we give a collection of beautiful and adorable poetry for your daughter to convey your love.
55 Beautiful Poems For Daughters
1. When my daughter walks into a room,
All you can do is smile.
Her happy little face can take away any gloom,
Her chubby little cheeks,
And her big bright eyes,
Always seem to take away my sorrows and sighs.
She loves to play outside.
In the sun or the rain,
She never worries about the weather,
Or if she falls and is in pain.
She loves her cartoons,
And to listen and dance to music,
She loves it at night to sit and stare at the moon.
My daughter is always on the go.
She never wants to rest,
Which is easy to see why,
Her room is always a mess.
She loves her grandma most,
Sometimes I think more than she loves her toast.
2. Daddy's little girl,
Small but hard-headed,
Just like him!
She would try anything he's done to be like him.
He would bring her outside and show her the trees and birds.
What life is outside the house.
As she grew, she often wondered,
Why he did what he did,
As far as showing her what nature was.
But as life went on, she understood,
That life is too short, you have to learn each step.
3. I look at my child as she looks at me,
And into her eyes, I look and I see,
The innocence that fills her unspoiled soul.
These moments I wish I could treasure and hold.
But my baby is growing, and influences are strong.
I hope she remembers the right from the wrong.
I've tried hard to instill these virtues inside,
But regardless, she still fills me with happiness and pride.
4. If you could see what I see when I look at you,
You'd definitely love you, too.
You would hold your head up high,
For you possess a beauty that no one can deny.
If you could see what I see when I look at you,
There's no way you'd be so down and blue.
You wouldn't be able to contain your smiles,
For your charm goes on for miles and miles.
Please try to see what I see when I look at you.
You will feel refreshed and new.
All the anger, shame, and insecurities will just go.
I promise, my dear girl, you are too good to ever hang your head low.
5. You're my daughter,
And I'd just like to say,
You bring me joy,
Each and every day.
Whenever I think,
Or look at you,
I know I'm blessed,
That's wonderfully true.
You're always determined,
To achieve what's on your mind,
Thinking of others,
Your actions are kind.
I shall admit,
We're a wonderful team,
To have a daughter like you,
Was my ultimate dream.
6. My baby, my child,
I love everything about you.
I love you all the time,
Even when you act wild.
Even when you cannot love yourself,
I wish you happiness, love, joy, and health.
I worry about you because I cannot imagine a life without you,
Do not ever forget that no matter where this life takes you,
I will be here cheering you on, ready to love you with open arms.
7. When you were little,
You and I always talked about your day.
Years later, though, it's not every day,
We still talk about your day.
And I'm glad to hear you,
Just know, my sweet daughter,
I always love you.
8. My daughter is my everything,
She means the world to me.
She's like a little flower,
And busy as a little bee.
9. Daughters are the sunshine,
That comes after the rain.
A bright beacon of hope,
When not much joy remains.
Daughters are blessings,
A rare coveted few.
And few love their daughters,
The way I love you.
10. My daughter is very special,
Kind and very true.
If you've ever met her,
I'm sure you'd think so, too.
She has the smile,
That lights up her face.
It doesn't matter where she goes,
She's liked in every place.
I'm proud to have her as my daughter,
Prouder than anyone could ever know,
I've written her this poem,
Just to tell her I love her so!
11. You laugh with me,
When I am hearty and happy.
My dear yYou cry with me,
When it is the smallest and saddest thing.
Thanks for being such a wonderful daughter that you are,
Always shine like the brightest star!
12. She does everything without any reason,
She is just the same in every season.
She cares and does not make you feel,
She does everything for you with great zeal.
You do not have to tell her anything,
She is the sparkle of life, a very cute bling!
13. Every time I look at your pretty face,
It reminds me of my old days.
It feels amazing to see my own image in front of me,
It is just that you are prettier than I could ever be.
You are beautiful, my dear, and so is your heart,
Your mind is even wonderful, so clean yet unbelievably smart.
I am so proud to see you grow into such a lovely woman,
You, dear daughter, are the best gift to me God has ever given.
14. Grow up pretty and confident, my girl,
You have the will to go so far.
See the meanings of things that matter,
For those will take you where you are.
See positive insights in life,
That will help you to strive forever.
Try my girl if you have the wish to do,
Nobody can really stop you.
Just be who you want to be,
And life will be so merry.
You stay close to my heart and near,
I love you a lot, my daughter dear.
Short Poems About Daughters
Poems need not always be long and complicated. Tell your daughter how you feel about her through these short poems for her.
15. D azzling is your smile; it lights up my way,
A s I go about my mundane chores every day.
U nfailingly, I look forward to our daily chat,
G enuine and deep is our bond, I believe that.
H ow can I not bask in your warm, tight hug?
T hat's the cocoon where my worries I unplug.
E very precious moment, I thank Him up there,
R ealizing I have a blessing rich and rare!
16. I love your enthusiasm, your joy, and bright smile,
With you in my mind, I can go for miles and miles.
I love you so much, there's no need to be coy,
I love you so much; you're my pride and my joy.
17. You are full of so many colors,
It always fills me with so much wonder.
Red as a rose, blue as a bird,
Yellow as straw, white as the sky.
So many colors make you who you are,
In my eyes, you are my star.
18. On the day you were born,
You were the cutest thing,
In my life.
And as you got older,
You were still my cutie pie.
No matter what you did,
I still loved you,
And to this day, I feel the same.
19. My darling girl,
I love you more than words can tell.
And each day as you grow,
My one desire is for you to know,
That all who meet you wish you well.
20. You are an angel, my dear, an angel you're to us,
An angel who has been sent from heaven on earth.
You were wrapped in silver paper and placed in a beautiful basket,
You looked like this lovely jewel or a diamond placed in a casket.
God sent you to us, and we promised him we'll treat you right,
Because you were a gift sent to us under the stars in moonlight.
We love you, little daughter, for you're an angel from heaven.
21. Your one smile brightens up my whole day,
I really don't have any words to say.
You came in my life at the time when it was dark,
You have added a new spark.
It's lovely to have a daughter like you,
I think I am like the blessed few!
22. Oh, what a lovely daughter I have,
I am so proud of you.
Do you even have a clue?
That you are my life.
Oh, what a pretty daughter I have,
Thanks for coming into my life!
23. When you were small,
You used to cry in vain.
I used to comfort you,
Even in small pain.
You would say mom, please hold me tight,
I would take you in my arms to calm your fright.
Now you have grown up to be so wise,
Without you, I won't survive.
Love you, my daughter!
24. In good times,
You used to come to me with a smile.
When you were sad,
You used to cry for a while.
But I have seen, you have grown over a period of time.
I am so glad that you are mine,
My pretty daughter!
25. Daughter brings joy to your life,
She gives you inner peace.
Looking at her face,
All the tensions do cease.
Proud to have you in my life,
Without you, how will I survive?
Love you, sweetheart!
Love Poems For Daughter
Your daughter is always there for you, with constant affection and support. Express your love to her through one of these beautiful verses.
26. I have a beautiful daughter,
She is kind, sweet, and generous.
Especially to me…
She has my eyes, nose, and ears,
She looks pretty much like me…
Over the years, I've taught her to be nice and respect others.
But there is one thing she taught me,
And that was unconditional love…
She taught me how to laugh, cry, and hug,
Right from the start…
I've been blessed to say,
I thank God each and every day…
For my beautiful daughter,
And her unconditional love…
27. You are the princess in my heart,
And I care for you so much.
I love the fondness in your eyes,
And your tender little touch.
I looked at you when you were born,
And knew then straight away.
That I would be forever here,
To watch you grow and play.
You bring me a heart of joy,
And memories so great.
And a powerful sense of fatherhood,
That no one can debate.
I watch you sleep and dream of things,
That I can only wonder.
That innocent look upon your face,
Just makes my heart grow fonder.
No suffering or tragedy,
No deep-seated pain,
Could ever overshadow,
The beautiful bond that we retain.
28. She's a soft cool rain on a hot summer's day.
She makes me laugh with the funny things she has to say.
She's the beat of my heart, and the air that I breathe.
She's the sun and the wind, and autumn's golden leaves.
She's the pride that I feel, when I know she's done what's right.
She's that warm feeling I get, when I remember tucking her in at night.
She is homework and sports, and busy social life.
She has this beautiful smile that could light the darkest night.
I will always cherish the wonderful times we have had.
The best part of my life was being her dad.
29. You are my sun, my moon, and stars.
You light the sky with your fabulous style.
Your smile melts my heart away,
You captivate audiences with that gleam in your eyes.
You move monsters with your gentle spirit. I love you, my daughter!
30. If I could tell you one thing over,
It would be that I love you,
And I love you so much.
You light my world up at the end of a dark day.
You give me the hope, with your child-like faith.
I love you, my daughter.
31. I loved you before I met you.
I loved you when you gave me morning sickness.
I loved you when you kept me up nights screaming.
I loved you when you had nightmares.
I loved you when you took your first steps, when you scraped your knee, when you said you hated me.
I will love you through your heartbreaks, through your hardships, and through your hard-headed moods.
, I will love you forever, and a day more.
32. No matter how old you are,
Or what you have done.
No matter what goals you've set,
Or how many things you've won.
You'll always be my baby,
My cherished little girl.
I love you more than anything,
More than all the world.
33. My sweet girl,
You are a blessing.
The most wonderful part of my life,
And the one person,
I love above all others.
You are my light, my world,
And the reason to exist.
As you grow,
I pray you'll know,
I love you so.
34. From the day that you were born,
And I held you very close,
I knew in my joyful heart,
That you're my very precious rose.
My life changed for the better,
I felt it in my heart.
I just knew, for the rest of my life,
We'd never be apart.
Months and years have passed,
And I watched you mature and grow,
I promised myself, forever,
My love for you, I'll show.
I wish you a beautiful life,
Filled with joy and infinite bliss.
I'll always be your mother,
And my precious rose, I kiss.
35. You are the beat of my heart,
You have been special right from the start.
You are the sun that shines,
You are the light of the moon.
You are so kind,
You are my beautiful daughter,
You are one of a kind!
36. I wished for a sweet daughter,
And God gave me a little angel.
My daughter, you are my life,
You are my world.
I really can't stay a day without you,
You are my everything.
Do you have a clue?
I love you so much!
37. My sweet little angel, I love you so,
And, I just want you to know,
That you are so special in my life.
Without you, it is hard to strive,
My daughter, my sweetheart, you are the best.
Stay blessed and happy with loving zest!
38. I am so fond of you because of your innocence,
I am fond of you because you are so wise.
Don't have much to express my girl,
As you are so complete and nice.
You make my world so bright,
With you, things are just so right.
I know that you can never do something wrong,
I know that you are so strong.
I am so lucky to have you as my daughter,
Who is so adorable to all might.
Stay as you are your chubby best,
May you succeed in your every test!
39. When I first held you in my arms,
You were so perfect and so small.
You are a full-grown woman now,
And I am proud, oh how!
I saw you change throughout the years,
With awe and fascination.
To think that you will soon leave home,
It's a strange sensation.
No matter where you may end up,
Close to home or far away.
Know that I will always pray,
For your perpetual happiness and good luck.
Proud-Of-My-Daughter Poems
As a parent, you are bound to be proud of your daughter and her accomplishments. Express your joy and pride through these wonderful poems.
40. For someone, who's younger than me,
You taught me so much about womanhood.
Your intelligence and your wit,
Brightens up my day.
For that, I want to thank you, my little queen,
And know that I love you, darling.
41. My little girl is now grown and steady,
I am so proud of the beautiful lady.
You are so wise,
And with so much strength.
My love for you has no bounds,
It has no limit and no length.
42. My daughter is amazing,
She's bright and really smart.
She's really good at singing,
And really great at art.
She has a gorgeous spirit,
So sweet and really kind.
She really is the greatest daughter,
I could ever wish to find.
43. My sweet and gentle daughter,
You make your father proud.
You stand for what you believe in,
And sing your song aloud.
I love you, oh so dearly,
My amazing girl!
You make your daddy teary,
When you shine out in the world.
44. My daughter is truly,
A spectacular girl.
Whose intelligent strength,
Can take on the world.
And make human life better,
Because she's the best.
And by being her parent,
I simply am blessed.
45. Whom should I thank?
God or my destiny?
For the gift of a lovely daughter in my life,
You are an angel for me now.
I don't think without you,
I will be able to survive.
Thanks for coming in my life!
46. Do you know my love?
What you mean to me?
I may not be able to say,
That you mean the world to me.
You are the apple of my eyes,
You are perfect and so nice.
Proud of my daughter!
47. A daughter knows what you think,
She gets you what you want before you blink.
She understands the feelings so pure,
When you feel down, she is there to assure.
A daughter understands you in and out,
She shares your feelings if you have any doubt.
A daughter is the best gift in life!
48. A sweet daughter like you is hard to find,
A daughter like you, so kind.
You are pretty beyond your soul,
And you do play the most important role.
I wish that you shine brighter than the star.
A daughter like you is like the light,
Making my world so bright.
Love you my dear daughter,
There is no one like you or other!
Birthday Poems For My Daughter
It is a joyful feeling to see your daughter grow up in front of your eyes. Wish her happy birthday with any of the poems given below. You may add a poem to a birthday card or frame one and present it as a gift.
49. For the first time, I saw your face,
And in my heart, you filled that space.
I closed my eyes, and you were one,
And my love for you had grown brighter than the sun.
My heart skipped a beat when you turned two.
You were getting so big! What was I to do?
On the day that you turned three,
I gave you a baby brother to share with me.
It seemed like in no time you were four,
And when you looked at me with love, my heart would soar.
All too quickly, you turned five.
You would soon start school and leave me behind.
While gaining your independence, you turned six,
But there are still things you need me to fix.
It was not easy watching you turn seven.
You are a gift from God, sent straight from Heaven.
I shed a tear as you turned eight,
And thanked the Lord for making you my fate.
Another year gone, and now you're nine.
It's going too fast. I wish I could turn back time.
Time keeps moving, and you grow into ten.
If only we could go back to one again.
God smiles upon you as you turn eleven.
He is saving you a place up in Heaven.
Twelve comes so quickly, and you go to middle school.
Your world is so different, and now I'm not so cool.
You welcome thirteen, but my little girl I will miss.
It was in this year that you got your first kiss.
I hold my breath as you turn fourteen,
A more beautiful young lady I have never seen.
Fifteen comes and takes fourteen away,
"Please keep her safe," to God I pray.
At sixteen, you can finally drive,
I wish it were still your Barbie Jeep from when you were just five.
Turning seventeen, there's not much time,
The mountain of your youth you've almost climbed.
Eighteen comes in the blink of an eye,
And as you close this chapter, I'll try my best not to cry.
I've loved you forever, or so it seems.
I first met you when I was young, in my dreams.
You are everything I ever hoped for and more.
I'm excited to see what God has in store.
50. I never thought a part of me,
Could be a separate part.
She has my eyes and chin,
And, of course, she has my heart.
I'm talking about my daughter,
My precious little girl.
She's my little princess,
My gem, my tiny pearl.
Happy Birthday!
51. My dearest daughter, my favorite person,
You make this life all so worth it.
I love your smile and the way you are,
I've watched you grow, and you've come so far.
I'm proud of you and all that you've done,
Now let's celebrate, and have some fun.
52. Here's to you, my little lady,
Dressed in grey, and black, and navy.
Hair that's bouncy and so wavy,
It's your birthday, let's get crazy!
I've watched you grow and watched you blossom,
I'm proud to say that my daughter is awesome.
53. Happy birthday to my favorite girl,
You are my life, my entire world.
You bring me joy with all that you do.
You make my day, and I love you.
So happy birthday, let's have some cake,
It's your day to enjoy, it is what you make!
54. Happy birthday,
Beautiful daughter of mine!
When I look at you,
Your eyes always shine.
Your personality,
I truly admire,
Your love for life,
Is here to inspire.
It's been another,
Absolutely wonderful year,
That I've been blessed,
With you, my dear.
Countless birthday wishes,
I would like to share,
With a daughter like you,
That is special and rare.
55. So delicate and tiny is your little hand,
So adorable is the way you try to stand.
So gentle and sweet is the sound of your voice,
So is that smile of yours when you are playing with your toys.
My darling little daughter, I love you so,
You are too small to even let you know.
But I just can't wait to watch you grow,
Because you will be the most beautiful girl, I ever know.
Happy Birthday!
These poems are a great way to display your love and constant support for your daughter. You do not always need an occasion to use any of the poems; use them whenever you feel your daughter needs motivation and reassurance. Daughters are precious, special, and our source of happiness and strength, so make sure they always remember it.
The following two tabs change content below.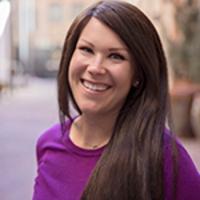 Ashley Baldwin
(Licensed Professional Counselor)

Ashley Baldwin is a Licensed Professional Counselor (LPC) who specializes in Perinatal Health. After her Master's in Counseling, she did certifications in Perinatal Mental Health and is a Certified Addictions Counselor (CACII), with more than 13 years of counseling experience. She has been private practice since 2018.    Ashley has a passion for helping women during all of the seasons...

more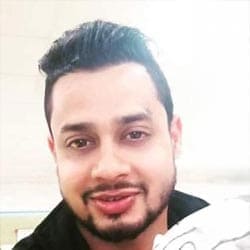 Shivank Joshi
Shivank is an experienced professional with a passion for writing, editing, and research. With a bachelor's degree in Mass Communication, he previously worked as a production editor. Shivank transitioned into a writer/editor, contributing to various publications as a freelancer. He writes literature, including quotes, poems and wishes, for MomJunction. He has a special interest in music and relationships. During his...
more