When you are pregnant, you tend to adapt vulnerability to different kinds of smells. Sometimes, mild fragrances in few perfumes can relieve you of the nausea which is symptomatic of the morning sickness syndrome. Is deodorant safe during pregnancy? Using deodorants or perfumes during pregnancy has been a highly controversial topic over the years.
However, medical experts state that a lot depends on the kinds of perfumes or the deodorants that you choose. The safety parameters are clear and simple for the choices that you can make while opting for the fragrances.
Perfumes Or Deodorants To Be Avoided:
Is it safe to use deodorant during pregnancy? It is recommended that while pregnant, you keep away from perfumes that contain the following ingredients in them:
High alcohol content
Chemical combinations used in the perfumes (some of the chemicals like phthalates can cause respiratory, skin and hormonal problems)
Synthetic fragrances
Mineral Oils
Parabens
Safe Perfumes And Deodorants During Pregnancy:

Experts state that you should pick the perfumes that have:
More natural ingredients and lesser chemical composition in them.
The market is now flooded with perfumes made out of natural extracts like ginger and citrus.
These variants are more recommended for use rather than the regular, strong scented brands.
Amount Of Perfumes Or Deodorants To Be Used:

While you are absolutely allowed to indulge in the milder versions of fragrances made out of natural oils and extracts, the amount of usage should be kept moderate.
Spraying minimal amount of perfume is always better than an excessive use while you are pregnant.
Make sure you pick the right and the most popular brands in natural perfumes than the new arrivals.
This is no time for experimenting or window sniffing.
[ Read: Manicure During Pregnancy ]
Natural Fragrances Available In The Market:

These days, the market is flooded with a plethora of options for perfumes made out of natural extracts. Below are some of the fragrances that you can try which are nice and mild for your pregnant body:
Ginger
Peppermint
Cardamom
Citrus (Orange, Neroli and Mandarin)
Lavender
Rose
Chamomile
Sandal
Lemon Grass (milder variant)
Honey Apple
Strawberry (milder variant)
Watermelon
Grapefruit
Jasmine (milder variant)
Chamomile
Vanilla
Cinnamon
Hibiscus
Pink Amber
Peach
Lilac
Lemon Mint Leaf
Cherry
Raspberry
Fig
Balsam
Coconut Lime
Cucumber Melon
Cranberry
Juniper
Passion Fruit
Green Tea
[ Read: Facial During Pregnancy ]
Popular Perfumes and Deodorants During Pregnancy:

There are few well-known brands that sell exclusive mild fragrances that are helpful during pregnancy. Here are some that you can go for:
1. Tarte's Maracuja Oil:

This perfume is packed with vitamin C. It comes without chemicals like parabens, phthalates, sodium lauryl sulfate, mineral oil or synthetic fragrance.
2. Bath And Body Works Eucalyptus Spearmint:

These are an exclusive range of mild fragrances that you should definitely try when pregnant. These are super mild and devoid of harsh chemicals. These fragrances are ideal to be used as a body mist. Eucalyptus spearmint is one good option that calms the nerves and elevates senses.
3. Bath And Body Works Lavender Chamomile:

If you love lavender fragrance, try the ideal combination of lavender with chamomile fragrance in the Bath And Body Works range. This is a perfect choice to relax.
4. Bath And Body Works Lavender Vanilla:

The Lavender Vanilla range is ideal for you if you do not mind a dash of vanilla essence in what you are wearing.
5. Bath And Body Works Orange Ginger:
The new Orange Ginger mix by Bath And Body Works is ideal if you love citrus and spicy flavors. If you love the combination of orange and ginger, settle for nothing less.
It is recommended that you do a test run by applying just a single spray on your wrist and see how you adapt to the particular fragrance. The stronger versions of citrus can also be avoided as they sometimes cause nausea rather than giving out the calming effect.
[ Read: Nausea during pregnancy ]
Call The Doctor:

You have to immediately call your health care provider if you experience any or all of the below reactions to the perfumes used:
Rashes
Allergies
Breathing problems
Headache
Choking
These symptoms have to be brought to immediate medical attention regardless of the mildness of the perfume used.
[ Read: Breathing Problem During Pregnancy ]
Talk to your doctor to understand your limitations while using perfumes in case you have any previous medical history of allergies. Any past conditions that can trigger upon using a perfume have to be evaluated thoroughly.
Pregnancy is a great time, one that needs you to be relaxed and feel your best. Enjoy these fragrances and ensure you and your baby are safe too! Do share which one did you liked while you were expecting:
Recommended Articles:
The following two tabs change content below.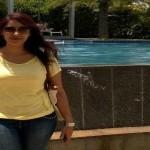 Latest posts by Deepa Balasubramanian (see all)