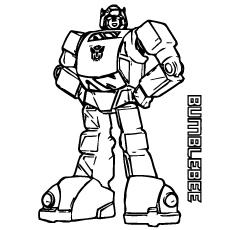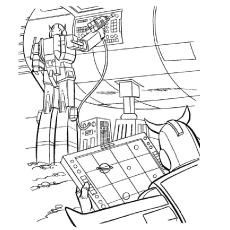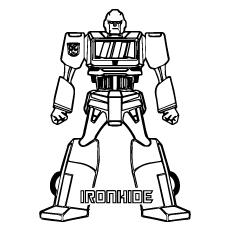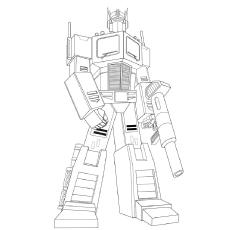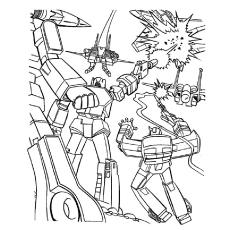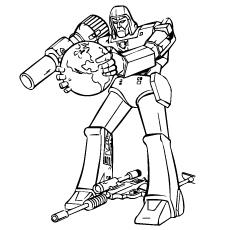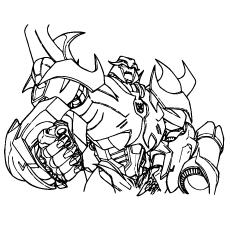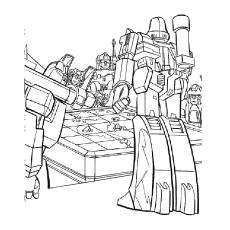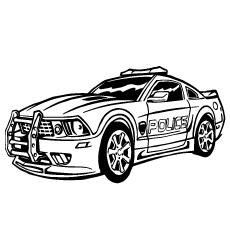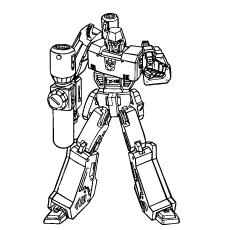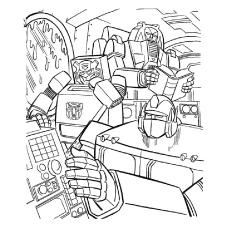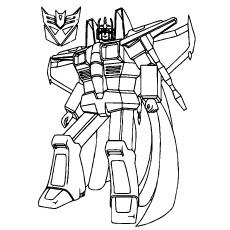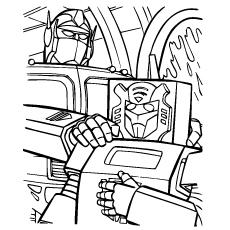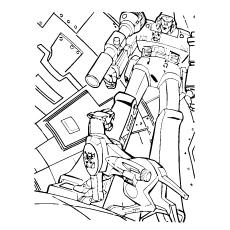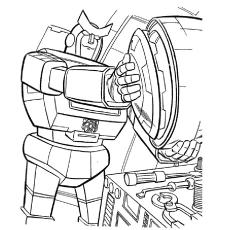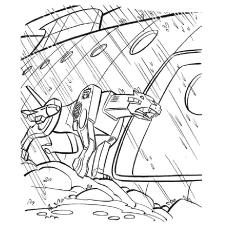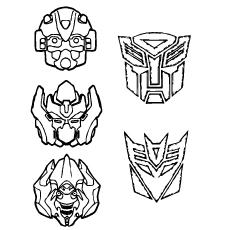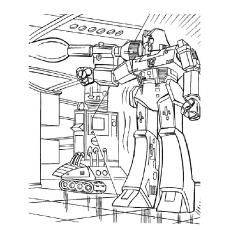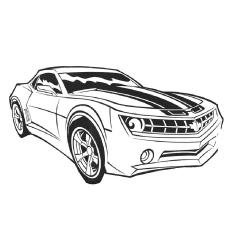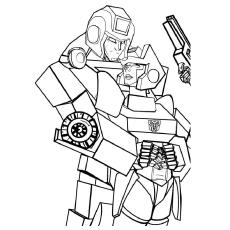 Recommended Articles:
Children are always attracted to magic, tricks, super-powers, exaggerated and overwhelming characters that represent enormous power and influence. This is why, superheroes have such a huge influence on their young and creative minds.
Evolution of transformers
Transformers is a branded toy line from Hasbro which is hugely popular among toddlers and pre teens. Even a film series was produced by Steven Spielberg based on these toy line which further made transformers a household name.
Bring Superheros on your child's page
Children are hugely attracted to these transformers and if you provide them with coloring sheets with the pictures of transformers, they will readily agree to do the coloring and it will be easier for you to indulge them in recreational and creative activity.
Top 20 Transformers Coloring Pages For Toddlers:
Here are the top 20 printable transformers coloring pages to kindle interest among children:
1. The Transformer Power:
Transformers are auto robots or shortly called auto bots and look like huge vehicles. The picture of transformer in this coloring page is in quite detailed. This will give your child enough practice to color within the limits of the intricate linings in the picture and also bring out the expected character.
2. The Lone Fighter:
This transformer with planet earth in his hand looks destructive and powerful. Children love such action-oriented pictures and although difficult, their attraction towards the theme keeps them hooked to coloring and will make them complete the whole picture.
[ Read: Spiderman Coloring Pages ]
3. It's War Time:
With two and more transformers, fighting with their unique automatic weapons the overall scene in this coloring page is quite dramatic and attracts the young transformer fans to color and bring more life to the picture.
4. Reading Transformer:
The picture shows a big transformer reading a book whereas couple of his team men are checking some machines. Many buttons, gadgets along with transformers are present in the picture that the young children find attractive. Adding color to such  pages, give the sketch more life and character which the children find quite amazing.
[ Read: Superman Coloring Pages ]
5. Tall and Small:
This picture has two transformers; one is huge and tall whereas the other is shorter. Despite the fact that the two are similar, their facial expressions makes them quite unique. Certainly, it is an interesting combination in one picture!
6. Hi-Tech Operations:
In this coloring page, the transformers are doing what they are meant for- operating high tech machines and gadgets and running a complete network of automation. Children find such activities quite amusing.
[ Read: Ben 10 Coloring Pages ]
7. Transformer At Repairing:
Here the transformer is seen checking a particular machine with tools used for repairing at close distance. You can explain several things to your child when he is coloring this page. This will introduce him to the various tools that are used in repairing activity.
8. Transformer Caught In A Storm:
This coloring page shows rain, storm and the transformer walking on uneven grounds balancing his way out. This is quite an interesting picture in which the transformer for a change seems to be at the mercy of nature.
[ Read: Power Rangers Coloring Pages ]
9. Putting Down The Enemy:
This transformer coloring page shows a big transformer challenging a comparative smaller auto bot. The whole activity is evident through the expressions on the face of the transformer and the pose of the smaller auto bot. Children will be introduced to a new perspective of fighting through this page.
10. Planning A War:
The coloring page shows few transformers surrounding a table with a big map. It seems that they are all planning an attack on particular place and deciding their plan of work. The transformers are standing in different poses which gives the children ample scope to color different line works and sketches in one picture.
[ Read: Dinosaur Coloring Pages ]
11. Star Scream:
Star Scream Seeks to replace Megatron as leader of Decepticons. He is ruthless, cold-blooded, and cruel. He considers himself to be the most sophisticated and handsome of Decepticons. He also believes that Decepticons should rely more on guile and speed rather than brute force to defeat the Autobots. Fastest flyer of group, he can easily reach Mach 2.8 and an altitude of 52 miles. He is great at shooting cluster bombs and null-rays which disrupts the flow of electricity. He is very good at what he does but is overconfident and arrogant.
It is good to be an all-rounder but it is also important to have some modesty. Your child will be amazed to see his super human abilities and will perhaps wished that he belonged to Autobots!
12. Transformer Masks:
Your child will enjoy coloring these interesting Transformers mask. Their magic touch and creativity will make the masks look even brighter. You can ask him to use pastel shade on the background so that the masks look prominent. This can make a great poster for your child's superhero themed room!
13. BumbleBee:
Bumblebee is small, eager and brave. Bumblebee acts as a messenger and spy, his small size gives him the added advantage to go to places where others won't dare to go. He idolizes bigger autobots like Optimus Prime and Prowl and struggles hard to get their acceptance. He is energetic and can go underwater to complete some missions. Though he is not strong physically his stealth makes up for his weakness. He is also serious and mature and has a mind of an autobot. A Bumblebee can tolerate extreme hot and cold temperatures and can adapt under water.
The character of Bumblebee is very inspiring and it will teach your child to use his talents to the maximum extent and in benefit to humankind. We all have flaws but it is important to be sincere and make up for it!
14. Transformer's Favorite Car:
Transformers travel in stylish cars when they go to fight. Sometime transformers morph themselves into high speeding cars that often act as weapons.
Some super cars used by Transformers are Tyrell P34, Porsche 928, Lamborghini Countach and Ferrari 308 GTB. After all a super hero story is incomplete without stylish and high speed cars. The one shown below is the picture is a powerful Chevrolet.
Your child who is a big fan of speed and thrills and action will love coloring this picture. You can pin it up as a poster for your car freak kid.
15. Megatron:
Megatron is the primary antagonist from the Transformers franchise and is created by Hasbro. He is a toy design based on the design by Takara. He is a sentinent robotic life form from the planet Cybertron. He is a leader of the Decepticons, the enemy of Autobots.
He can transform into various weapons and vehicles based on which Universe he is seen in. Megatron is a fallen hero who rose up from the oppressed class of Kaons to become the leader of region's illegal death matches. He took the name of Megatron so that the masses can chant his name and he can create an aura around his name. He tried to end Cybertron's caste system and give the down trodden the freedom of self-determination.
Megatron unleashed a whole new tyranny in Cybertron. He is ambitious, powerful, charismatic, violent and full of rage. He can't tolerate anyone who stands in his path of ambition and drive.The main anger towards Optimus is due to the fact that Optimus Prime betrayed him by stealing from the council the rank of Prime, which legally belonged to Megatron. He was killed in the hand of Optimus Prime and was reformatted into Galvatron.
Your child will enjoy coloring the minute details in this picture, which will sharpen his observation skills and creative thinking.
16. Optimus Prime:
Optimus Prime is a character from the Transformer's franchise. He is the prime leader of the Autobots. Autobots are a group of transforming robots from the planet called Cybertron. The Autobots are always fighting against Decepticons. Optimus is a wise, powerful, courageous and compassionate leader who puts his talent into good use by improving the Universe around him. He is shown as the protector of life, particularly the inhabitants of Earth. He also has a strong sense of justice and righteousness.
Your child will look up to Optimus Prime and will want to become a great leader like him when he grows up. If your child is a great fan of Optimus Prime and has a range of Optimus toys then your child will definitely enjoy coloring this picture.
17. Iron Hide:
Iron Hide is the name of several fictional characters in Transformers franchise. Iron Hide was named after the television series Ironsides. Iron Hide was originally depicted as black'72 GMC. Other than being Optimus Prime's bodyguard he was seen fighting as a warrior with or without Optimus Prime. He was an officer who led the team of autobots and he developed a friendly bond with autobus's human allies.
When Iron Hide was not fighting wars he was constructing vast bridges that connect Cybertron's many city states. When the civil war took place on the fictional planet Cybertron between Autobots and Decepticon factions then Iron Hide joined Autobot cause.
18. Transformer and His Pet:
This Transformer is equipped with huge guns and is ready for war, to help him to gain victory his pet Searchlight comes along.
Searchlight is a creature of the night. He cruises the Earth with the curiosity of a cat. Nothing is too insignificant or irrelevant escapes his notice. He is a loner and keeps to himself. Searchlight is equipped with awesome features like it has a top row of headlights equipped with stereoscopic digital video cameras, spectroscopic chemical analyzer, and radiation detector. The bottom lights can produce strobe effect, full color spectrum with blinding 10,000 watt brightness.
19. Police Car:
Your child must have watched Police in cartoons and films, so he will be aware that police helps to maintain law and order in the country and arrests criminals. They are just like the super heroes who fight enemies that cause harm to people and protect mankind from evil forces.
The red and blue sirens on police cars immediately draw attention and the word instills and unknown fear in the minds. But since children love cars and perceive police as friends and protector, they will love coloring this police car!
20. Transformers Too Have Emotions:
Transformers are not just robotic creatures who only fight with guns and repair gadgets; they are capable of emotions too! Here we see a romantic picture of a transformer showering affection on his girlfriend, who is also a female transformer.
This is a very cute picture and your child will enjoy coloring it!
Superheroes and robots fascinate little children. It makes them curious and they tend to research and find out more about their superheroes. Encourage your child to find out more about these Transformer characters, since this makes them feel close to the heroes they admire. You will be really surprised when you see that your child has a vast knowledge about all the Transformer characters, be a patient listener. Don't forget to appreciate his work and spend quality time with him, even when your child is busy coloring!
Share your memorable experiences on these free transformers printable coloring pages to color and download.
Hope you liked our free printable transformers coloring pages online. Don't forget to tell us how your toddler enjoyed transformers coloring sheets in the comment section below:
DISCLAIMER: All images found here are believed to be in the "public domain". We do not intend to infringe any legitimate intellectual right, artistic rights or copyright. All of the images displayed are of unknown origin. If you are the rightful owner of any of the pictures/wallpapers posted here, and you do not want it to be displayed or if you require a suitable credit, then please contact us and we will immediately do whatever is needed either for the image to be removed or provide credit where it is due. All the content of this site are free of charge and therefore we do not gain any financial benefit from the display or downloads of any images/wallpaper.
The following two tabs change content below.