A port-wine stain in babies is a type of birthmark, also called nevus flammeus. It occurs due to skin vascular malformation at birth, causing concentrated dilated blood vessels or capillaries. Port-wine stains occur in three to five children out of 1,000.
Although it is not alarming, it is better to get babies with port-wine stains checked. About 15-20% of children who have port-wine stain birthmarks around their eyes can be at an increased risk of developing Sturge-Weber syndrome (1).
Read on to know more about port-wine stain birthmarks in babies, including their causes, symptoms, complications, and treatments.
Signs Of Port-Wine Stain Birthmarks In Babies
As the name suggests, port-wine stain birthmarks look like maroon wine splashed on the skin. These generally appear at birth and are often seen on the face, neck, arms, and legs. In some rare cases, they continue to grow as the child grows.
Here are a few signs that might help you identify port-wine stain birthmarks in your baby.
Looks flat and pink, red, or purple
Maybe confined to an area or cover larger areas of the body, usually seen on one side of the body
Doesn't change color when gently pressed
Might get darker or thicker as the child grows older
Is persistent and does not disappear over time (2)
Causes Of Port-Wine Stain Birthmarks In Babies
The exact cause of port-wine stain birthmarks is not known. However, it is believed to be caused by a mutation (change in gene) causing and abnormal formation of tiny blood vessels in the skin. It is also believed that these develop during the first two to eight weeks of pregnancy (3) (4).
Complications Of Port-Wine Stain Birthmarks 
Like any other birthmark, port-wine stain birthmarks are usually harmless and are rarely associated with any underlying issue. However, in some rare cases, this birthmark could be associated with Sturge-Weber syndrome. The condition is often characterized by symptoms such as seizures, glaucoma, cerebral cortex atrophy, headache, developmental delays, and intellectual impairments. Children who have port-wine stain birthmarks covering half of the face or more are at a higher risk of developing this condition (5) (6).
It could also be associated with Klippel-Trenaunay-Weber syndrome, a condition that affects the development of blood vessels and soft tissues (7).
Apart from the physical complications, port-wine stain birthmarks may also cause mental health issues as the baby grows up due to the disfigurement that it causes. They may feel low self-esteem and can even go into depression, fearing rejection.
Diagnosis Of Port-Wine Stain Birthmark
The doctor would be able to diagnose port-wine stain birthmarks via a physical examination. But, if the birthmark is present around the eye or on the face, the doctor might monitor it. They may order tests such as X-ray, CT scan, or MRI.
Treatment For Port-Wine Stain Birthmark In Babies
Generally, port-wine stain birthmarks may not need treatment. However, if the stains cover a large area of the body, or you feel it is necessary to get them removed, laser treatment is the best available option.
Laser treatment can be started by the time your baby is six months old. Talk to your pediatrician before starting the treatment.
This birthmark tends to get dry, so it is important to apply a moisturizing cream once or twice a day (8).
Frequently Asked Questions
1. Are port-wine stains permanent?
Yes, port-wine stains are permanent birthmarks since the dilation of the blood vessels causing this mark is permanent (3).
2. Can I get rid of a port-wine birthmark?
No. It is not possible to get rid of the port-wine stain birthmark. But as mentioned in the article, you may try laser treatment to lighten the color (7).
3. Do port-wine stains get worse with age?
Rarely. Port-wine stains may darken and thicken with age, forming a raised "cobblestone" appearance (7).
Port-wine stains in babies are pink or red birthmarks that have unknown causes. Though generally benign, they may be associated with an underlying condition in rare cases. Generally, these stains require no treatment, but medical intervention becomes necessary if these stains appear around the eyes or spread to larger areas of the body. Hence, consult your doctor to know if treatment is necessary and the most appropriate treatment option for your child. Further, since these stains may dry out your baby's skin, apply moisturizer once or twice daily.
Key Pointers
Port-wine stains are flat pink or red birthmarks that occur due to clustered dilated blood vessels beneath the skin.
These otherwise harmless birthmarks appearing on the face, neck, arms, or legs may be associated with an increased risk of Sturge-Weber syndrome in rare cases.
They usually do not require treatment but laser treatment is an option if the concern is cosmetic.
References:
MomJunction's articles are written after analyzing the research works of expert authors and institutions. Our references consist of resources established by authorities in their respective fields. You can learn more about the authenticity of the information we present in our
editorial policy
.
The following two tabs change content below.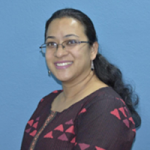 Dr. Neema Shrestha is a pediatrician with a special interest in the field of neonatology. Currently working in Kathmandu, Nepal, she completed her MBBS from Kasturba Medical College, Manipal in 2008, Diploma in Child Health from D.Y. Patil University in 2011, MD from Nepal Medical College in 2015 and Fellowship in Neonatology from Sir Ganga Ram Hospital, New Delhi in...
more

Swati Patwal is a clinical nutritionist and toddler mom with over eight years of experience in diverse fields of nutrition. She started her career as a CSR project coordinator for a healthy eating and active lifestyle project catering to school children. Then she worked as a nutrition faculty and clinical nutrition coach in different organizations. Her interest in scientific writing...
more