If you are planning to potty train your child, we have compiled a list of the best potty training seats and chairs for toddlers. These specialized chairs help your child learn to use toilets and are useful when trying to help them transition from diapers. They are comfortable and provide adequate support to encourage your child. However, choosing the right seats and chairs may be tricky with multiple options available. So, explore our list to find one that suits your child's needs.
15 Best Potty Chairs And Seats For Your Toddler
We have divided the list into two categories: best toddler potty chairs and best potty seats.
Best Toddler Potty Chairs
This potty seat by Fisher-Price mimics the original toilet seat and has a flush-like knob that makes a flushing sound every time it is pressed. The flushing sound and action help the toddler get habituated to flushing after using the toilet. The built-in handles on the potty seat ring allow the toddler to grip the handles and adjust themselves on the seat. Here's a video that talks about the features and benefits of this toilet.
 Pros
Splash guard prevents a mess when training toddler boys
Lightweight yet sturdy build
Easy-to-remove potty bowl for cleaning
Detachable potty seat ring for inserting on the standard toilet
Cons
Loud sound
May turn on randomly
[ Read : Fisher Price Potty Seat Review ]
This potty chair by Babybjorn comes with a high backrest and provides adequate back support, which is particularly useful for younger toddlers who may recline while seated. It features a rubber strip at the bottom of the chair for extra grip, which prevents accidental shakes and tip-over. This video tells you all you need to know about this product.
 Pros
Compact and ultra-lightweight design
Portable to carry and place anywhere in the house
Detachable single-piece potty bowl
Features a splash guard to prevent accidental spillage
Made of high-quality, BPA-free plastic
Cons
May be small for taller toddlers
May be slightly hard
Summer Infant brings you this lightweight travel potty chair with a two-piece design that is easy to dismantle and carry during long-distance travel. The contoured shape of the potty ring makes it comfortable for the toddler to sit. It also comes with a travel bag and five disposable liners to place within the potty bowl.
Pros
Disposable liners made of absorbent materials
Use of liners helps save water
Disposable liners can be purchased separately
Convenient and hygienic
Cons
May be slightly small in size
Edges might be slightly thin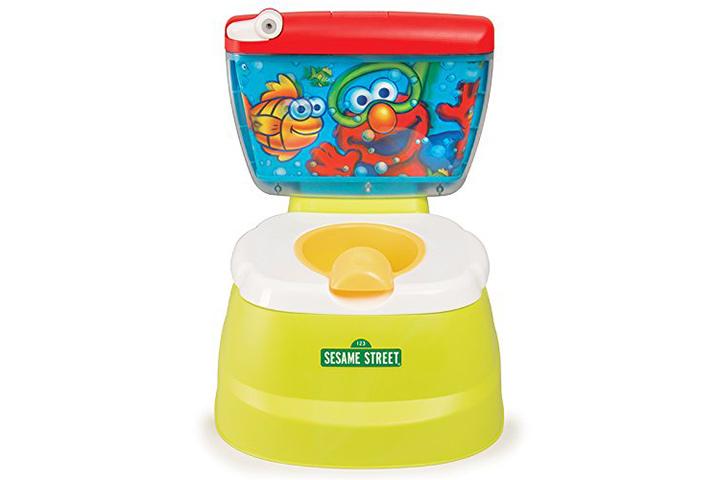 This potty training chair comes with a realistic flush knob, which, when turned, makes a flushing sound. It also comes with musical notes to keep the toddler interested. The chair has a built-in splash guard in the potty bowl, and the bowl is removable from the main seat for easy cleaning.
Pros
Lightweight design
Colorful 3D effect on the flush panel to entice the toddler
Detachable potty seat ring
Seat can be fixed on standard toilets
Maximum weight-bearing capacity of 40lb
Accommodates most toddlers above the age of 18 months
Cons
May not be compatible with a standard toilet seat
May not be ideal for boys
This potty chair has a compact single-piece design and is best suited for younger toddlers. It has no detachable parts, making cleaning easy and straightforward. The anti-skid material at the bottom of the potty chair prevents slippage.
Pros
Integrated splash-guard
Contoured backrest offers comfort
Front handle for easy carrying
Ideal for travel
Lightweight at just 9.9oz
Cons
May be slightly small for older toddlers
May not be sturdy enough
This potty chair by Fisher-Price has a built-in sensor that detects if the toddler has answered the nature call and rewards them with fun sounds and melodies. It's a musical step-stool potty seat with three functions, viz. a potty chair, a potty seat for adult toilets, and a standing stool for toddlers. Once the toddler is done, they can close the lid and stand on it to reach the sink for washing hands. Check out this detailed review video to learn more about the product.
Pros
Versatile three-in-one potty chair
Removable toilet seat ring to fit a standard toilet seat
Splash guard to prevent spillage
Handles on the side of the potty seat ring for convenience
Detachable for easy washing
Cons
May not be easy to clean
May not be great for little boys
This versatile chair by Primo works as a potty chair, home potty seat, step stool, and travel potty seat. When it is not used for potty training, it can also be used as a sitting stool for the toddler. The large handles on either side provide support when the child is sitting on it.
Pros
Detachable potty seat fits adult toilets
Cover the lid, and the potty converts into a sitting stool
Includes built-in sensor and splash guard
Reward stickers that can be useful during potty training
Cons
May not be non-slip
May not be easy to clean
Best Potty Seats For Toddlers
This 2-in-1 potty seat by Oxo can be used as a travel potty seat or as a toddler potty seat ring for use with adult toilets. When using it as a travel potty, you can open the foldable legs and place the potty seat on it. It includes disposable absorbent potty bags, and you can also use standard plastic bags. To use it as a toddler seat converter for adult toilets, place the legs in a horizontal position and latch the toilet ring.
Pros
Socket on the two legs holds the plastic bag open and prevents movement even if the toddler moves
Foldable legs can be moved with the push of a button
Button accessible on the lower side prevents accidental leg folding
Easy to carry
Lightweight at only 3.2lb
Cons
May be slightly small for little boys
May not be very stable
This potty seat by Primo has a collapsible ring that folds into a single piece for convenient carrying and storage. It is compact enough to fit into most travel bags and diaper bags. The hinges fold the toilet seat such that the gap between the two folds does not pinch the toddler's skin.
Pros
Rubber grip at the bottom to prevent sliding
Lightweight at just 12oz
Two grab handles allow the toddler to sit confidently
Can support toddlers above the age of two years
Maximum weight capacity is 40lb
Cons
May be slightly small
Does not include a splash guard
Potty training is made easy and convenient for your toddler with this laddered potty training seat by OxGord. It is colorful, and the ladders make it extremely easy for the toddler to reach the toilet seat. The training seat folds compactly, enabling you to store it away when not in use. While it fits all standard toilet seats, you can adjust the seat's height as the ladder slides.
Pros
Contoured design for a secure fit and safe seating
Contoured splash guard to keep the seat germ-free and clean
Wide, no-slip floor pads
Non-slip and easy-to-grip handles
Cons
May not be very sturdy
Can be hard to assemble
Are you looking for a toilet seat that fits smoothly to a standard toilet seat? Bring home the Munchkin potty seat. The contoured potty seat includes side handles for support while the toddler is seated. The side handles also make placing and removing the seat easy for the parent.
Pros
Non-skid edges prevent the seat from shifting
Sturdy yet lightweight potty seat
Integrated splash guard
Space saving storage with feet at the bottom of the seat
Easy-to-clean plastic seat
Lightweight at 13.6oz
Cons
May not be compatible with all adult toilet seats
Plastic seat might be slightly hard
Make toilet training a fun task for your child with the Disney Mickey Mouse Deluxe Potty Seat. It features a built-in speaker and can appeal to children fascinated by Mickey Mouse. The toilet seat plays three playful songs to ensure your child stays engaged during potty training. Besides, the seat is easy to clean with mild soap and water, and you can air dry it.
Pros
Features easy-grip handles
Fits most regular and elongated toilets
Lightweight and portable
Removable cushion
Cons
Music button may be hard to press for the baby
Cushion may flatten over time
If you're looking for a cute and functional toilet training seat for your little one, the Prince Lionheart Potty Training Seat is the one for you. It is designed to reduce the toilet hole to offer added safety for smaller children. The splash guard ensures no splashbacks, and the squishy, cushiony seat offers optimal comfort and support. It requires no installation and is easy to use.
Pros
Secures with suction cup
Flat back for easy storage
Easy to wipe clean
Available in three colors
Cons
May not have a smooth texture
May not be suitable for children allergic to rubber
This training seat by Bumbo is contoured to make the toddler sit securely without any discomfort. The one-piece design makes it easy to clean and store after use. It includes a large, integrated splash guard that the baby can also use as a grabbing point for support.
Pros
Made of soft foam instead of hard plastic
Squishy and provides a snug fit
Waterproof coating all around so that the foam does not absorb any liquids
Lightweight and easy to carry
Cons
May not be compatible with all other standard toilet seats
May not be ideal for little boys
Let your little one enjoy music during potty sessions. This potty seat by Nickelodeon has two handles that feature a speaker that play three funny songs. These handles with rubber grips provide support to the toddler while also making it easy for the parent to place and remove the potty seat. The removable backrest ensures easy storage, and it has a built-in splash guard at the front to prevent spillage.
Pros
Bright colors and attractive illustrations make the potty seat quite appealing
Rubber grips on four corners at the bottom prevent slippage
Detachable top seat ring makes it easy to clean
Made from durable, non-toxic plastic
Cons
Sound may not work effectively after a few uses
May not be easy to clean
What Are The Different Types Of Potty Training Products?
There are two types of potty training products, viz chairs and seats.
A potty chair is a stand-alone, miniature plastic toilet that resembles an adult toilet. It is specially designed for toddlers and is available in different sizes, shapes, and designs. Several of them have integrated features like music and a flushing sound to make potty training interesting to the toddler.
Some potty chairs come with a detachable potty seat that can be used on an adult toilet.
Potty seats for toddlers look like a smaller version of the toilet seat that you find on an adult toilet. These little seats fit right over the adult toilet seat and reduce the circumference of the toilet seat ring. These seats prevent the child from slipping into the toilet and help the toddler feel confident on an adult toilet. Potty seats could contain integrated features like splash guards and grab handles.
[ Read : Babyhug Western Potty Chair Review ]
Potty Chairs vs Potty Seats
Potty chairs and seats have their unique characteristics and each product has its pros and cons.
Potty chairs
Designed exclusively for toddlers, potty chairs are useful only for a short period, even though they make efficient potty training tools.
| Potty Chair Pros | Potty Chair Cons |
| --- | --- |
| Available for specific age groups | Manual dumping of excrement required. No water flush available |
| Portable, which means you can potty train the toddler anywhere | Cleaning can be a chore if toddler goes to potty repeatedly, or worst, has diarrhea |
| Closed compartment hygienically contains the excrement | Growing toddlers can outgrow a potty chair in a matter of months |
[ Read : Chicco Anatomical Potty Chair Review ]
Potty seats
A potty seat is what you need when you want your kid to get used to using the real toilet.
| Potty Seat Pros | Potty Seat Cons |
| --- | --- |
| Fits on almost any adult toilet seat including those in public restrooms | Limited sizes. Smaller toddlers may still find potty seat uncomfortable |
| Compact size, thus easy to carry. Also, no cleaning or dumping needed like a potty chair. | The toddler needs to climb the adult toilet. So investment in stool or ladder required. |
| Habituates toddler about adult toilet and allows faster transition | Occupies the adult toilet, which could be problematic in single toilet households and restrooms. |
Remember, both seats and chairs are tools that help a toddler learn to use the toilet instead of a diaper. So, pick one that has the features that you are looking for.
How To Choose The Best Potty Training Seat And Chair?
Look for the following features while shopping for your toddler's potty chair and seat:
Designed for your toddler: Check the recommended age and weight for the potty seat/chair as mentioned by the manufacturer. Some potty seats and chairs are designed for a range of toddler age groups.
Adequate support and balance: A potty seat should fit on an adult toilet seat securely without any undulations. Potty chairs should have a firm balance and remain firmly on the ground even when the toddler adjusts himself. Give preference to seats with anti-skid materials that prevent slippage.
Comfortable and secure seat material: Your toddler will refuse to use the seat unless it is comfortable to sit on. Look for soft-touch materials and smooth plastics that are gentle on the toddler's skin and do not cause strain during extended duration of potty training.
[ Read : Fab-N-Funky Ride On Potty Chair Review ]
Easy to clean: It should take only a few steps to dump and clean a potty chair. The design should be free of crevices or complex bends where excrement can get trapped and harbor bacteria. Soft potty seats should be resistant to absorption of liquids.
Simple non-complex design: Select potty seats that clamp and come off easily from an adult toilet. Some potty seats have feet at the bottom for convenient storage, which can be an added benefit.
Extra features: Some bonus features like footrest, handles, and backrest provide an added advantage. When buying potty seats for boys, you can give preference to those with a splash-guard to prevent a mess when the young man pees.
Potty chairs and seats help your toddler when used the right way. So it is important to keep in mind some points while using these potty training aids.
[ Read : Babyhug Premium Potty Seat Review ]
Points To Remember When Using Toddler Potty Seats And Chairs
Follow these measures to ensure a safe potty training experience for your toddler:
Do not leave the toddler alone: Your toddler may be all set to sit on the toilet, but it is not safe to leave him alone on it. When seated on an adult toilet, the toddler may playfully try to squeeze himself through the potty seat, which can result in him getting stuck. With potty chairs, the risk is less, but the little one may place his hands in the potty bowl. Therefore, for safety and hygiene reasons, always stand with your toddler to supervise him during potty training.
Let the tot adjust but not play: Some soft potty seats may seem so squishy that the toddler may feel like bouncing on them. While it may look cute, remember that the potty seat/chair is not a toy. Playing around with it may result in the chair tipping over and causing injury.
[ Read : Babyhug Duckling Potty Chair Review ]
Clean immediately and set it for drying: Once your toddler is done, clean the potty chair/seat immediately and leave it to dry. Potty seats come in direct contact with the toddler's skin and hands. Germs can easily transmit from hands to mouth, causing infections. Maintain good hygiene by immediately disposing excrement and cleaning the seat/chair with a disinfectant liquid.
Inspect regularly for any stress or damage: Toddlers grow quickly, and within months he may be putting extra weight on the chair or seat. Periodically look for any signs of damage like cracks or loose hinges. It can mitigate accidental breakage.
Do not stretch beyond intended use: Some potty seats extend their value by doubling as sitting or stepping stools. However, unless the potty chair is designed for such purpose, do not use it for anything else than potty training.
Why Trust MomJunction?
We have compiled this list of the best potty training seats and chairs after evaluating the quality, features, and safety parameters. We have scoured through online reviews and looked closely at the material while collating our list of the best options available in the market. To make the shopping experience seamless for you, we have listed down the features of each product in detail. We have also added a buying guide to help you make the right choice based on your requirement and preference.
Recommended Articles: