The consequences of pregnancy at 45 or after have been much debated by experts. So, when Kelly Preston got pregnant at 47, the news of her late pregnancy spread fast. People discussed how advancements in science had allowed her and her actor husband, John Travolta, to conceive late.
In recent years, not only celebrities but several other women have been delaying having a baby due to personal or professional reasons. According to some researchers, pregnancies in older women cannot be managed as easily as in younger women. However, other researchers feel age is not a barrier to getting pregnant.
Read the post to know how older age may affect pregnancy and how you can stay healthy while pregnant.
Can A Woman Get Naturally Pregnant At The Age Of 45?
Yes. Though rare, it is possible to get pregnant at 45, without the use of fertility treatments (1). Menopause may be around the corner, but unless you have not had periods for 12 consecutive months, there are chances of pregnancy. Also, no two women are on the same terms of health and can experience menopause a little earlier or later.
However, we can assume that the increasing rate of pregnancy over 45 is due to fertility procedures (2).
What Are The Chances Of Getting Pregnant At 45?
Getting pregnant at 45 or after is in no way the same as getting pregnant in the 20s. A 30-year-old woman has a 20% chance of conceiving in any given month, which plummets to 5% for a 40-year-old (3). At 45, healthy pregnancy with your eggs comes down to 1%. Through IVF using donor eggs, the chances increase to 70 to 75%.
Once you have conceived, you will experience pregnancy symptoms.
What Are The Signs And Symptoms Of Pregnancy After 45?
The symptoms would be similar to the ones women face at their younger age in the pregnancy. But in most cases, they are taken to be the signs of menopause.
The signs and symptoms could be frequent urination, mood swings, headaches, breast changes, incontinence, fatigue, missed periods, nausea, and backaches.
As women over 45 will be at a higher risk of pregnancy complications (4).
What Are The Risks To The Mother In A Late Pregnancy?
The risks increase considerably with age. If you conceive at the age of 45 and more, you are at a higher risk of certain health conditions, including (5):
Placental problems, where the placenta covers the cervix (placental previa)
Inefficient uterine contractions to push the baby out
Ectopic pregnancy, where the embryo implants outside the uterus
High miscarriage rate that is one in two
Harder on body as it is difficult to lose baby weight and regain the body shape (6)
Not just for the mother, a late pregnancy increases the risk factor for the baby as well.
What Are The Risks To The Baby Born To Mothers Over 45?
At around 40, the risk of Down syndrome is one in 100, which increases to one in 10 by the age of 49. There is also an increased risk of other chromosomal abnormalities, stillbirth, and premature labor (7).
Due to this, many older women who want to get pregnant prefer donor eggs assuming the risk is low with younger eggs. Before you make a final decision, discuss about genetic testing with your healthcare practitioner.
However, there are ways in which you can ensure that a late pregnancy is a healthy pregnancy.
How To Have A Healthy Pregnancy At 45?
In order to have a safe and healthy pregnancy, you may take the following measures, irrespective of your age:
Indulge in proper prenatal care
Maintain a healthy weight
Practice stress management
Abstain from alcohol and smoking
Your health practitioner will give you more information after evaluating your complete health and family history.
What Are The Advantages Of Having A Baby Later In Life?
Remember, the advantages of becoming a parent later in life do not outweigh the benefits of having a baby in your late 20s or early 30s. However, here are some positive points:
You have more experiences about life, and are conscious of the risks and circumstances that come along.
If it is your second child, you already have experience in bringing up a child.
Material wealth and marital status are at a defined level.
Sometimes, you may have decided to not have children, but want to reverse your decision later in life. Let's see its possibility in the case of a tubal litigation.
Can You Get Pregnant After 45 If You Had Tubal Ligation?
Tubal ligation is a sterilization procedure to prevent pregnancy. However, in rare cases tubal ligation reversal could happen, resulting in pregnancy rates in one in 1,000 after the first year and two in 10 to 1,000 after five years. Though the possibility is low, there is still a chance of pregnancy. If you have tried to get pregnant and the symptoms seem promising, then check with your healthcare practitioner as you can have an ectopic pregnancy after this procedure (8).
In the next section, we bring you a few stories of women who conceived late in life!
Some Stories Of Pregnancy Over 45:
Here are the real-life stories picked from Quora about women who conceived after 45. We bet they would definitely offer you hope, comfort, and inspiration if you are planning to get pregnant at this age.
Carole Hobson, a 58-year-old barrister, and social worker underwent five rounds of in-vitro fertilization (IVF) treatment using donor eggs and sperm to fulfill her dream of becoming a mother. She conceived using donor eggs taken from a 24-year-old Indian woman and sperm from a Scandinavian engineering graduate.

A 48-year-old woman from Minnesota was pregnant through IVFusing a donor egg.

Anita Arora, a 46-year-old from Southfields, was found to be pregnant when she came to the hospital complaining of early menopause. The baby was delivered at 29 weeks using Cesarean section and was put in a neonatal unit for recovery.
Frequently Asked Questions
1. How many eggs does a woman have at 45?
It is not possible to predict the exact number of eggs present at age of 45. Human ovaries contain several millions of non-growing follicles (NGF) from before birth, and they keep declining with age and ultimately lead to menopause. By 40 years of age, only 3% of the pre-birth NGFs are present (13).
2. Can I get pregnant with my own eggs at 45?
aFor a woman above 40, the chances of achieving pregnancy are maximized if you opt for donor eggs. According to experts, by 45, using donor eggs is the only reasonable alternative. However, it is best to consult your fertility specialist for guidance (14).
Pregnancy at 45 or after might pose several challenges. From conception to delivery, pregnancy must be carefully monitored at this age. Due to the advanced age, the mother and the fetus could be at an increased risk of developing a few complications. However, with careful planning and prompt medical intervention, pregnancy after 45 could lead to the birth of a healthy baby. Hence, if you wish to become pregnant at 45, consult your medical practitioner to weigh the pros and cons. Consider both the benefits and drawbacks before making your decision.
References:
MomJunction's articles are written after analyzing the research works of expert authors and institutions. Our references consist of resources established by authorities in their respective fields. You can learn more about the authenticity of the information we present in our
editorial policy
.
The following two tabs change content below.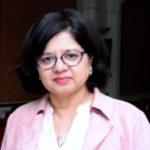 Dr. Sangeeta Agrawal
(FRCOG, MD, DNB, DGO)
Dr. Sangeeta Agrawal worked in Royal London, St. Bartholomew's, North Middlesex and Barnet General hospitals in London. Currently, she runs her own clinic in Mumbai. She is also attached to Bhatia Hospital, Breach Candy Hospital, Wockhardt Hospital, and Global Hospital. Her areas of expertise include obstetrics and gynecology, involving teenage care, antenatal, intrapartum, post-natal care, painless labor, fertility control, menopause...
more

Rebecca is a pregnancy writer and editor with a passion for delivering research-based and engaging content in areas of fertility, pregnancy, birth, and post-pregnancy. She has been into health and wellness writing since 2010. She received her graduate degree in Biotechnology and Genetics from Loyola Academy, Osmania University and obtained a certification in 'Nutrition and Lifestyle in Pregnancy' from Ludwig...
more