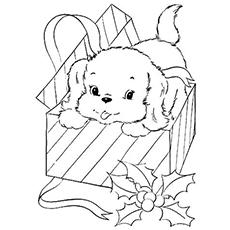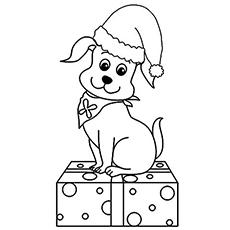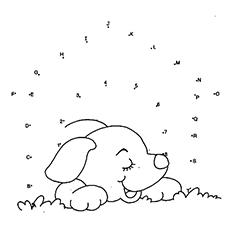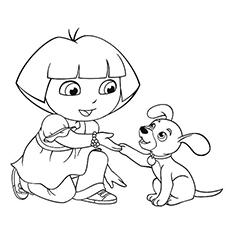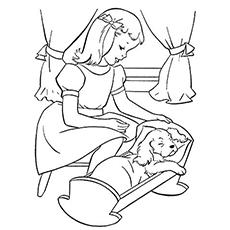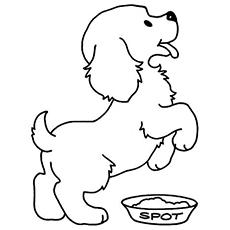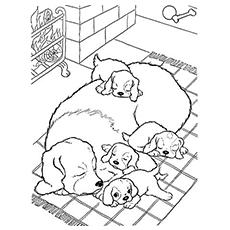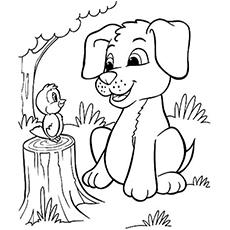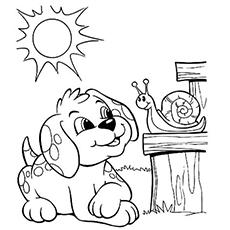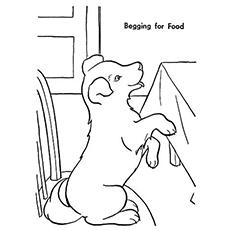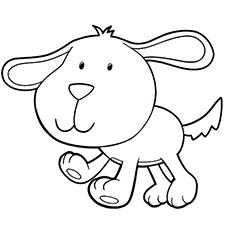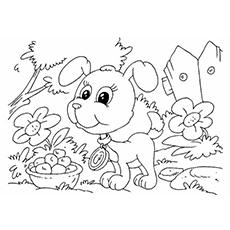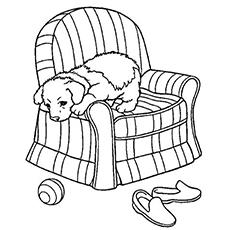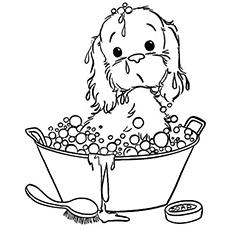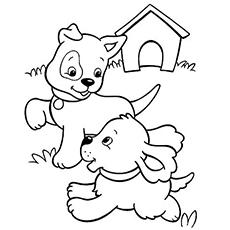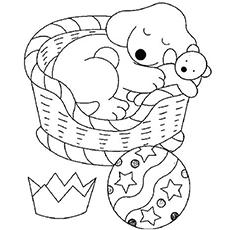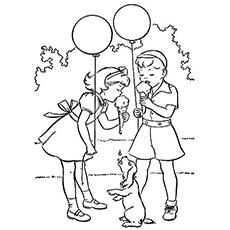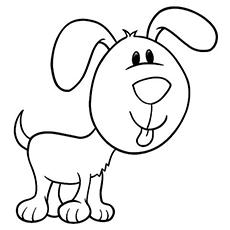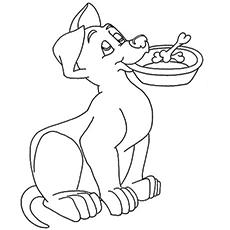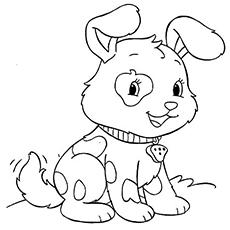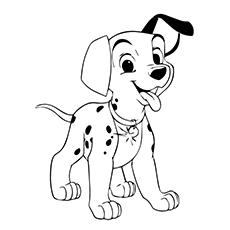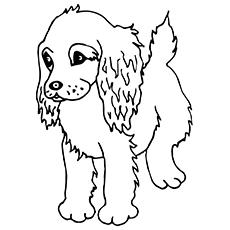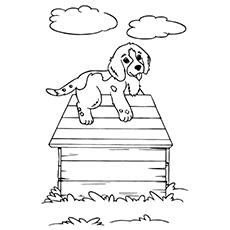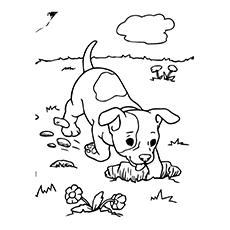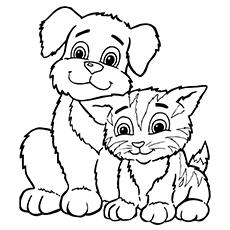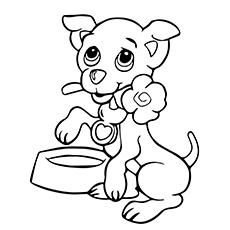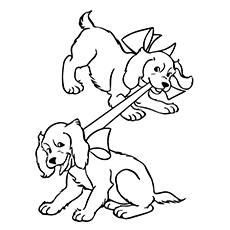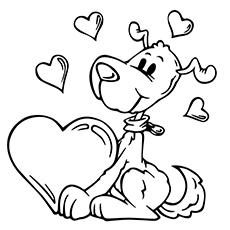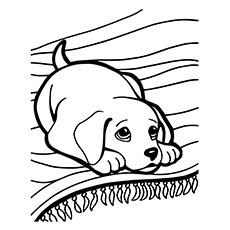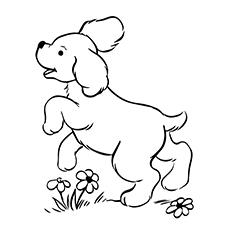 Recommended Articles:
Puppies are adorable and no wonder they make great pets for kids. In addition to their cute features, puppies grow up to be faithful companions who are protective of their masters. Therefore, puppies definitely deserve coloring pages dedicated to them.
Not only do these coloring pages feature cute pictures of puppies, they also provide useful information about them. You should definitely allow your kid to spend some time each day to engage in coloring these puppy pictures to color. These puppy coloring sheets can be a great learning experience for your kid.
The 20 Cute Puppy Coloring Pages For Preschoolers
These puppy coloring pages printable are extremely cute and adorable. They will give your kid the opportunity to learn more about the finer art of coloring. Ensure to guide your child at every step of the way to make him more confident as the pages can become quite challenging at times to color.
1. Spotted Pup:
An adorable spotted pup greets your kid as he opens the first page of his coloring book.
This is a good picture to start things off with as it is relatively simple to color. The picture is well-outlined ensuring that your kid does not have problems when coloring.
Fact: Puppies and newborn babies require the same amount of sleep. In fact, as they grow up, puppies need a total of 14 hours of sleep a day.
2. Pup Taking A Nap:
After a heavy Christmas dinner this pup seems to be taking a short nap.
Your kid can use festive Christmas hues when coloring this picture.
This image can be framed and used during the festive season.
Fact: There are over 6 million puppies born in the world every year.
[ Read: Dog Coloring Pages ]
3. Hungry Pup:
A hungry pup waits for his master to serve him food in the picture.
This image is apt for children who are just learning how to color at school. Therefore, this will make for a great practice session.
Fact: The most popular dog breed in the world currently is the Labrador retriever. The second most popular dog breed is the German Sheppard.
4. Mother Dog With Pups:
Here in the next picture, a mother dog is seen snuggling and taking a nap with her pups after a heavy meal.
Your kid will be kept occupied for quite some time owing to the many elements highlighted in the picture. You can use this time to complete your household chores.
Fact: Your kid will be amazed to know that all puppies are born without teeth just like human babies.
[ Read: Farm Animals Coloring Pages ]
5. Puppy Taking A Bubble Bath:
The next coloring page shows an adorable pup taking a bubble bath.
Your kid will be able to pay close attention to minute details in this picture. Therefore he will become better at coloring.
The picture, when colored, can be framed and hung in your kid's bathroom as it is relatable, especially if he has a pet dog of his very own.
6. Pup In The Garden:
A happy pup is seen here in a garden surrounded by plants and flowers.
This page can be used to teach your kid about the importance of coloring within specified lines.
Dogs enjoy playing in open spaces as it does not restrict them.
Fact: Puppies are born without the ability to smell or hear up to three weeks after their birth.
7. Girl Putting Pup To Sleep:
This image highlights a young girl putting her pup to sleep in a crib.
This picture is apt for kids who are above the age of 7 years. It is slightly complex in nature with quite a few elements that require attention.
This cute image can be used as a poster for your kid's room once colored.
[ Read: Pet Shop Coloring Pages ]
8. Pup On A Sofa:
This picture showcases a pup perched on a sofa looking down at his ball.
Your kid can use bright hues to color the sofa chair to truly make it stand out.
If you have a sofa or couch in your home, your kid can use it as a reference when coloring this picture.
9. Connect The Dots:
This image requires your kid to connect the dots, alphabetically and numerically, to give the puppy his home back.
Your kid will enjoy this fun activity of connecting the dots in addition to color the picture.
Your kid will also learn to count from 1 to 10 while revising the letters of the alphabet.
Teach your kid that a dog's home is called a kennel.
10. Pup And Bird:
A pup and a small bird are seen interacting with each other in this next picture.
Your kid will enjoy coloring this page because it includes nature in the background.
You can also make up a story about how the pup and the bird have been friends since they are shown enjoying playing with each other.
[ Read: Peppa Pig Coloring Pages ]
11. Pups Playing:
Here is a cute picture that showcases two pups playing in the garden.
Your kid will learn how to count 2 pups in the garden. He can also make note of the number behind the coloring page.
Your kid can use different colors for each pup in order to distinguish between them.
12. Christmas Pup:
A cute pup is seen here wearing a Santa cap.
You can help your child choose the appropriate festive colors for this picture.
This picture is best colored during the festive season.
Fact: Puppies should be given five small meals on a daily basis to ensure that they do not remain hungry.
13. Dora With Pup:
Here is an amazing picture that highlights your kid's favorite Dora playing with her pup.
Your kid will relate to this picture because he may already be a fan of the 'Dora the Explorer' cartoon series.
Fact: Puppies' teeth begin to take form once they start chewing, just like human babies.
14. Pup With A Large Face:
A pup with a large face is seen here in the picture greeting your kid.
The large size of the picture will ensure that your kid colors within the specified lines of the picture.
Fact: Once a pup turns a year old he is no longer considered a pup, but an adult.
[ Read: Guinea Pig Coloring Pages ]
15. Pup In Motion:
A pup is seen here in the next picture prancing around in glee.
Your kid can personalize this picture by adding his name to it as well as the name of his dog (if he has one).
This picture can be cut out and used as a fridge magnet.
16. Pup And Snail Bonding:
A cute pup and his snail friend are seen bonding on a beautiful summer day in this picture.
Your kid will definitely improve his hand-eye coordination while coloring this picture.
Fact: A puppy which turns one year old is equivalent to a 15 year old human being in age.
17. A Pup Coming Out Of A Christmas Gift:
This is one of the adorable puppy coloring pictures that highlights a cute pup coming out of a wrapped Christmas gift.
This picture is perfect to usher in the Christmas feeling.
Your kid can add glitter to the edges of the gift box to really make it stand out.
Fact: Puppies usually mistake a human's smile as an act of aggression especially if the latter bears his or her teeth when smiling.
[ Read: Letter D Coloring Pages ]
18. Pup Begging For Food:
Here we see a pup begging for food at the dinner table because he is hungry.
The largeness of the picture will ensure that your kid does not have much difficulty when coloring.
You can allow your kid to color with paints if he is confident enough.
Fact: Once their glands develop, dogs have the ability to smell 1000 times better than human beings.
19. Pup With His Food Bowl:
The cute pup is seen here with his bowl filled with bones after a hearty meal.
Your kid will enjoy coloring this picture because it is relatively simple with no complex elements to it.
Fact: Puppies require a lot of care and attention especially where their diet is concerned. They are not supposed to consume salt as it will result in them losing their fur.
20. Pup Trying To Have A Drop Of Ice-Cream:
In this picture you see a dog trying to consume a drop of ice cream which is falling from the little girl's cone.
Your kid might require extra assistance with this picture especially if he is not very adept at coloring.
You can allow your kid to take his dog out for a walk after coloring.
Fact: Puppies do not open their eyes until they are around 12 days old.
Our collection of puppy coloring pages is fun. These free printable puppy coloring pages online will allow your kid to relieve all the wonderful memories that he may have had with his pup. Also, the well-outlined images will ensure that your kid colors well.
Additionally, your kid will learn some useful information about puppies. Therefore, encouraging him to engage in this activity will be a good option. You can also create your own puppy coloring book.
Out of so many options to choose from, we are sure your child will love some of them the most. Let us know if your kid truly enjoyed coloring this particular set of puppy coloring pages to print and do not forget to share his creations with us!
DISCLAIMER: All images found here are believed to be in the "public domain". We do not intend to infringe any legitimate intellectual right, artistic rights or copyright. All of the images displayed are of unknown origin. If you are the rightful owner of any of the pictures/wallpapers posted here, and you do not want it to be displayed or if you require a suitable credit, then please contact us and we will immediately do whatever is needed either for the image to be removed or provide credit where it is due. All the content of this site are free of charge and therefore we do not gain any financial benefit from the display or downloads of any images/wallpaper.
The following two tabs change content below.