Rainy days can be difficult for your kids; especially when they can't play outside and end up being cooped up at home. As a result, they get bored and restless and end up watching endless hours of television or become irritated. However, there are various activities that your kids can try that can help cut the boredom and keep them interested even during monsoon.
One such activity that can surely let your kids make use of their energy and enthusiasm is crafts. If you would like to find out some fun rainy day crafts for kids that can make during rainy days, do read on now.
Fun Rainy Day Craft Ideas Your Kids Will Love:
Here are a few ideas for various craft activities that your kid can try out on a rainy day:
1. Recycled Paper Art:
Ask your kid to use an old sheet of paper as a base and cut out shapes of clouds from used paper or even old newspaper.
Your kid can also cut out pieces of rain drops from old paper.
Once done, ask your kid to layer the cloud shapes one over the other to give it a 3D effect. Help them glue the rain drops below the clouds to depict rain fall.
[ Read: Painting Ideas For Kids ]
2. Umbrella Painting:
Your kid can give a new look to an old or existing umbrella with the help of fabric paints.
Ask your kid to decorate the umbrella with beautiful designs, in colors and designs they like.
To give it a more rainy day feel, they can also draw rain themed patterns on the umbrella, such as rain drops, clouds, umbrellas and such. Umbrella painting is a perfect rainy day craft for kids.
3. Puffy Paint At Home:
Ask your kid to get an old bowl and mix the following ingredients – 1 tbsp. of self-rising flour, 1 tbsp. of salt, food coloring of choice and water. Your kid will have to mix it in such a way that it forms a paste type of consistency.
Your kid can then use this paint to paint on cardboard using a paint brush or cotton swab.
Now help microwave the painting for about five to ten seconds and the paints will puff up.
[ Read: Paper Plate Crafts For Kids ]
4. Paper Ship:
Give your kid an old sheet of newspaper and ask them to cut it out in a square shape.
Help them fold it to make a paper ship.
Now ask your kid to cut out a small square or rectangle from a colored piece of paper and glue it on a stick. Attach this to the back of the ship to make the sail.
Your kid can also cut out a wave shape from blue paper and paste it in front of the ship. This is one of the best and easy rainy day crafts for kids and sure it will provide lot of giggles to beat their boredom.
5. Paper Plate Fish:
Ask your kid to collect a number of paper plates in different sizes and color them in different colors.
Your kid can also use shiny and metallic colors or add interesting designs using glitter glue.
Once the paint is dry, ask them to draw the eyes and mouth with a marker pen.
Your kid can hang them up as a mobile or near a window.
6. Raincoat Painting:
Your kid can add fun designs on their raincoats using suitable paints that will stick on the raincoat's surface.
Make sure that the paint dries completely before your kid uses it in the rain. Read package instructions for best results.
7. Recycled Paper Sunny Day Art:
Ask your kid to use an old sheet as the base for the craft art.
Next, let them use bits of paper to cut out pieces for the sun, clouds, flowers, leaves and such.
Help attach them one on top of the other to give it a 3D effect.
[ Read: Indoor Forts For Kids ]
8. Cardboard Maze:
Ask your kid to cut out round shapes from cardboard sheets and create four slits on each.
Your kid can then keep building a maze by looping one round into the other and building it up.
9. Tent Home:
Help your kid build a home tent with blankets and sheets draped around the table and chairs.
Your kid can make placards with the word 'home' written on it and create other knicks and knacks that they can keep in their tent home.
10. Play Dough:
Your kid can make colorful play dough at home by mixing 1 cup flour, 2 tsp cream of tartar and 1/3rd cup of salt in a pan.
Add a cup of water and 1 tbsp. vegetable oil.
Keep the heat on low and stir. Once the lumps are dissolved, add the food coloring and keep stirring till it forms a dough consistency. This is one of the best rainy day craft ideas for kids that will keep them busy throughout the day.
Use these fun and easy craft ideas to keep your kids occupied in the rainy days when there is not much to do outside.
Moms, do tell us if your kids try out any of the above, and also share your own rainy day craft ideas here with other moms.
Recommended Articles:
Comments are moderated by MomJunction editorial team to remove any personal, abusive, promotional, provocative or irrelevant observations. We may also remove the hyperlinks within comments.
The following two tabs change content below.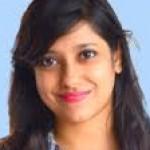 Latest posts by Debolina Raja (see all)