The climate change is a reality now and not simply an impending condition. The need to recycle is paramount and even integral to our survival. As a parent, you want your kid to grow up to be a responsible and eco-friendly citizen. So, teaching him how to recycle and reuse can go a long way towards fulfilling your aim.
We at Momjunction have come up with a brilliant way to teach your kid the importance of recycled materials: by turning them into brilliant craft works. So, below we look at some fun and interesting recycled crafts for kids. Read on for our top picks:
Recycled Crafts For Preschoolers And Kids:
1. Sun Catcher With CDs:
Ask your kid to collect all the old CDs you have around the house and get them in one place. Take a look yourself to make sure that the CDs are junk.
Ask your kid to use some strong glue and add some decorative items on the shiny part of the CD. Your kid can also add some shiny and metallic jewel stickers on the CD instead of working with glue.
Make sure that your kid covers the entire surface. Let it dry and do the same on the other side.
Add a string to hang the CD so that it becomes a sun catcher.
2. Tissue Paper Candle Holder:
Ask your kid to collect all torn and leftover pieces of colored tissue paper.
Apply a mix of water and glue all over an empty glass jar and let your kid stick the pieces on the same to cover the jar entirely.
Add another layer of glue and water on top.
Let it dry and use as a candle holder. This is a simple recycled craft for kids to make and enjoy during their leisure time.
3. Tissue Roll Snowmen:
Ask your kid to paint the tissue paper rolls in white and let it dry.
Use pieces of pipe cleaner to make earmuffs, markers to draw eyes, nose and mouth and add buttons in the front. This is one of the amazing recycled paper crafts for kids to make with the materials found around the house.
4. Sock Caterpillar:
Let your kid stuff a mismatched or old sock with wads of cotton. Ask them to tie a rubber band after a bit to create a round effect and continue till the end.
Leave a little bit free at the end to create the caterpillar's tail.
Use a pipe cleaner to make the antenna and glue a pair of googly eyes. This is one of the best and easy recycled crafts for kids to make.
[ Read: Waste Material Craft Ideas For Kids ]
5. Sock Puppets:
Take two mismatched socks and add different decorations on them to make different puppets.
Your kid can use items such as old yarns of cotton, googly eyes, ribbons, buttons and such to make them into individual puppets. This is one of the best recycled craft ideas for children which can be made from the discarded materials.
6. Toilet Paper Roll Cute Monster Gang:
Help your kid create a cute gang of monsters with empty toilet paper rolls.
Ask your kid to paint the rolls in colors such as red, green, violet and such.
Once the paint is dry, let your kid make some cute and scary faces by adding eyes, eyebrows, mouth and teeth.
Your kid can keep building more monsters as they collect empty toilet paper rolls. This is an amazing and simple recycled crafts for kids to make with the paper roll.
[ Read: Toilet Paper Roll Crafts For ]
7. Bottle Cap Snowmen:
Glue the caps on a ribbon and leave some extra ribbon on top to loop later.
Ask your kid to paint the inside of the bottle caps in white and leave it to dry.
Let them add decorations inside using buttons, markers, paper cutouts and such.
Add eyes, nose and mouth to the snowmen and hang them around.
8. Leftover Paper Art:
Use leftover paper from previous craft activities to make this piece of art.
Use blue paper as a base or paint a white paper in blue.
Add strips of green paper to make grass and any other leftover paper to make a bird.
Tear out a piece from a brown paper bag to make a banner that the bird is carrying.
Add googly eyes or use a marker to make the eyes.
9. Crumpled Heart:
Use any sheet of old and crumpled tissue paper as a base.
Tear out two halves of heart shapes from two different tissue papers and glue at the center of the base.
Add strips from old tissue papers around the heart to add the decoration.
10. Egg Carton Treasure Box:
Ask your kid to paint the inside and outside of an egg carton and add decorations using stickers, ribbons and such.
Your kid can use it to store various treasures and knick-knacks. This is one of the great and simply perfect recycled crafts ideas for kids to make with the egg carton.
[ Read: Egg Carton Crafts For Kids ]
Try these fun and easy craft ideas that your kid can make using recycled items. Moms, have your kids tried any recycled crafts yet? Or do you plan to get him to try some? Tell us here.
Recommended Articles:
Comments are moderated by MomJunction editorial team to remove any personal, abusive, promotional, provocative or irrelevant observations. We may also remove the hyperlinks within comments.
The following two tabs change content below.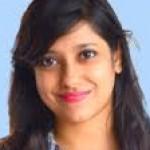 Latest posts by Debolina Raja (see all)