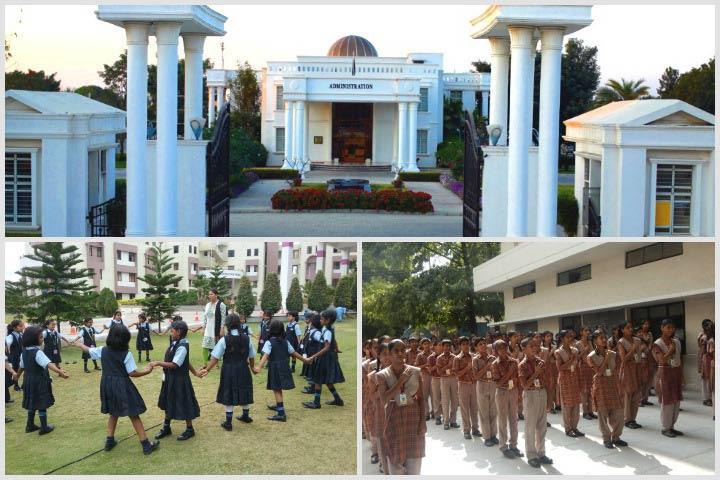 The decision to send your darling to a boarding school can be tough for parents initially. But the long-term benefits are sure to make a profound impact on your child's career. Residing in a boarding school helps children develop, flourish and become responsible while staying away from home.
There are a number of boarding and residential schools in Hyderabad where your child can stay and pursue his studies. So which one should you select for your child? To help your wavering mind, we have rounded up ten best schools boarding schools in Hyderabad. Have a look at them below!
1. Kennedy High, The Global School:
Kennedy High is a coeducation school offering classes from pre-primary to Class 12. The school is affiliated to CBSE program.
Kennedy High is an excellent residential school providing world-class hostel facilities. The school has different dormitories for girls and boys. The dorms are fully air-conditioned and have a 24-hour hot water supply.
The school caters to the diverse needs of the students. The teachers encourage the pupils to develop a sense of responsibility, accountability and independence. It is one of the top residential schools in Hyderabad.
Address:
Bachupally,
Miyapur-Medchal Highway,
Hyderabad – 500 090
Contact Number: 040-64646477/88, 040-65555577/88
Website: www.kennedyhighglobalschool.com
2. Vibgyor High, The Jain International School (TJIS):
Sprawling over 10 acres, Vibgyor High TJIS, a part of Vibgyor High chain of schools, provides a perfect learning environment for the youth of our country.
The school is affiliated to the CBSE board and offers classes from Kindergarten through standard 11. Besides the academics, the school also encourages the students to participate in extracurricular activities like aerobics, cricket, dance, skating and swimming.
The school offers accommodation facilities for both boys and girls. Each of the room is air-conditioned and comes equipped with state-of-art amenities. There is also a common room in the hostel where students can spend their free time.
Address:
Survey No. 349 & 364, Medchal Highway
Kallkal Village, Mandal Toopran Medak district
Hyderabad- 502110
Contact Number: 0403399883
Website: www.vibgyorhigh.com/hyderabad-tjis.php
[ Read: Best Residential Schools In India ]
3. CHIREC Public School:
Founded in 1989, CHIREC Public School is an all-boys English medium school affiliated to the CBSE board.
The school offers education from pre-primary level to the 12th standard. The aim of the school is to help the pupils develop holistically and discover their inherent talents in the field of music, arts, and spot.
The aim of providing the hostel facility is to facilitate kids coming from the rural regions and give them a congenial atmosphere of a family at the hostel.
Address:
3-06-712/2,Himayat Nagar,
Hyderabad – 500029
Contact Number: (040) 27635669, (040) 27636214 9959020512
Website: www.oxfordgrammarschool.com
4. Indus International School:
Indus International School is one of top ten International day-cum-boarding schools in India. The curriculum is divided into three main programs- International Baccalaureate Primary Years Programme, International General Certificate of Secondary Education and International Baccalaureate Diploma Programme.
Indus International School is one of the most well-equipped schools in Hyderabad. Each classroom is equipped with LCD Monitors and multimedia desktops.
As for the boarding facilities, the school offers both weekday and full-time boarding accommodations with residences for house-parents. There are separate dormitories for both boys and girls.This is the best boarding schools in Hyderabad.
Address:
Survey No. 424 & 425
Kondakal Village, Near Mokila, (M)
Shankarpally, RR District.
Phone: 084173 02199
Website: http://www.indusschoolhyd.com
5. Gowtham Model School:
Gowtham Model School is a day cum residential school belonging to the Gowtham Model Schools in Hyderabad. This coeducational school, affiliated with the Telangana State Board of Secondary Education offers classes from nursery to 10th standard.
The school has a 50,000 square feet hostel space for providing comfortable accommodation. The hostel is equipped with modern facilities and provides wholesome and nutritious food in a hygienic environment.
The learning process of the school involves teacher-student attraction. The teachers challenge the thinking abilities of the student, thereby facilitating new ideas.
Address:
Ananda Nilayam, Hydershakote Village Road,
Hyder Shah Kote, Hyderabad
Andhra Pradesh, 500008
Contact Number: 04064573123
Website: www.gowthammodelschools.com
[ Read: International Schools In Hyderabad ]
6. Vignana Jyothi Public School:
Established in 1992, Vignana Jyothi Public School is a coeducational, English medium residential school affiliated to the CBSE board. The school offers education from the Kindergarten to class 10.
The school aims to focus on the coordination between the parent and teacher for the overall development of the pupil.
The school offers boarding facilities to all its students. It's up to the parents, whether they want to opt for day-boarding or full-time boarding.
Address:
G-16/A, Madhura Nagar
Hyderabad
Andhra Pradesh
500038
Contact Number: 04023752258
Website: www.vjpschool.com
7. Jawahar Navodaya Vidyalaya:
Jawahar Navodaya Vidyalaya is a coeducational and the best residential school in Hyderabad affiliated to the CBSE board and functioning under the Navodaya Vidyalaya Samiti.
The 30-acre school campus boasts of spacious classrooms and well equipped and laboratories. The school has various clubs, such as art club, music club, social club, computer club, science club and many more.
Jawahar Navodaya Vidyalaya offers accommodation facility to all its students.
Address:
Gachibowli, H.C.U. Campus,
RANGA REDDY (Dist.)
Hyderabad
Andhra Pradesh 500046
Contact Number: 04023010338
Website: www.jnvrangareddy.gov.in
8. Sreenidhi International School:
Sreenidhi International School is a residential school affiliated to CISCE-ICSE or ISC, University of Cambridge International Examinations and International Baccalaureate Diploma Programme.
The 5-day boarding facility at Sreenidhi aims to offer the best of both the world.
Living with friends on the weekdays and going back to their home on the weekends will ensure that your little one gets ample time to interact with teachers and peers and spend time with family as well.
Address:
Near Appa Junction, Aziznagar,
Moinabad, Hyderabad,
Telangana 500075
Contact Number: 099122 44409
Website: www.sis.edu.in
9. Siddhartha Residential School:
Siddhartha Residential School is an English Medium, coeducational school, affiliated to CBSE board. The teacher-student ratio of this school is 1:11.
It has a sprawling play area for all the major games. There's also a gymnasium with two indoor courts.
The hostel provides uninterrupted power supply and solar heated water for the bath. 24 hours medical care facility is also available.
Address:
8-3-1060/B-8, Srinagar Colony,
Ameerpet, Begumpet,
Hyderabad-500016,
Contact Number: 040-23741986
Website: N/A
[ Read: ICSE Schools In Hyderabad ]
10. Sri International School:
Sri International School, Hyderabad is the first international school in the whole of South Asia to follow the curriculum of the University of Cambridge International Examinations.
Sri International School is renowned for its extraordinary basketball team, which takes part in all the inter-school competitions.
The school provides both boarding and day school facilities. It is the best residential school in Hyderabad.
Address:
3-5-1016, Street No. 5, Narayanguda, Himayat Nagar,
Near Narayanguda Flyover,
Hyderabad, Telangana 500029
Contact Number: 040 2326 1111
Website: www.sri-international-school.blogspot.in
We hope you find our list useful. If you have any queries of suggestions related to the article, then shoot us a comment below!
Recommended Articles: