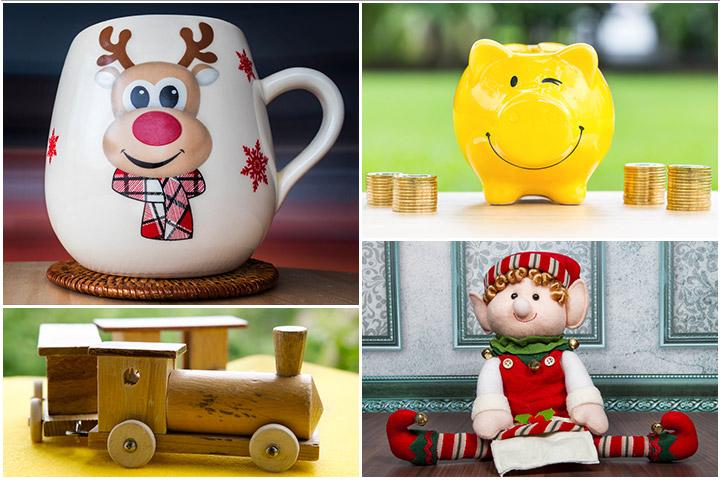 Kids love birthdays, not just theirs but others' as well. They get to eat the cake, have fun, and relish the yummy dishes at the party.
And a return gift adds the surprise element to all the fun and the kids will go home glad. By giving a return gift, you, as a host, can make sure that your party will remain memorable for a long time, especially if it is your baby's first birthday.
If you are planning that party, and want to give some return gifts, then read on. MomJunction shares with you the best return gift ideas for your baby's first birthday party.

General First Birthday Return Gift Ideas For Kids
You may expect to have several kid-guests in your baby's first birthday party. Choose something that kids can use and have fun too. Here are some ideas:
1. Goody bag: A bag filled with a cupcake, chocolates, UNO cards, and some cars/dolls. The little ones will be super excited seeing them.
2. Stationery holder: Though this is a common return gift, you can make it unique by choosing different designs such as Mickey Mouse, Minions, Barbie, Dora, and super heroes.
[ Read: 1st Birthday Wishes ]
3. Puzzles: Little kids love to solve the jigsaw puzzles. A simple 20-piece puzzle is enough to keep them busy. You can go for common picture puzzles such as animals, superheroes, or theme-based puzzles such as nature, jungle, or aquatic life.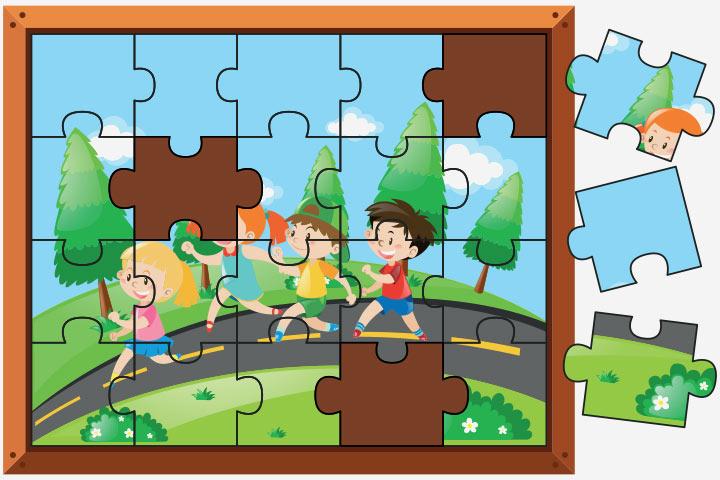 4. Storybooks: Books are always good. But buy age-appropriate ones so that the child can read and enjoy them. You may see if there is a book sale to cut down on the expenditure.
[ Read: 1st Birthday Party Ideas ]
5. Piggy bank: Cute and useful, this gift can cultivate the habit of saving in kids. They can learn the value and importance of money.
6. Candy jar: A jar of candies is a favorite with almost all the kids. Fill the jar with different types of candies, pops, and chocolates to make it colorful and attractive. They can reuse the jar for storing coins or crayons.
7. Cookies: Cookies based on the birthday theme can double up as return gift and a snack. If you have a superhero theme, then you can gift Spiderman, Batman, or, Captain America cookies. Kids will love them.
8. Fridge magnets: You can gift fridge magnets based on the birthday theme, or choose random pictures such as animals, superheroes, fruits, or sports items.
[ Read: 1st Birthday Party Game Ideas ]
9. Board games: Kids are glad to have an addition to their collection of games. You can choose a memory game, Chinese checkers, ludo, snakes & ladders or something else.
10. Kaleidoscope: Who doesn't love a kaleidoscope! You can be sure of keeping children happy long after the birthday party with this return gift.
11. Crayons and coloring books: Kids enjoy drawing and coloring anytime. Go for jumbo crayons with a big coloring book. This gift suits well if your guests are toddlers or young children.
Eco-friendly return gifts
Do your bit for Mother Earth. Here are some eco-friendly gift ideas for you:
12. Plants: Gift small and useful plants such as rosemary, basil, and aloe vera. You can make it kid-friendly by painting the pot with Dora, Minion, or Batman. It not only makes them happy but also creates a sense of responsibility towards the environment.
13. Cloth bag: This eco-friendly gift can also include a message and make the kids aware of the advantages of going eco-friendly. You can make it interesting by printing cartoon pictures. Add a few goodies in the bag as a surprise.
14. Wooden toys: You have several options, such as a push car, thread top, rattle, finger top, and whistles. This can be a beautiful way to introduce eco-friendly toys to kids.
Personalized Return Gifts For First Birthday
If you have the time and want to add a personal touch to your return gifts, then you have many options. Here are some ideas:
15. Customized mugs: These are a little expensive, but if you have the budget, you can gift customized mugs with the name or photo of the kid or a cartoon character on it.
16. Photo frame: Arrange for a Polaroid photo booth where you can get the kids' pictures clicked, attach the image to the frame and give it as a return gift.
17. Creative rulers: If you want to give a unique gift, go for these cool creative rulers, which come in airplane, car, giraffe, and panther designs.
18. Printed t-shirt: This is expensive. But if you want to try, you can get plain t-shirts in various sizes depending on your guests. Get a personalized message printed on it.
19. Towels and bibs: You can order small towels and bibs with the initials of each child printed on them.
[ Read: 1st Birthday Cakes ]
First Birthday Return Gifts For Boys
If you want to go gender-specific, we have them covered. Here is the list of return gifts for boys. You can use them for girls too.
20. Superhero caps: A casual but a useful gift and can be used for a long time. You can even go for long hats.
21. Funny goggles: This can be a party accessory as well as a return gift. You can also get foldable sunglasses.
22. Glowy stars: This gift will build on the child's fantasies – sleeping under the stars, and seeing the stars and planets would make them feel as if they are in the galaxy.
23. Badges: Boys love to flaunt these badges. Go for the trendy ones or the all-time popular ones such as smileys, Minions, and Angry Birds.
24. Hotwheel cars: Cars are an all-time favorite for boys, and they come in many colors, shapes, and small sizes. These cars are good to carry while traveling, and kids can play on the go. Avoid lead-based cars.
First Birthday Return Gifts For Girls
Here is the list of return gifts for girls:
25. Potli bags: You can go for plain or polka dotted bags with a few hair accessories in it such as butterfly clutch, pins, and rubber bands.
26. Princess caps/ hats: Princess printed caps are cool and useful. You can even gift long hats with a flower on the side.
27. Sling bags: Bag is a mandatory accessory for girls. Get simple sling bags which can hold a girl's lip balm, a small comb, and a few cents.
28. Kitchen/ cutlery set: Little girls love the kitchen set. They can just spend hours playing 'cooking-cooking' and not get tired of it. You can choose cartoon characters, animals, or one based on your birthday party theme.
[ Read: 1 Year Baby Gifts ]
Return Gifts For Toddlers
Choosing return gifts for toddlers is easy as the choice is limited. Here are a few:
29. Bathtime toys: Anytime is good for playing and toddlers love doing that in their bathtub. They are inexpensive and easily available too. Go for the squeaky rubber toys instead of the plastic ones.
30. Jumping elves: This can be an excellent idea; a set of jumping elf toys for toddlers keep them amused and occupied.
31. Bubble gun: Though most toddlers would be having one, they would still love to have one more.
32. Playdough: It improves the toddler's motor skills while working on their creativity. Make sure that you buy organic playdough.
Plan your gifts according to the age-group of the kids you have invited. You might have to go for different return gifts if you have a mixed age group of kids.
If you have any ideas to add to our list, you may share them in the comments section below.
Recommended Articles: